Ardelyx $3.00 (ARDX) Gains 117%, Provention Bio $8.75 (PRVB) Gains 134%, and PharmaTher (PHRRF) up 154%. Blue Skies Ahead – For All Three.
Revive Therapeutics $0.10 (RVVTF), Silo Pharma $2.50 (SILO) and Society Pass $1.00 (SOPA). Blue Skies Ahead – For All Three.
As general rule, with stocks under $5.00, we don't look for a double. We look for ideas which can provide a 5 or 10-X return. So we're not taking bows yet, despite their having doubled. It's always nerve-wracking not putting some black ink on the ledger and taking a huge profit, but it is what is.
For those minions who are looking to buy something at $1.00 so they can flip it at $1.30 – go knock yourself out.
Finally when we say stocks that 'may,' 'could' or that we 'expect' to double – these are not price targets. This is what we think they can do in the early innings. With good corporate performance (i.e. doing what they said they were going to do).
A trader could flip a $1.00 stock idea from us for a double, for a brag worthy gain, and then see it could go to $5.00. Or it could go back to a dollar. To each his own, we're not here to hold hands, we're simply here to say "look what we found."
---
Ardelyx (ARDX) added to the Watch mid-November of 2022 at $1.57.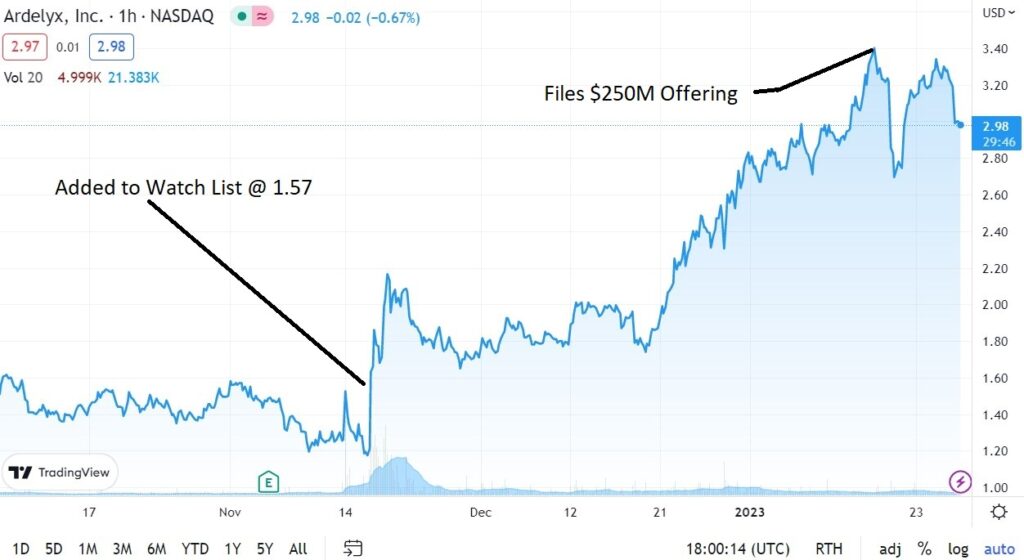 What we're waiting for here is good news (further good news) from the FDA who granted an appeal to the agency's complete response letter which had rejected the company's application seeking approval of chronic kidney disease (CKD) drug Xphozah (tenapanor). Ardelyx plans to have a follow up meeting and refile its marketing application for XPHOZOA sometime in the first half of 2023. So they are not out of the woods.
This analyst thinks it could be a $500 million to $700 million opportunity…if approved.
At the end of December, Janus updated its 13G, showing they owned or owned at the time near 20 million shares, or 10% of the stock. Nice. Also amazing that a Janus with $430 billion in assets under management, would even bother with such a small company. We don't know for sure, but we seriously doubt they are looking for a mere double. So clearly they're bullish.
And…board member David Mott is clearly bullish, having purchased 567,000 shares at 1.76 on November 17, 2022 – the day after the CRDAC vote. We beat him to the punch the same day, by $0.20 lol.
Then they filed a $150M S-3 last week, which enables them to raise up to $250 million. That cratered the stock.
Adding Ardelyx (ARDX) $1.57 to Watch List.
---
We added Provention Bio (PRVB) to the 2022 Watch List in July of 2022 at $4.60.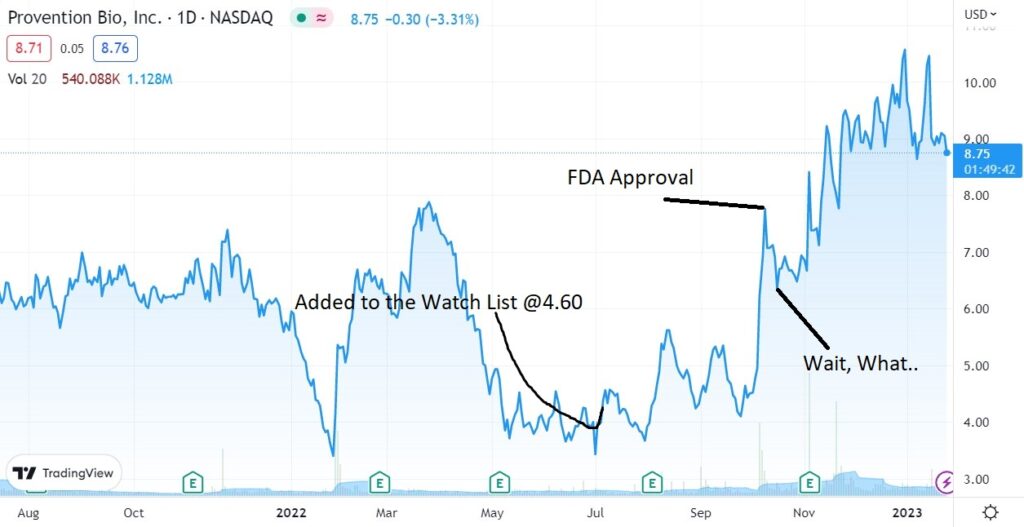 What we're waiting for here is a potential buy-out from Sanofi (SNY), who is set to market their FDA approved drug.
The drug will be marketed and sold as Tzield and is the first ever drug approved by the FDA to delay the onset of Type 1 diabetes. According to the FDA's approval statement.
Sanofi takes a chance on Provention's diabetes drug with marketing deal
Adding Provention Bio (PRVB) $4.60 to 2022 Biotech Watch List.
---
We added PharmaTher to the Watch List in January of 2023 at $0.04.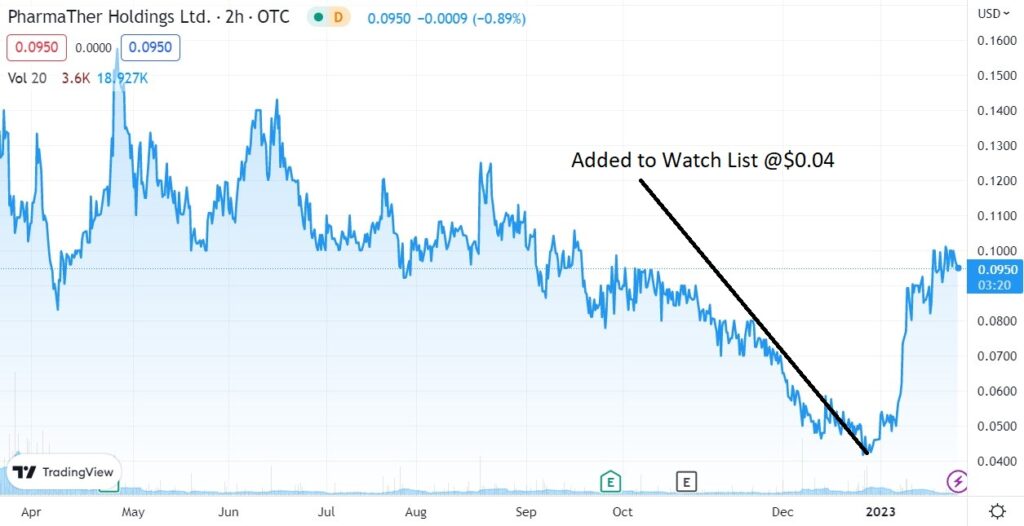 Later today we will be adding ATAI (ATAI) $2.66 and Compass Pathways (CMPS) $8.03, PharmaTher (PHRRF) $0.04 and Revive Therapeutics (RVVTF) $0.08 to the Top 10 Psychedelic Watch List.
It was pounded pretty unmercifully from $0.90 to $0.04, so the bounce back looks impressive.
There's a report and price target of $4.00 a share (you read it right) so WHY NOT. Investing (speculating) doesn't have to be that hard..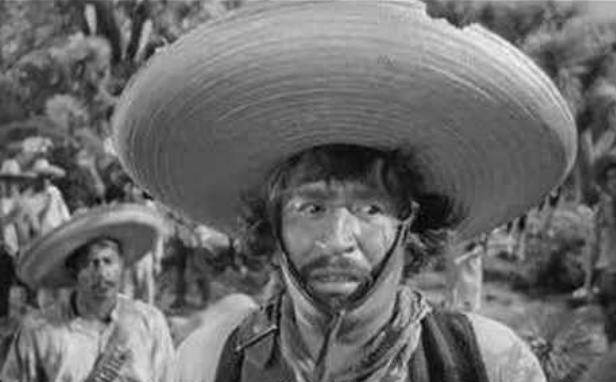 PharmaTher (PHRM, PHRRF) $0.10 Gets $3.80 Price Target From H.C. Wainwright – 37 Times (3,700%) Higher.
Doubles, we don't need no stinkin doubles…
---
PERCOLATING IDEAS
We added Revive Therapeutics to the Psychedelic Watch List in January of 2023 at $0.08.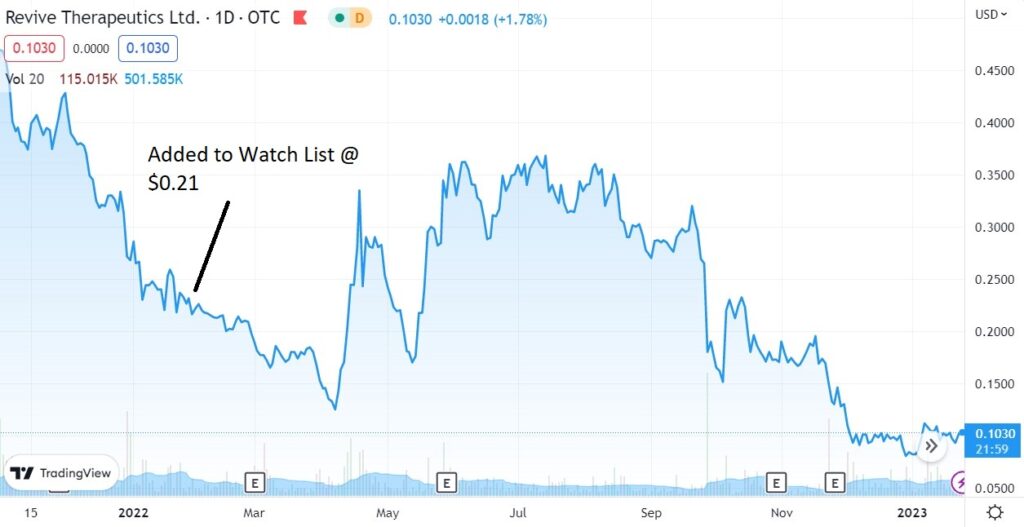 Revive Therapeutics (RVVTF). We said it before and we'll say it again. This is our number one ranked speculative stock – on a risk to reward basis – of any stock we follow, in any sector. Client or not a client.
Our Best Risk to Reward Idea Ever?
They have a pill, which if approved, will function similar in effect to better known Paxlovid from Pfizer. To make a long story short, it is designed to prevent you from going to the hospital and or worse, dying. The drug is being repurposed (originally for rheumatoid arthritis) and has been around for 30 years. So safety, one of the biggest road-blocks to drug approval, has been de-risked in our opinion. We have vivid imagination, but from what we read we think it could become the standard of care in that it treats inflammation, particularly inflammation of the lungs (ARDS) so it doesn't matter if it's Omicron, or Whatevercron.
It has been reported last November that Paxlovid "…brought in $7.5 billion in sales in the quarter and has generated more than $17 billion so far this year." Both drugs essentially end up resulting in the same thing. Patient safety.
Pfizer Rides Paxlovid Sales to Better-Than-Expected Quarter
We were a little early to the game adding them to the 2022 Watch List at $0.21. We even wrote a 25-page report. We urge you to sit down with down with a Vodka Red Bull..nah wait. An Irish coffee and blast through it.
Report: First Vaccines, then Antivirals. Will the Anti-Inflammatory Be the Next Success Story in the War Against Covid?
What's happened to date, is delay after delay with the FDA. The Phase III studies have been finished, now we wait. Here's the latest on the wait from the 19th of January, as in last week:
Revive Therapeutics Submits Updated Briefing Package in Support of Upcoming Type C Meeting Granted by FDA
Here's some snippets, read the press release in full.
As recently reported by the Company, the FDA has granted the Company's Type C meeting request to obtain agreement on the revised protocol endpoints for the Company's Phase 3 clinical trial (the "Study") ( NCT04504734 ) to evaluate the safety and efficacy of bucillamine, an oral drug with anti-inflammatory and antiviral properties, in patients with mild to moderate COVID-19. The goal date for the FDA to provide its written responses is March 7, 2023.
Should the FDA agree with the Company's proposed primary and secondary endpoints or a version that the FDA recommends, the Company will incorporate these endpoints into the amended Study protocol.
Should the FDA agree with the Company's proposed primary and secondary endpoints or a version that the FDA recommends, the Company will incorporate these endpoints into the amended Study protocol.
The DSMB may recommend continuing the Study if there is a trend toward achieving statistical significance, halting the Study early due to statistical significance likely not going to be met, or halting the Study early due to positive efficacy showing statistical significance. In the latter case, the Company would request a meeting with the FDA to determine the appropriate next steps toward obtaining potential regulatory approval.
In sum, we're getting closer, but we're not there yet. In our opinion it's trading like the FDA said NO, go away, you're bothering us. And don't come back.
---
We added Silo Pharma to the Watch List in December of 2022 at $3.50.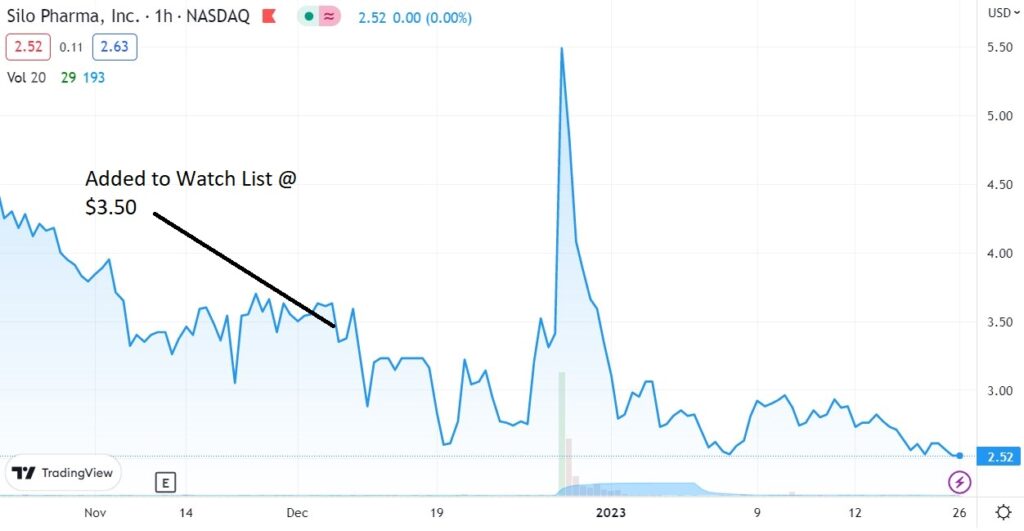 We've been working on a report in what seems like forever, well two months and should release final version soon. Here's some of our more recent musings.
Adding Silo Pharma (SILO) $3.50 to Watch List.
Silo Pharma (SILO) Announces Positive Study Results of SPU- 21 for Arthritis
Silo Pharma (SILO) Trades up 90% Friday, With 23 Million Shares Traded!
---
We added Society Pass to the Watch List January 12th at $0.96
We save the best for last..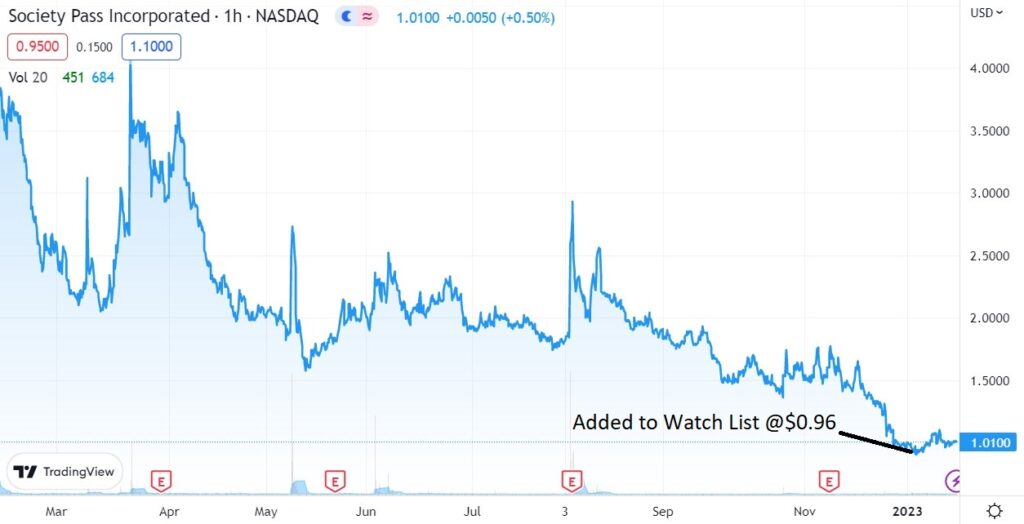 Our newest client, this is our highest Octane Play for 2023. This could the biggest winner we have over the next five years, or the greatest source of angst for traders, who get in and out for a double — only to later see it go well above 10-X.
It has that much potential. Those of you who have been subscribing since 2000 know we were the King of Incubators, such as CMGI, the Internet Capital, Rare Medium, and our client the Circle Group, which was a biggest winner we ever had going from $0.10 to over $9.00.
This is a simple story. Read our last three posts and act accordingly. This will probably continue to act like a wild bucking bronco, so it will take extra special skills not to get bucked off. The way we prepare is not to look at price – but to look out years instead and ignore volatility. At least two years. Whatever happens, just hang on for life. Wear a helmet if you must.
Adding Society Pass (SOPA) $0.96 to the Watch List
5 Society Pass (SOPA) Research Reports
Initiating Coverage on Society Pass (SOPA).
Disclaimer.
Numerous clients including PRVB, RVVTF, SILO, SOPA. See individual report disclaimers for full disclaimer and disclosure details.