Look What We Found!
We launched the Psychedelic Stock Review a little more than a year ago and decided to take a wait-and-see attitude.
We put together the 2021 Psychedelic Investor Guide and posted it on the site. We called it the "most comprehensive and easy to use guide covering the rapidly growing Psychedelic investment landscape." We used it ourselves to easily get a feel for sector. It had charts, recent news and etc. Really a great tool. Investors liked it too, as we picked up 20,000 new subscribers after its release.
51 companies were reviewed. A couple with market caps over $1 billion, though the majority well under $100 million.
So, it's been a little more than a year, but now wait is now over. This is what we missed (thankfully) while we waited.
ATAI (ATAI) was valued at $2 billion. It was trading at $13, down from $20 five months earlier (seemingly a bargain) and now it's at $3.00 — and valued at just $500 million.
Compass Pathway's (CMPS) was trading at $30 at the time, down from $60 six months earlier (seemingly a bargain) and now it's $10. The market cap dropped from $2.6 billion at its peak, to $400 million today. Ouch.
Finally, the biggest loser was once 'hot' MindMed (MNMD) which dropped from an $870 million market cap to just $100 million. The price chart is a little misleading (they were never trading at $70) due to the 15:1 reverse split. But the percentage collapse is accurate. Look at the chart! Madonn!!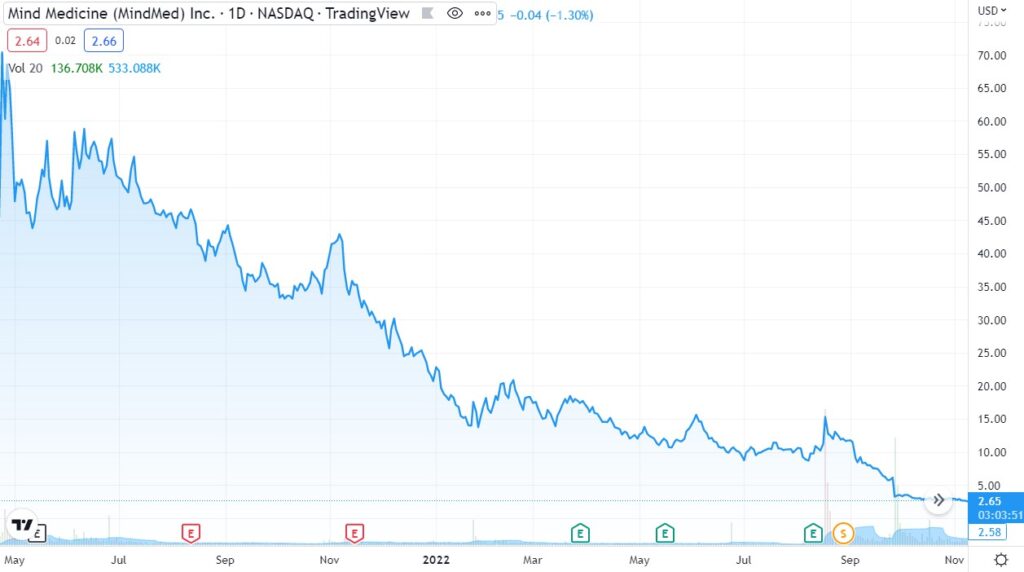 Bargain hunters who showed up at $50, at $40, at $30, $20, $10 and even $5 all took a royal shellacking.
Those who know our business model know we pay for our stock with services rendered (news coverage). Had we bought $50,000 worth of stock it would be worth $2,000 today, a year later. Yes, we take a risk with new clients – so rather obviously we try to pick them well.
---
Look What We Found!
So, if that's what happened to large-cap 'institutional' quality plays in the sector (ATAI raised $225 million in their IPO), you can just imagine what happened to the small-cap plays selling for $3.00 with say a $30 million market cap. Assuming they survived, they are probably under a dime today.
And this is where we are going to go fishing.
We're going to put out another Investor Guide out, the 2023 Guide AND we are going to come out with our top-10 picks. We're going to go through the rubble, find the most promising business plans-models, and then watch us go. Of course, we'll share our finds! That's what we get paid to do.
INTRODUCING SILO PHARMA (SILO)
First the chart and then some bullet points. We'll be short.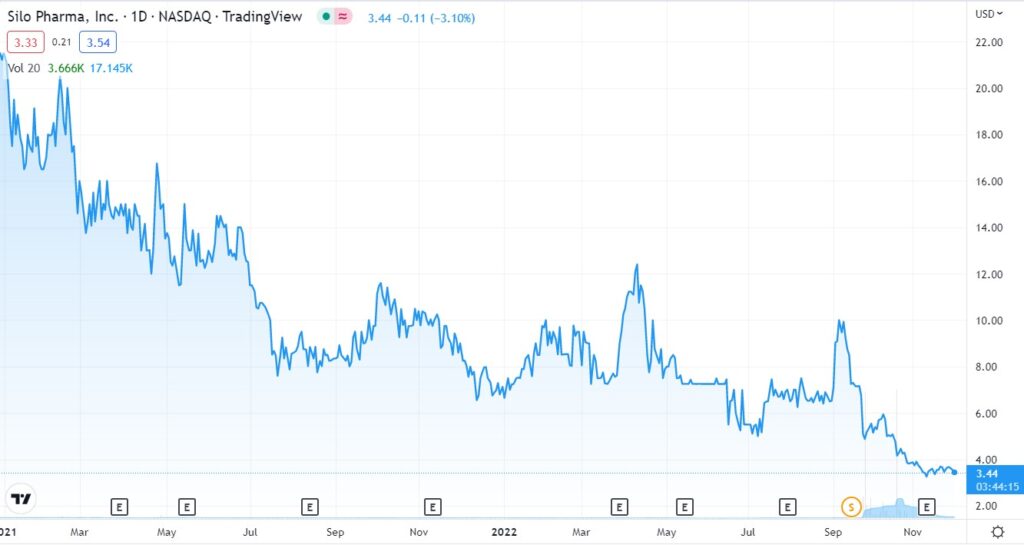 We'll come out with a more detailed report next week. We discovered Silo Pharma (SILO) at the Dawson James Institutional conference in early October. It was the best presentation at the conference and after a few weeks of studying them, we decided we liked them enough to sign them as a client.
This is our first addition to the "2023 Top 10 Psychedelic Watch List." Priced and time stamped at $3.50. Not a trade, we're looking out a couple years.
First a differentiated product, so it's not just another psych company hoping to help PTSD patients. While they have five items in the pipeline, what excited us most (and what we think will excite investors in the future most) is Ketamine applied topically with a sustained release. If you study this company this weekend, we suggest studying their partnership with Zylö Therapeutics.

The technology is called Z-pod® which is a topical drug delivery system developed at the Albert Einstein College of Medicine. Ketamine, if you're not aware, has already been approved by the FDA. Johnson and Johnson got approval to administer Ketamine nasally (Spravato) for treatment-resistant depression. It works wonders. It's also widely administered intravenously.

If you don't take our word for it, read these testimonials.

This will change the landscape for treating mental health issues – forever. We categorize it under miracle cure, even though we're not supposed to say that lol. We're not big fans of anything that goes up our nose, nor fans of big needles, nor a fan of sitting in a doctor's office for two hours. We think if approved, this could potentially be done at home and be a massive hit with consumers (aka revenues). We know we'd try it, with a martini..

This initial indication is for fibromyalgia – another thing which could fuel the excitement and enthusiasm of investors. All they need to know is there are very few effective treatments on the market and that there 4 million adults who suffer badly from it. All investors will next need to know is how much the treatment will cost, and multiply that times 4 million, and then multiply how many treatments per year — and potential moonshot.

Cash. Cash is king and cash near equal to the market cap is even better. In a shareholder letter release yesterday the company stated, "With over $12 million in cash, we are prepared to advance our pipeline, and believe, with our strong balance sheet, no debt, and recent listing on Nasdaq, that we are in a position to further advance the Company and create shareholder value."

Do we need to say anything else, we think not, though more is to come. We love this one.

Start your due diligence here.
In press releases we read, our favorite quote: "Together we have developed a delivery method for a new ketamine formulation that has shown in pre-clinical studies to hold and distribute the drug in a time-released fashion and reduce neuropathic nerve pain."
Silo Pharma Announces Closing of $5.75 Million Public Offering of Common Stock, Nasdaq Listing
Forward-Looking Statements

This communication contains forward-looking statements concerning the Company's collaborations, business and development plans, and statements regarding the Company's product candidates, their development, regulatory plans with respect thereto and therapeutic potential thereof, planned interactions with regulatory authorities, and planned clinical development. Statements in this press release that are not purely historical are forward-looking statements. Such forward-looking statements involve known and unknown risks and uncertainties and are based on current expectations and projections about future events and financial trends that the Company believes may affect its financial condition, results of operations, business strategy, and financial needs. Investors can identify these forward-looking statements by words or phrases such as "may," "will," "expect," "anticipate," "aim," "estimate," "intend," "plan," "believe," "potential," "continue," "is/are likely to" or other similar expressions. Actual results could differ from those projected in any forward-looking statements due to numerous factors. Such factors include, among others, the Company's ability to raise the additional funding it will need to continue to pursue its business and product development plans, the inherent uncertainties associated with developing product candidates and operating as a development stage company, the Company's ability to identify additional product candidates for development, the Company's ability to develop, complete clinical trials for, obtain approvals for and commercialize any of our product candidates, competition in the industry in which the Company operates and market conditions. Investors should consult all of the information set forth herein and should also refer to the risk factor disclosure set forth in our Annual Report on Form 10-K for the year ended December 31, 2021, and other periodic reports filed with the Securities and Exchange Commission available at www.sec.gov. Any forward-looking statements contained in this press release speak only as of the date hereof, and we specifically disclaim any obligation to update any forward-looking statements, whether as a result of new information, future events or otherwise. Client, five thousand this month and hopefully forever to disseminate news. See report for full disclosure and disclaimer details.