And We Weren't Watching!
It was Friday after all, and the last day of the year, and we were celebrating our 78% gain in Ardelyx (ARDX). So we didn't even see a literal explosion in stock price and volume.
We had a great end to the year, to say the least, but we think 2023 will be one of our best years ever. So many bargains…
He Shoots And He Scores. Ardelyx (ARDX) Gains 78%. Happy New Year!
We're not day (week or month) traders. We don't even use real-time quotes. So where we find meaning in Friday's trading, is that there's is now a lot more eyeballs following Silo's progress.
True they may be trader's eyeballs – but the way we look at it, let's say there were 200 investors who traded Silo on Friday. There were 405 trades that day. And let's say because of the price spike, that another 1,000 (maybe 5,000) investors took a look at the name for the first time ever.
If 10% of the investors take time to read what Silo actually does (most don't) and believe like we do that Silo holds merit for the long-term, that's a total of 520 potentially new long-term holders. All companies need long-term believers (like a year plus), to sustainably trade higher.
The point is a small company like Silo doesn't need 520 long-term shareholders, it only needs like 50, new well-heeled long-term shareholders. Silo has numerous shots on goal, they have cash ($12 million), and a market value of $10.5 million. Wait, what? Like how could someone not own something like this for the long-term.
"This is our first addition to the "2023 Top 10 Psychedelic Watch List." Priced and time stamped at $3.50. Not a trade, we're looking out a couple years."
Adding Silo Pharma (SILO) $3.50 to Watch List.
---
Later today we will be adding ATAI (ATAI) $2.66 and Compass Pathways (CMPS) $8.03, Pharmather (PHRRF) $0.04 and Revive Therapeutics (RVVTF) $0.08 to the Top 10 Psychedelic Watch List.
Comeback to the website to see details.
2023 is going to be the year of the Psychedelics and we are going to ride it for all it's worth (well, that's the plan at least).
As a reminder, Silo Pharma is a news coverage client, and we will have a detailed report out this week. For now let's just look at the charts.
---
TRADING SPIKE CHART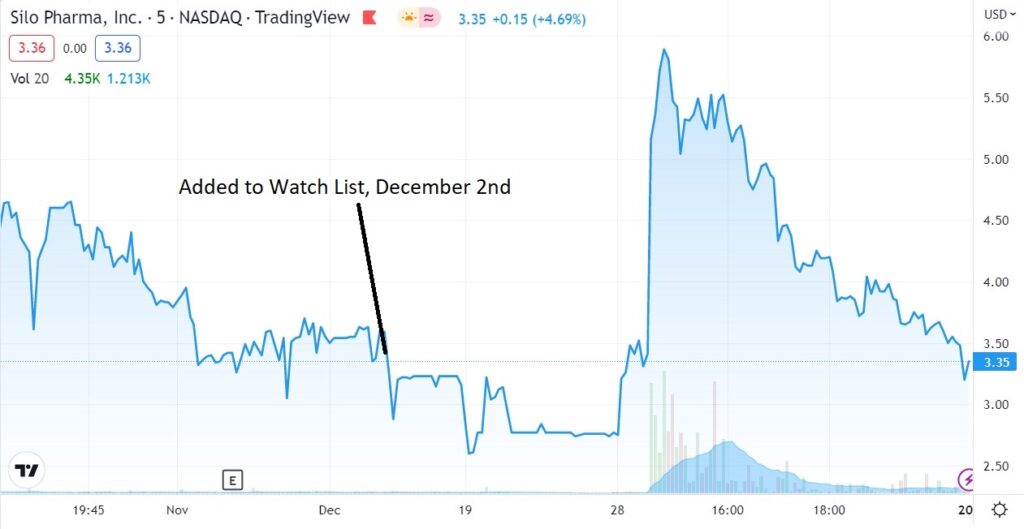 ONE YEAR CHART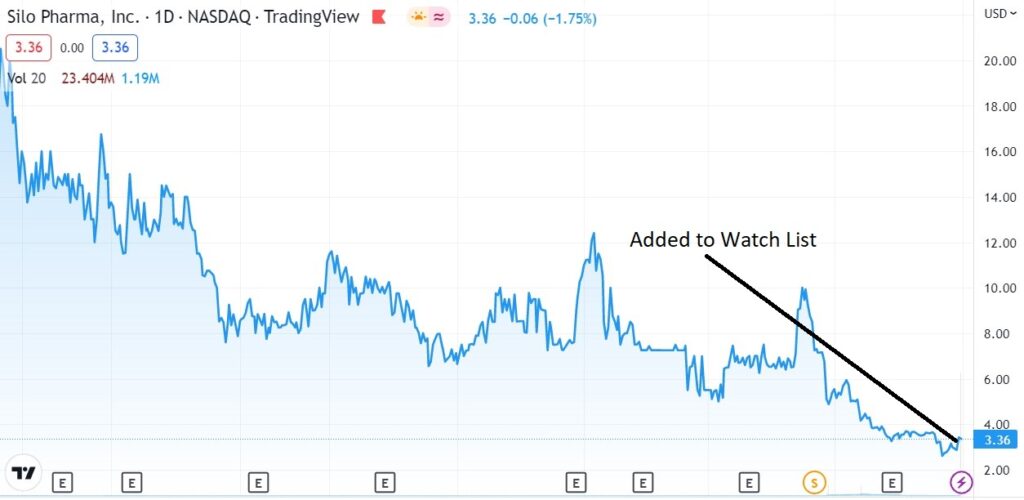 ---
Forward-Looking Statements
This communication contains forward-looking statements concerning the Company's collaborations, business and development plans, and statements regarding the Company's product candidates, their development, regulatory plans with respect thereto and therapeutic potential thereof, planned interactions with regulatory authorities, and planned clinical development. Statements in this press release that are not purely historical are forward-looking statements. Such forward-looking statements involve known and unknown risks and uncertainties and are based on current expectations and projections about future events and financial trends that the Company believes may affect its financial condition, results of operations, business strategy, and financial needs. Investors can identify these forward-looking statements by words or phrases such as "may," "will," "expect," "anticipate," "aim," "estimate," "intend," "plan," "believe," "potential," "continue," "is/are likely to" or other similar expressions. Actual results could differ from those projected in any forward-looking statements due to numerous factors. Such factors include, among others, the Company's ability to raise the additional funding it will need to continue to pursue its business and product development plans, the inherent uncertainties associated with developing product candidates and operating as a development stage company, the Company's ability to identify additional product candidates for development, the Company's ability to develop, complete clinical trials for, obtain approvals for and commercialize any of our product candidates, competition in the industry in which the Company operates and market conditions. Investors should consult all of the information set forth herein and should also refer to the risk factor disclosure set forth in our Annual Report on Form 10-K for the year ended December 31, 2021, and other periodic reports filed with the Securities and Exchange Commission available at www.sec.gov. Any forward-looking statements contained in this press release speak only as of the date hereof, and we specifically disclaim any obligation to update any forward-looking statements, whether as a result of new information, future events or otherwise. Client, five thousand this month and hopefully forever to disseminate news. See report for full disclosure and disclaimer details.
#ATAI, #CMPS, #PHRRF, #RVVTF, #SILO