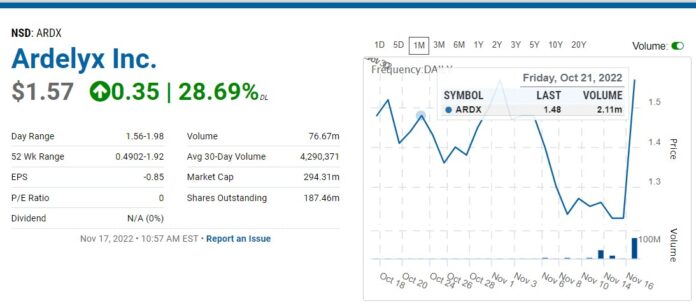 FDA Advisory Committee Says Go Forth Young Man!
While we hadn't previously owned Ardelyx, nor are they a client – there are a number of lessons we can quickly think of to learn here.
Piper Sandler analyst Christopher Raymond upgraded Ardelyx, Inc (NASDAQ: ARDX) from Neutral to Overweight with a price target of $8.00 ..
First, share price performance prior to approval (or disapproval) is no indication of the odds for approval. We have seen stocks which were down 80% get approval and we have seen stocks up 80%, prior to a disapproval.
We have seen Wall Street analysts with advanced degrees in both finance and medicine – armed with reams of clinical trial data – from top names like Goldman Sachs say "no approval' is coming and then the approval came. And vice versa of course.
As example Goldman Sachs cut its rating on Immunomedics from a "buy" to a "sell" with a $5 price target when it was near $13. Shortly thereafter the stock jumped from $9.00 to $19 on approval – a $2 billion gain in value. Big whoops. Then later acquired at $87.
As such, we never bet on approval odds. What we instead look at, is what can happen AFTER approval. How many patients need it and how much does the treatment cost (aka future revenues).
Second – and this is yet to be proven. It is not a good idea to flip shares the day of approval. Bad dog! We have seen this so many times. A risk taking 'pre-approval' investor has his or her finger on the sell button, from the day they buy, to the day approval does or doesn't comes. The share price may jump 100% in hours, they hit the bid, and dance a jig. Then they take the wife (or husband) out for a fancy dinner and pop bottles of champagne. Woo hoo, we're so brilliant!
As example, again using Immunomedics. We added it to the Watch List at $3.00. Adding Immunomedics (IMMU) $3.00 to Watch List.
As we mentioned earlier Immunomedics better than doubled, the day of approval (early approval mind you). Bottles of champagne (and I told you so's) were popping all over Wall Street. That was April of 2020.
The six months later in September, boom – takeover at $87 or $21 billion! Bottles of champagne for the patient investors, but tears and "I shoulda woulda coulda's" from the day of approval flippers.
Immunomedics (IMMU) $3.00 to $88, Up 29-fold, Our Second Best Idea Ever.
Back to Ardelyx, first please note the drug HAS NOT been approved yet. What happened is an FDA Advisory Committee voted 9 to 4 that the benefits of treatment outweigh its risks when administered alone. And they voted 10 to 2 (with one abstention), that the benefits of treatment in combination with phosphate binder treatment outweigh its risks.
We saw this movie once before with Provention (PRVB) which is due to hear back from the FDA today. Way back in May of 2021 the FDA Advisory Committee in May voted 10-7 in favor of the real FDA approving their drug teplizumab. Two months later they were told "go back young woman" (CEO Ashleigh Palmer) and here we are today more than a year later, again in front of the FDA.
Finally lesson number three. As alluded to above, Advisory Committee recommendations, are not binding, but rather 'considered' by the Office of New Drugs (OND), Center for Drug Evaluation and Research of the FDA. Get it, got it, were gone.
It's worth noting, the 'young man' at the helm of Ardelyx is Mike Raab. He was formally with New Enterprise Associates (NEA), one of the world's largest and most successful venture capital firms, where he specialized in healthcare investments focusing on the biotechnology and pharmaceutical sectors. So he pretty much knows where all best scientist and deep pockets (for growth) are.
He was also senior vice president, therapeutics and general manager of the renal division at Genzyme Corporation, a Sanofi company. In this position, Mike launched and oversaw the sales growth of sevelamer, the leading phosphate binder for the treatment of hyperphosphatemia (too much phosphate), with over $1.0 billion in worldwide sales in 2013.
Any coincidence then that Ardelyx's drug is for the control of phosphorus in adult patients with chronic kidney disease on dialysis…
We don't think so!
While we do know that around 37 million people, or one in seven people, in the United States have chronic kidney disease — what we don't know, is how many of those patients have phosphorus 'elevated enough,' a require the pill beyond the standard treatment. We hear 80% aren't taking their pills as they should.
So we're shooting first, and asking questions later.
Long Term Chart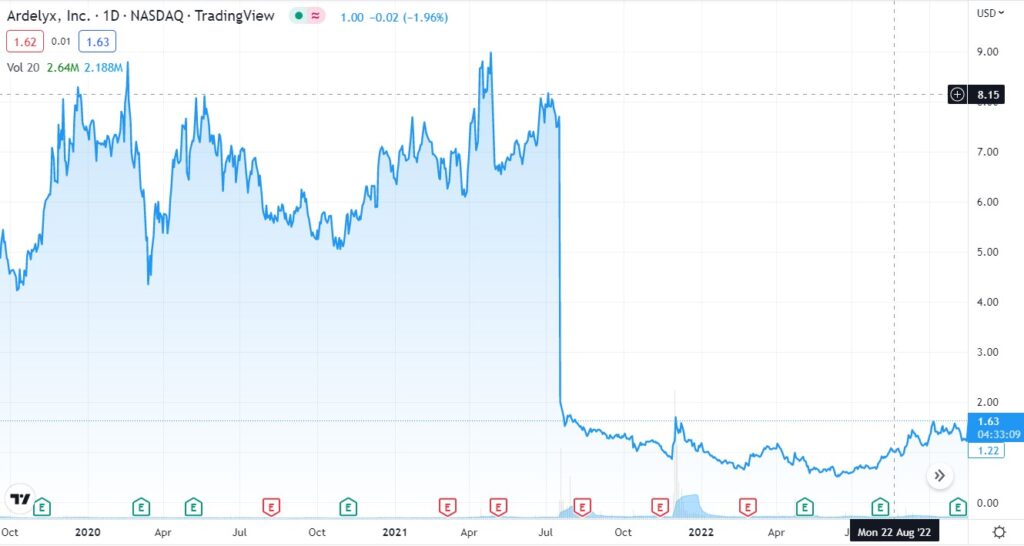 Short Term Chart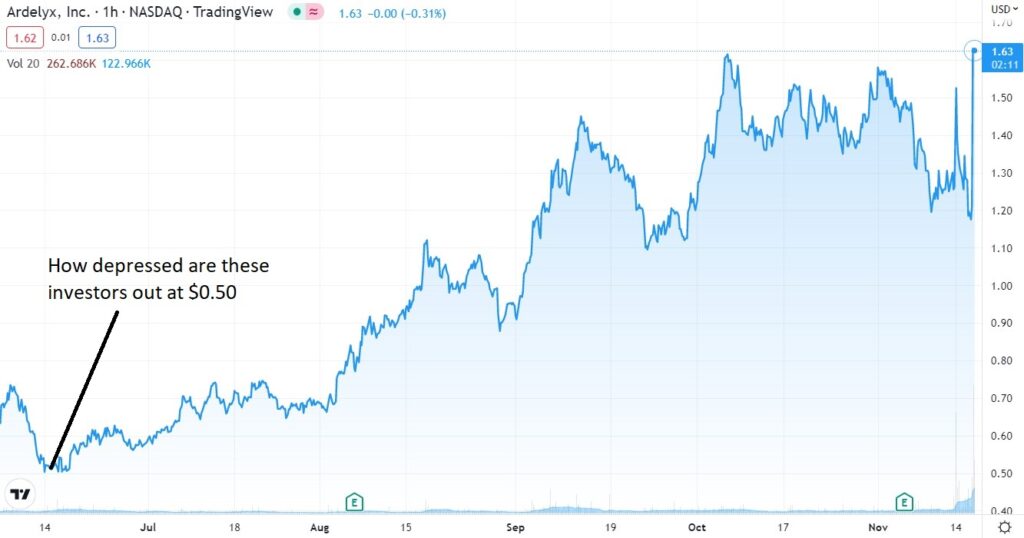 ---
Disclaimer: To the extent that statements contained in this press release are not descriptions of historical facts regarding Ardelyx, they are forward-looking statements reflecting the current beliefs and expectations of management made pursuant to the safe harbor of the Private Securities Reform Act of 1995, including whether the outcome of the Advisory Committee meeting will be reflected in FDA's decision on its appeal and Ardelyx's current expectation regarding the timing of the OND's decision on its appeal. Such forward-looking statements involve substantial risks and uncertainties that could cause Ardelyx's future results, performance or achievements to differ significantly from those expressed or implied by the forward-looking statements. Such risks and uncertainties include, among others, uncertainties associated with the regulatory approval process. Ardelyx undertakes no obligation to update or revise any forward-looking statements. For a further description of the risks and uncertainties that could cause actual results to differ from those expressed in these forward-looking statements, as well as risks relating to Ardelyx's business in general, please refer to Ardelyx's Quarterly Report on Form 10-Q filed with the Securities and Exchange Commission on November 3, 2022 , and its future current and periodic reports to be filed with the Securities and Exchange Commission.