Report posted below @3:11 11.13.23
LQR House (LQR) $0.09
Easily the Best and Most Interesting Company, We've Come Across During all of 2023.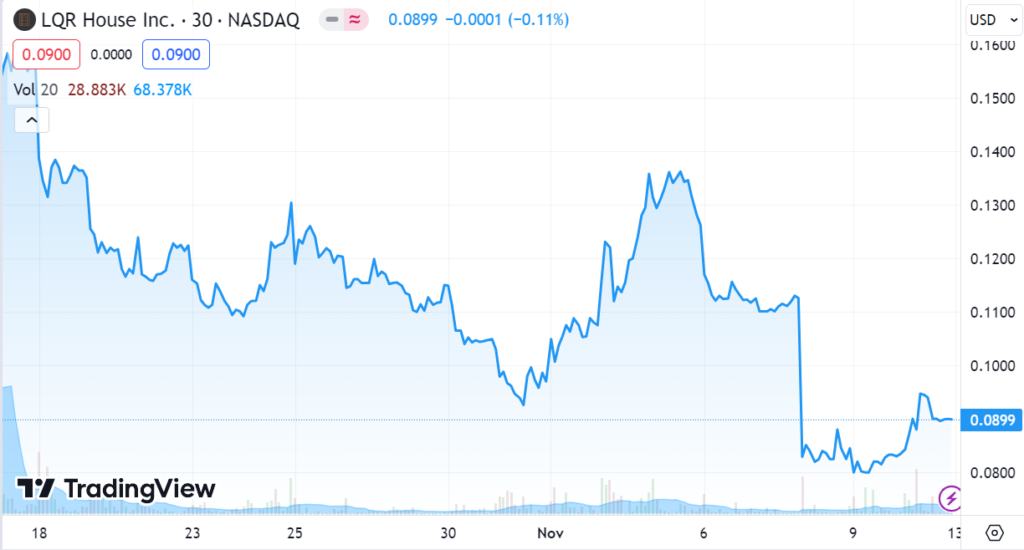 ---
Our Top Ranked Beverage Speculation
Buy Rated*: Price Target Range $0.39 to $0.93
We Look at LQR House (LQR), Which We'll Call the 'Liquor House,' as a Venture Capital Type Company.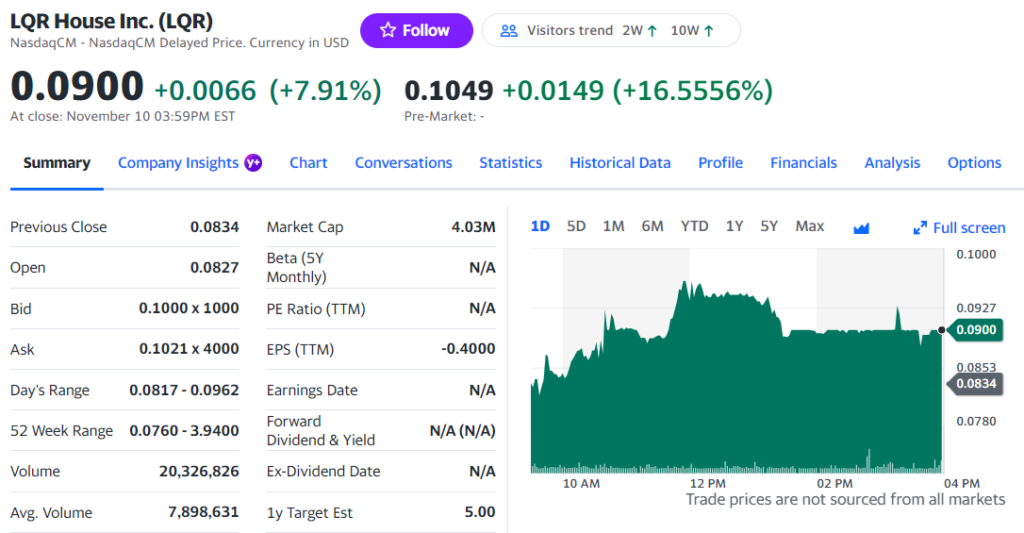 ---
LQR House Raises $11 million on November 10th.
Hands down, LQR is THE most interesting Company we've come across in all of 2023, as the year nears to a wind-down. That's eleven months gone by, and we sincerely doubt we'll find a more interesting idea than the Liquor House, during the rest of November or December. So we'll crown it the champ of 'interesting' in 2023. The volatility that has recently transpired has been truly amazing.
RELATED Press Release: "Institutional Analyst Initiates Coverage on LQR House, the "Liquor House."
We have a buy rating and a valuation goal post of between $90 million currently ($0.39 per share), and $215 million in the future (or $0.93 per share), versus its present market capitalization of just $20 million at $0.09 per shate. It is important to reflect on the fact with nearly $15 million* in the bank as of Friday, the valuation net of cash is only $5 million.
The divisional math was an estimated 229 million shares outstanding.
So will it also be the best idea coming out of 2023? That's harder to say and of course, only time will tell. But in our opinion for both short-term and long-term investors, this is a very hard story to beat.
LQR House is a digital advertising and marketing agency, overseeing the development and expansion of three leading spirits and beverage-centric initiatives covering online spirits delivery, a patented wine-optimizing technology, and digital advertising via a growing network of beverage influencers across the nation.
If we use venture capital start-up valuations on each of the three initiatives, of $25 million, and add the estimated $15 million in cash on the balance sheets that they recently raised – we'll estimate a more appropriate current valuation (like as of today) of $90 million or $0.39 a share.
Of course, if the online spirits division begins to show traction, it alone could be valued at $150 million as investor enthusiasm picks up along with comparisons to Drizzly – which was acquired at $1.1 billion by Uber last February. This would boost the enterprise valuation to $215 million or $0.93 per share.
While volatile, we like the idea so much, that we signed them as a client. We're nothing if not venturesome. More on valuation goalposts later.
The second most 'interesting' company of 2023 was Provention Bio (PRVB). And luckily, it also turned out to be one of our best. For long-term investors that is, not for traders!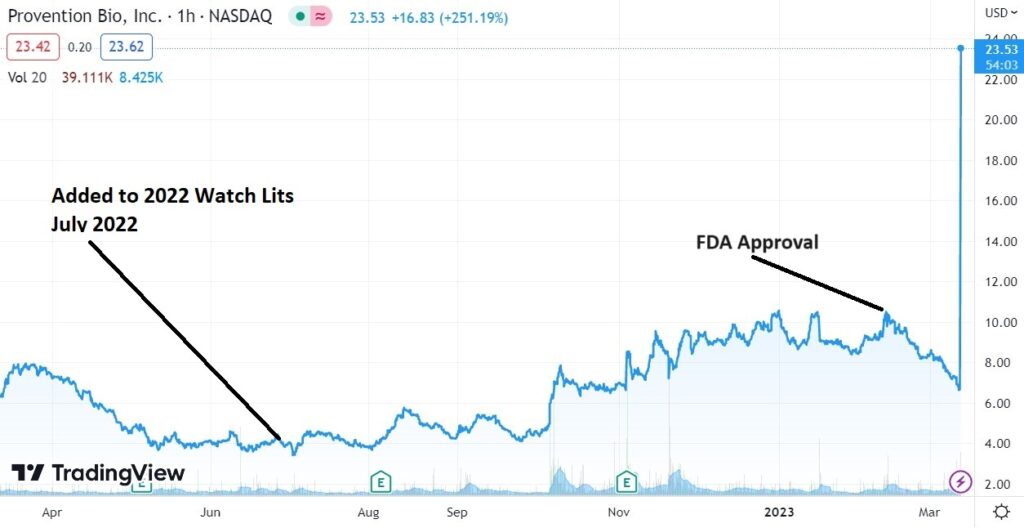 Provention Bio didn't start out all that interesting. You could even say it was just 'another' biotech. We added it to the Watch List in July of 2022 at $4.60.
>Nothing exciting, after they raised $60 million, some calling it massive dilution: Adding Provention Bio (PRVB) $4.60 to 2022 Biotech Watch List.

>Then things did get exciting, but the wrong kind. They got FDA approval and it dropped from $9.50 to $7.15. FDA Approval for Provention Bio (PRVB).

>Then more excitement, this time the right kind. It jumped to $23, a gain of 416% for us, four months after the FDA approval plunge. Sanofi to acquire Provention Bio for $2.9 billion.
So for the 'traders' who sold at a 24% loss months earlier on FDA news (we're not very good at trading), not the best idea. But for long-term investors, it was our third billion-dollar gainer, following Immunomedics (IMMU) $3.00 to $87, and Dicerna (DRNA) which went from $3.00 to $38.
Dicerna up 1,133% Since Adding to Watch List @ $3.00.
So back to Liquor House..
Read more.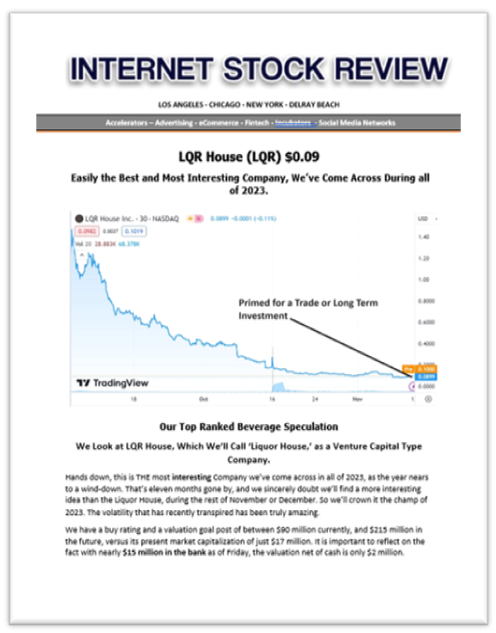 ---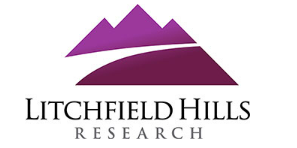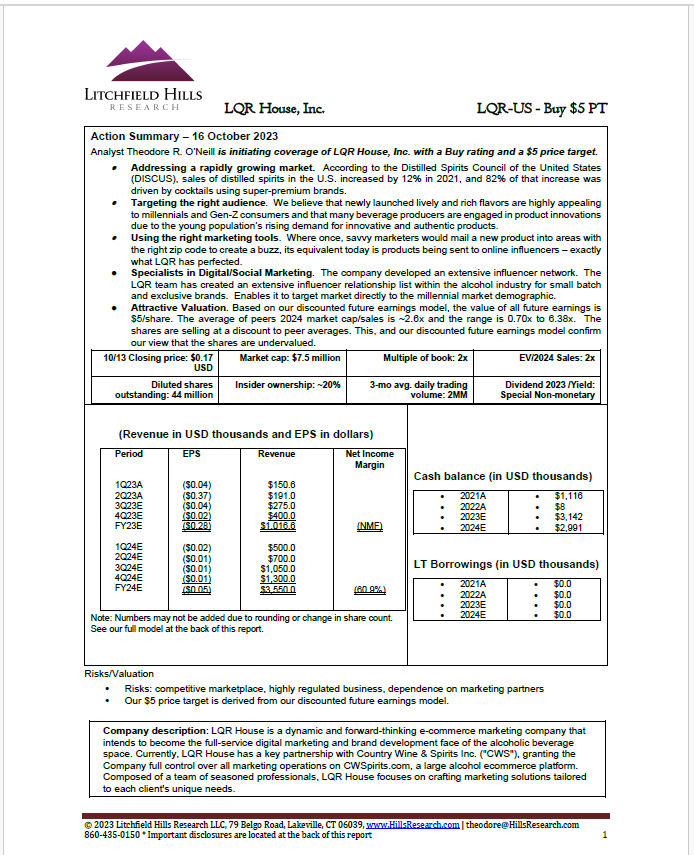 ---
*While we don't have the current balance sheet in hand, we note: LQR House Inc. Announces Pricing of $11 Million Public Offering
We estimate there are currently near 200 million shares outstanding, excluding any warrant exercises.
Please read very informative prospectus before considering investing. In fact we urge you to..
About LQR House Inc.
LQR House is a premier marketing agency specializing in the spirits and beverage industry. With an in-depth understanding of market dynamics and an unwavering commitment to innovation, LQR House empowers brands to excel in a fiercely competitive landscape. The Company's expertise encompasses brand development, pioneering marketing strategies, and dynamic influencer partnerships, facilitating clients in achieving their objectives and reaching unprecedented heights. Notably, LQR House distinguishes itself by crafting unique and tailored marketing solutions for alcohol brands. Moreover, the Company has forged an exclusive partnership with the specialized alcohol beverage e-commerce platform, CWSpirits.com. This strategic collaboration enables LQR House to measure the return on investment (ROI) of its campaigns by directly correlating them with sales, leveraging AI on CWSpirits.com to enhance the customer experience and consistently drive conversions.
*Buy rated for sophisticated and speculative investors only, please see report for full disclosure and disclaimer details.
Forward-Looking Statements
Certain statements in this announcement are forward-looking statements. These forward-looking statements involve known and unknown risks and uncertainties and are based on the Company's current expectations and projections about future events that the Company believes may affect its financial condition, results of operations, business strategy and financial needs. Shareholders can identify these forward-looking statements by words or phrases such as "may," "will," "expect," "anticipate," "aim," "estimate," "intend," "plan," "believe," "is/are likely to," "potential," "continue" or other similar expressions. The Company undertakes no obligation to update or revise publicly any forward-looking statements to reflect subsequent occurring events or circumstances, or changes in its expectations that arise after the date hereof, except as may be required by law. These statements are subject to uncertainties and risks including, but not limited to, the uncertainties related to market conditions and the completion of the initial public offering on the anticipated terms or at all, and other factors discussed in the "Risk Factors" section of the registration statement on Form S-1 filed with the SEC. Although the Company believes that the expectations expressed in these forward-looking statements are reasonable, it cannot assure you that such expectations will turn out to be correct, and the Company cautions investors that actual results may differ materially from the anticipated results and encourages investors to review other factors that may affect its future results in the Company's registration statement on Form S-1 and other filings with the SEC. Additional factors are discussed in the Company's filings with the SEC, which are available for review at www.sec.gov. Additional disclaimer. The information presented in the above-referenced report is based on the research and analysis of the publisher. The publisher is solely responsible for the accuracy and completeness of the information and the opinions expressed in the report. The views expressed therein are the personal views of the publisher and are not endorsed by or representative of the company. Client we are being compensated with five thousand dollars per month, for providing ongoing news reporting and coverage.
Investor and Media Contact:
Roland Rick Perry, Editor 310-594-8062
[email protected]