Up 1,133% Since Adding to Watch List @ $3.00
Our Second $3.00 Watch List Company Gets Acquired for Over $1 Billion. As They say "You Can't Make This **** Up."
First Immunomedics (IMMU) and now Dicerna (DRNA)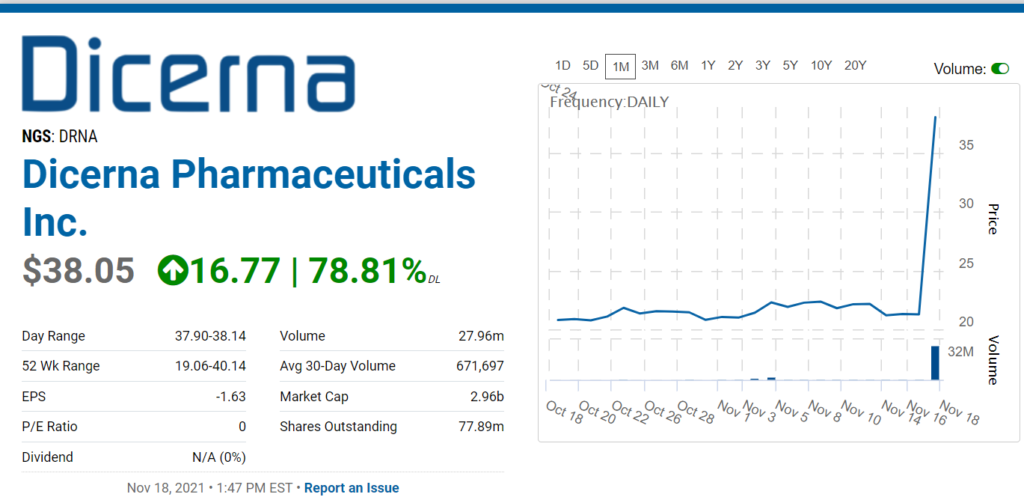 We're so excited about the recent turn of events, we have to put an Aerial Over Bermuda video on. Better than CNBC in the background.
No kidding.
Just a brief heads up.
Novo Nordisk (NVO) is after Dicerna (DRNA), which we found four years ago with at $3.30 a share with a $68 million market cap.
Second time a mini (and client) on our Watch List is getting acquired in the last two years.
RNAi therapeutic sympathy plays today include Arrowhead Pharmaceuticals (ARWR) and Alnylam Pharmaceuticals (ALNY).
---
In 2020..
We added Immunomedics (IMMU) to the Watch List in September of 2016 at $3.00, and near immediately it gapped down to $2.50. Making us wonder if the short-sellers who were short 29 million shares, knew something our boy wonder analyst did not!
Immunomedics (IMMU). $3.00 Epic Short Squeeze Inflection Point Nears.
Market Cap at the time was $288 million.
We later added it to the January 2020 5-Stocks we Expect to Double List at $18.78.
In May of 2020 at $33, we raised the 'price potential.' Immunomedics (IMMU) $33 | Raising Price Potential to $60.
Despite absolutely nerve wracking volatility, things worked out quite well when they were acquired for $21 billion in September of 2020 by Gilead (GILD).
Immunomedics (IMMU) $3.00 to $88, Up 29-fold, Our Second Best Idea Ever.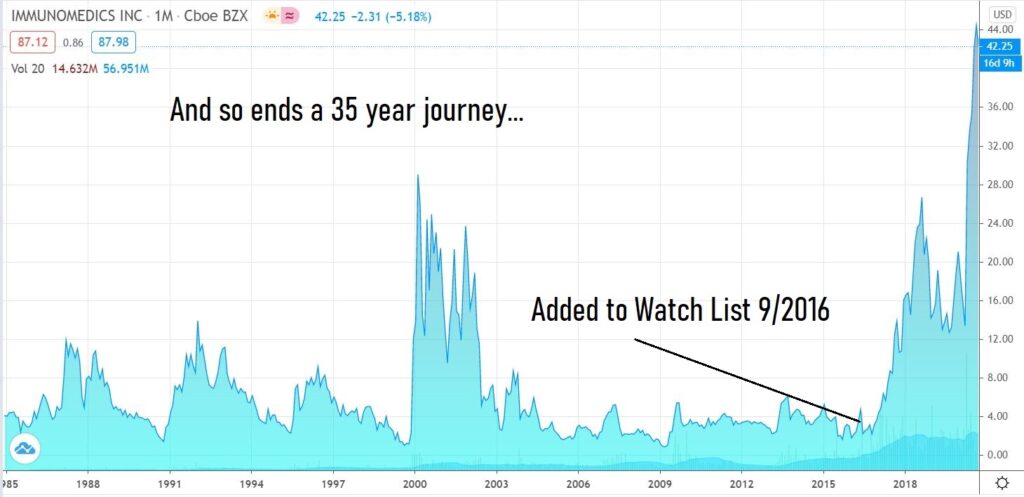 ---
And now Dicerna (DRNA) is getting taken out – in a good way!
We added Dicerna to the Watch List in July of 2017, when they were out of money and tapped out, just after Bain Capital showed up with a $70 million life line. That's all we needed to hear.
Market Cap at the time was $68 million.
Adding Dicerna (DRNA) $3.30 to Watch List.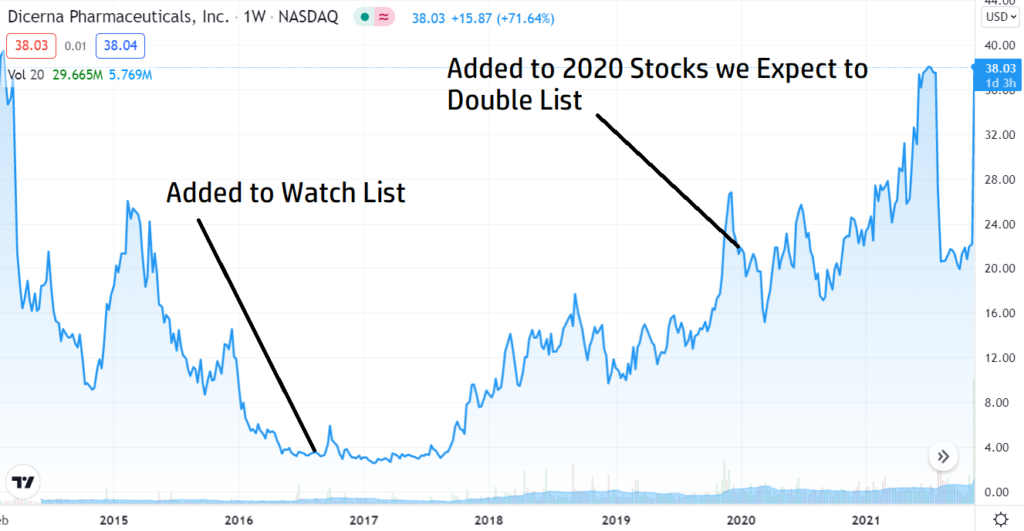 We additionally added it along with Immunomedics to our 2020 5-Stocks we Expect to Double List, (which it did, twice!) despite it already being up six-fold from where we originally found it. And some don't believe us when we say we are long-term players…
5 Biotech Stocks We Expect to Double List

While volatile, things never really looked back from 2017. Up until this August that is – when it dropped from $40 to $20 on news that its PHYOX4 study didn't meet endpoints. But that's all history now.
What an air-pocket!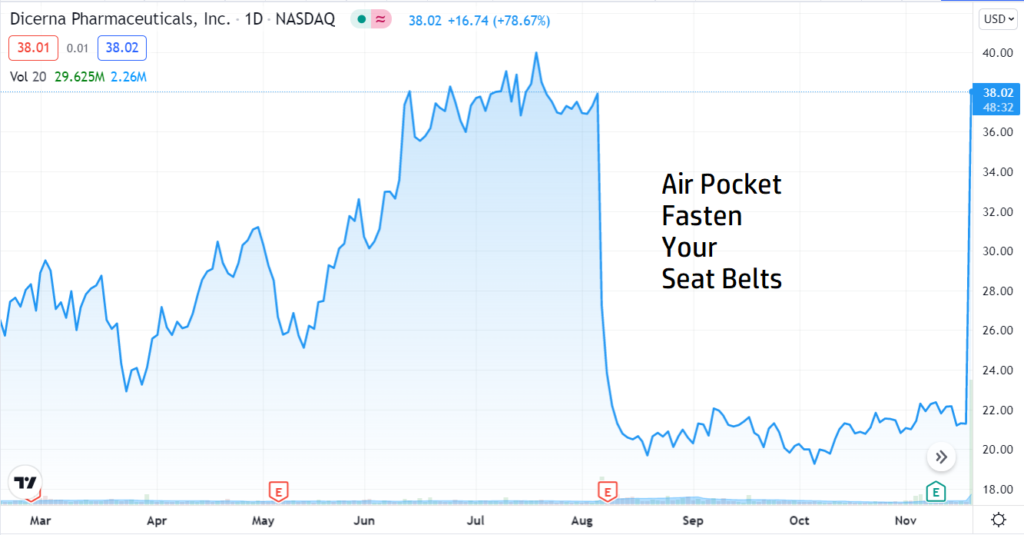 Denmark's Novo Nordisk to buy Dicerna Pharma for $3.3 billion.
But Wait, There's More!
We just checked the overall performance of the 2020 Biotech Portfolio and we did pretty well – if we must say so ourselves.
Take a peek.
ABVC (ABVC) $3.30 to $29 up 779%
Citius Pharma (CTXR) $1.02 to $4.56 up 298%
Dicerna (DRNA) $20 to $40.14 up 100%
Dyadic (DYAI) $5.91 to $10.35 (okay close) up 75%
Fortress Bio (FBIO) $2.70 to $6.10 up 125%
Immunomedics (IMMU) $18.78 to $88 (acquired) up 222%
Those are peak prices, with no guidance from us. Six out of six winners, and five out of six gaining 100% ain't bad right?
Of course past performance is no indication of future performance, but if you're not a subscriber – go ahead and subscribe – it's free.

We were compensated and/or shared in compensated positions in both IMMU and DRNA, please see individual reports for disclaimer and disclosure details.
#IMMU, #DRNA