Beyond Marketing: LRQ HOUSE Reports That CWSpirits.com Acquisition Poised To Transform Them Into An Alcohol E-commerce Powerhouse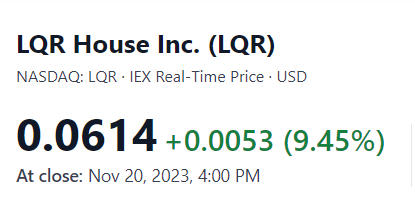 FORT LAUDERDALE, FL / ACCESSWIRE / November 14, 2023 / Wine and spirits purchases online have been growing ever since the pandemic when people had no choice but to turn to e-commerce to get their adult beverages. That hasn't changed since then, with online alcohol sales predicted to grow 20.58% from now through 2027, reaching $20.48 billion.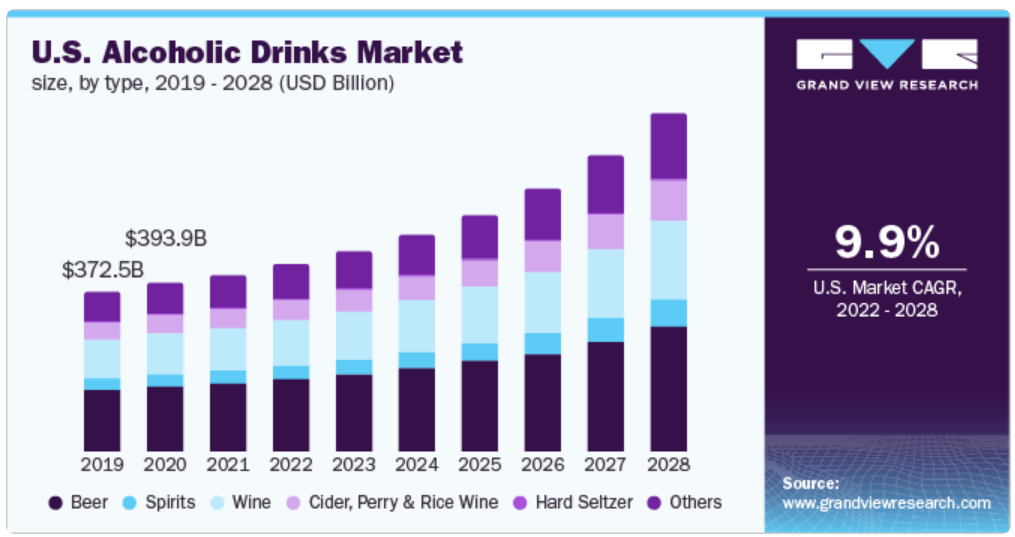 ---
RELATED: Institutional Analyst Initiates Coverage on LQR House (NASDAQ: LQR).
LQR House Inc. (NASDAQ:LQR), the marketing agency specializing in the spirits and beverage industry, plans to capitalize on that demand. It just inked a deal to acquire www.cwspirits.com, a leading wine and spirits website with more than 125,000 customers in the U.S. It's the first acquisition of a platform for the marketing company, which has specialized in providing website management, design, development, email marketing and search engine optimization to the spirits market, helping brands grow their name and sales.
Game-Changing Deal?
The acquisition of CWSpirts.com may prove to be a game changer for LQR House. It already had a relationship with CWSpirits, but that centered around driving sales for it as a marketing customer. It's been fruitful for LQR, which said on its website that since getting involved with the e-commerce site sales have seen an increase, with CWSpirits.com getting thousands of unique sales per week, representing a return on investment of over six times.
Now, LQR House will have direct oversight of CWSpirits.com's inventory, which enables it to facilitate the delivery of a wide range of boutique and mainstream alcohol products to customers' doorsteps. It also gives it insight into which products are trending, losing their luster or selling at a steady pace. That's particularly important in the spirits sector. Consumers are fickle, and tastes can change quickly.
---
CWSpirits.com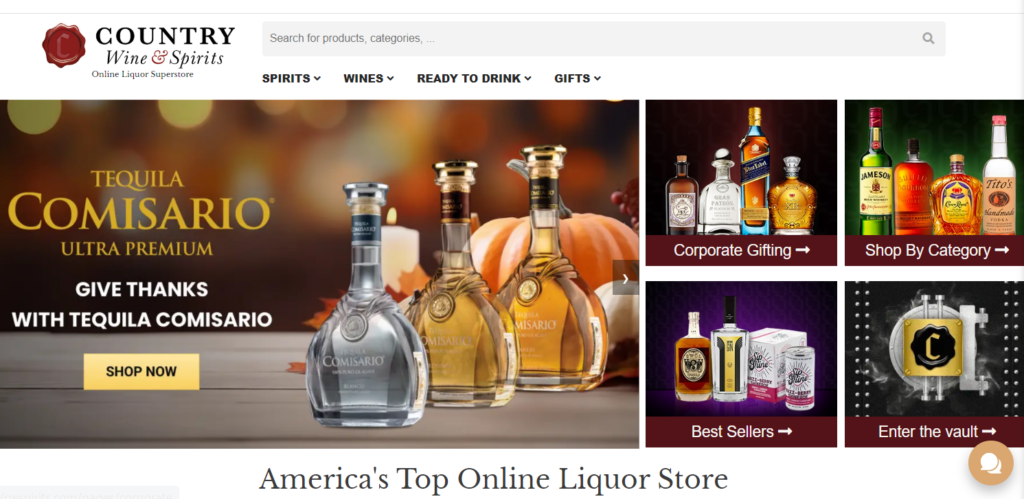 ---
"This really gives us the competitive advantage as we can now see everything from A-Z," said LQR House CEO Sean Dollinger when announcing the deal. "We always knew that our partnership with CWSpirits.com was super valuable, and we are so happy to now own the domain and show our investors that LQR House is a leading force in the alcohol space – when it comes to alcohol marketing and sales."
LQR House's Revenue Setup
Not only does the acquisition underscore LQR House's commitment to revolutionizing the industry but it improves its capacity to meet the ever-evolving demands of consumers and potentially boost sales. LQR isn't a supplier, wholesale or retailer, but will operate the website and drive consumers to it. LQR earns a percentage from each sale generated through the CWSpirits.com platform, putting it in a unique position to further drive sales. "This setup has the potential to make a substantial impact on the company's revenue, thanks to its role in connecting customers to premium spirits and providing a seamless sales experience," says Dollinger.
Who You Know
CWSpirits.com built a name for itself by curating a selection of up-and-coming, well-known, premium and rare spirits. The platform is popular with wine and spirits brands and consumers thanks to easy delivery options, a selection of thousands of popular SKUs, the ability to access up-and-coming brands and exclusive deals and benefits through its Vault rewards platform. The platform also uses artificial intelligence to improve targeting and conversion rates.
Buying spirits online is no longer a novelty, it's a way of life for thousands of consumers. That isn't lost on LQR House or the 2,047 distilleries in the U.S. which are churning out new products to meet consumers' ever-evolving needs. LQR House wants to help brands navigate that and is betting its acquisition of CWSpirits.com better positions it to do just that.
Featured photo by CHUTTERSNAP on Unsplash.
Contact:
Sean Dolliner
[email protected]
SOURCE: LQR House
Forward-Looking Statements
Certain statements in this announcement are forward-looking statements. These forward-looking statements involve known and unknown risks and uncertainties and are based on the Company's current expectations and projections about future events that the Company believes may affect its financial condition, results of operations, business strategy and financial needs. Shareholders can identify these forward-looking statements by words or phrases such as "may," "will," "expect," "anticipate," "aim," "estimate," "intend," "plan," "believe," "is/are likely to," "potential," "continue" or other similar expressions. The Company undertakes no obligation to update or revise publicly any forward-looking statements to reflect subsequent occurring events or circumstances, or changes in its expectations that arise after the date hereof, except as may be required by law. These statements are subject to uncertainties and risks including, but not limited to, the uncertainties related to market conditions and the completion of the initial public offering on the anticipated terms or at all, and other factors discussed in the "Risk Factors" section of the registration statement on Form S-1 filed with the SEC. Although the Company believes that the expectations expressed in these forward-looking statements are reasonable, it cannot assure you that such expectations will turn out to be correct, and the Company cautions investors that actual results may differ materially from the anticipated results and encourages investors to review other factors that may affect its future results in the Company's registration statement on Form S-1 and other filings with the SEC. Additional factors are discussed in the Company's filings with the SEC, which are available for review at www.sec.gov. Additional disclaimer. The information presented in the above-referenced report is based on the research and analysis of the publisher. The publisher is solely responsible for the accuracy and completeness of the information and the opinions expressed in the report. The views expressed therein are the personal views of the publisher and are not endorsed by or representative of the company. Client we are being compensated with five thousand dollars per month, for providing ongoing news reporting and coverage.
Investor and Media Contact:
Roland Rick Perry, Editor 310-594-8062
[email protected]