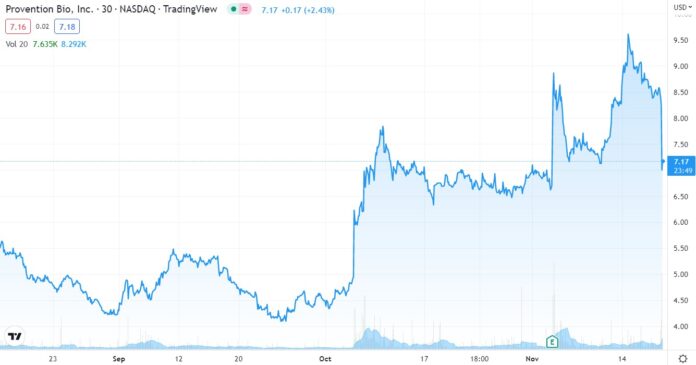 Re-cork the Champagne!
We were contemplating (dreaming) about an opening price over $12, and then a drift up towards $20, sometime during 2023. But no, it trades down to $7.50 on the news. What a pisser.
If today were the first day we discovered it, we would definitely be initiating coverage and adding it to the 2022 Watch List, but we already did that in July when it first broke over $4.00 – after a year long water torture drift from $20 in late 2020.
We might even call current trading, a gift from the stock market Gods. Of course, only time will tell.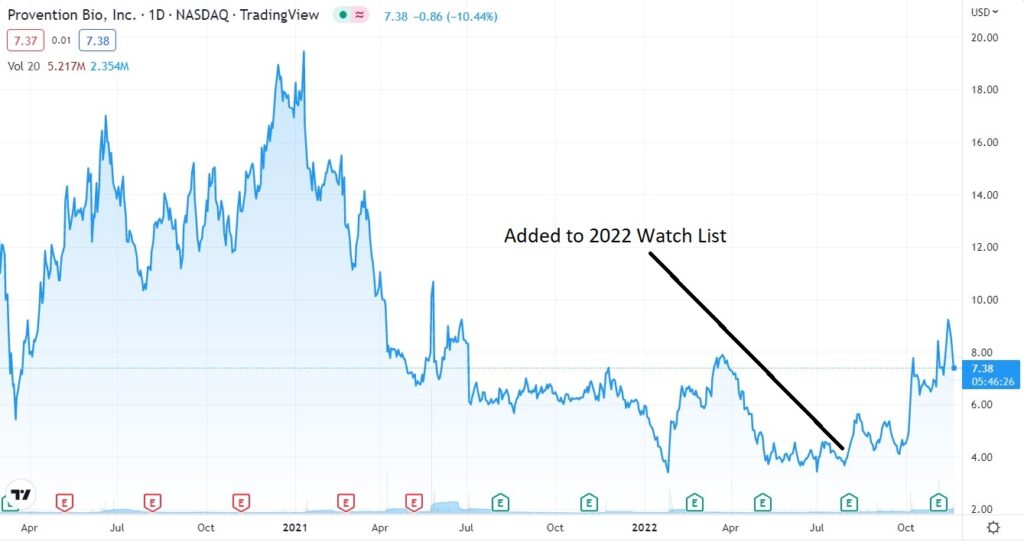 As a reminder, this is a very worthy cause drug (TZIELD) which during the clinical trials was shown to delay "full-blown" type 1 diabetes, which will eventually require insulin injections by two years.
UNRELATED: Adding Ardelyx (ARDX) $1.57 to Watch List. FDA Adcom Approval.
A couple nice press release quotes:
"It cannot be emphasized enough how precious a delay in the onset of Stage 3 T1D can be from a patient and family perspective; more time to live without and, when necessary, prepare for the burdens, complications and risks associated with Stage 3 disease." Ashleigh Palmer, Co-Founder and CEO.
(Provention Bio Inc said the 4-day regimen of the drug would translate to a price of $193,900. Yes quite a lot, but this compares to a patient, in just one year, having 1,460 finger sticks to check blood glucose levels, around 1,100 insulin injections, and experiencing an average of 127 episodes of hypoglycemia. And double those numbers over two years, if the drug is as effective in practice as in the trials. Over 1.8 million Americans have Type 1. Type 1 typically takes more than a decade off a person's life, and life expectancy is reduced by 16 years on average for people diagnosed before the age of 10. So bring it on.)
"This approval is a profound and long-awaited victory for the diabetes community. We applaud Provention Bio for its unwavering determination to bring the first ever disease-modifying therapy for T1D to patients. We expect that there is a greater value of teplizumab beyond this indication and hope for a broader collaboration with Provention in the future," said Olivier Bogillot, Sanofi's head of U.S. General Medicines.
Preparations are underway with its partner Sanofi for a full launch in January 2023.
Here is a good pre-approval write-up at SeekingAlpha. Provention Bio: The Heat Is On Teplizumab For FDA Approval
---
Over on Wall Street..
Six equities research analysts have rated the stock with a buy recommendation. The average 1-year target price among brokers that have updated their coverage on the stock in the last year is $19.00.
Several analysts have weighed in on the stock. Jefferies Financial Group upped their price objective on shares of Provention Bio from $10.00 to $15.00 and gave the stock a "buy" rating in a research note on Thursday, October 6th. Chardan Capital increased their price objective on shares of Provention Bio from $21.00 to $24.00 and gave the company a "buy" rating in a report on Friday, November 4th.
Oppenheimer Adjusts Provention Bio Price Target to $18 From $14, Maintains Outperform Rating
Hello stock market Gods, is anyone watching? Let's get this show on the road, Wall Street is waiting and the champagne is getting flat.
MarketBeat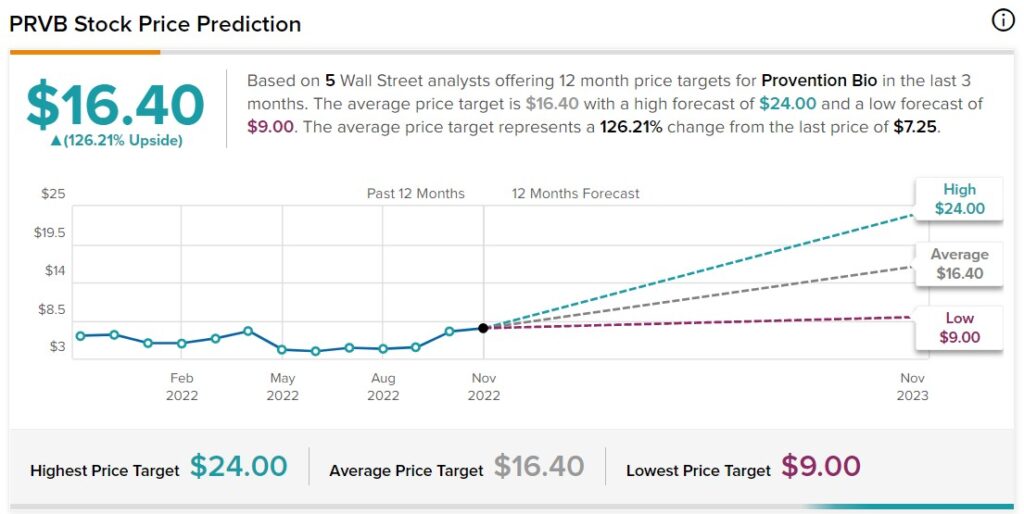 ---
TipRanks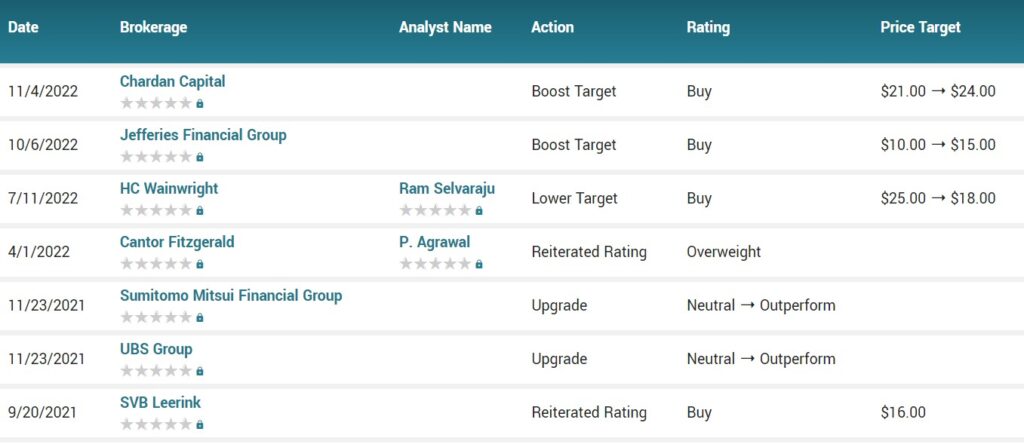 ---
Read warnings and precautions in press release.
Conference Call and Webcast Information
Provention Bio will discuss this business update via a conference call tomorrow at 8:00 am ET. To access the call, please dial 1-888-347-7861 (domestic) or 1-412-902-4247 (international) ten minutes prior to the start time and ask to be connected to the "Provention Bio Call." An audio webcast will also be available on the "Events and Webcasts" page of the Investors section of the Company's website, www.proventionbio.com. An archived webcast will be available on the Company's website approximately two hours after the conference call.
Forward-Looking Statements
Certain statements in this press release are forward-looking, including but not limited to, statements relating to the unmet need in T1D, the safety and efficacy of and the ability for TZIELD to address the unmet need for its approved indication, plans to bring TZIELD to patients and related commercialization plans with Sanofi. These statements may be identified by the use of forward-looking words such as "may" and "potential," among others. These forward-looking statements are based on the Company's current expectations and actual results could differ materially. There are a number of factors that could cause actual events to differ materially from those indicated by such forward-looking statements. These factors include, but are not limited to, failure to maintain FDA approval for TZIELD; the planned commercial launch in the US for TZIELD may not be successful in part or at all for various reasons including the actual market size and drug supply needed may not be consistent with the company's expectations and its executed commercial readiness plans; the degree to which TZIELD is accepted by patients and prescribed by physicians; the efficiency of our manufacturing, sales, distribution and specialty pharmacy network in getting TZIELD to the market and future economic, competitive, reimbursement and regulatory conditions that could negatively impact the commercial launch of TZIELD; the post-marketing commitment studies for TZIELD may not yield data consistent with prior results; we may not be able to execute on our business plans including meeting our expected or planned regulatory milestones and timelines, clinical development plans and successfully bringing our product candidates to market, for various reasons, including factors outside of the Company's control, such as possible limitations of Company financial and other resources, competition, manufacturing limitations that may not be anticipated or resolved for in a timely manner or at all, and regulatory, court or agency decisions, such as decisions by the United States Patent and Trademark Office with respect to patents that cover our product candidates, the potential for noncompliance with FDA regulations; the potential impacts of COVID-19 on our business and financial results; changes in law, regulations, or interpretations and enforcement of regulatory guidance; uncertainties of patent protection and litigation; competition and the risks listed under "Risk Factors" in the Company's quarterly report on Form 10-Q for the quarter ended September 30, 2022 and any subsequent filings with the Securities and Exchange Commission. As with any pharmaceutical under development, there are significant risks in the development, regulatory approval, and commercialization of new products. Provention does not undertake an obligation to update or revise any forward-looking statement, whether as a result of new information, future developments or otherwise, except as may be required by applicable law. The information set forth herein speaks only as of the date hereof.