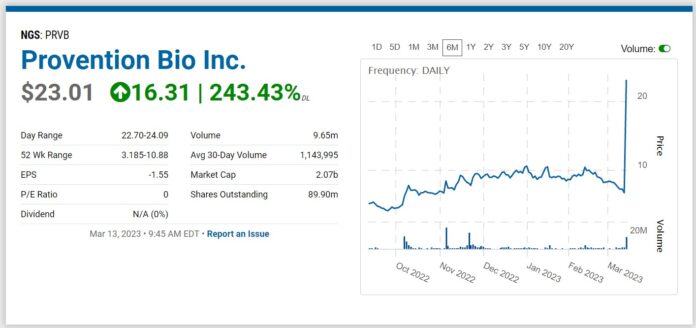 And up 416%, from Adding it to 2022 Watch List!
Great way to wake up after a night of hard partying at the C-3.
How pray tell, how did we make more than 400% in less than a year? A single one-day, $1.6 billion gain and payday for shareholders.
Paris and Red Bank, N.J. March 13, 2023 Sanofi and Provention Bio, Inc., a U.S.-based, publicly traded biopharmaceutical company focused on intercepting and preventing immune-mediated diseases including type 1 diabetes (T1D), have entered into an agreement under which Sanofi has agreed to acquire Provention Bio, Inc., for $25.00 per share in cash, representing an equity value of approximately $2.9 billion.
Sanofi to acquire Provention Bio for $2.9 billion.
Let's thank Robert DePhillipis – our resident Biotech guru. He also gave us the Immunomedics (IMMU) idea which went from $2.50 to $87 up a whopping 2,385%.
Another round of drinks for Bobby!
And don't say we didn't tell ya.
Immunomedics (IMMU) $3.00 to $88, Up 29-fold, Our Second Best Idea Ever.
---
---
Short Term Chart Pre-Buyout.
The ouch chart (for some poor fellow sold at $6.50) pre-buyout. The short-term chart admittedly was looking quite sick, with the shares recently sliding from $10.50 to $6.50. The buyout was apparently a very well kept secret!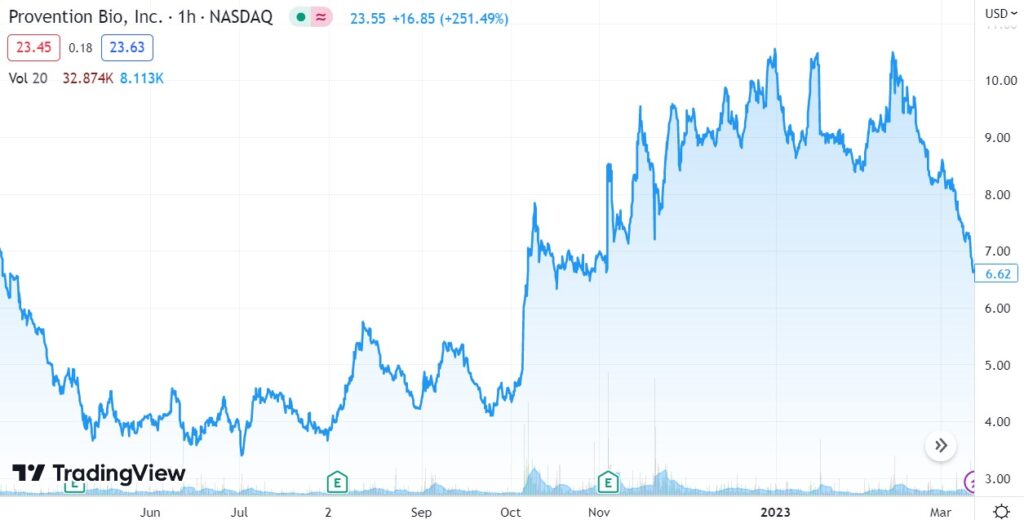 ---
Short Term Chart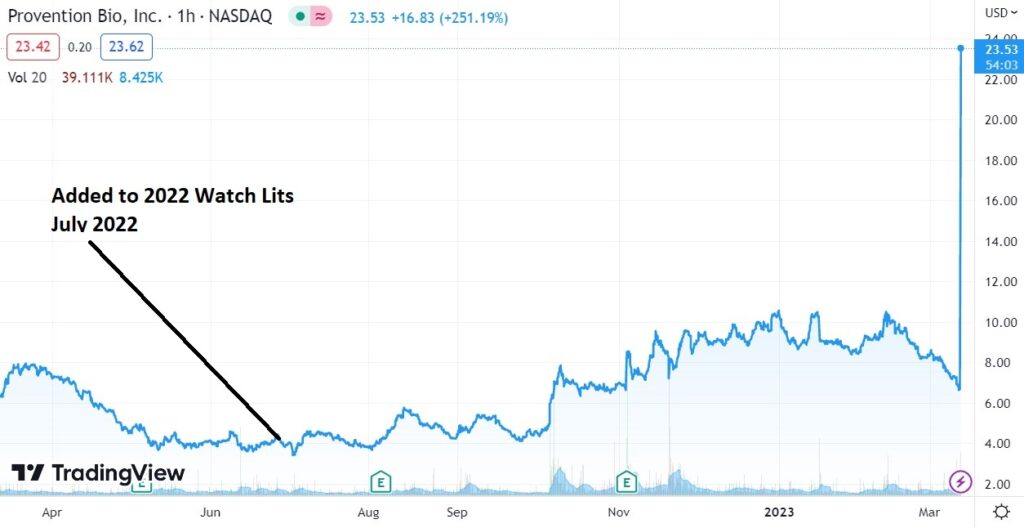 Longer Term Chart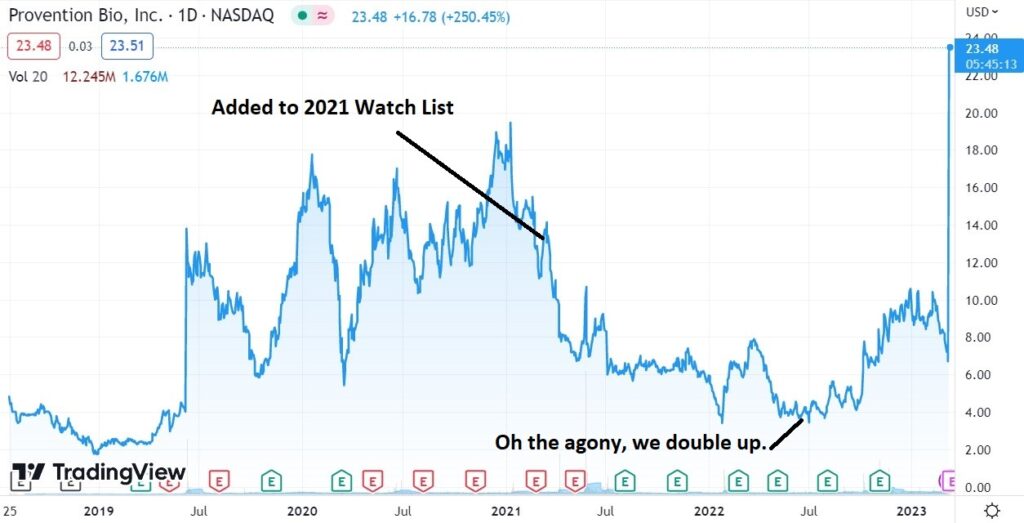 Subscribe, Provention is up $1.6 billion today, come play with us, it's free.

---
Forward Looking Statements:
Certain statements in this press release are forward-looking, including but not limited to, statements relating to our product pipeline and delivery of key catalysts throughout the course of the next 24 months; the Company's planned regulatory interactions; the medical need in at-risk T1D patients, the potential approval of teplizumab and therapeutic effects and safety of teplizumab in at-risk T1D patients; the FDA's review and potential approval of teplizumab and potential regulatory and commercialization timeline; the potential impact of FDA decisions on PK comparability and the BLA resubmission for at-risk patients on the PROTECT study; the potential impact of the co-promotion agreement with Sanofi on the teplizumab launch; anticipated timing for the Phase 2a trial of PRV-3279; anticipated enrollment in the PROACTIVE study; anticipated timing of top-line results for our product candidates; our current expectations regarding the ability of our cash, cash equivalents and marketable securities to fund our current operating requirements for at least the next 12 and 24 months based on approval and non-approval scenarios; and expected cash-based operating expenses for the third quarter of 2022. These statements may be identified by the use of forward-looking words such as "will," "may," "believe," "plans," and "expect," among others. These forward-looking statements are based on the Company's current expectations and actual results could differ materially. There are a number of factors that could cause actual events to differ materially from those indicated by such forward-looking statements. These factors include, but are not limited to, risks related to additional delays in or failure to obtain FDA approvals for teplizumab or in the development plans for the Company's other Company product candidates and the potential for noncompliance with FDA regulations and requirements; any inability to successfully work with the FDA to find a satisfactory solution to address its concerns in a timely manner or at all, including during the FDA's review of the teplizumab BLA resubmission; any inability of the BLA resubmission or our response to FDA requests to satisfactorily address other matters cited in the CRL including relating to PK comparability, product quality, the safety update required by the FDA or any other FDA requirements for an approval of teplizumab; the potential impacts of COVID-19 on our business and financial results; changes in law, regulations, or interpretations and enforcement of regulatory guidance; uncertainties of patent protection and litigation; the Company's dependence upon third parties; substantial competition; the Company's need for additional financing and the risks listed under "Risk Factors" in the Company's quarterly report on Form 10-Q for the third quarter ended September 30, 2022 and any subsequent filings with the Securities and Exchange Commission. As with any pharmaceutical under development, there are significant risks in the development, regulatory approval and commercialization of new products. Provention does not undertake an obligation to update or revise any forward-looking statement, whether as a result of new information, future developments or otherwise, except as may be required by applicable law. The information set forth herein speaks only as of the date hereof.
Parties related Institutional Analyst are long PRVB
Investor Contact:
Kristen Kelleher
Senior Manager, Investor Relations
[email protected]
Brendan Strong
Argot Partners
[email protected]
212-600-1902
Media Contact:
Kaelan Hollon
VP, Corporate Communications
[email protected]
202-421-4921