We're up 106% From Adding to the 2022 Watch List Last July. And up 26% a Week After Urging Holders to Calm Down, Let's see how This Plays Out!
Plunges day of FDA Approval as Short Term, Impatient and Instant Gratification Flippers – Sell day of Approval.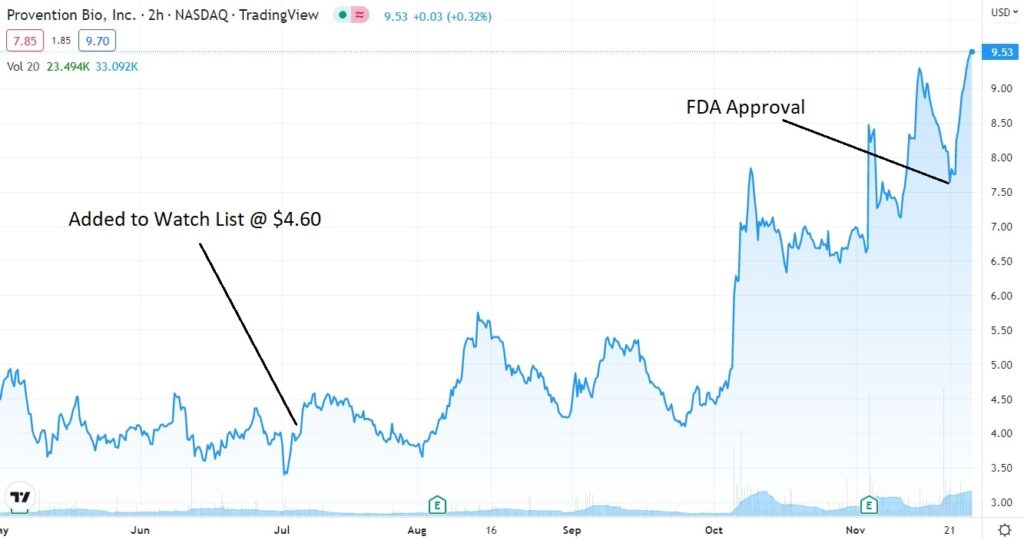 November 15th: "We were contemplating (dreaming) about an opening price over $12, and then a drift up towards $20, sometime during 2023. But no, it trades down to $7.50 on the news. What a pisser."
"If today were the first day we discovered it, we would definitely be initiating coverage and adding it to the 2022 Watch List, but we already did that in July when it first broke over $4.00 – after a year long water torture drift from $20 in late 2020."
We might even call current trading, a gift from the stock market Gods. Of course, only time will tell.
November 18: FDA Approval for Provention Bio (PRVB).
November 15: Provention Biosciences (PRVB) Enters the Danger Zone.
July 13: Adding Provention Bio (PRVB) $4.60 to 2022 Biotech Watch List.
---
WALL STREET UPDATES, UPDATED!
We have some nice price upgrades here in the last week. Only time will tell, but better than downgrades!
Do we see an $18, yes $18 from the analyst at Oppenheimer. Do we see an $22. $22 – $22 – $22 and yes, we have a $22 from the West Coast Gentleman. Do we see $30. Anybody..$30. $30 for a one-of-a-kind, biotech with an approved drug from the FDA. $22 going once, $22 going twice – and yes, we have $30 from the Gentleman at Chardan Capital in New York.

---
Press Release: TZIELD(TM) (teplizumab-mzwv) approved by FDA as the first and only treatment indicated to delay the onset of Stage 3 type 1 diabetes
Provention Bio, Inc. uses its website, www.proventionbio.com, as a means of disclosing material nonpublic information and for complying with its disclosure obligations under Regulation F.D. Such disclosures will be included on the Company's website in the "News" section. Accordingly, investors should monitor this portion of the Company's website, in addition to following its press releases, SEC filings and public conference calls and webcasts.
Forward-Looking Statements
Certain statements in this press release are forward-looking, including but not limited to, statements relating to the unmet need in T1D, the safety and efficacy of and the ability for TZIELD to address the unmet need for its approved indication, plans to bring TZIELD to patients and related commercialization plans with Sanofi. These statements may be identified by the use of forward-looking words such as "may" and "potential," among others. These forward-looking statements are based on the Company's current expectations and actual results could differ materially. There are a number of factors that could cause actual events to differ materially from those indicated by such forward-looking statements. These factors include, but are not limited to, failure to maintain FDA approval for TZIELD; the planned commercial launch in the US for TZIELD may not be successful in part or at all for various reasons including the actual market size and drug supply needed may not be consistent with the company's expectations and its executed commercial readiness plans; the degree to which TZIELD is accepted by patients and prescribed by physicians; the efficiency of our manufacturing, sales, distribution and specialty pharmacy network in getting TZIELD to the market and future economic, competitive, reimbursement and regulatory conditions that could negatively impact the commercial launch of TZIELD; the post-marketing commitment studies for TZIELD may not yield data consistent with prior results; we may not be able to execute on our business plans including meeting our expected or planned regulatory milestones and timelines, clinical development plans and successfully bringing our product candidates to market, for various reasons, including factors outside of the Company's control, such as possible limitations of Company financial and other resources, competition, manufacturing limitations that may not be anticipated or resolved for in a timely manner or at all, and regulatory, court or agency decisions, such as decisions by the United States Patent and Trademark Office with respect to patents that cover our product candidates, the potential for noncompliance with FDA regulations; the potential impacts of COVID-19 on our business and financial results; changes in law, regulations, or interpretations and enforcement of regulatory guidance; uncertainties of patent protection and litigation; competition and the risks listed under "Risk Factors" in the Company's quarterly report on Form 10-Q for the quarter ended September 30, 2022 and any subsequent filings with the Securities and Exchange Commission. As with any pharmaceutical under development, there are significant risks in the development, regulatory approval, and commercialization of new products. Provention does not undertake an obligation to update or revise any forward-looking statement, whether as a result of new information, future developments or otherwise, except as may be required by applicable law. The information set forth herein speaks only as of the date hereof.
Investor Contacts:
Thierry Chauche, Chief Financial Officer
tchauche@proventionbio.com
Brendan Strong
Argot Partners
Proventionbio@argotpartners.com
212-600-1902
Media Contact:
Kaelan Hollon, VP of Communications
khollon@proventionbio.com
202-421-4921