After a Rough Six Months in the market, Nine Month Numbers Propels the Stock 40% Higher Signaling Possible Bottoming Process.
Lightly traded (400,000 today) we were early, but our enthusiasm remains.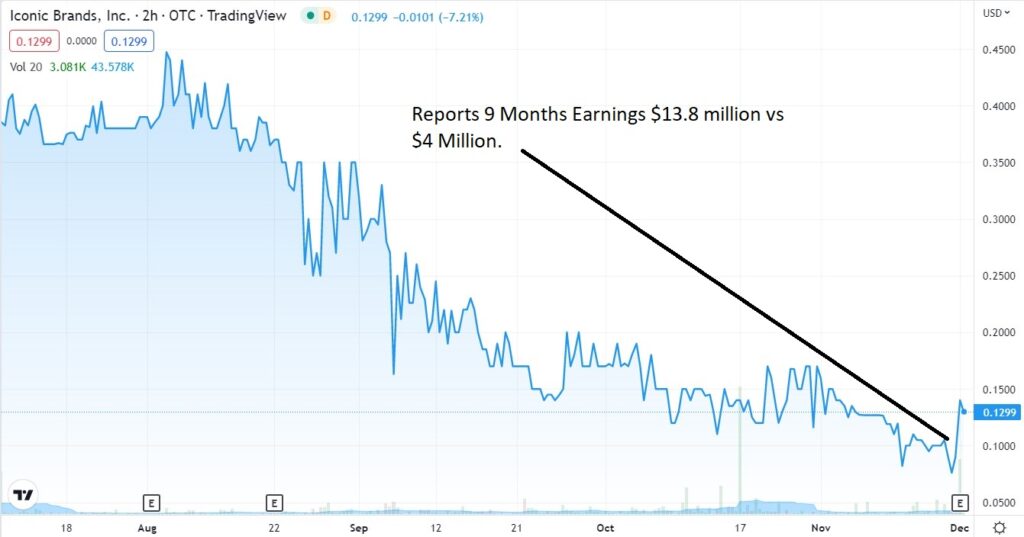 ---
3rd quarter and nine-month numbers out last Friday, November 2nd. Growth slowed quarter to quarter (YOY), but the nine month numbers showed an impressive gain from TopPop alone, with sales growing from $2 million to $11.5 million up 333%.
Ionic Brands 2nd Quarter Filing.
As of November 29, 2022, Iconic had 107 million shares outstanding, giving it a very reasonable (one might say undervalued) market cap of $14 million.
During the three and nine months ended September 30, 2022, the Company recorded an impairment charge of $10,694,448 for goodwill – which will undoubtedly confuse some.
During the period from October 1, 2022 to October 24, 2022, stockholders converted 220 shares of Series A-2 Preferred Stock into 704,000 shares of Common Stock. We'll keep an eye on that as well as repayment of the TopPop notes. Read details in 10Q filing above.
RELATED: Iconic Brands (ICNB). Liked it at $0.20, Love it at $0.09.
From the 10Q: For its first product line, TopPop identified the single serve, RTD and RTF as an opportunity for product and packaging innovation. TopPop introduced an alcohol-infused ice pop in June 2020 and began marketing the concept to major alcohol companies. In addition, it developed its own product line trademarked under the name BoozyPopz® which is expected to be sold through e-commerce platforms and wholesaled directly to sports and entertainment venues.
TopPop manufactured approximately eight million ice pops from its launch in June 2020 through December 31, 2020 and manufactured approximately 42 million ice pops during the year ended December 31, 2021.
TopPop has also developed a pipeline for the single serve, RTD alcohol cocktail market and anticipates launching a line of products in this market in 2022. TopPop designs and markets flexible packaging for its RTD and RTF products with formulations that are low calorie and contain healthy and natural ingredients. With the opening of TopPop's new facility at the end of the first quarter of 2022, we expect to have the capacity to manufacture over 150 million units by the end of 2022.
RELATED DECEMBER 6TH PRESS RELEASE: Iconic Brands Reported Financial Results for Third Quarter 2022
Forward-Looking Statements
This press release and those referenced to, contains forward-looking statements within the meaning of the "safe harbor" provisions of the Private Securities Litigation Reform Act. These forward-looking statements are made on the basis of the current beliefs, expectations and assumptions of management, are not guarantees of performance, and are subject to significant risks and uncertainties. These forward-looking statements should, therefore, be considered in light of various risks, including those set forth in Iconic's reports that it files from time to time with the U.S. Securities and Exchange Commission and which you should review, including those statements under "Item 1A – Risk Factors" in Iconic's most recent Annual Report on Form 10-K and Quarterly Reports on Form 10-Q.