Ardelyx Adds 16% to $3.82 as Wedbush Upgrades After Q4 Earnings.
Ardelyx ( NASDAQ: ARDX ) gained 35% Friday after the biotech reported better-than-expected financials for Q4 2022, prompting Wedbush analyst Laura Chico to upgrade its shares to Outperform from Neutral.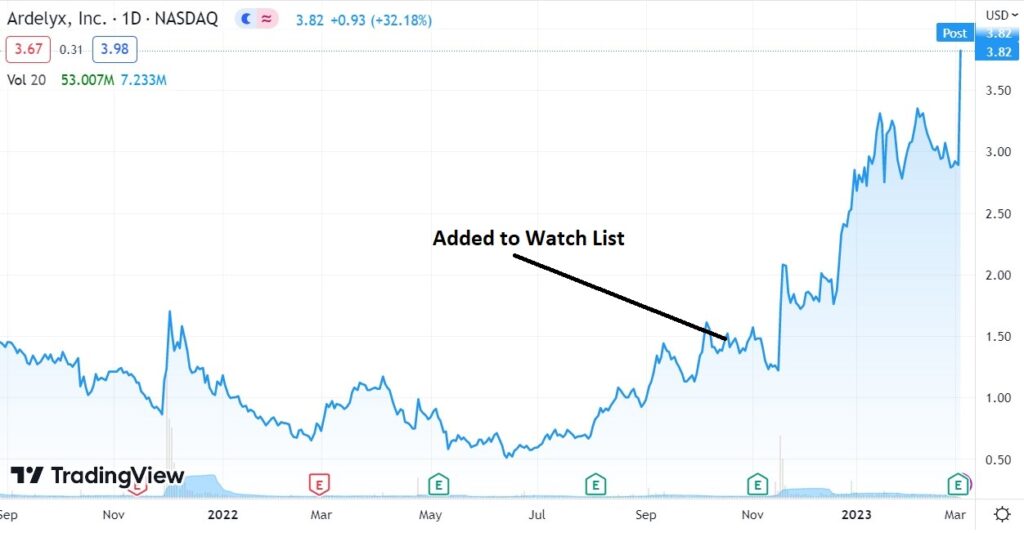 Ardelyx, Inc. (ARDX) Q4 2022 Earnings Call Transcript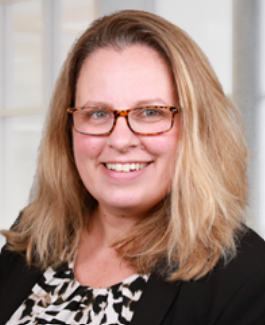 The market cap has risen from $297 million when we added it to the Watch List to $752 million a gain of $455 million and that ain't bad.
The analyst has favorable views on the company's lead product Ibsrela which is indicated in the U.S. to treat adults with irritable bowel syndrome with constipation. Ardelyx ( ARDX ) is also advancing the small molecule under the brand name Xphozah for hyperphosphatemia in adults with chronic kidney disease.
"Ibsrela continues to steadily march upward following the 4Q22 report, and with Xphozah's regulatory path starting to become clear, we are moving to an Outperform rating on ARDX shares," Chico wrote.
After Q4 results, the analyst raised FY23 revenue estimates from Ibsrela, arguing that total prescription dollars for the treatment indicated a 48% QoQ growth based on February data from pharma analytics firm SymphonyHealth.
The analyst also pointed out that, in contrast, the pre-existing Q1 2023 consensus for Ibsrela suggested a modest sequential decline. "Commercial success is critical to our thesis, but with the stock trading at <$3/sh, we see a favorable risk/reward setup," Chico wrote with a $6 target on the stock.
In October, Seeking Alpha contributor BioSci Capital Partners issued a Buy rating on Ardelyx ( ARDX ), citing early commercial success for Ibsrela.
(PS: We don't issue buy or sell edicts. So don't expect us to say sell if this exceeds Laura's price target. When we lose interest, we just fade quietly away.)
The most bullish analyst has an $8.00 target and that also ain't bad!

---
LONGER TERM CHART
Please note even though they have $121 million in the bank, it is NOT enough money. They spent $32 million in the last quarter alone. They have filed an at-the-market offering in late January with Jeffries for $150 million. So they could unload a block at any time, which can create a short-term air pocket if it's done at a discount – depending on the size of the discount…if any. Another factor is who buys the block, a hedge fund "flipper," or a multi-billion dollar fund with long-term intentions.
---
News Archive
March: Ardelyx Regulatory Catalyst Looms In April, But Invest In It Longer.
January: Booya. We're up 143% With Ardelyx (ARDX)in Three Months – and That Ain't Bad!
January: He Shoots And He Scores. Ardelyx (ARDX) Gains 78%. Happy New Year!
December: Ardelyx (ARDX). Don't be Nervous, It's Just Money.
December: FDA to Ardelyx: "Give us a Couple More Weeks." (ARDX) $1.80.
November: Adding Ardelyx (ARDX) $1.57 to Watch List.
Forward Looking Statements

To the extent that statements contained in this press release are not descriptions of historical facts regarding Ardelyx, they are forward-looking statements reflecting the current beliefs and expectations of management made pursuant to the safe harbor of the Private Securities Reform Act of 1995, including potential commercial opportunities and other opportunities for the company, Ardelyx's current expectation for both the timing of the NDA submission and potential FDA approval for XPHOZAH, and the potential extension of the interest only period for Ardelyx's senior term loan facility. Such forward-looking statements involve substantial risks and uncertainties that could cause Ardelyx's future results, performance or achievements to differ significantly from those expressed or implied by the forward-looking statements. Such risks and uncertainties include, among others, uncertainties associated with the commercialization of drugs and uncertainties regarding the FDA regulatory process. Ardelyx undertakes no obligation to update or revise any forward-looking statements. For a further description of the risks and uncertainties that could cause actual results to differ from those expressed in these forward-looking statements, as well as risks relating to Ardelyx's business in general, please refer to Ardelyx's Annual Report on Form 10-K filed with the Securities and Exchange Commission on March 2, 2023, and its future current and periodic reports to be filed with the Securities and Exchange Commission. $ARDX, #ARDX