Ah yes, and Gains Come to the Patient, as the FDA Moves the Ardelyx Ball Further Along.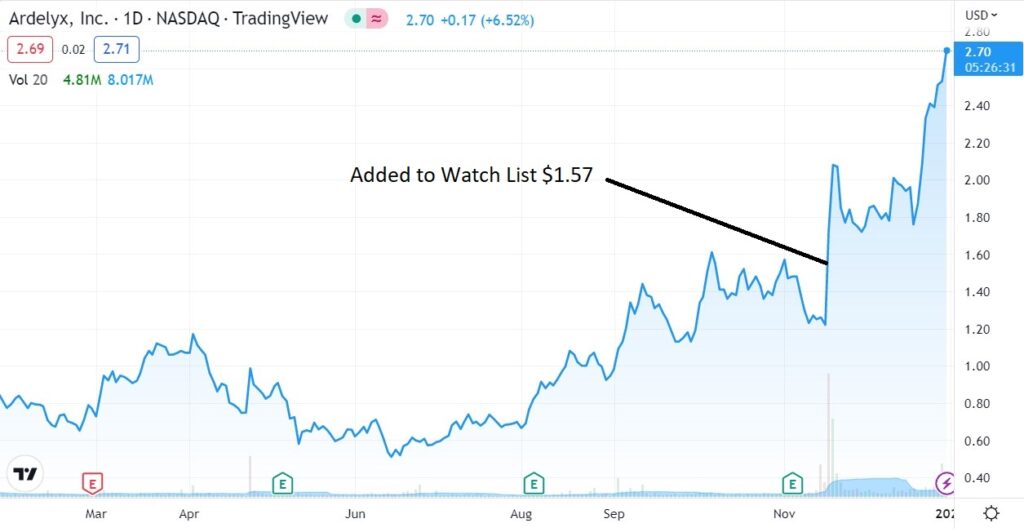 Despite the 78% gain since November 17th, the risk profile has just dropped rather significantly. What a great way to start the new year!
Adding Ardelyx (ARDX) $1.57 to Watch List.
With unbelievable bargains everywhere (similar to 2003), we expect 2023 to be one of our best years ever. Just saying, so stay tuned.
While 20 years is long time to wait for bargains to appear left and right, investors today who can look out to 2026 or 2027 – are bound to be ecstatically happy with some of our (and their own) picks. Yes there's more pain ahead for some stocks, but there are dozens of companies trading near cash, and it's simply insane to ignore them regardless if the 'overall' market remains historically overvalued.
Finally everyone loves to quote Warren Buffet "buy when there's blood in the streets." Well guess what, we've never seen so much blood. Not since we were a runner on the Chicago Board Options Exchange in 1974. We will be fishing in the biotechnology, technology and psychedelic ponds.
Odd Coincidence? Up 78% Deja Vu: He Shoots and He Scores. Dicerna (DRNA) up 78%.
---
Ardelyx (ARDX)
We think it's fair to say, most investors like to sell on any good news from the FDA, while far fewer others buy. Ardelyx was up 28% the day that we added it to the Watch List, suggesting we are in the 'buy on good news' camp!
A Fun and Good Experience to Date.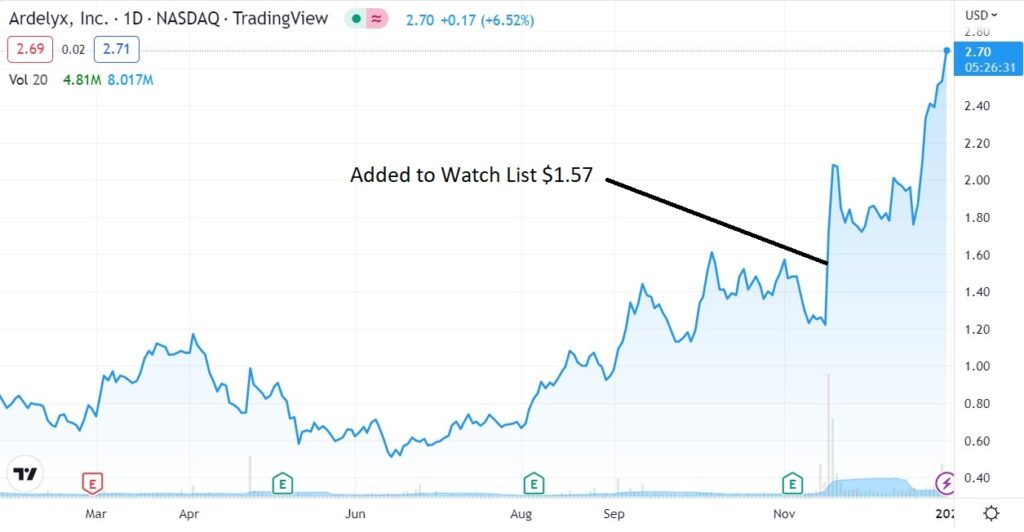 It felt nerve racking ever since, with 129 million shares trading that day, when the previous average daily volume around 4 million. Now however, it feels like clear sailing. We still don't have approval, but to state the obvious, the FDA could have said NO!
So this looks like a Martini weekend, with jello shots all around.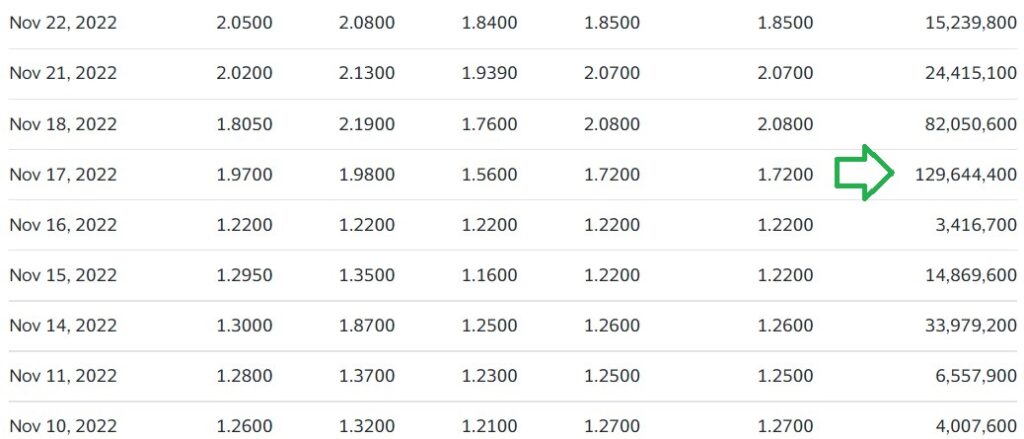 ---
Today's news was that the Office of New Drugs directed the Division of Cardiology and Nephrology to work with Ardelyx to develop a label to support the commercialization of XPHOZAH; Ardelyx to resubmit NDA in the first half of 2023
Upon approval, XPHOZAH would be the first and only phosphate absorption inhibitor, offering patients a novel mechanism (says the company).
FDA Grants Appeal for Ardelyx's XPHOZAH® (Tenapanor)
A year from now, we'd expect the shares to be valued significantly higher, assuming FDA approval. So yes, further patience (and risk-taking) is required.
---
Bret Jensen from the Biotech Forum appears to have been waiting for this day, to release his well-done writeup, and we see no need to duplicate his efforts.
If approved, with ~440,000 CKD patients in the U.S. on dialysis and requiring treatment for hyperphosphatemia, XPHOZOA's market opportunity is ~$500 million to $700 million. Add in ~260,000 similar patients in Europe and ~289,000 in Japan and its prospects look even better.
To characterize the FDA's actions in relation to XPHOZOA as "head scratching" would be generous. As such, the outcome of the FDA approval is by no means a slam dunk, but it is trending more positive. That said, Ardelyx is a coin flip: tails it becomes a sub-$1 stock, save IBSRELA sales skyrocketing; heads and tenapanor (as both IBSRELA and XPHOZOA) has a shot at blockbuster status by the end of the decade..
Ardelyx: The Journey Continues
---
Happy New Year and Happy Hunting to all.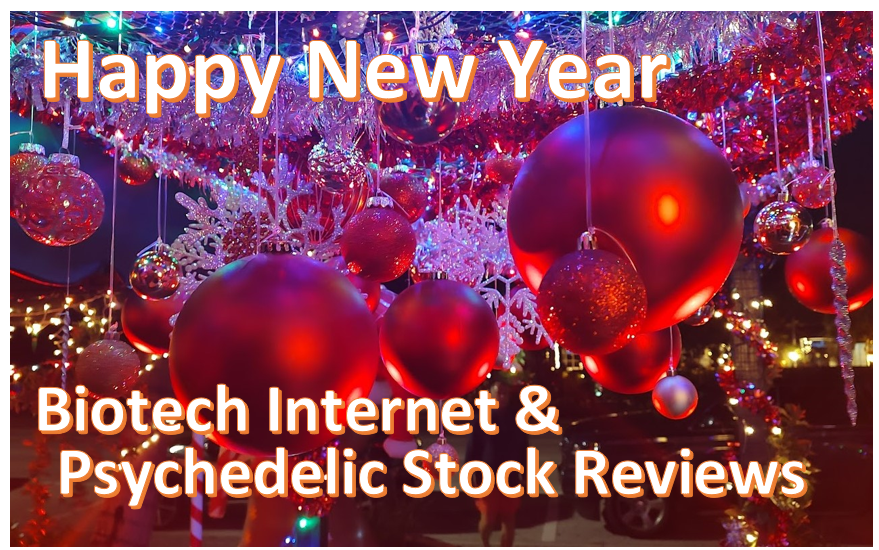 ---
Disclaimer: To the extent that statements contained in this press release are not descriptions of historical facts regarding Ardelyx, they are forward-looking statements reflecting the current beliefs and expectations of management made pursuant to the safe harbor of the Private Securities Reform Act of 1995, including whether the outcome of the Advisory Committee meeting will be reflected in FDA's decision on its appeal and Ardelyx's current expectation regarding the timing of the OND's decision on its appeal. Such forward-looking statements involve substantial risks and uncertainties that could cause Ardelyx's future results, performance or achievements to differ significantly from those expressed or implied by the forward-looking statements. Such risks and uncertainties include, among others, uncertainties associated with the regulatory approval process. Ardelyx undertakes no obligation to update or revise any forward-looking statements. For a further description of the risks and uncertainties that could cause actual results to differ from those expressed in these forward-looking statements, as well as risks relating to Ardelyx's business in general, please refer to Ardelyx's Quarterly Report on Form 10-Q filed with the Securities and Exchange Commission on November 3, 2022 , and its future current and periodic reports to be filed with the Securities and Exchange Commission.
#ARDX, $ARDX