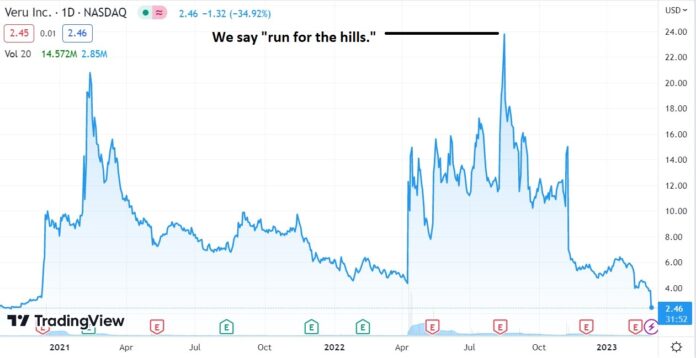 Down 35% Today, and 89% from $24, and a $1.9 Billion Market Cap, Only 7 Months ago.
The FDA says we have some nice parting gifts for you.
Now actually looking interesting (we will be studying) with a $190 million market cap and $46 million in the bank, to keep swinging or to fund some other drugs in their pipeline.

---
"We are disappointed in the FDA's decision to decline the request for an EUA because of the possibility of unknown influences, or uncertainties that may have affected the study as FDA agreed upon its review that our Phase 3 study met its primary endpoint and could not be invalidated by any known influences." Mitchell Steiner, M.D., Chairman, President.
Say what..
August 16th, 2022. VERU Inc. (VERU) $24. High Risk, Minimal Reward?
We haven't checked what the brokers are saying today, but we are curious. They were wildly bullish 7 Months ago.

HC Wainwright and Oppenheimer we're told have both reduced their targets to $14. And that ain't bad.
---
BEFORE: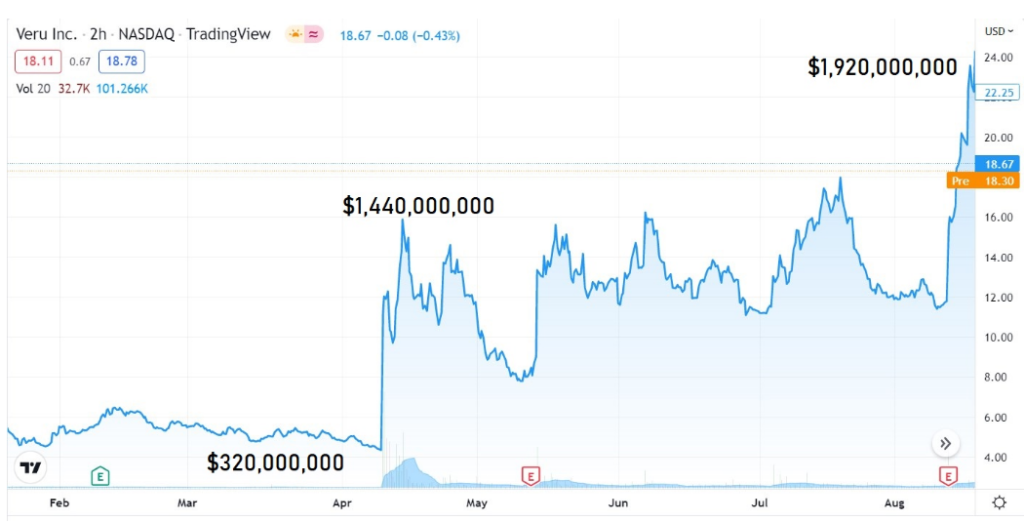 ---
AFTER: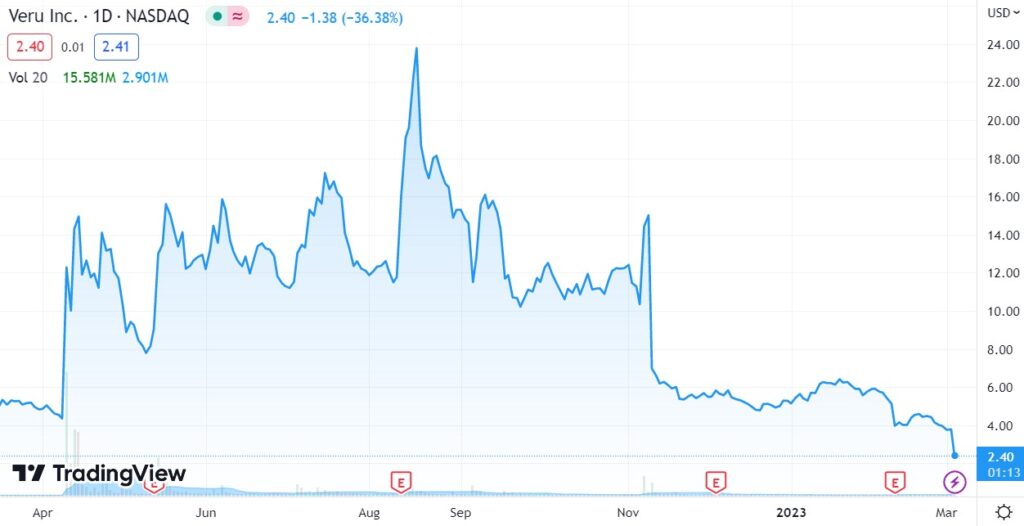 ---
Press Release: Veru Provides FDA Update on Request for Emergency Use Authorization
Forward-Looking Statements
The statements in this release that are not historical facts are "forward-looking statements" as that term is defined in the Private Securities Litigation Reform Act of 1995. Forward-looking statements in this release include statements regarding: whether the FDA will approve the protocol for any finally proposed confirmatory Phase 3 study of sabizabulin for certain COVID-19 patients; whether any such Phase 3 study will meet its proposed primary or secondary endpoints; the proposed timing, size and scope of any such Phase 3 study; whether any potential interim analyses of such Phase 3 study will show sufficient efficacy and safety and whether any such interim results would be sufficient to support stopping the study early and submitting a new EUA or an NDA on any accelerated timeline; when the Company expects to disclose the details of the design and timing of this potential Phase 3 confirmatory study; whether the FDA will accept any results of such trial as sufficient for a new EUA or an NDA submission and, if any such application is submitted, whether the FDA will ultimately authorize or approve such application; how long the FDA will be able to continue to issue EUAs under its current emergency authorization under the U.S. Department of Health and Human Services; whether the current mortality rate of COVID-19 in the U.S. will continue, increase or decrease; whether sabizabulin will be a potentially life-saving drug for COVID-19 patients in the U.S. or elsewhere in the world; the degree to which the FDA continues to work with the Company to develop sabizabulin; whether the current and future clinical development efforts of the Company and any of their results will demonstrate sufficient efficacy and safety and potential benefits to secure FDA approval of any of the Company's other drug candidates; whether the drug candidates will be approved for the targeted line of therapy; whether ENTADFI will be commercialized successfully, the Company will grow sales of ENTADFI or the Company will be able to successful partner with any other entity to grow sales of ENTADFI; whether the telemedicine customers for FC2 will return to historical ordering patterns or increase their purchases of FC2 at all; and whether the Company's current cash will be sufficient to fund its planned or expected operations. These forward-looking statements are based on the Company's current expectations and subject to risks and uncertainties that may cause actual results to differ materially, including unanticipated developments in and risks related to: the development of the Company's product portfolio and the results of clinical studies possibly being unsuccessful or insufficient to meet applicable regulatory standards or warrant continued development; the ability to enroll sufficient numbers of subjects in clinical studies and the ability to enroll subjects in accordance with planned schedules; the ability to fund planned clinical development; the timing of any submission to the FDA or any other regulatory authority and any determinations made by the FDA or any other regulatory authority; the possibility that as vaccines, anti-virals and other treatments become widely distributed the need for new COVID-19 treatment candidates may be reduced or eliminated; government entities possibly taking actions that directly or indirectly have the effect of limiting opportunities for sabizabulin as a COVID-19 treatment, including favoring other treatment alternatives or imposing price controls on COVID-19 treatments; the Company's existing products, including FC2 and ENTADFI and, if authorized, sabizabulin, and any future products, if approved, possibly not being commercially successful; the effects of the COVID-19 pandemic and measures to address the pandemic on the Company's clinical studies, supply chain and other third-party providers, commercial efforts, and business development operations; the ability of the Company to obtain sufficient financing on acceptable terms when needed to fund development and operations; demand for, market acceptance of, and competition against any of the Company's products or product candidates; new or existing competitors with greater resources and capabilities and new competitive product approvals and/or introductions; changes in regulatory practices or policies or government-driven healthcare reform efforts, including pricing pressures and insurance coverage and reimbursement changes; the Company's ability to successfully commercialize any of its products, if approved; risks relating to the Company's development of its own dedicated direct to patient telemedicine and telepharmacy services platform, including the Company's lack of experience in developing such a platform, potential regulatory complexity, and development costs; the Company's ability to protect and enforce its intellectual property; the potential that delays in orders or shipments under government tenders or the Company's U.S. prescription business could cause significant quarter-to-quarter variations in the Company's operating results and adversely affect its net revenues and gross profit; the Company's reliance on its international partners and on the level of spending by country governments, global donors and other public health organizations in the global public sector; the concentration of accounts receivable with our largest customers and the collection of those receivables; the Company's production capacity, efficiency and supply constraints and interruptions, including potential disruption of production at the Company's and third party manufacturing facilities and/or of the Company's ability to timely supply product due to labor unrest or strikes, labor shortages, raw material shortages, physical damage to the Company's and third party facilities, COVID-19 (including the impact of COVID-19 on suppliers of key raw materials), product testing, transportation delays or regulatory actions; costs and other effects of litigation, including product liability claims; the Company's ability to identify, successfully negotiate and complete suitable acquisitions or other strategic initiatives; the Company's ability to successfully integrate acquired businesses, technologies or products; and other risks detailed from time to time in the Company's press releases, shareholder communications and Securities and Exchange Commission filings, including the Company's Form 10-K for the fiscal year ended September 30, 2022 and subsequent quarterly reports on Form 10-Q. These documents are available on the "SEC Filings" section of our website at www.verupharma.com/investors. The Company disclaims any intent or obligation to update these forward-looking statements. Thankfully, not a client!
U.S. FDA Pulmonary-Allergy Drugs Advisory Committee. (2022, November 9). Pulmonary-Allergy Drugs Advisory Committee Meeting Briefing
$VERU, #VERU Document.