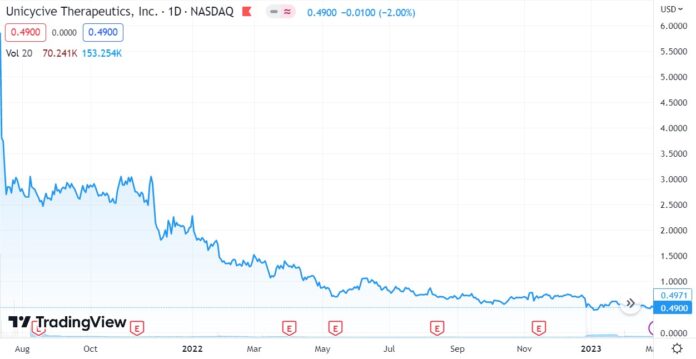 Los Altos, CA –News Direct– Unicycive Therapeutics, Inc.
By Julian Richard, Benzinga
Unicycive Therapeutics Inc (NASDAQ: UNCY) is a biopharmaceutical company committed to developing effective and safe treatments for kidney (renal) disease to reduce death rates and improve patients and their caregivers' quality of life by combining cutting-edge research with innovative products and services, Unicycive Therapeutics Inc. works toward providing transformative treatments to fight acute and chronic diseases.
Through its groundbreaking research and innovative treatments, Unicycive Therapeutics is spearheading the charge to bring renewed hope to countless patients worldwide. Two lead compounds are the subject of clinical development: Renazorb™. an investigational treatment for increased phosphorus in the blood (hyperphosphatemia) in those with chronic kidney disease (CKD) on dialysis, and UNI-494, for the treatment of acute kidney injury.
Silent And Insidious
Chronic kidney disease is a serious, life-threatening condition that affects countless people worldwide. It has emerged as one of the leading causes of death globally and is one of only a handful of non-communicable diseases to have increased mortality over the past two decades. Unfortunately, kidney disease often goes undetected until there is significant kidney damage, resulting in end-stage renal disease and death. This makes it all the more important for patients and their carers to understand this silent killer's signs, symptoms and consequences.
The disease can be debilitating and have devastating effects on those affected. Consequently, CDK causes a profound decrease in the quality of life of patients. Patients suffering from advanced CKD may experience fatigue, nausea, swelling in the hands and feet, high blood pressure, changes in urine color or amount and a build-up of toxins in the blood (uremia). In severe cases, these symptoms can lead to an inability to work or function normally, which can cause further physical and emotional stress.
In addition to the physical, emotional and financial impact of kidney disease, there is also a social impact. Those suffering from kidney disease may be unable to participate in activities they once enjoyed due to fatigue or other symptoms. They may also find it challenging to interact socially with friends and family because of their condition and low self-esteem.
For caregivers of those suffering from kidney disease, the impact can profoundly affect their physical and emotional well-being. They may be required to manage physical and emotional symptoms that are difficult to understand or predict and manage treatments ranging from dialysis to dietary changes. Caregivers must also understand medication regimens and any potential side effects to ensure their loved one's safety while managing the condition.
Those affected by CKD and their caregivers must understand the seriousness of this condition to take steps towards preventing it, managing it effectively, and finding support if needed. Awareness of the signs and symptoms of kidney disease can help patients identify the issue before damage occurs, while access to treatments can ensure that complications are prevented or managed appropriately.
Visit https://unicycive.com for more information on the company and its product candidates.
This article was originally published on Benzinga here.
Unicycive Therapeutics is a biotechnology company developing novel treatments for kidney diseases. Unicycive's lead drug, Renazorb, is a novel phosphate binding agent being developed for the treatment of hyperphosphatemia. UNI-494 is a patent-protected new chemical entity in late preclinical development for the treatment of acute kidney injury.
This post contains sponsored advertising content. This content is for informational purposes only and is not intended to be investing advice.
Contact Details
Anne Marie Fields – Stern Investor Relations
+1 212-362-1200
#UNCY, $UNCY