---
1. Dalrada (DFCO) $0.19. And Yes, We Have Another Double!
2. Dyadic (DYAI) $6.40. We're Up 392%, Video Presentation.
3. BioSig (BSGM) $4.70. We're Up 60%, PURE EP™ Heart Monitor Update Ahead.
4. OmniQ (OMQS) $4.70. We're Down a Tad, But Sales Are Up Big. Really Big.
5. Hapbee (HAPB) $0.60. Up 100% from IPO, Adding to Watch List.
6. Citius Pharma (CTXR). We're Up 116%. Going Up Because it Should Be.
7. Adding Hepion Pharma ($1.77) to Watch List. Oh My. What Did We Find Here?
8. Shark Tank's Kevin Harrington Video. Raising Capital in the Digital Era.
9. 8 Christmas Cocktails to Try This Year.
10. 8 Hanukkah Cocktails. One for Each Night!
11. Disclaimer
---
We're kind of feeling like: We've bitten off more than we can chew, our bandwidth is as constrained as an AOL dialup in 1998 and yet we're as bearish on the overall market as we've ever been. Go figure. So below are simply headlines from what we've been playing with, for the past couple of weeks.
The ideas we find interesting have nothing to do with us, thinking the market will continue higher in 2021. Really.
Despite our market bearishness, there are plenty of interesting small companies at interesting valuations – excluding the FANGsters and now AIRBNB. AIRBNB just went public and now sports a valuation of $101 billion. It was valued at $47 billion as lunch was being served yesterday. We feel so out of touch!
That's more than Marriott, Hilton, and Hyatt Hotels combined. We remember back in 2001 when some dotcom gambling website was worth more than the Las Vegas Sands, property and all. That didn't end too well.
AIRBNB in the early days..
"On June 26, 2008, our friend Michael Seibel introduced us to 7 prominent investors in Silicon Valley. We were attempting to raise $150,000 at a $1.5M valuation. That means for $150,000 you could have bought 10% of Airbnb. 5 Rejected us. The other 2 did not reply." Brian Chesky CEO. See rejection emails here
If there is a moral to the story, other than poking fun at this afternoon's buyers or being jealous of this morning's buyers, it is this, to quote AIRBNB's CEO: "Next time you have an idea and it gets rejected, I want you to think of these rejection emails."
Which is also why we like the small cap space – and their $50 million valuations.
---
1. Dalrada (DFCO) $0.19. And We Have Another Double!

Nine cents to $0.19 in a month ain't bad. What drew us to this was it being a micro-incubator, with an interest in a hand sanitizer offering.
Adding Dalrada (DFCO) $0.09 to CoronaVirus Stock Watch List.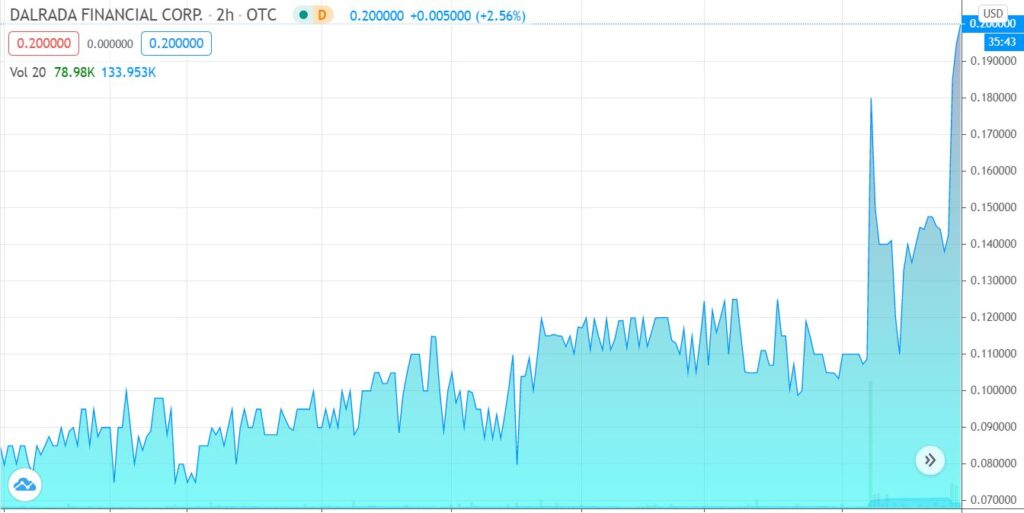 ---
2. Dyadic (DYAI) $6.40. We're Up 392%, Video Presentation.
We're up fantastic since adding it to the Watch List in 2017, but basically unchanged from where we added it ($5.90) to the 2020 "Stocks We Expect to Double" Watch List – though it did trade over $10 in June. Watch this video and you might think what we've been thinking – which is this can be a huge winner at the drop of the right press release.
Video: Committed to Win. C-1 and Dyadic's (DYAI) Drive to Make Vaccines Affordable Worldwide.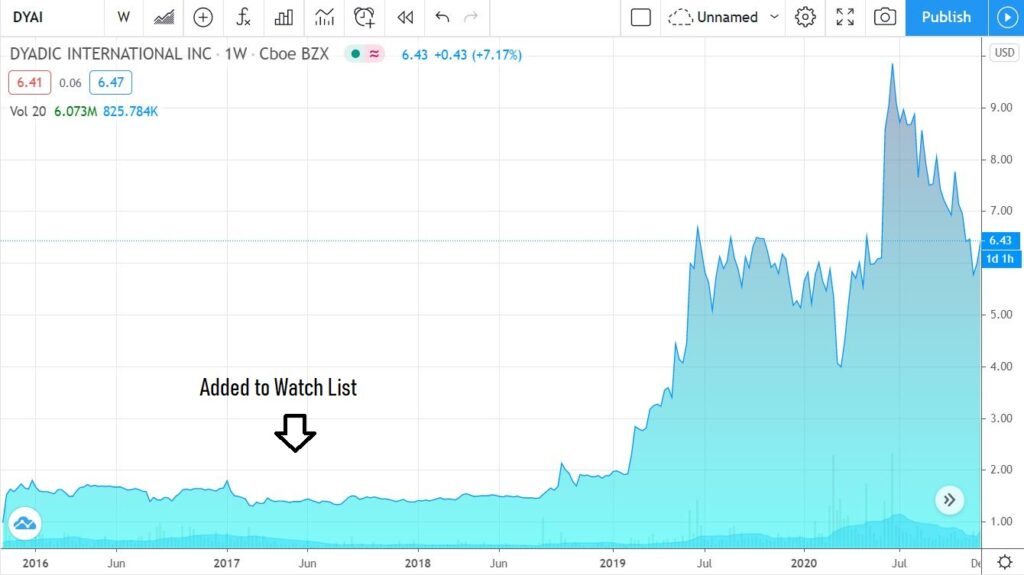 ---
3. BioSig (BSGM) $4.70. We're Up 60%, PURE EP™ Heart Update Ahead.
During the presentation, Mr. Londoner will provide an overview of the Company and business highlights. To date, more than 400 patient procedures have been conducted with the PURE EP™ System by more than 25 electrophysiologists across six different clinical sites in the United States. The LD Micro Main Event Conference is on Monday, December 14, 2020 at 10:20 AM ET
BioSig CEO Kenneth L. Londoner to Present at the 13th Annual LD Micro Main Event Conference
Adding BioSig (BSMG) $2.95 to Watch List.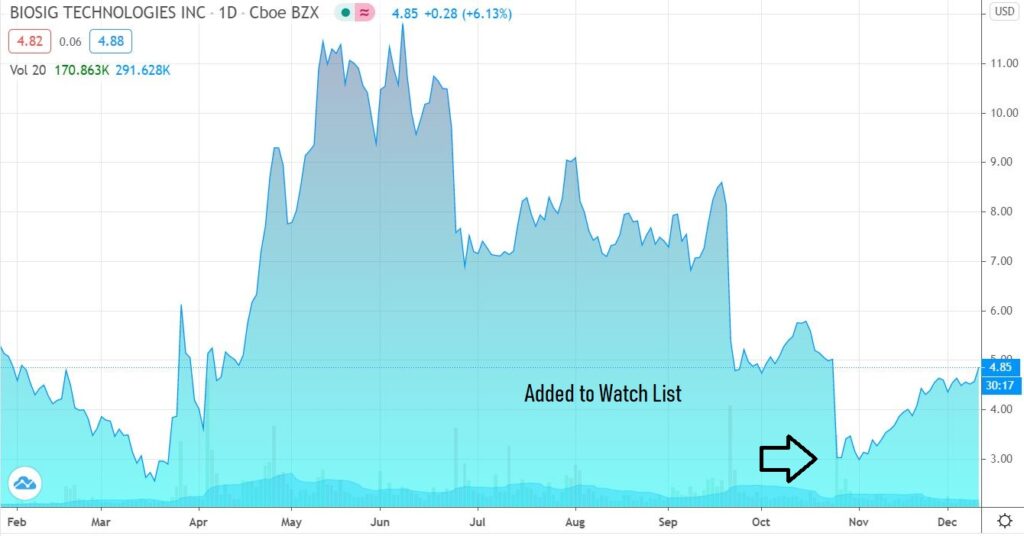 ---
4. OmniQ (OMQS) $4.70. We're Down a Tad, But Sales Are Up Big. Really Big.
Added to the Watch List at $5.00, this represents one of the single best values on current fundamentals that we follow. Period, by a long shot. And they are selling to Fortune 500 clients. We've been promising a detailed report showing our findings, we promise it's coming.
OminQ's numbers speak for themselves. Including a $6.6 million order from one of the largest U.S. supermarket chains for the supply of mobile data collection, computing, and communications equipment as part of its technology enhancement programs.
Adding OmniQ (OMQS) $5.00 to the Watch List.
OmniQ (OMQS) Lands Another $6.6 Million in New Orders.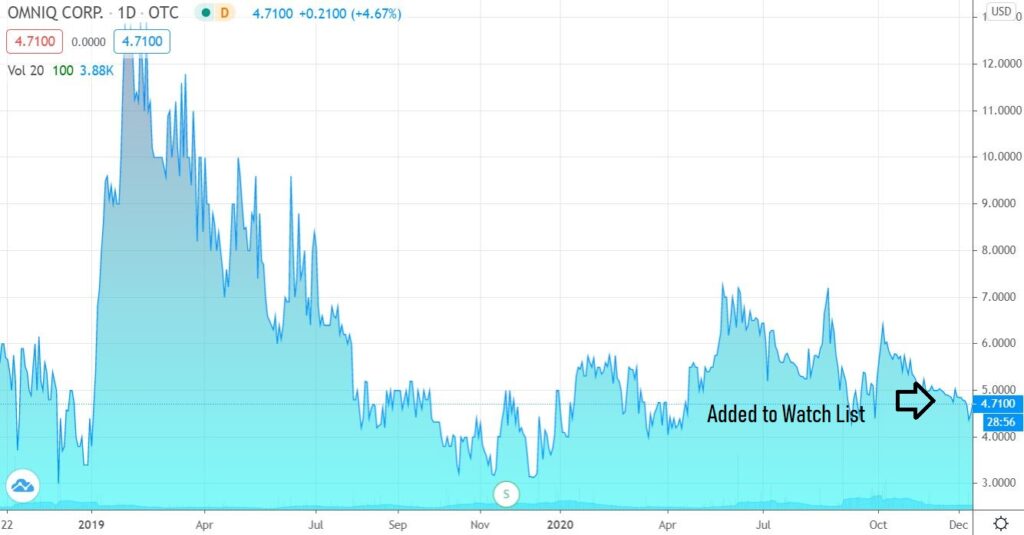 ---
5. Hapbee (HAPB) $0.60. Up 100% from IPO, Adding to Watch List.
You've heard of GARP, Growth at a Reasonable Price. This is ATRP. Amazing Technology at a Reasonable Price. We have a report, awaiting approval to distribute. We love the technology. Read each of the news headlines in the "Recent Headlines" link below. The CEO of the technology behind this Company sold the last company he started from scratch, for $1 billion. Trades on Toronto (TSX: HAPB).
Hapbee Technologies (HAPB): Recent Headlines.
Adding Hapbee (HAPB) to Watch List.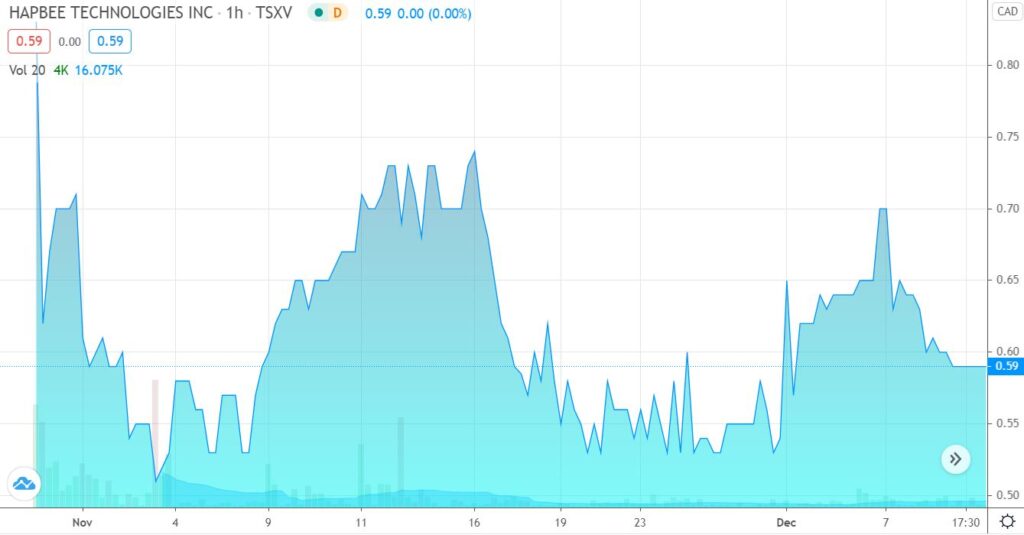 ---
6. Citius Pharma (CTXR). We're Up 116%. Going Up Because it Should Be.
Were up 116% since we found it a little more than a year ago but only up 18% from where we called it our 'favorite' last January. Very volatile, with sporadic jumps (and then pullbacks) on news.
Now we think it's going up 'because it should be.' What we mean by that is we assumed as the year progressed – and as they get closer to a decision from the FDA (2021), we just ASSUMED it would make a slow march to $2 or even $3 a share. We were wrong.
Adding Citius (CTXR) $0.55 to Watch List.
Citius Pharma (CTXR) Now Our #1 Ranked Idea for 2020.
Well, now it's finally inching up on its own!
SHORT TERM CHART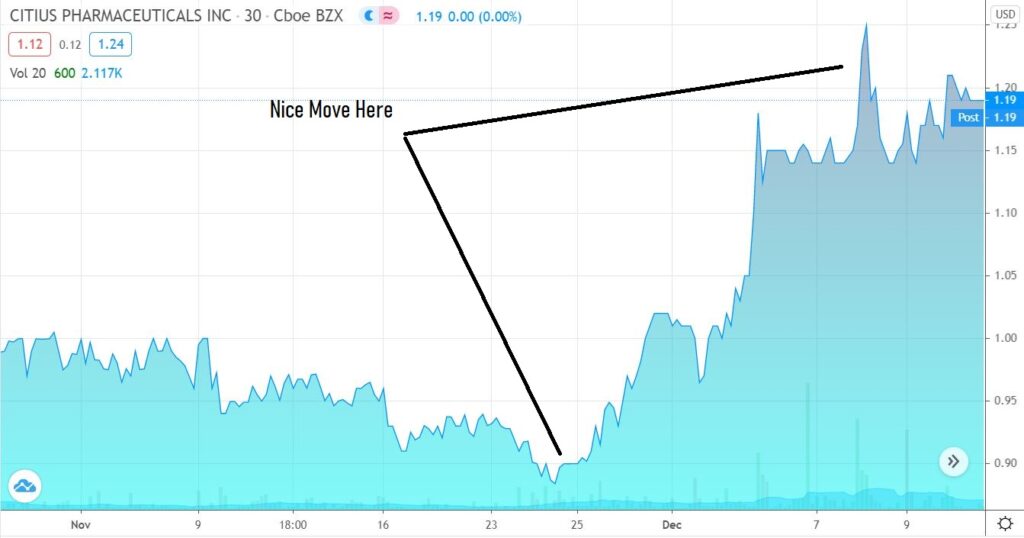 LONGER TERM CHART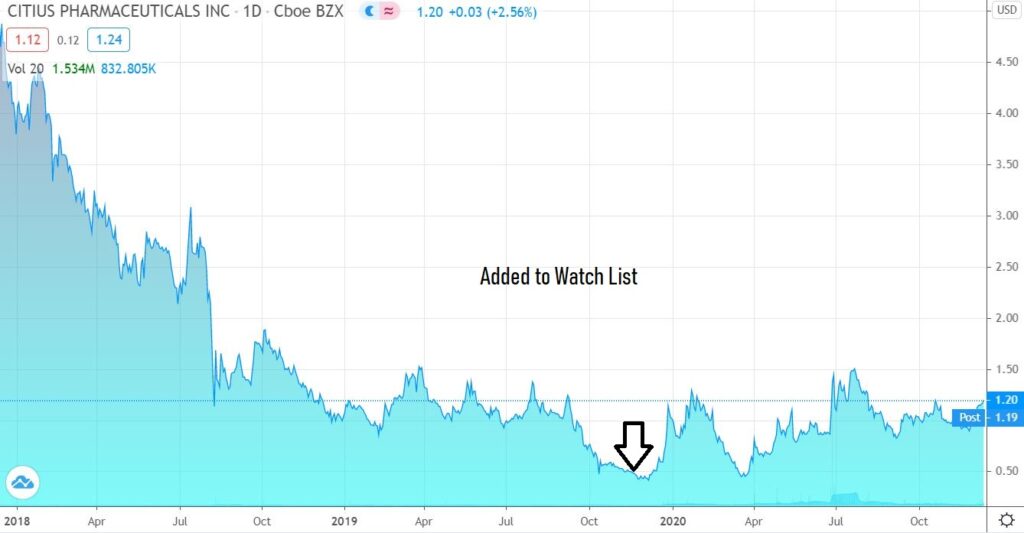 ---
7. Adding Hepion Pharma ($1.73) to Watch List. Oh My. What Did We Find Here?
Oh my…and Oh boy. We just signed a new client and the stars are aligned for 2021.
Hepion Pharma (HEPA) just banked $34 million in a secondary at a discount to the previous day's closing price. Hepion was trading at $2.18 and the secondary was priced at $1.50. Seemingly like an ouch for some.
If you're an experienced investor, you've probably seen this before and made two observations. One is your effen pissed if you were a holder before the secondary. The second observation is it's a gift from the "Secondary Gods' to new investors. As the issuer's securities typically hit an air pocket and trade to the secondary price.
Why a gift? Well, one is the stock is cheaper than the day prior. And two there can be a lot of stock trading (being sold indiscriminately) enabling a new investor to acquire a meaningful stake without running up the price. Suddenly there is volume when previously there was little. And finally, three, is the issuer has cash that it didn't have the day before. Cash is King, cash is gas. The gas to fuel product development, clinical trials, or for a consumer products company, for something like inventory or marketing.
Think of this analogy. You're driving a Ferrari down the 405 Freeway and then suddenly you notice, "Oh no, I'm on E." But luckily you see and pull up to a gas station just in time (which is not always the case on Wall Street).
So now what?, do you just sit in the car? Save money by just stubbornly sitting there?
Or do you fill the tank and go on your merry way? Of course, it will cost you to fill the tank – meaning dilution. So what do you do, what does your passenger (shareholder) want you to do? What you do is fill up the tank and get back on the road to the office in Silicon Valley and get some work done. So the gift is for both new investors as well as legacy shareholders, otherwise, they might be stuck at the gas station.
This is just a heads up 'time and price stamp' report which we have done many times in the past to announce when (but not why) we like what we discovered. It took us about 30 minutes to discover there is something major brewing here. Then a couple more hours reading and we were convinced.
We strongly suggest you quickly spend time doing the same. Here are some starter links, we'll add dozens more and post them on our website this weekend. Past performance is absolutely no indication of future performance. But this gives us the same gut feeling we got when we first were shown Immunomedics IMMU ($3 to $86) and Dicerna DRNA ($3 to $25). A different analyst showed us each, but the similarities are downright spooky. We think the stars are aligned for 2021-2025.
STARTER LINKS
TipRanks: $8.00 price target
MarketBeat: $800 price target, pretty sure a misplaced decimal point.
Press Release: Hepion Announces Closing of Public Offering of Common Stock
Press Release: Hepion Pharmaceuticals Completes Clinial Trial Initiates Phase 2a 'AMBITION' Clinical Trial (yesterday).
Video: Fatty Liver Drug in Action.
Video: CEO Interview
Corporate Presentation: November 22nd.

That's all for now. ..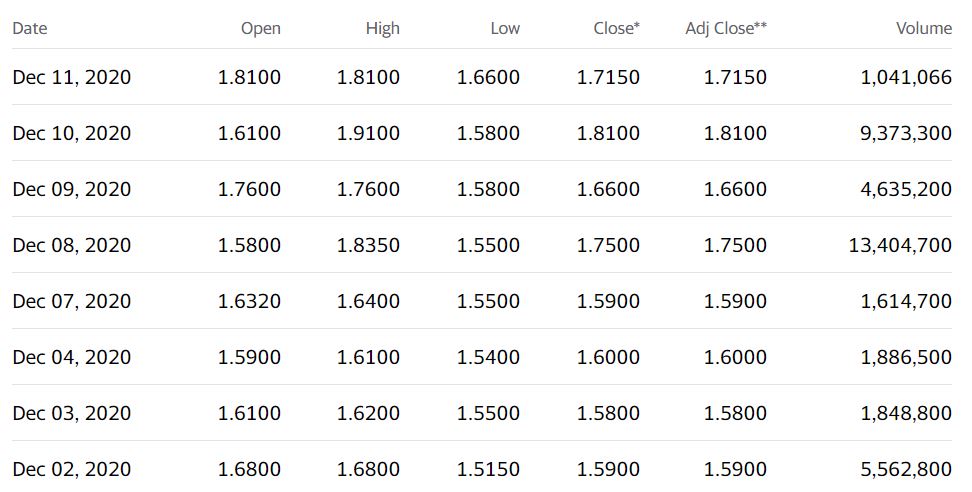 ---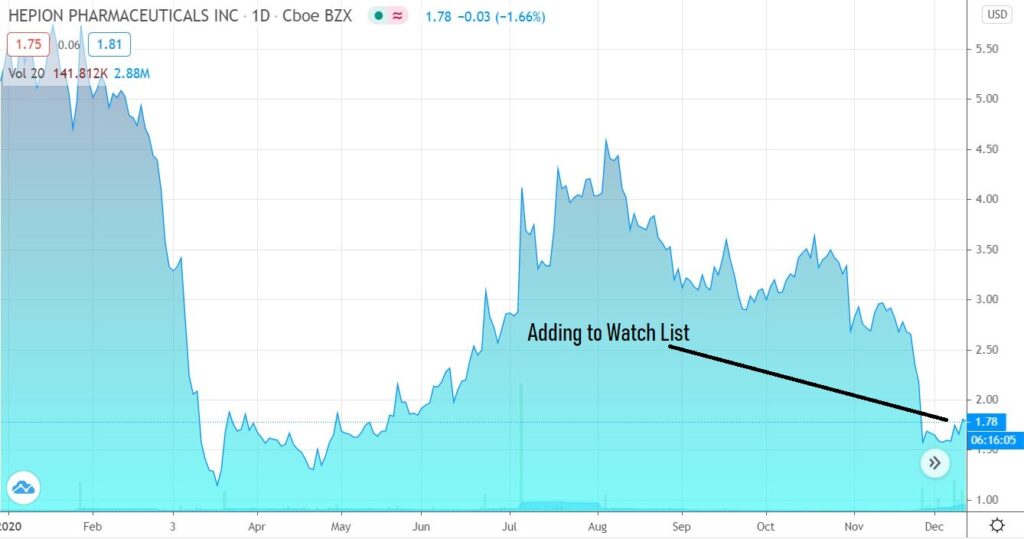 We're not saying there is any significant short interest here, but we crushed the shorts in Immunomedics (IMMU) including theSteet.com and even Martin Shkereli. Don't be that guy.
---
8. Shark Tank's Kevin Harrington Video. Raising Capital in the Digital Era.
Shark Tank investor Kevin Harrington and his "Mentor to Millions" co-author Mark Timm have joined the Aphex BioCleanse (SNST) – our favorite hand sanitizer Company in the war against Corona – as advisors. Here's a great video from 'the master.'
Kevin Harrington Presentation. (Video)
Adding Aphex BioCleanse Systems (SNST) to CoronaVirus Watch List.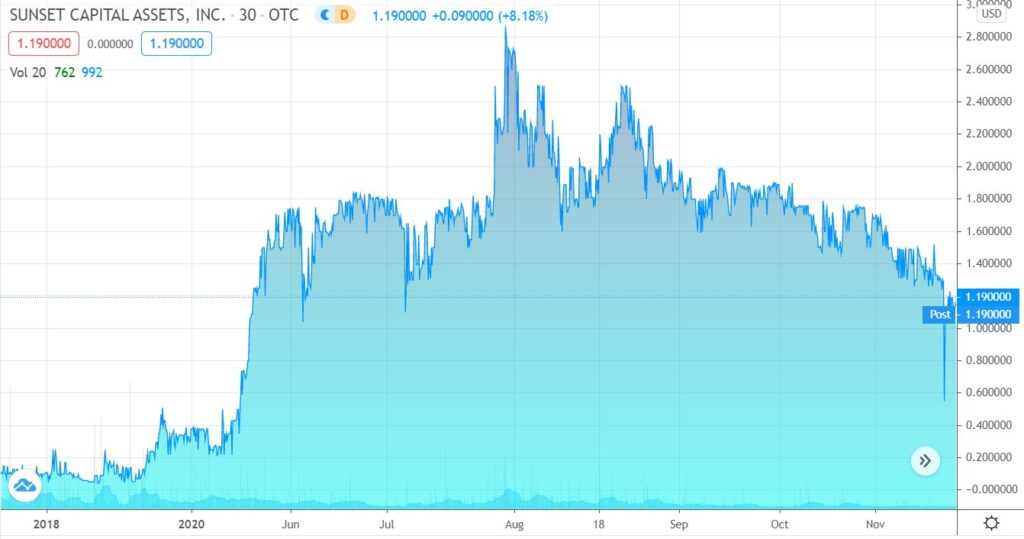 ---
Christmas Cocktails to Try This Year.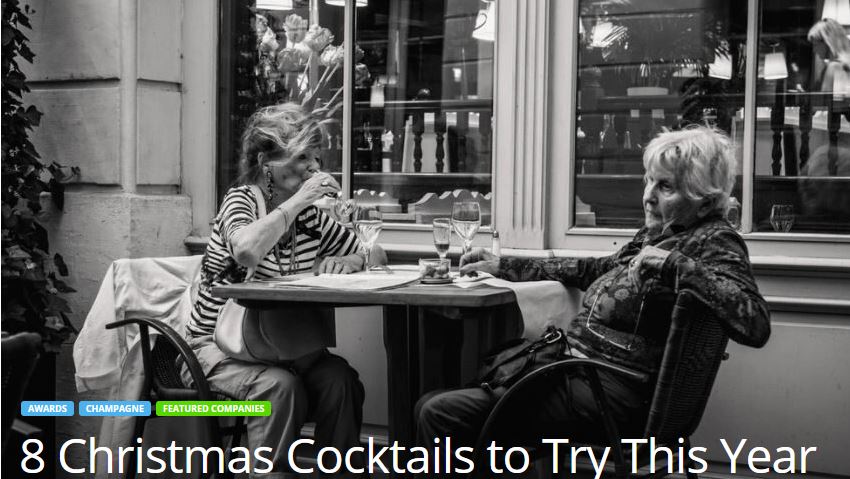 ---
8 Hanukkah Cocktails. One for Each Night!
Disclaimer, all of the companies above are clients. Please see reports on each perspective Company for disclosure and disclaimer details.