Adding Hepion Pharma ($1.73) to Watch List. Oh My. What Did We Find Here?
Oh my…and Oh boy. We just signed a new client and the stars are aligned for 2021.
Hepion Pharma (HEPA) just banked $34 million in a secondary at a discount to the previous day's closing price. Hepion was trading at $2.18 and the secondary was priced at $1.50. Seemingly like an 'ouch' for some.
If you're an experienced investor, you've probably seen this before and made THREE observations. One is your effen pissed if you were a holder before the secondary. The second observation is it's a gift from the "Secondary Gods' to new investors. As the issuer's securities typically hit an air pocket and trade down to the secondary price.
Why a gift? Well, one is the stock is cheaper than the day prior. And two there can be a lot of stock trading (being sold indiscriminately) enabling a new investor to acquire a meaningful (size) stake without running up the price with their own buying. Suddenly there is volume when previously there was little.
And finally, the third observation (to the observant) is that the issuer has cash that it didn't have the day before! Cash is King, cash is gas. The gas to fuel product development, clinical trials, or for a consumer products company, for something like inventory or marketing.
Think of this analogy. You're driving a Ferrari down the 405 Freeway and then suddenly you notice, "Oh no, I'm on E." But luckily you see and pull up to a gas station just in time (which is not always the case on Wall Street).
So now what?, do you just sit in the car? Save money by just stubbornly sitting there?
Or do you fill the tank and go on your merry way? Of course, it will cost you to fill the tank – meaning dilution. So what do you do, what does your passenger (shareholder) want you to do? What you do is fill up the tank and get back on the road to the office in Silicon Valley and get some work done. So the gift is for both new investors as well as legacy shareholders, otherwise, they might be stuck at the gas station.
This is just a heads up 'time and price stamp' report which we have done many times in the past to announce when (but not why) we like what we discovered. It took us about 30 minutes to discover there is something major brewing here. Then a couple more hours reading and we were convinced.
We strongly suggest you quickly spend quality time doing the same. Here are some starter links, we'll add dozens more and post them on our website this weekend. Past performance is absolutely no indication of future performance. But this gives us the same gut feeling we got when we first were shown Immunomedics IMMU ($3 to $86) and Dicerna DRNA ($3 to $25). A different analyst showed us each, but the similarities are downright spooky. We think the stars are aligned for 2021-2025.
STARTER LINKS
TipRanks: $8.00 price target
MarketBeat: $800 price target, pretty certain a misplaced decimal point!
Press Release: Hepion Announces Closing of Public Offering of Common Stock
Press Release: Hepion Pharmaceuticals Completes Clinical Trial, Initiates Phase 2a 'AMBITION' Clinical Trial (yesterday).
Video: Fatty Liver Drug in Action.
Video: CEO Interview
Corporate Presentation: November 22nd.

That's all for now. ..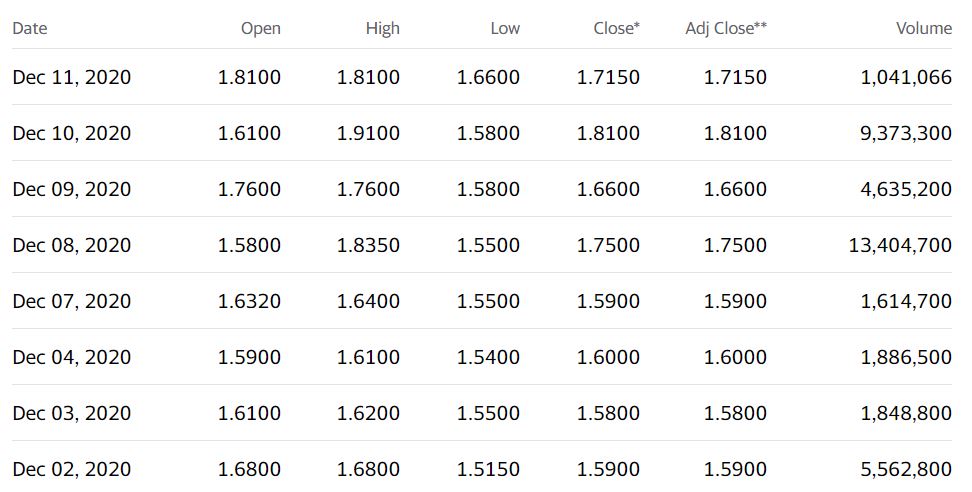 ---
We're not saying there is any significant short interest here, but we crushed the shorts in Immunomedics (IMMU) including theSteet.com and even Martin Shkereli. Don't be that guy.
---
Certain statements in this press release are forward-looking within the meaning of the Private Securities Litigation Reform Act of 1995. These statements may be identified by the use of forward-looking words such as "anticipate," "believe," "forecast," "estimated," and "intend," among others. These forward-looking statements are based on Hepion Pharmaceuticals' current expectations and actual results could differ materially. There are a number of factors that could cause actual events to differ materially from those indicated by such forward-looking statements. These factors include, but are not limited to, substantial competition; our ability to continue as a going concern; our need for additional financing; uncertainties of patent protection and litigation; risks associated with delays, increased costs and funding shortages caused by the COVID-19 pandemic; uncertainties with respect to lengthy and expensive clinical trials, that results of earlier studies and trials may not be predictive of future trial results; uncertainties of government or third party payer reimbursement; limited sales and marketing efforts and dependence upon third parties; and risks related to failure to obtain FDA clearances or approvals and noncompliance with FDA regulations. As with any drug candidates under development, there are significant risks in the development, regulatory approval, and commercialization of new products. There are no guarantees that future clinical trials discussed in this press release will be completed or successful, or that any product will receive regulatory approval for any indication or prove to be commercially successful. Hepion Pharmaceuticals does not undertake an obligation to update or revise any forward-looking statement. Investors should read the risk factors set forth in Hepion Pharmaceuticals' Form 10-K for the year ended December 31, 2019 and other periodic reports filed with the Securities and Exchange Commission. Client, we were compensated ten thousand dollars for initiating coverage and may receive additional compensation for ongoing progress coverage and reporting.