Former Eastman Kodak Scientist Engineers Develop Liquid Germ Killer Hy-IQ™ Water to Revolutionize how Deadly Bacteria and Virus are Eradicated
Good Lord. We've participated in nearly every intra-sector bull market since the '70s, but we've never seen anything quite like the power moves, we're seeing in this sector. Investors nimble enough to get in before their big moves have had the potential to make more money in the past 8 months, than in the prior 8 years!
In addition to peak gains from where we added them to the Watch List of 1,835% on Novavax, 1,511% on Co-Diagnostic – we've seen gains of 1,350% on Organicell and 1,028% on Immuron which we later added to the Watch List. That's four ten-baggers in less than a year. Unheard of.
RELATED: 2020 Biotech Portfolio Soars 55%, We're Amazed.
Moderna (MRNA) the chief wealth maker, has risen to a $28 billion valuation (sales of $60 million). Novovax (NVAX) which rose from a mere $3 to an eye-popping $178, is now valued at $9.8 billion (sales of $18 million). Vir Bio (VIR) is valued at $6.1 billion (sales $8 million). Inovio (INO) is valued at $3.1 billion has sales of $4 million. Co-Diagnostics a test kit maker with $200,000 in sales, didn't make the billion club – but is valued at $700 million, so don't feel too bad for them or their shareholders. Shareholders, who held have enjoyed the stock rise from the ashes at $0.90, to a subsequent high of $30. And this was despite a concerted short effort by Mark Cuban and Sharesleuth at $11. These are the good old days.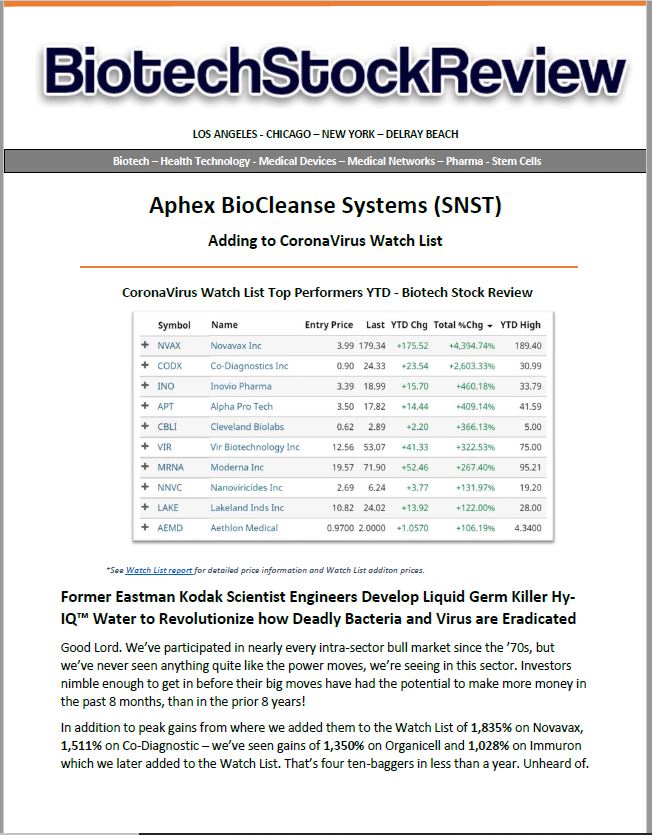 We're adding Aphex BioCleanse Systems | Sunset Capital (SNST) to the Watch List. Aphex which recently went public via a reverse merger with Sunset Capital (SNST) is in our mind, clearly one of the most interesting stories out there.
Not a vaccine, not an anti-viral or a test kit. What they make is a sanitizer unlike any other (that can be used in hand sanitizers and industrial surface use). And we all know that sanitizers, currently flying off the shelves – is something which is going to be around for a long-long time.
This is also a non-alcohol sanitizer folks, so it's a not a 'me-too' consumer product. If what we have read about the test results is accurate (we checked the third-party reports and checked the third-party testing lab) Aphex BioCleanse has the opportunity to up-end the entire alcohol-based sanitizer market.
Alcohol is 90% of the market. In a later report, we'll delve into how effective alcohol truly is, with guidance from the CDC. You'll be both surprised/depressed. But let us repeat in case you missed it. Aphex BioCleanse has the opportunity to up-end 90% of the market. This places the company in an enviable 'current-valuation' doesn't matter category. In the biotech industry, 'new-standard-of-care' technologies always carry the highest valuation, as investors think 'out with the old and in with the new' and all the related sales associated with it.
Client, see report for disclosure and disclaimer details.