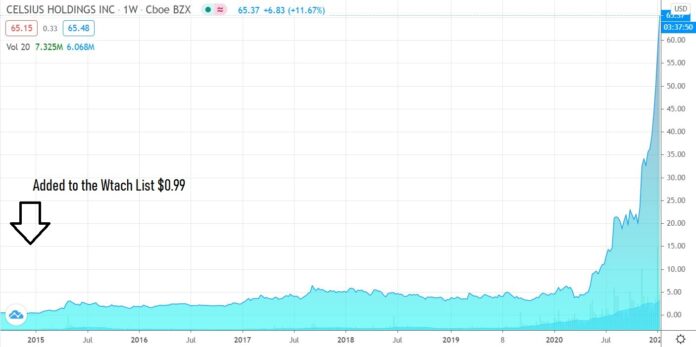 Celcius (CELH) We're Up 6,400%. Alkaline Water (WTER) We're Up 12%.
Dicerna (DRNA) We're Up 700%. Ready to Breakout?
BioSig (BSGM) We Have Another Double. BioSig up 103% in Four Months.
Hepion (HEPA) Up 35% in a Month, Showing Broad Interest and Momentum.
Aphex/Sunset Capital (SSNT). Our Favorite Sanitizer Company Makes the News.
Is iBio (IBIO) Making a Comeback? We Were Up 228% for a few Minutes.
Citius (CTXR) We're up Exactly 100%, But it's Been a Roller Coaster.
Dalrada (DFCO) up 330% and Mitesco up 1,130% (MITI) – WHAT THE?
CORONA: Would You Like Ventilator With Those Tacos?
---
Let's take a quick look at the following Watch List Companies, from high to low in price. Starting with Celcius (CELH) at $65, up 6,400% from where we added it to the Watch List.
Celcius (CELH) vs Alkaline Water (WTER). The Beverage Stock Review.
When you're right you're right. And when you wrong your wrong. If we had to guess, and we did – we felt that
the Alkaline Water Company (WTER) which had been trading sideways at $1.44, represented a better value and had better year ahead price potential than Celcius (CELH) at $20. Celcius had risen 4-fold from $5.00 in the previous year and it seemed like an easy choice. That was just last August.
August 2020: Alkaline Water (WTER) vs. Celcius (CELH). Tale of the Tape!
Fast forward 5 months and the Alkaline Water Company is still waiting for its run-up. While it slipped an additional 13%, Celcius Holdings ran from $20 to $65. OMG.
Dollar-wise, WTER fell from a $92 million market value to $82 million, while CELH increased from a $1.5 billion market value to $4.6 billion! What the? Talk about creating shareholder wealth. Good Lord, great job guys – love to attend your next shareholder meeting! When we first added Celcius to the Watch List in 2015 at $0.99 we thought with a bit of luck, maybe $3.00.
Currently, the Alkaline Water company currently sells for 1 times sales and Celcius sells for 35 times sales, the highest multiple we've ever seen for any beverage company, like ever. The average beverage company sells for around 5 times sales. So on that basis, one could say WTER looks grossly undervalued while CELH looks grossly overvalued. But such is life for value players these days – though 'the street' believes that value investing returns are about to change. Time will tell.
---
2. Dicerna (DRNA) We're Up 700%. Ready to Breakout?
There are a million techniques and tricks of the trade when picking stocks. But one we've found one of the most reliable is when a stock breaks over a new high. We often look at companies below an old high, hoping once they breakthrough, then they breakout. Of course, first they have to breakthrough.
The simple psychology is many potential sellers who were underwater, and waiting just to 'get even,' sell when it gets back to the old high. Then they become the last sellers. It doesn't work all the time, but it's important to recognize, stocks don't go up from buying. They go up when there are no sellers.
The most recent significant news was that Novo Nordisk (NVO) announced its first collaboration with Dicerna's platform. It enables each company to co-develop and co-commercialize product candidates discovered in the collaboration. For all co-development programs, the companies will share in the profit/loss of net sales of products consistent with each company's contribution to co-development costs. Novo has a $168 billion market cap, making $1.8 billion for Dicerna, tiny in comparison.
For programs to which Dicerna does not opt-in, Dicerna is eligible to receive up to $357.5 million per target.
Read more: Dicerna Announces Novo Nordisk's Nomination of First Candidate for Development
So let's look at the chart. We initially added Dicerna to the Watch List in July of 2017 when it was trading at $3.30. It had been decimated in the previous two years following its IPO, falling from $26 to $3.00. It almost looked like game over when we found it, but they pulled off a nice (but brutal) money raise, saving the day, saving the company and NO…dilution isn't always a bad thing!
Note we added it to our soon to be famous Biotech 5-Pack for 2020. Dicerna will most likely be on the Biotech 6-Pack for 2021, which should be out before the month ends. It's up 35% from that Watch List price.
The chart below is self-explanatory. What we would like investors to focus on is — well let's just call it $27.00.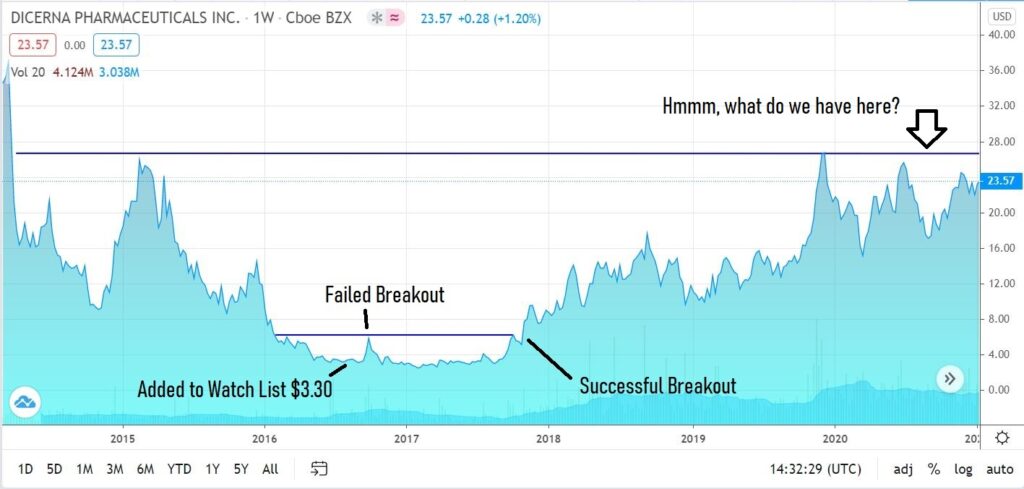 ---
3. BioSig (BSGM) We Have Another Double. BioSig up 103% in Four Months.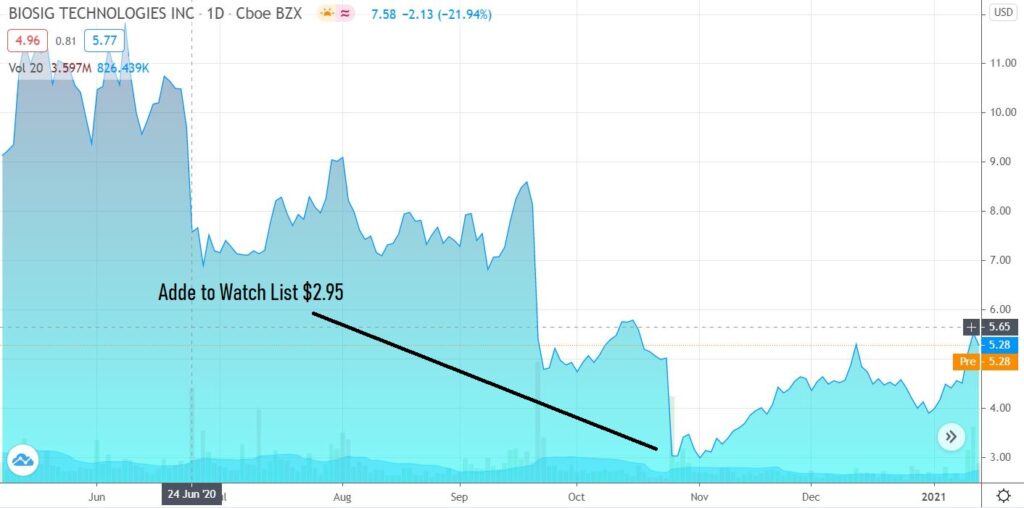 READ MORE: And it's Official. We Have Another Double. BioSig (BSGM) up 103% in Four Months.
READ MORE: Adding BioSig (BSMG) $2.95 to Watch List.
---
4. Hepion (HEPA) Up 35% in a Month, Showing Broad Interest and Momentum.
No news, other than investors are warming up to this in a nice way. No wild spikes like some of the stocks below, but those have a different animal instinct, to be sure. We've had some big long-term winners in the past and this has all the earmarks we look for. And yeah, past performance is no indication of future performance, right!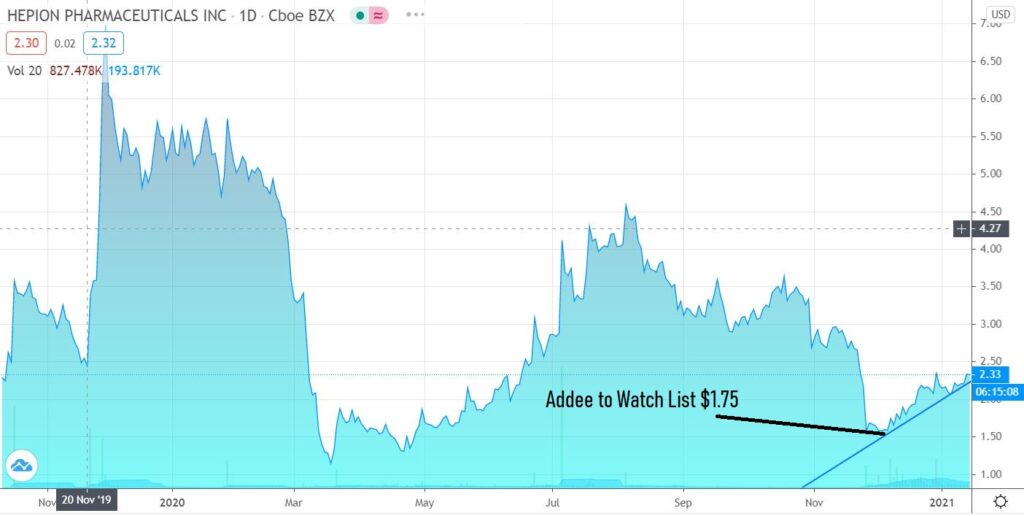 ---
5. Aphex/Sunset Capital (SSNT). Our Favorite Sanitzer Company Makes the News.
A decade before COVID-19, Aphex BioCleanse Systems created an environmentally friendly, non-toxic sanitizer—Hy-IQ Water—that utilizes physics and hydrogen-based technology to kill a wide variety of pathogens, germs, and bugs. Its unique method of action relies on hydrogen atoms moving at nearly the speed of light to breach cell walls to destroy these health threats.
Hy-IQ Water is capable of replacing harsh cleaners in homes, hospitals, supermarkets, schools, and businesses. Because they don't rely on alcohol, toxic chemicals, or poisons, sanitization products featuring Hy-IQ Water aren't harmful to consume and don't irritate the skin.
REPORT: Adding Aphex BioCleanse Systems (SNST) to CoronaVirus Watch List. The technology impressed Kevin Harrington from Shark Tank, to join its advisory board.
NEWS: How COVID-19 Woke Us Up to the Need for Sanitization Technology
It's a little t0o early after going public to have a readable chart, but just in case you're curious.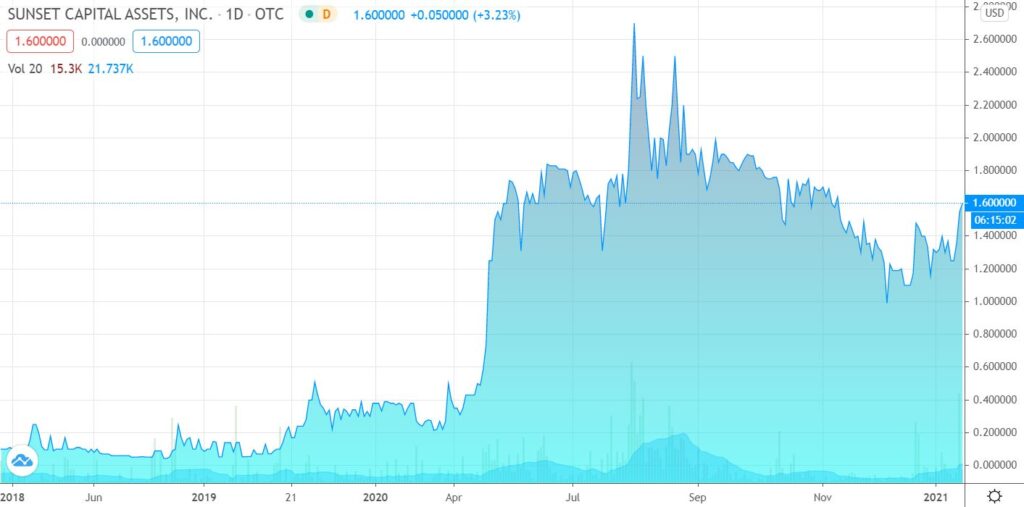 ---
6. Is iBio (IBIO) Making a Comeback. We Were Up 228% for few Minutes.
The moral of the story, what Robinhood giveth, Robinhood can taketh away. The problem with this one is we told all our friends (like on the phone), which we never do. What we like about what we do is it's a "look what we found, do with it what you want" type of service. We've been doing this since the late '90s and everyone (subscribers) knows we never (maybe twice) say sell. We don't tell people to buy, so there is no opportunity to say sell. Wouldn't even make sense.
Adding iBIO (IBIO) $2.27 to CoronaVirus Watch List.
But when you tell friends, like on the phone or text – the "should I buy more or take my gains" issue comes up. Never again. First, we were getting free drinks, but that quickly turned into eating crow for THREE MONTHS. And we are not a 'trading service' nor are we traders, so we wouldn't even know how or what to tell anyone lol. Real-time quotes, what's that?
Anyway, we are looking it again, on resumed strength.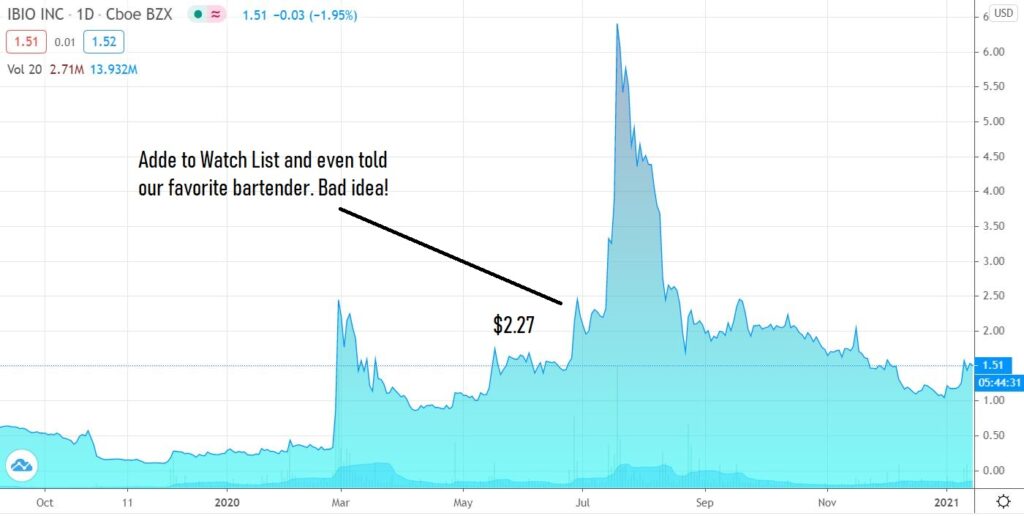 ---
7. Citius (CTXR) We're up Exactly 100%, But it's Been a Roller Coaster.
Time for a new in-depth report. There is SO much going on here. They've reached milestone after milestone and the share price has reacted. In a perfect world, a stock should trade up (and stay up) as each milestone is reached – until something like an 'ultimate' milestone (FDA approval or being acquired) is reached. Not so much here.
Two ways to look at that. More patience needed or buy more!
The new report will delve deeply into their Stem Cell Covid-19 ARDS treatment. Oh and just saying, it's not a me-too Corona effort. These folk have a shot as recent news related to Covid and Stem Cells suggests.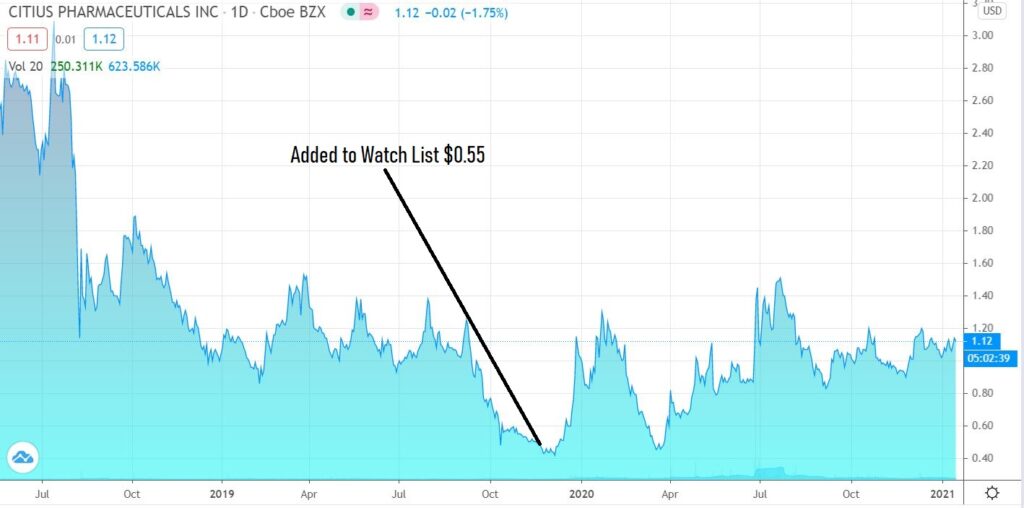 We first added Citius to the Watch List in November of 2019 after seeing an incredible presentation at the Dawson James Investor Conference by Leonard Mazur, CEO and owner of 28% of the shares outstanding, last time we checked.
You can find plenty of news from the past year here: News Archive
We've written and posted dozens of articles. The first page should give you enough information to make an intelligent decision.
We anointed this as our favorite for 2020. They are in the pole position for that in 2021. REPORT: Citius Pharma (CTXR) Now Our #1 Ranked Idea for 2020.
---
Dalrada (DFCO) up 330% and Mitesco up 1,130% (MITI) – WHAT THE?
Two mini-incubators on fire. We'll just show you the charts, we'll have a fresh report out on Dalrada on Monday. Dalrada traded from $0.095 to a high of $0.41 a gain of 330%. True Nature/Mitesco traded from $0.02 to $0.24 a gain of 1,130%.
---
Adding Dalrada (DFCO) $0.09 to CoronaVirus Stock Watch List.
Recent Significant News: Dalrada Financial Corporation Announces Acquisitions.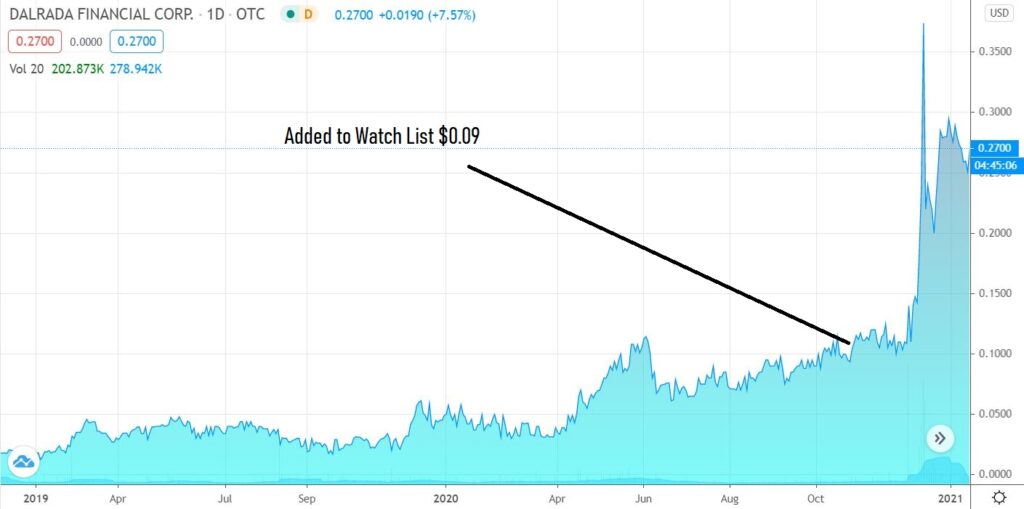 ---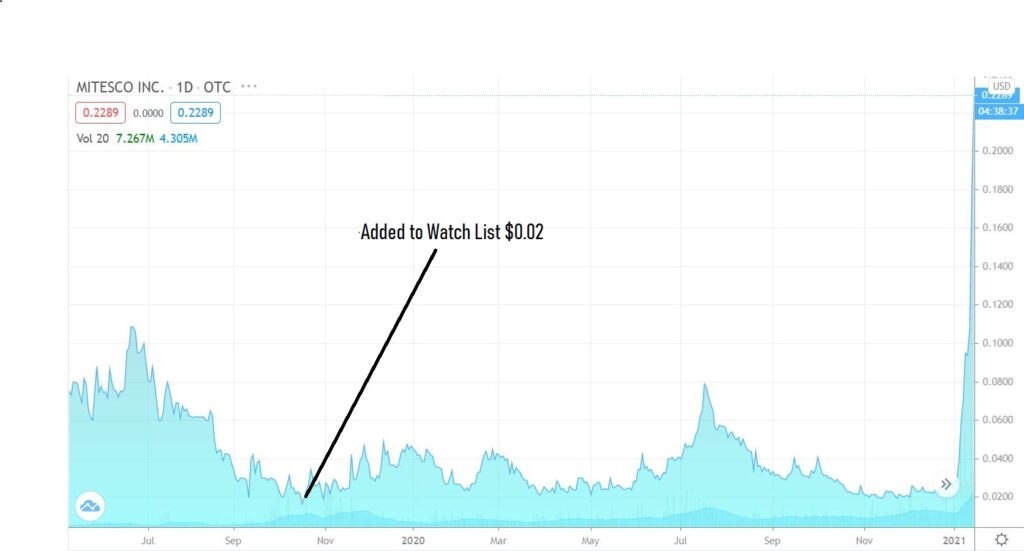 Initiating Coverage on True Nature Holdings (TNTY) $0.02. Adding to Watch List.
True Nature|Mitesco (TNTY) $0.04. Coverage Report Issued.
Recent Significant News: Mitesco Expands Footprint for The Good Clinic to Colorad
---
CORONA: Would You Like Ventilator With Those Tacos.
We were out an about last night in Delray Beach and the contrast between the bars in Chicago during this past Christmas (7-9 people) vs what we saw at the El Camino Mexican restaurant — well picture tells 1000 words. We just had to share for our friends in LA, NYC, Chicago and NYC. BIG difference. YUGE difference.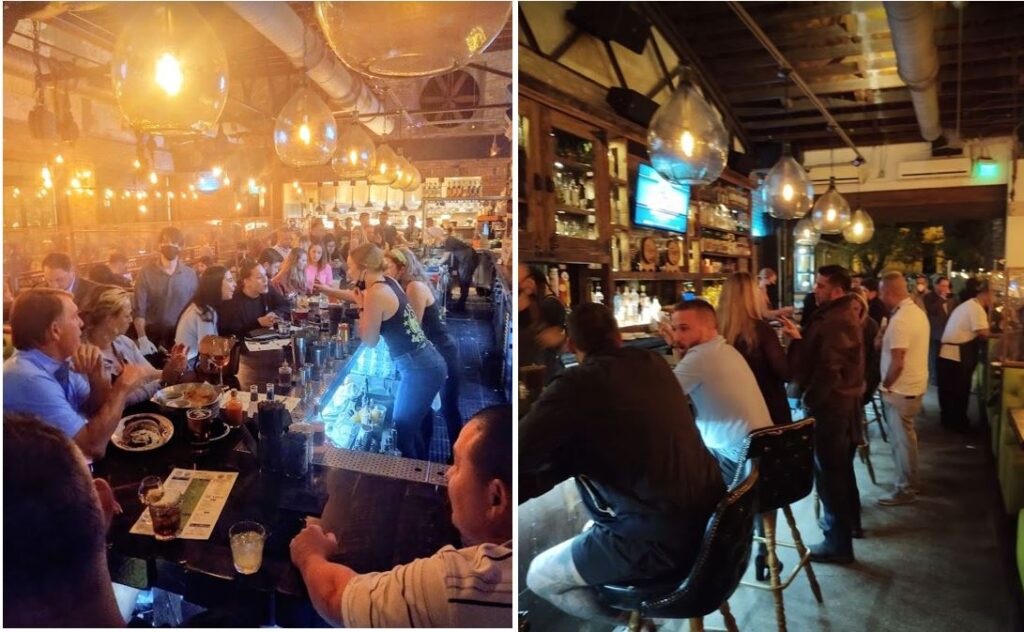 ---

---
Disclaimer. Excuse spelling and grammar, we're as busy as a coat hanger. The kind of coat hanger that means your real busy, we just forget the saying.
Every Company mentioned in our newsletter. blog or website is a client, has been a client or may become a client. Institutional Analyst Inc., has opted to exclude specific disclaimers at the bottom of every newsletter we publish as it often exceeded the length of our letters by 20-fold. Our company client disclaimers can now be found on every report or progress update report we author – at the bottom of the report in a readable sized font. Required reading, we play nice with nearly every company we report on, because they are either client or we would like them to be a client, so impartial we are not. All of the above companies are clients with the exception of iBio and BSGM.