Our First Newsletter of 2020, We Come out Swinging!
Yes, you read it right. Five of our favorite Biotech stocks that have the potential to double in 2020.

But what you didn't read above is that these stocks have the potential to at least double in the next year – with one expected to gain ten-fold, within the next three years.

This is the first time since we launched the Biotech Stock Review in 2002 that we've issued price ideas on a 'package' of stocks. If we're right on making a reputation risking call like this, we're going to look pretty genius!

If we're wrong or even way wrong..well, there's always next time. We'll add if it takes two years for the group to double, would that be so bad? We are nonetheless highly confident we'll pull this feat off – and with flying colors.
By 'expect' as used in the headline, we really mean have 'potential' if everything goes right, which they rarely do – along with a continued robust stock market. Expect just sounds better! But in the legal world, hope is more applicable and accurate than expect.

We're looking to make this a six-pack of ideas (of course), so send your candidates and rationale to Roland at InstitutionalAnalyst.com. Every idea below came from 'others' such as brokers, hedge funds and/or large shareholders at the time we first added them to the Watch List. We have no pride in authorship, we just want to hear good ideas and then share them.
We'll add a page on our website dedicated to reporting the news and the progress of these stocks as well as the sixth if we find it.
May the force be with us, tell two friends.
SUMMARY:

Initiation list price, was when we originally added to Watch List. Current price, as of 1/17/2020. Potential price, a combination of fundamentals, technicals and a heavy dose of wild enthusiasm. Wall Street Analyst Targets from Zacks and Morningstar via MarketBeat.com. Market valuations from LDMicro.com
---
CHARTS:
CITIUS PHARMA (CTXR) $1.02
Adding Citius (CTXR) $0.55 to Watch List.
Report Update: Citius Pharma (CTXR) $1.02, Now Our #1 Ranked Idea for 2020.
Market Valuation $31 million: LDMicro Profile
---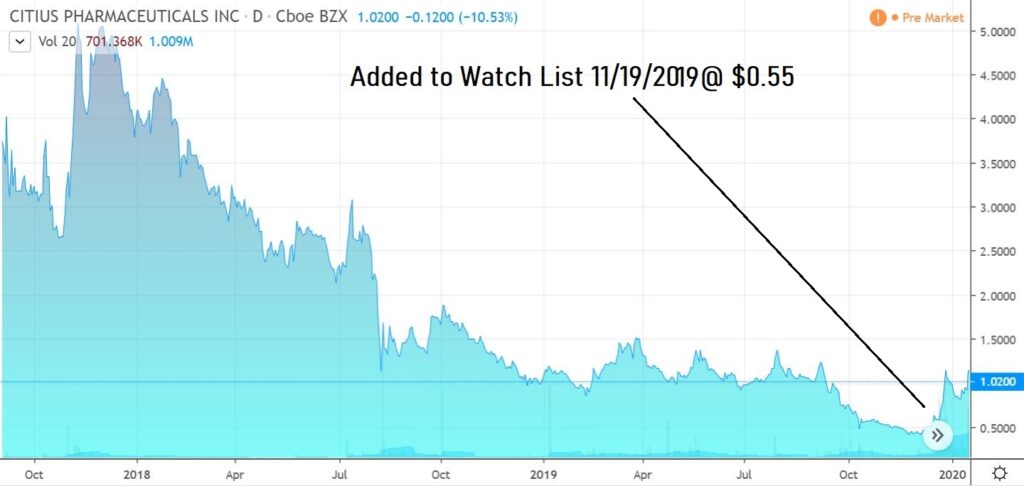 Citius is a specialty pharmaceutical company dedicated to the development and commercialization of critical care products, with a focus on anti-infectives, cancer care and unique prescription products that use innovative, patented or proprietary formulations of previously-approved active pharmaceutical ingredients. We seek to achieve leading market positions by providing therapeutic products that address unmet medical needs; by using previously approved drugs with substantial safety and efficacy data, we seek to reduce the risks associated with pharmaceutical product development and regulatory requirements. Citius develops products that have intellectual property protection and competitive advantages to existing therapeutic approaches. For more information, please visit www.citiuspharma.com.
---
DICERNA PHARMA (DRNA) $20.12
Adding Dicerna (DRNA) $3.30 to Watch List.
Market Valuation $1.3 billion: LD Micro Profile
---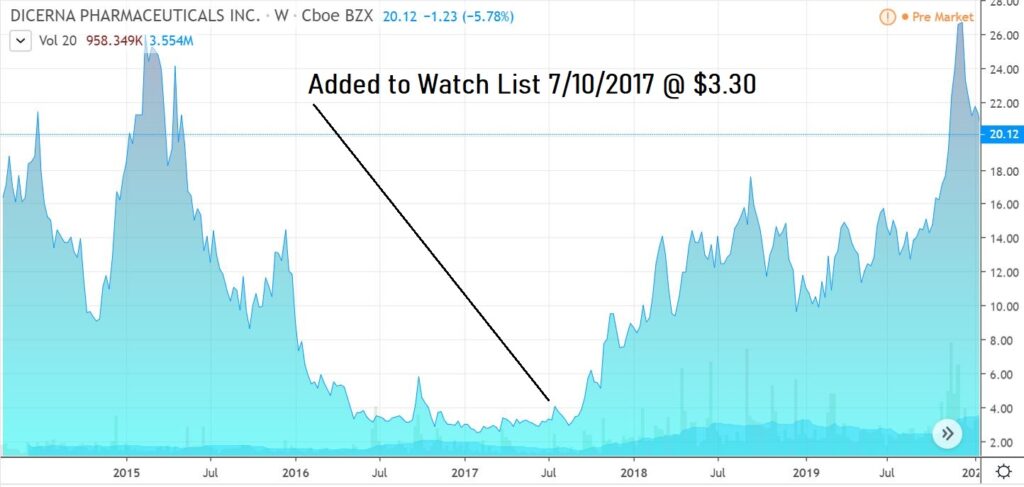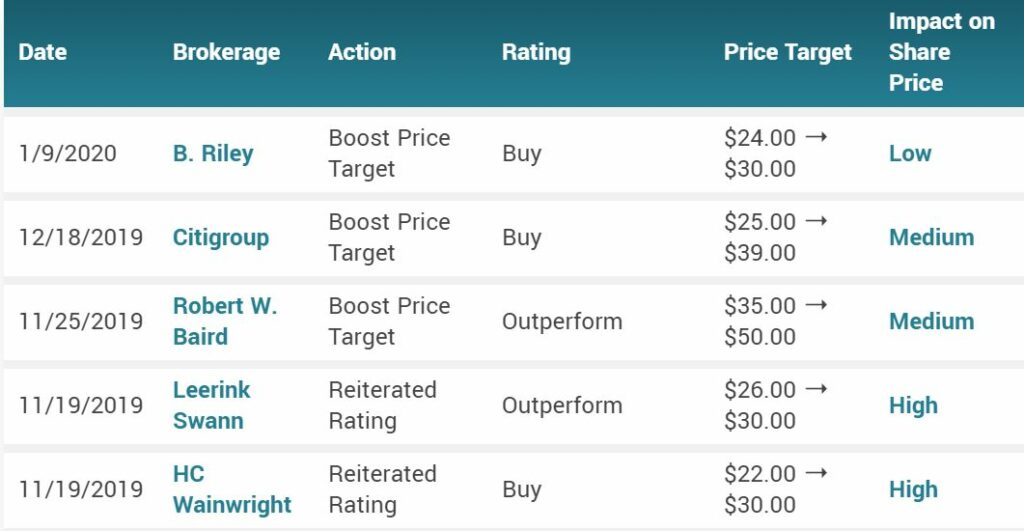 Dicerna™ Pharmaceuticals, Inc., is a biopharmaceutical company using ribonucleic acid (RNA) interference (RNAi) to develop medicines that silence genes that cause disease. The Company's proprietary GalXC™ technology is being applied to develop potent, selective and safe RNAi therapies to treat diseases involving the liver, including rare diseases, chronic liver diseases, cardiovascular diseases and viral infectious diseases. Dicerna aims to treat disease by addressing the underlying causes of illness with capabilities that extend beyond the liver to address a broad range of diseases, focusing on target genes where connections between gene and disease are well understood and documented. Dicerna intends to discover, develop and commercialize novel therapeutics either on its own or in collaboration with pharmaceutical partners. Dicerna has strategic collaborations with Novo Nordisk A/S, Roche, Eli Lilly and Company, Alexion Pharmaceuticals, Inc. and Boehringer Ingelheim International GmbH. For more information, please visit www.dicerna.com.
---
DYADIC INTERNATIONAL (DYAI) $5.91
Added to Watch List $1.32, Dyadic Inc (DYAI) Announces $5 Million Stock Buyback.
Market Valuation $150 Million: LD Micro Profile
---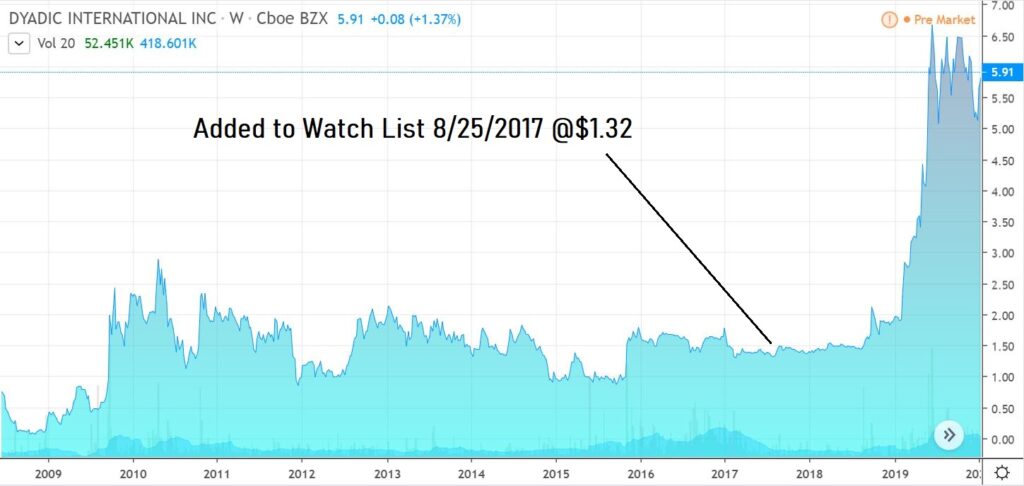 Dyadic International, Inc. is a global biotechnology company which is developing what it believes will be a potentially significant biopharmaceutical gene expression platform based on the fungus Myceliophthora thermophila, named C1. The C1 microorganism, which enables the development and large scale manufacture of low cost proteins, has the potential to be further developed into a safe and efficient expression system that may help speed up the development, lower production costs and improve the performance of biologic vaccines and drugs at flexible commercial scales. Dyadic believes the C1 technology may help bring biologic vaccines, drugs and other biologic products to market faster, in greater volumes, at lower cost, and with new properties to drug developers and manufacturers and, hopefully, improve access and cost to patients and the healthcare system, but most importantly save lives. Please visit http://www.dyadic.com for additional information, including details regarding Dyadic's plans for its biopharmaceutical business.
---
FORTRESS BIOTECH (FBIO) $2.70
Adding Fortress to Biotech Stock Review Watch List @ $1.73.
Market Valuation $194 million: LD Micro Profile
---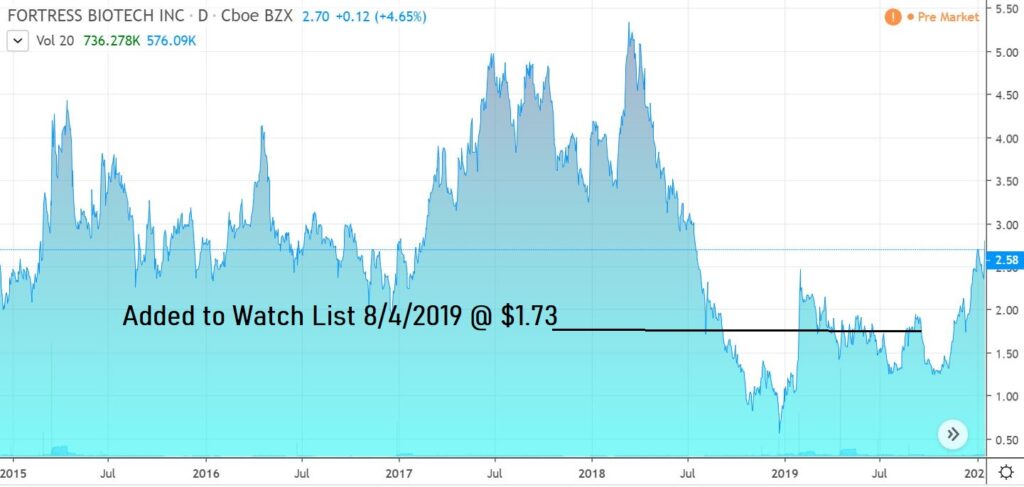 Fortress Biotech, Inc. ("Fortress") is an innovative biopharmaceutical company that was recently ranked number 10 in Deloitte's 2019 Technology Fast 500™, an annual ranking of the fastest-growing North American companies in the technology, media, telecommunications, life sciences and energy tech sectors, based on percentage of fiscal year revenue growth over a three-year period. Fortress is focused on identifying, in-licensing and developing high-potential marketed and development-stage drugs and drug candidates. The company has five marketed prescription pharmaceutical products and over 25 programs in development at Fortress, at its majority-owned and majority-controlled partners and at partners it founded and in which it holds significant minority ownership positions. Such product candidates span six large-market therapeutic areas, including oncology, rare diseases and gene therapy, which allow it to create value while mitigating risk for shareholders. Fortress advances its diversified pipeline through a streamlined operating structure that fosters efficient drug development. The Fortress model is driven by a world-class business development team that is focused on leveraging its significant biopharmaceutical industry expertise to further expand the company's portfolio of product opportunities. Fortress has established partnerships with some of the world's leading academic research institutions and biopharmaceutical companies to maximize each opportunity to its full potential, including Alexion Pharmaceuticals, Inc., City of Hope, Fred Hutchinson Cancer Research Center, InvaGen Pharmaceuticals Inc. (a subsidiary of Cipla Limited), St. Jude Children's Research Hospital, and Nationwide Children's Hospital. For more information, visit www.fortressbiotech.com.
---
IMMUNOMEDICS (IMMU) $18.78
Immunomedics (IMMU). $3.00 Epic Short Squeeze Inflection Point Nears.
Market Valuation $3.8 billion: LD Micro Profile
---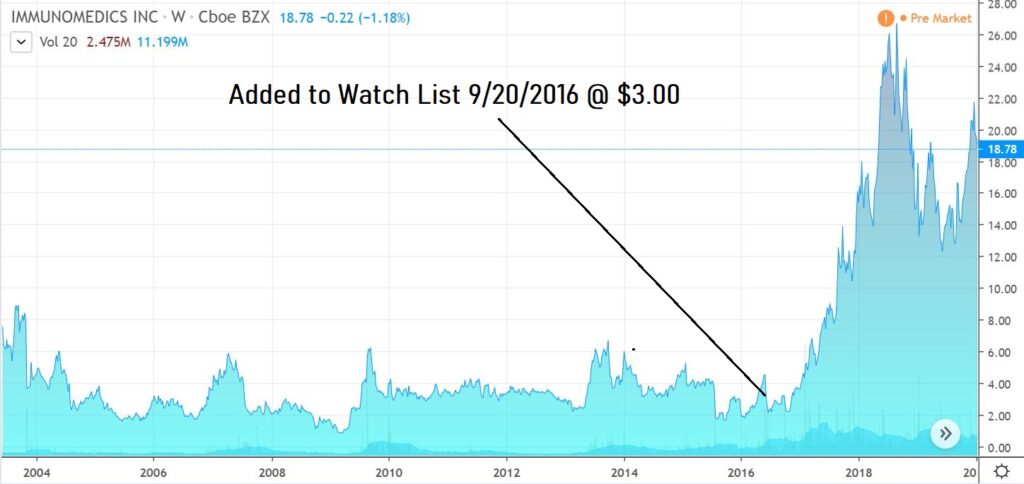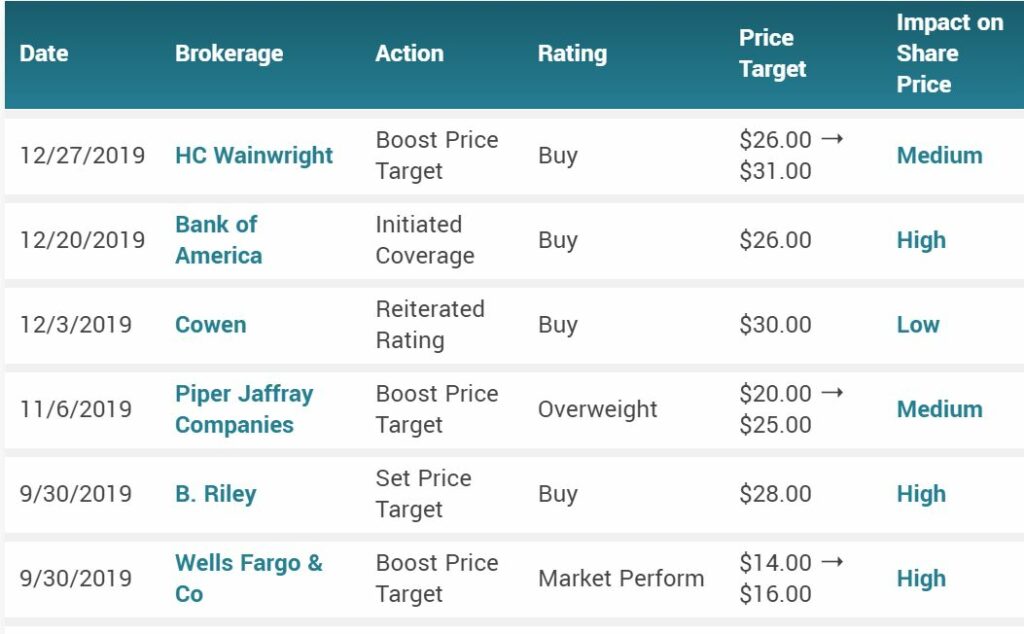 Immunomedics is a clinical-stage biopharmaceutical company developing monoclonal antibody-based products for the targeted treatment of cancer. Sacituzumab govitecan, Immunomedics' most advanced product candidate, is a novel, first-in-class ADC delivering SN-38, a potent topoisomerase I inhibitor, directly to tumor cells by targeting the Trop-2 antigen expressed by many solid cancers. It is currently under review by the U.S. Food and Drug Administration for accelerated approval as a treatment of patients with mTNBC who have received at least two prior therapies for metastatic disease. If approved, sacituzumab govitecan would be the first and only ADC approved for the treatment of mTNBC.
---

---
Disclaimer: Citius Pharma, Dyadic and Dicerna were, or are clients of Institutional Analyst Inc. (IA) or related firms of IA. While Immunomedics was not a client, associates owned or controlled 1.8 million shares at the time we added it to the Watch List. We'd love to have Fortress as a client someday. See reports on each for disclosure and disclaimer details. IA authors reports and reports on the progress of publicly traded companies and most times compensated for its coverage efforts, so impartial – we are not. No conflict, no interest.
#CTXR, #DRNA, #DYAI, #FBIO, #IMMU
$CTXR, $DRNA, $DYAI, $FBIO, $IMMU