We Are Raising the Price Potential of Immunomedics (IMMU) to $60, Highest on the Street, and Initiating Coverage on Another $3.00 Medical Start-Up American BriVision (ABVC).
To put it mildly, for long-term investors – we've had both remarkable timing and luck with companies priced around $3.00 that have been brutally beaten down for years, and then seemingly turned around like magic and made a trek to over $20.00 (see charts below on Immunomedics and Dicerna). After being added to the Watch List when combined, gains exceeded $5 billion for the two companies.
In both instances, there was little love when we first discovered them. Though it wasn't a straight path to over $20, with intermittent battles with aggressive short-sellers and well-educated naysayers. But we won in both instances and now, we just may have uncovered a third.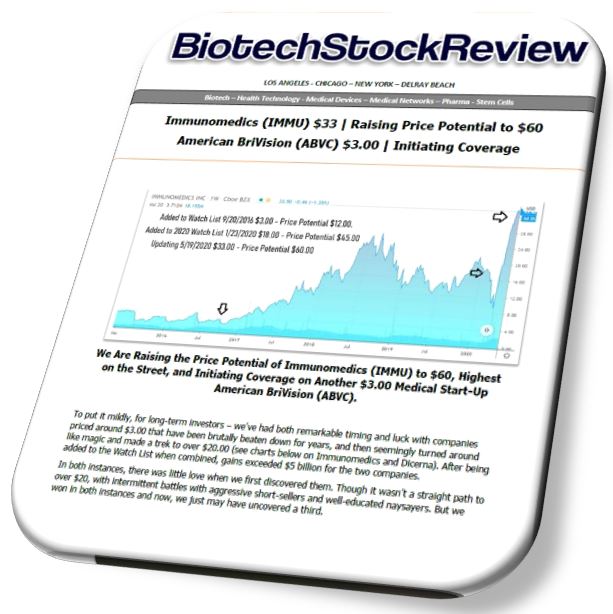 RELATED: Immunomedics (IMMU) up 100% Today or $2 Billion in Value. (April)
RELATED: Biotech 5 Pack. 5 Biotech Stocks We Expect to Double in 2020. (January)
RELATED: Immunomedics Chairman Buys $19 Million More in Stock. (2018)
RELATED: Adding Immunomedics (IMMU) $3.00 to Watch List. (2016)
RELATED: Adding American BriVision (ABVC) $2.00 to Watch List.
#IMMU, #ABVC, #DRNA, IMMU, ABVC, DRNA