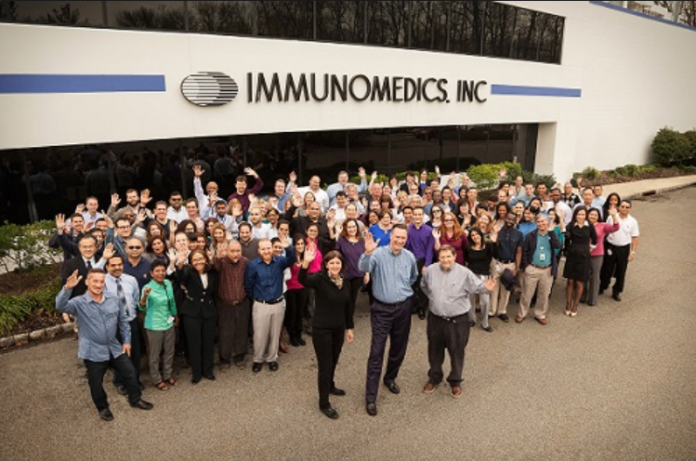 (Barrons) Two weeks ago, B. Riley analyst Madhu Kumar gushed about Immunomedics, writing in a report that the biotech could have a "blockbuster cancer drug" in IMMU-132, an antibody-drug conjugate that had shown promise in disrupting "multiple solid cancers."
Kumar initiated coverage of the biotech on June 6 at Buy with a $53 price target. On Friday, Immunomedics (ticker: IMMU) Chairman Behzad Aghazadeh bought $18.5 million worth of the company's stock through venBio Select Fund, a hedge fund where he serves as managing partner and portfolio manager.
Aghazadeh bought 575,000 Immunomedics shares through the company's public offering at $24 each, and went to the open market to buy another 200,000 shares for a better average per-share price of $23.39. VenBio now owns 17.7 million shares—a 9.9% stake—and remains Immunomedics' largest shareholder.
Immunomedics didn't return a phone call and emails seeking comment on the transactions.
Immunomedics shares are up 54% so far this year through Thursday's close at $24.88. The share appreciation is new for Immunomedics, which was founded in 1982 by Dr. David M. Goldenberg. In fact, the stock broke a 15-year streak of wallowing in the single digits in August last year, after some major changes at the company instigated by venBio.
VenBio announced in a November 2016 regulatory filing that it had acquired a 9% stake in Immunomedics and planned on taking an activist role with the company. It wanted four of its candidates, including Aghazadeh, on Immunomedics' seven-seat board. At that point, the hedge fund had bought 9.6 million shares of the biotech, some for as little as $2.13 each.
A bitter proxy contest ensued. During Immunomedics' fiscal second-quarter earnings call in February, the biotech said it spent additional legal fees of $500,000, and $900,000 more in professional fees, in the battle against venBio. The hedge fund, however, seemed to get the upper hand when the influential Institutional Shareholder Services recommended venBio's four candidates.
At the March 2017 meeting, venBio's slate won, paving the way for the departures of 78-year-old founder Goldenberg, who was Immunomedics' chairman at the time, and Goldenberg's wife, Cynthia L. Sullivan, who had just completed her 16th year as the biotech's president and chief executive.