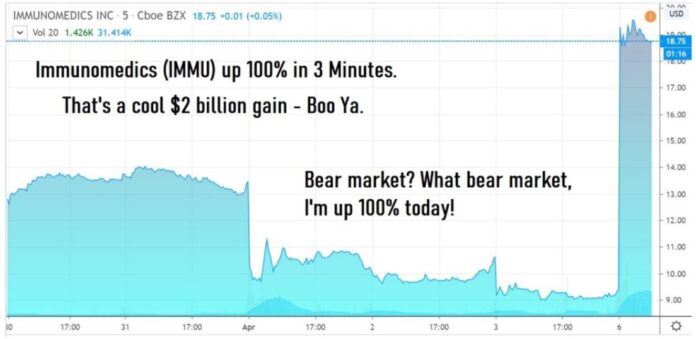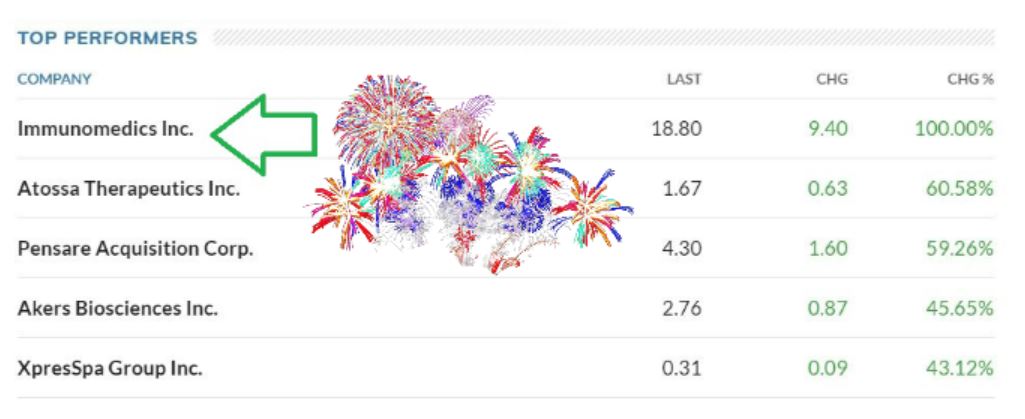 Again as mentioned a few weeks ago, our bearish market opinion is related to large-caps and large-cap funds and ETF's. If you find a small company whose shares have been market-related ravaged and they are weeks or months away from something like news from the FDA, load up. You should be able to acquire meaningful stakes from scared sellers in unprecedented size.
Or as another example news like from Immunomedics (IMMU) today (which we originally added to the Watch List @$3.00 a few years back) which is up 118% jumping from $9.40 to $19.40, a gain of $2 billion in one day – as in like 'what bear market!" Immunomedics is one of our "5 Pack of Biotech Stocks we Expect to Double in 2020" with a price idea of $45. And here we go!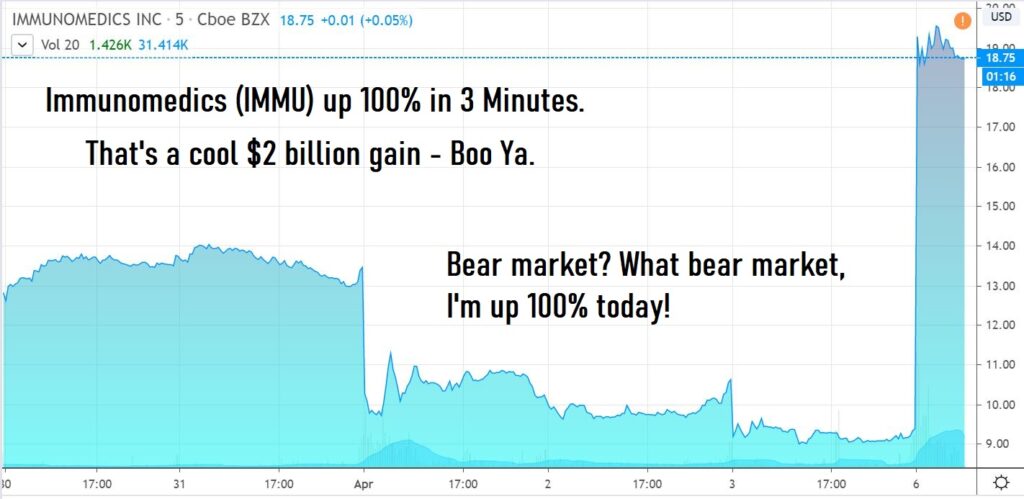 ---
PRESS RELEASE: IMMUNOMEDICS ANNOUNCES ASCENT STUDY TO BE STOPPED FOR COMPELLING EFFICACY
The FDA flipped its own earlier flop when they shot down the drug early last year because of manufacturing problems.
Oh and Yes, on occasion we're better than Goldman Sachs who slapped a sell on Immunomedics in early April with a $5 price target. How pissed would you be? Guess nobody's perfect. Which is why we never (okay, rarely) say buy or sell!
Imagine a portfolio manager with a $40 million position who sold. Goldman didn't say 'hold' they said 'sell.' What does the portfolio manager tell his or her investment committee? "Nah, it's just Goldman – ignore them." How pissed would you be?

Guess nobody's perfect.

We also have an upcoming great idea on the calendar. Another MedTech incubator selling for around $2.00 whose lead product is a liquid solution that goes into the eyeball (ewe) for patients who undergo vitreous hemorrhage eye surgery. Most diabetics eventually will need this surgery, so a big market.

Regardless of what the market does (we really have no idea), creme always does and always will rise to the top, and great fortunes can (will) be made. Like Amazon in 2002.

We're putting together numerous model portfolios including the 'Game Over Portfolio,' the 'It's Not Game Over Portfolio' and 4-5 Gold portfolios.

RELATED: Biotech 5 Pack. 5 Biotech Stocks We Expect to Double in 2020.
---

---