Mitesco one of our Past Clients, Gained 10-Fold After we Added it to the Watch List, Just did a Reverse Split in an Effort to get NASDAQ Listed.
While still risk-filled, the company now appears cheaper (than when we first discovered it), in our opinion. Will it get back to it's old high – the equivalent to $25? Not likely, but a lot of money could potentially be made between $2.50 and $25.00 if they get funded and resume expansion.
In addition, the company had made significant progress in its plan to open healthcare clinics manned (or womanned) by nurse practitioners. When we discovered the company it was just an idea. While temporarily on hold, they had six clinics (the Good Clinic) opened in Minneapolis, with two more clinics contemplated in the Denver area. They were seeing 1,300 patients a month.
They previously intended to open an additional 14 to 20 clinics this year in Minnesota and Colorado and another 10 to 14 clinics next year in Arizona and Florida, and expected Minnesota clinics to reach breakeven around year-end 2023. This all of course depends on the company getting funding, which is never assured.
Here's the chart.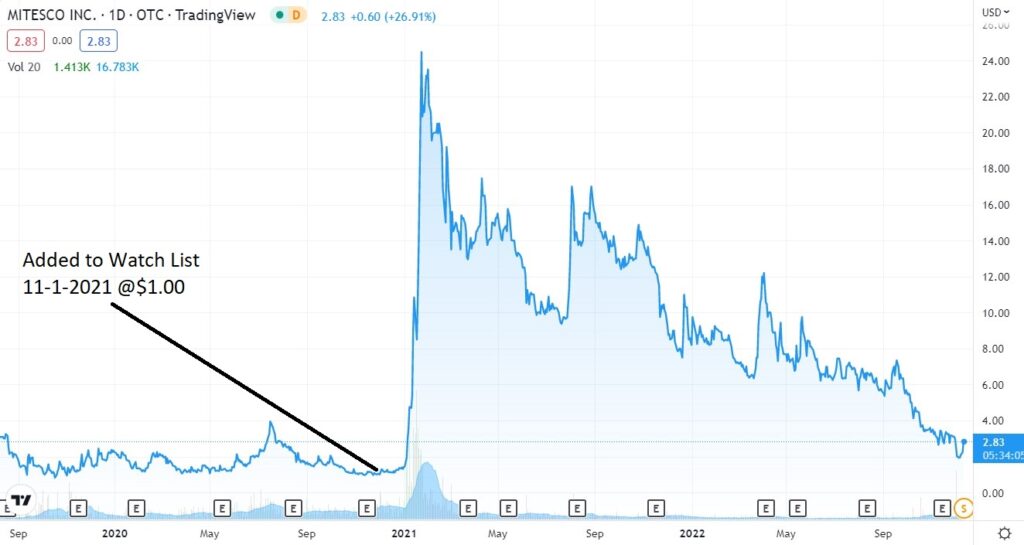 ---
"The authorized shares of common stock will remain at 500,000,000. Immediately after the reverse stock split becomes effective, the Company will have approximately 4.5 million shares of common stock outstanding."
The new symbol will be MITID. After 20 business days, the symbol will change back to MITI.
Mitesco, Inc. Sets Stock Split Date, Readies for Uplist
---
Insider Financial did a great job describing most of Mitesco's current affairs, and we see no need to duplicate (see link below). They note each clinic is currently being valued at $2 million, whereas competing private clinics have been valued at as much as $20 million.
As a reminder, the team building out The Good Clinic is the same that built the Minute Clinic business and sold it to CVS for $180 million, and it was operating at a loss at the time of the sale with 83 clinics. So they know how to build a chain. The founder of Minute Clinic was run by Michael Howe, who personally loaned over $2 million to the Good Clinic.
The Good Clinic uses (used) a small format (3,000 sf clinics) located in or around density houses, apartments, and condos. Easy to reach from home and thousands of potential clients down the hall or across the street.
Insider Financial: Mitesco (OTCMKTS: MITI) Eying Clinic Landgrab Opportunities
Most recent 10Q (must read).
S-1 (must read).
For additional information on Mitesco's 2021 financial performance, please see the company's 10-K at OTC Markets.
Disclaimer: Past client, please see report for disclaimer and disclosure details.
Biotech Stock Review: Mitesco (MITI) $0.03, Report Update