Interesting Charts From the Day we Discovered it.
Gilead Sciences, Inc. (Nasdaq: GILD) and Immunomedics (Nasdaq: IMMU) announced today that the companies have entered into a definitive agreement pursuant to which Gilead will acquire Immunomedics for $88.00 per share in cash.
The transaction, which values Immunomedics at approximately $21 billion, was unanimously approved by both the Gilead and Immunomedics Boards of Directors and is anticipated to close during the fourth quarter of 2020.
PRESS RELEASE: Gilead Sciences to Acquire Immunomedics
---
Long and Ardurous Journey Starting in 1985 Finally Comes to an End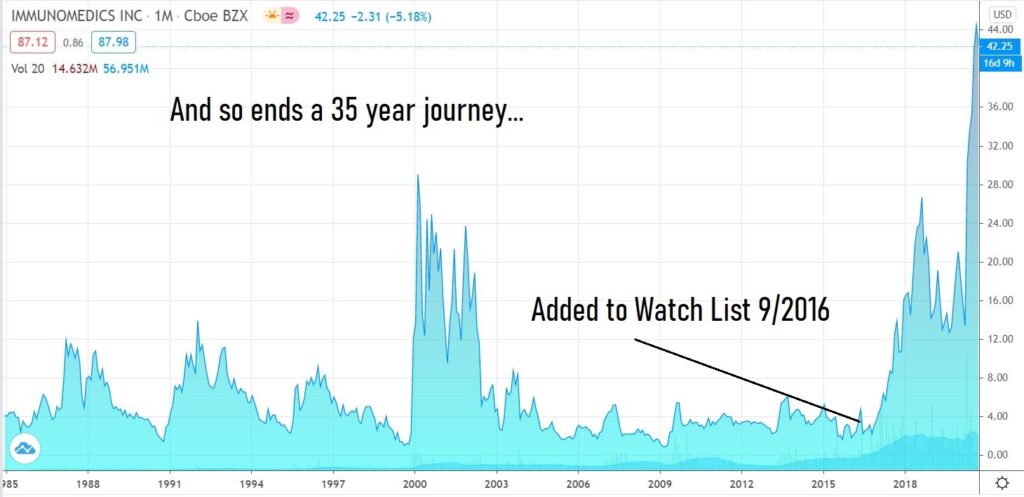 ---
Chart Months Before Adding to Watch List When Besieged by Evil Short Sellers.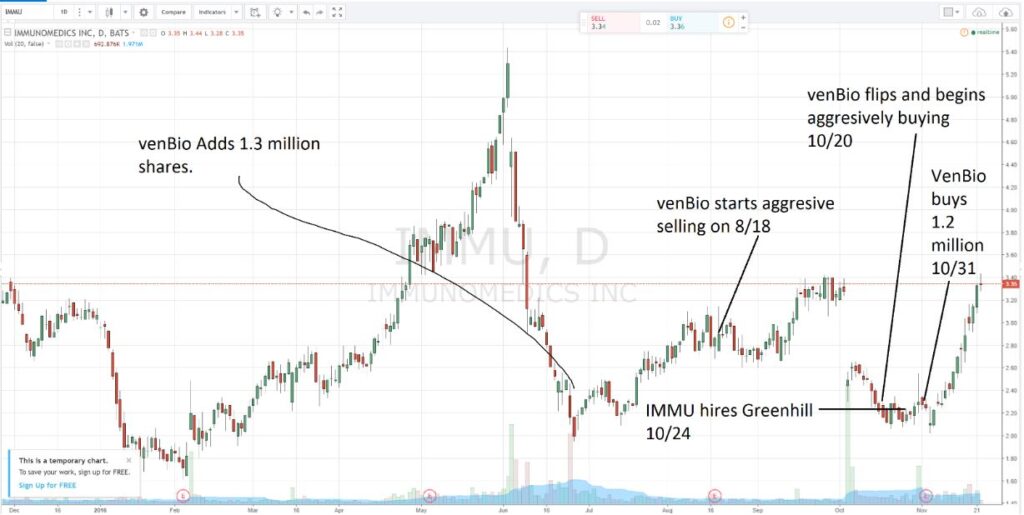 Those Pesky Short Sellers in 2016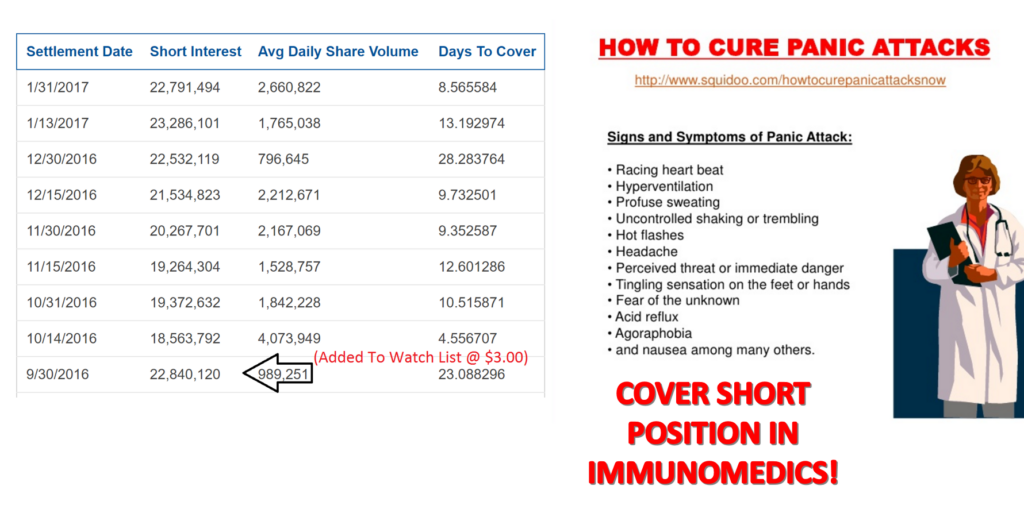 Even Infamous but Often Genius Martin Shkreli Said to Short @ $5.00

---
One Could Say Our Timing Couldn't Have Been Better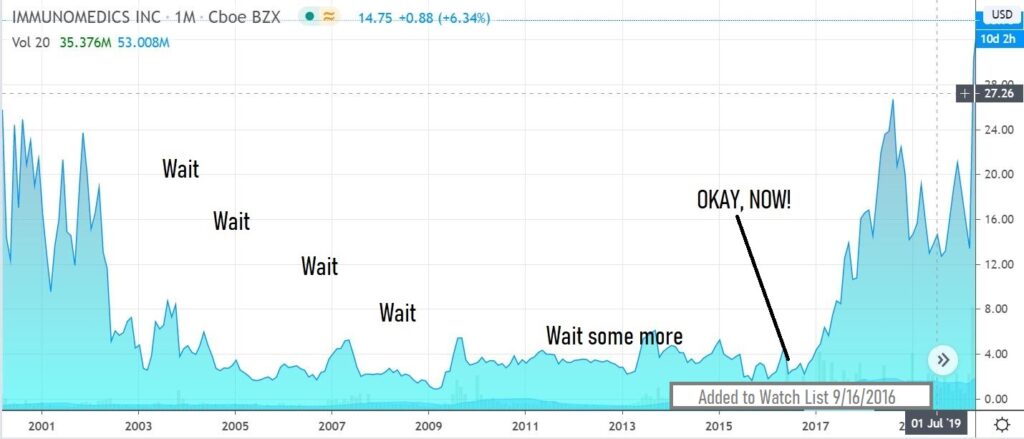 Goldman Sachs Big Whoops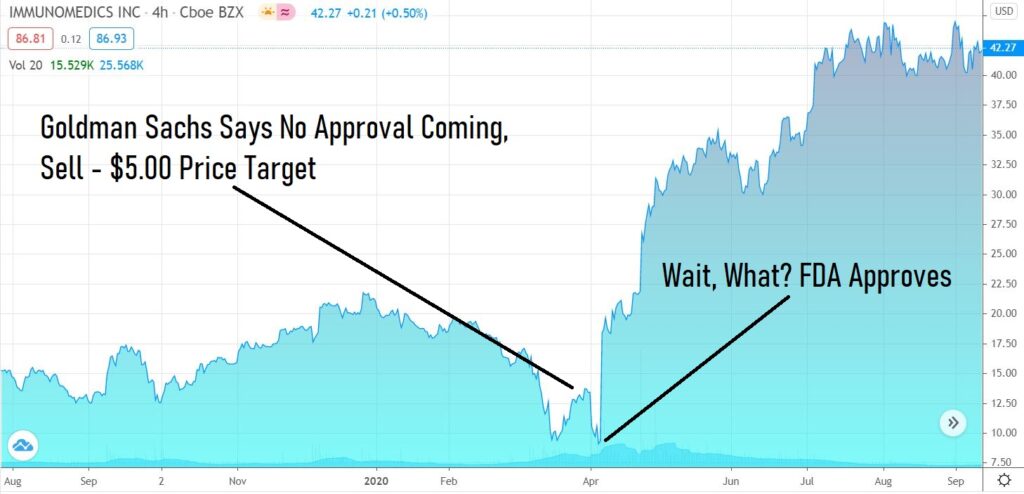 Oh, and Yes, on occasion we're better than Goldman Sachs who slapped a sell on Immunomedics in early April with a $5 price target.
Goldman Sachs downgraded the stock by two notches on Friday, based upon an FDA form 483 filing that raised questions yet again about the manufacturing of the drug. Goldman Sachs also reduced its price target for Immunomedics shares to $5 from $24.
Why Immunomedics Shares Crashed 13.5% Today
---
Biotech Stock Review Raises Price Potential to $60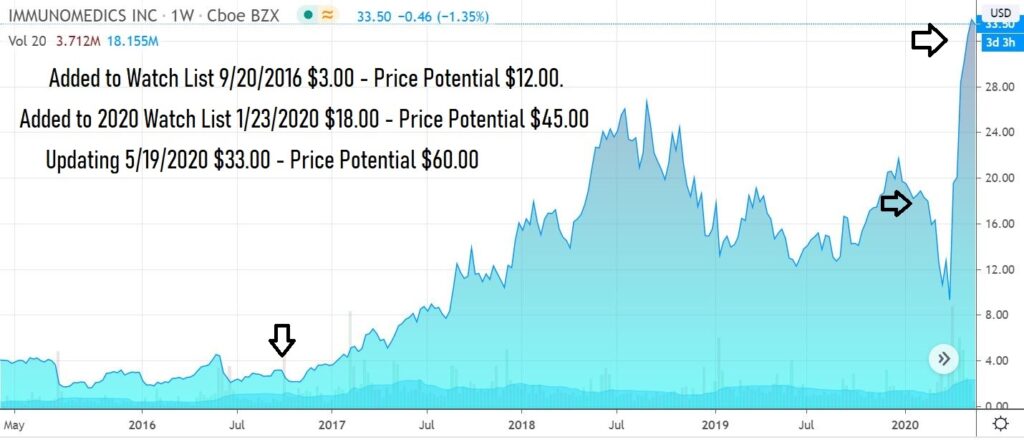 Amazing Timing of Steven Cohen's Near $200 Million Purchase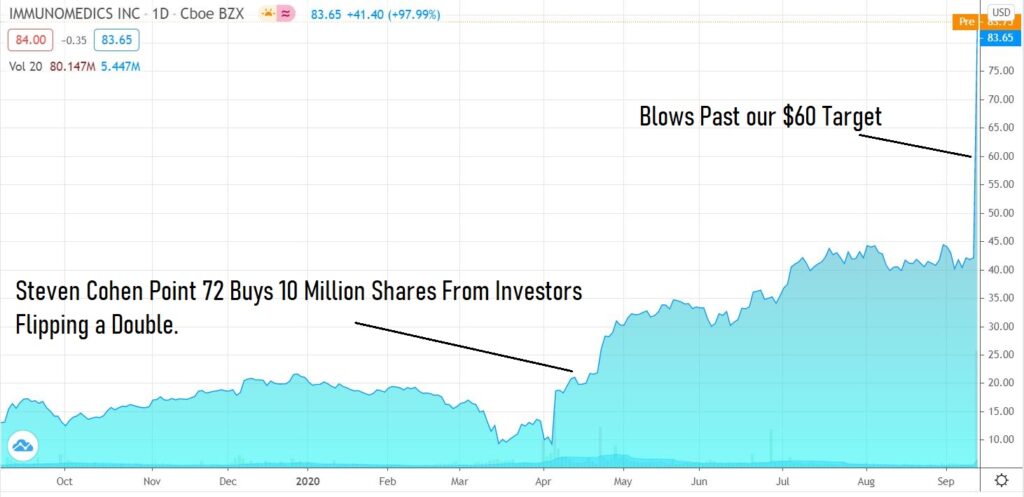 Other fun factoids along the journey.
Steven Cohen – Point 72 Buys 10 Million Shares at $18. (April 2020)
Adding American BriVision (ABVC) $2.00 to 2020 Watch List. (April 2020)
Immunomedics (IMMU) up 100% Today or $2 Billion in Value. (April 2020)
Biotech 5 Pack. 5 Biotech Stocks We Expect to Double in 2020. (January 200)
Immunomedics Chairman Buys $19 Million More in Stock. (2018)
Adding Immunomedics (IMMU) $3.00 to Watch List. (2016)
#IMMU, #ABVC, #DRNA, IMMU, ABVC, DRNA