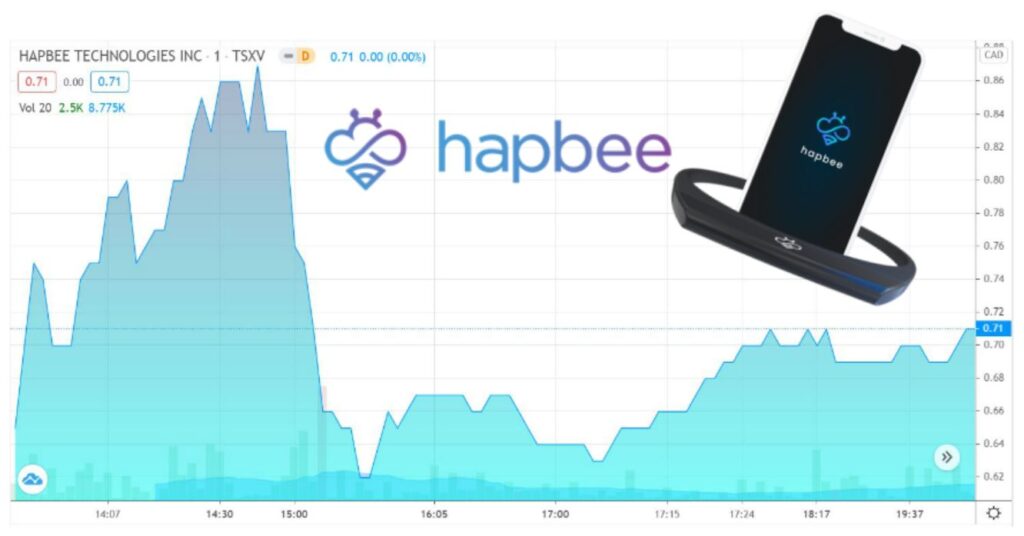 ---
Investors who participated in the recently closed Hapbee Technologies (HAPB) private placement in July at CDN $0.30 per share (including, 0.5:1, $0.50 warrant), apparently held tight and woke up to a nice mid-day surprise.
With no sellers anywhere in sight, the first level buyers found someone willing to sell, was at $0.50 per share! That quick (90-day) gain of 66% – might have looked nice at first, but later looked like "Oh no, I shouldn't have sold."
By 1:45 in the afternoon the stock was trading at $0.75 – a gain of 150%. Whoops, can't kiss all the pretty girls. An hour later, peak intraday trading took the share price even higher to $0.87, up the equivalent of 190% for the private placement buyers. Not bad for a few month's investing work.
Hats off to the company and its advisors for rounding up a group of patient shareholders who on their own, decided to hold and see how things develop in the coming year and resisted the temptation for a quick gain.
At the end of the day, trading volume stood at 942,170 with a closing price of $0.74, This gives the company a modest (in our opinion) valuation of just $33 million, with 47,294,140 shares outstanding.
---
RECENT HEADLINES
October 31st, 2020: Hapbee (HAPB) Soars 136% the First Day of Trading!
October 28th, 2020: Hapbee (HAPB) to Commence Trading on the TSX Venture Exchange.
Spetember 3rd, 2020: Video: Hapbee Testimonials.
September 11th, 2020: Peleton (PTON) Hits $25 Billion Valuation. Calm (Private) Hits Unicorn Valuation at $1 Billion.
July 17th, 2020: Hapbee Closes $6.5 Million Private Placement and Provides Corporate Update.
March 6th, 2020: Whitepaper: Effects of Magnetic Fields on Biological Systems.
Or bookmark, Hapbee Technologies (HAPB): Recent Headlines.
---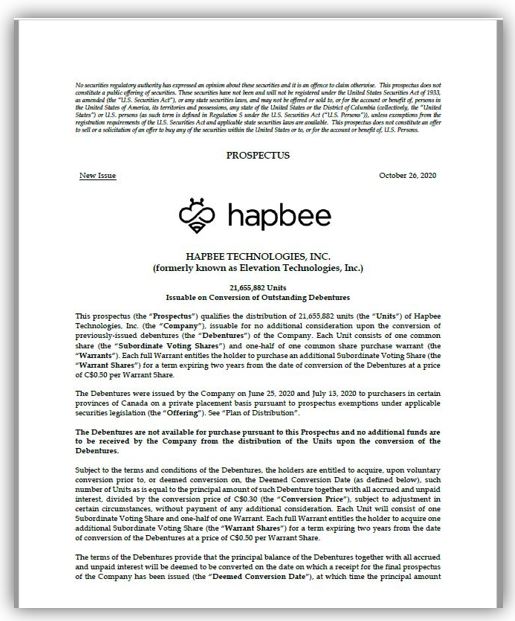 ---
BACKGROUND VIDEO
---
Forward-Looking Information Disclaimer
Certain statements included in this news release constitute forward-looking information or statements (collectively, "forward-looking statements"), including those identified by the expressions "anticipate", "believe", "plan", "estimate", "expect", "intend", "may", "should" and similar expressions to the extent they relate to the Company or its management. The forward-looking statements are not historical facts but reflect current expectations regarding future results or events. This news release contains forward looking statements. These forward-looking statements are based on current expectations and various estimates, factors and assumptions and involve known and unknown risks, uncertainties and other factors. Any statements about Hapbee's business plans or its upcoming development targets – including development of the Hapbee smartphone app, manufacturing and shipping for the Indiegogo campaign, research and development of new signals and the Company's pursuit of a public listing – are all forward-looking information. Forward-looking statements are not guarantees of future performance and involve risks, uncertainties and assumptions which are difficult to predict. Such statements and information are based on numerous assumptions regarding present and future business strategies and the environment in which the Company will operate in the future, including, anticipated costs, and the ability to achieve its goals.
Factors that could cause the actual results to differ materially from those in the forward-looking statements include, failure to obtain regulatory approval, the continued availability of capital and financing, and general economic, market or business conditions, changes in legislation and regulations, increase in operating costs, equipment failures, failure of counterparties to perform their contractual obligations, litigation, the loss of key directors, employees, advisors or consultants and fees charged by service providers. Forward-looking statements contained in this news release are expressly qualified by this cautionary statement. These statements should not be read as guarantees of future performance or results. Such statements involve known and unknown risks, uncertainties and other factors that may cause actual results, performance or achievements to be materially different from those implied by such statements. Although such statements are based on management's reasonable assumptions, there be no assurance that the listing of the common shares of the Company will occur. The Company assumes no responsibility to update or revise forward-looking information to reflect new events or circumstances unless required by law. Readers should not place undue reliance on the Company's forward-looking statements.
SOURCE HapBee
#HAPB, #Hapbee
Client, see upcoming report for disclosure and disclaimer details.