Home Fitness and Wellness Raging on Main Street and Wall Street.
While 24 Hour Fitness Files for Bankruptcy..
Shares of Peloton rocketed ~10% to new all-time highs after the company reported a blowout fourth quarter.


Goldman (from $96) and Cowen (from $70) Both Raise Targets to $110.
The company nearly tripled revenue and paid subscribers on a year-over-year basis.
Greater scale has also allowed Peloton to boost its gross margin profile.
Peloton remains a rare disruptor with a long runway to go."


Market Cap crosses $25 billion, up $18 billion from the IPO less than a year ago! How happy are shareholders, big and small?
Peloton Interactive (PTON) Q4 2020 Earnings Call Transcript
Peloton Interactive, Inc. Reports Fourth Quarter and Full-Year Fiscal 2020 Financial Results
Less than one year ago today:
Shares of Peloton tumbled 11% in the company's market debut Thursday, giving it a market value of $7.2 billion.
Growing membership has helped Peloton's sales grow to $915 million for the fiscal year ended June 30, up 110% from $435 million in fiscal 2018.
Those sales, though, have come at a cost. Its 2019 net loss widened to $245.7 million, from a net loss of $47.9 million in the prior year, amid growing sales and marketing costs.
Exercise-bike Startup Peloton Filed for IPO and Revealed a Long List of Risk Factors That Investors Should Know.
Peloton Open at $27 After Pricing at $29.
One of Wall Street's Most Notorious Short-sellers Says Peloton Will Plummet 86%, Citing 'Intense' Competition. $5 Price Target (whoops).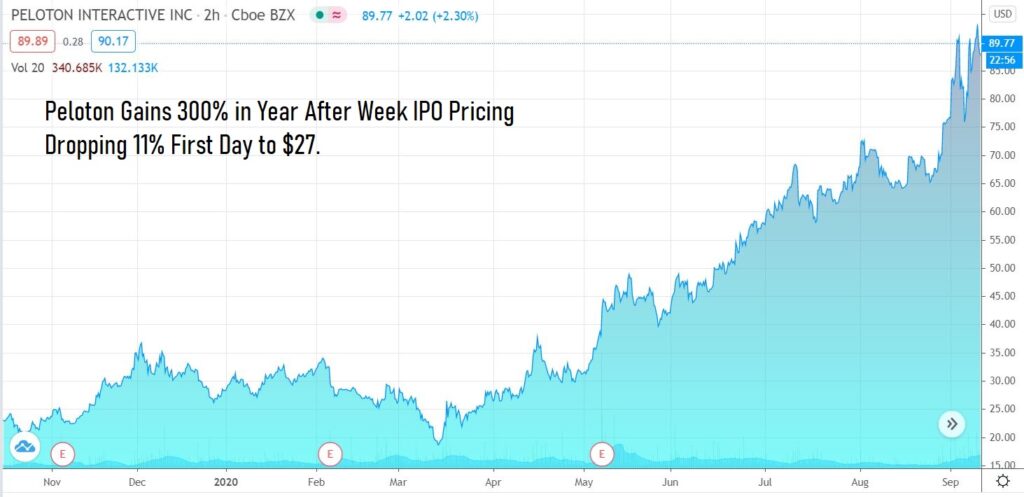 While Physical Fitness Has Taken the Headlines, an Even Larger Market for Mental Fitness Begins to Take Foothold.
Meditation App Calm Raises $88 Million In Series B Funding (Mobile App Daily).
With this round of funding, Calm has gained a valuation of $1 billion.
he well-known meditation and wellness app, Calm has raised $88 million in Series B funding that has helped the app to be valued at $1 billion. Calm is one of the best wellness apps available in the market.
The financing round was led by TPG Growth, partnered with Creative Artists Agency (CAA), and existing investors Sound Ventures and Insight Venture Partners.
With this round of funding, the total funding till date has soared to $116 million. Last year, right after earning $27 million in Series A funding, the mindfulness app was able to hit another $250 million.
"We started as a meditation app, but have grown far beyond that. Our vision is to build one of the most valuable and meaningful brands of the 21st century. Health and wellness is a $4 trillion industry and we believe there is a big opportunity to build the leading company in this fast-growing and important space."
As conveyed by Alex Tew, Calm's co-founder and co-CEO, the funding amount of the mindfulness app will be directed towards achieving the international growth and will content investment.
"This financing will accelerate our mission to make the world healthier and happier, with international growth and increased investment in content being top priorities," said Alex Tew, Calm's co-founder, and co-CEO. "We are excited to be working with an incredible partner in TPG for this new phase of Calm's journey."
According to the company's claims, the Calm app has garnered more than 40 million downloads and backed by more than one million paying subscribers. If we consider its revenue model, Calm quadrupled its revenue in 2018 and aims to bag $150 million in annual revenue.
To expand its services, calm partnered with American Airlines to offer various in-flight services and then, it invested $3 million in XPresSpa last year. These activities successfully helped the wellness app to market itself in the industry.
The concept of meditation is on the rise in the US and as per the CDC forecast (Centers for Disease Control and Prevention), there has been a growth of more than 300 percent from 2012 to 2017. And with such an aggressive round of funding, we expect the meditation apps like Calm to add more value to the wellness app industry.
Read more on Mobile App Daily.
Hapbee Closes $6.5 Million Private Placement and Provides Corporate Update.
"Now, perhaps more than ever before, people are seeking innovative and healthy ways to manage their daily lives and the emotions that come with it — such as stress, exhaustion, and difficulty concentrating," said Scott Donnell, CEO of Hapbee. "With the closing of this Offering, I believe we have the growth capital needed to bring our revolutionary wearable to market and help empower people to choose how they feel." Scott Donnell, CEO of Hapbee.
---