1. Yep, We Are Absolutely Amazed At The Biotech Stock Review's 2020 Watch List Performance – Especially In The Light Of – Well Everything. Our First Double, Immunomedics (IMMU) Up 125%.
2. And We're Absolutely Stunned At the Corona Mania Picks in the Superbug Stock Review, With Four Companies Gaining Over 1000%.
3. Gold Rush Isn't Coming – It's Arrived, Here Is Our Favorite Junior Miner, Trading at $0.16. Price Potential: Ten Bagger, Don't Say We Didn't Tell You, Because We're Telling You Now!
---

'2020 Biotech Stocks We Expect to Double' Watch List
AVERAGE GAIN 55%
In the chart below, you should see the stocks we added to the "Biotech 5 Pack – 5 Biotech Stocks We Expect to Double in 2020″ in January., were already up an average of 304%, from where we originally found them.
Despite the Pandemic, they powered ahead an additional 55% with our first double being from Immunmedics (IMMU), which now sports a market valuation of $10 billion, up from $280 million when we first found it. Wait, what?
These gross dollar numbers and percentage gains are so large, they lose meaning. Like a $3 trillion stimulus package. The only thing people can relate to is the number three. Three is less than four but more than two, we get that. Trillion? What is that?

Our latest (and final) addition to this Watch List is American BriVision (ABVC). Final because we now have a six-pack! We'll keep adding new names to share to our 'general' Watch List, but this one is now closed. It will be amazing to see where these six names are in three years.
Read this: Adding American BriVision (ABVC) $3.30 to Stocks We Expect Double List. $7.00 Price Potential.
---

Corona Mania Picks in the SuperBug Stock Review…
AVERAGE GAIN List One, 478%
AVERAGE GAIN List Two, 361%
Now, this is a mania like we've NEVER seen. And we play all manias. We've yet to find a Tulip we didn't like and this is evolving into one of the finest tulips ever..
There are so many names here, we'll just list name, symbol, and peak gain. This is not for widows, orphans, or even experienced speculators. Nothing with regard to traditional fundamental, nor technical analysis applies here. This is the land of the Cyborg Trader who can be in and out of their position, 10 times in a single day.
The Cyborgs are also corraling in the shares of many established (respectable?) companies into Cyborg world, and all investors will have to learn how to deal with this new force on Wall Street.
In the old days, if you found something you liked (say at $5) and you had a personal one-year target of $10, you might be patient and get excited over a $0.50 move. Now you have to be prepared for it to trade past your $10 target (that you spent hours crafting) and see it jump to $27, while you were out to lunch. This is a new world and don't let it make you feel like your a genius, that's how you get in trouble. But learn how to deal with it.
If you want to keep abreast of our latest finds, bookmark Superbug Stock Review news and visit often (or occasionally). "If Wall Street's Funded Biotechs Are Trying to Kill What Wants to Kill Us, We'll Follow It."
We'll be coming out with a master list called the 2020 Corona Virus Investor's Guide – hopefully, shorty – but the list is damn big we are trying to filter it down, to avoid the scammers and scallywags lol.
Superbug Watch List (January 27th) to Peak Gain
AVERAGE GAINS – 478%
Aethlon Medical, Inc. (NASDAQ: AEMD) $2.40 to $6.89 up 187%
Alpha Pro Tech, Ltd. (NYSE: APT) $6 to $41 up 650%
AstraZeneca plc (NYSE: AZN) $49 to $65 up 32%
BioCryst Pharmaceuticals, Inc.'s (NASDAQ: BCRX) $2.80 to $6.29 up 124%
Cerus Corporation (NASDAQ: CERS) $4.50 to $6.90 up 53%
Cleveland BioLabs, Inc. (NASDAQ: CBLI) $1.32 to $5.00 up 278%
Co-Diagnostics Inc (NASDAQ: CODX) $1.88 to $29 up 1,511%
Lakeland Industries, Inc. (NASDAQ: LAKE) $1.75 to $28 up 104%
Inovio Pharmaceuticals Inc (NASDAQ: INO) $4.24 to $33 up 701%
Moderna Inc (NASDAQ: MRNA) $21 to $95 up 352%
NanoViricides Inc (NYSE: NNVC) $8.50 to $19.20 up 123%
Novavax, Inc. (NASDAQ: NVAX) $7.80 to $151 up 1,835%
Vir Biotechnology Inc (NASDAQ: VIR) $19.95 to $75 up 275%
Average gain, up 478%, As they say, you can't make this sh*t up! It's insane.
List Two: Additions to Superbug WatchList
AVERAGE GAIN – 361%
Athersys (NASDAQ: ATHX) $1.85 to $4.38 up 136%
Citius Pharma (NASDAQ: CTXR) $1.02 to $1.47 up 44%
Corbis (NASDAQ: CRBP) $5.55 to $8.78 up 58%
Dyadic (NASDAQ: DYAI) $5.91 to $10.98 up 85%
iBio (AMEX: IBIO) $2.27 to $7.45 up 228%
Immuron (NASDAQ: IMRN) $2.57 to $28.99 up 1,028%
One Main (NASDAQ: ONEM) $28.50 to $44.80 up 57%
Organicell (PINK: BPSR) $0.02 to $.29 up 1,350%
Mitesco (OTC: MITI) $0.02 to $0.08 up 300%
Todos Medical (OTC: TOMDF) $0.03 to 0.13 up 333%
Average gain, up 361% – most compressed within 2-3 month period. This is actually the complete list with the biggest loser up 32% at it's peak. What the.
THE ARCHIVES
ATHX: Let's be 'Corona Clever' and Catch one Before the POP. Athersys (ATHX) $1.85
CTXR: Citius Pharma (CTXR) Now Our #1 Ranked Idea for 2020.
CRBP: Adding Corbis Pharma (CRBP) $5.55 to Watch List.
DYAI: Added to Watch List $1.32, Dyadic Inc (DYAI) Announces $5 Million Stock Buyback
IBIO: Adding iBIO (IBIO) $2.27 to CoronaVirus Watch List.
IMRN: Adding Immuron (IMRN) $2.57 to Superbug Watchlist.
ONEM: Biotech Stock Review Adds One Medical (ONEM) $28.50 to Watchlist.
BPSR: Adding Organicell (BPSR) $0.02 to the Watch List.
MITI (old TNTY): Initiating Coverage on Mitesco (True Nature Holdings – TNTY) $0.02. Adding to Watch List.
TOMDF: Adding Todos Medical (TODMF) $0.03 to SuperBug Stock Review Watchlist.
(Note, some companies (CTXR – treatment, DYAI – drug formulation, MITI – Telehealth) added Corona related treatments, services, etc., after we earlier added them to the Watch List. Further, while an investor may have been able to buy at Watch List addition price, share price volatility makes it virtually impossible to sell at or near peak pricing. Oh and of course past performance is zero indication of future performance.)
(Client or significant position relationship: ABVC, CTXR, DYAI, IMMU, MITI.)
---

Gold Rush Isn't Coming – It's Arrived.
The NASDAQ just set a new record crossing 10,000 and is about to set another new record for the longest streak without back-to-back losses. This as we read somewhere, "will end in tears."
We've been in 7 significant bear markets since 1973. Some small and drawn out painful (2000-2003) and some fast and quick like 1987. Here's the thing. Bear markets are normal. Life doesn't end if you sit pat and take your punishment, for listening to advisors who say "no one can successfully time the market and if you missed the top X months in the market blah, blah" as you tightly hold the steering wheel while car careens off the cliff. You just wait, sometimes for as long as a decade, to get even. But you probably, eventually will get even.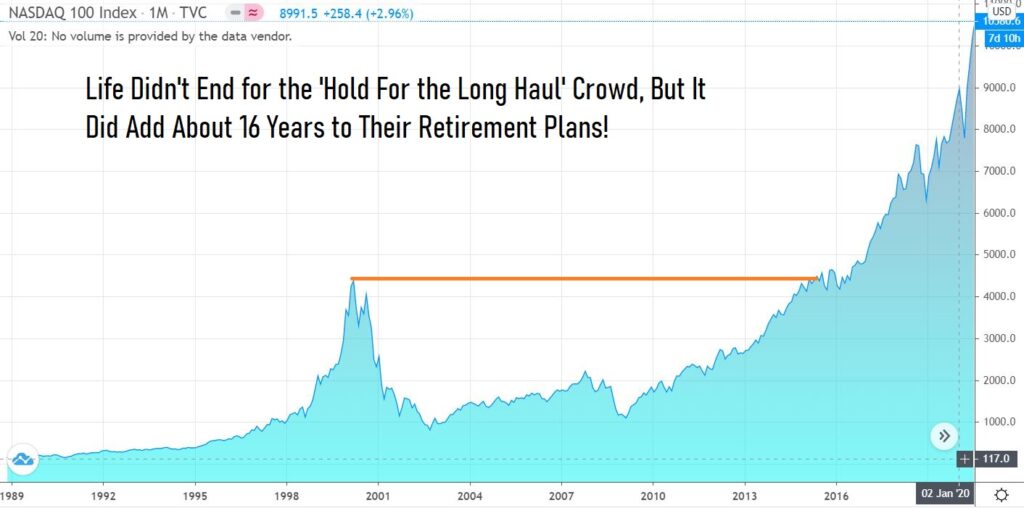 Our mission here isn't to time the market and run for cover. Our mission, as we believe the market is nearly perfectly set up for one of the worst bear markets in history – is to make more money in the next five years than we ever had in our 47 years on Wall Street (starting as a runner in high school). And we believe gold, gold ETF's, gold-stock mutual funds, and direct ownership in Senior and Junior gold miners will play a major role. More about that in another letter.
And Lucky Minerals (LKY, LKMNF) is what we would like you to first take an early peek at. We think it will make us famous in some mining circles. You know, for being early – ahead of the crowd – like we do with biotechs.
We've become experts (self-proclaimed) at spotting developing mania's, by simply recognizing when everything we touch suddenly seems to go up (not to be confused with genius). Stop lose ORDERS and getting repeatedly stopped out – tells us when the mania is over (not to be confused with being a loser).
We once saw a bumper sticker that said, "Please, God, give me one more bull market. I promise not to waste this one." And that's where we are today. Don't waste this one. Gold has had many bull markets in the past, but this will be the biggest and most impressive of all time.
We think the next stop is gold $2,000. And that is when a mania could start to form – after a new and unchallenged high, combined with growing investor FOMO (fear of missing out). Next stop after that could be $5,000 propelled by a falling US stock market, where many (not all) stock investors – $35 trillion at this peak – who are seeking other places to invest, discover gold and gold stocks.
The other alternatives? Long-term bonds – don't think so. Cash at 1% – don't think so. The first wave of safe-haven seekers can take gold to $5,000. The second wave, the momentum buyers who buy anything solely 'because' it's going up, (think Bitcoin from $3,000 to $20,000) can take gold from $5,000 to $10,000. We think they'll arrive and full effect of their buying will be in 2024 or 2025.
So there we said it. $10,000 gold. More importantly during this process, the Robinhood Cyborg traders will discover nearly everything in Canada sell for pennies or dollars – vs $1,500 for Tesla. We believe more wealth will be created by investing in the mining sector than imaginable. As gold goes up, gold mining stocks 'generally speaking' go up even more. It's going to be a wild ride, so buy your ticket to the show early! Mark our words, NOW is the time.
ONCE THE ROBINHOOD TRADERS SEE THIS…
Great Bear Resources (GTBAF)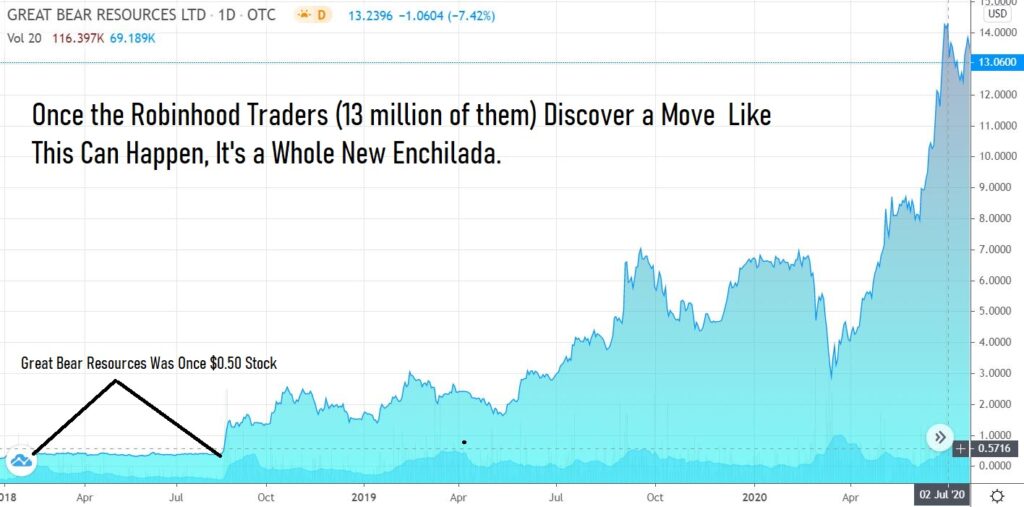 Getting Down to Business.
Our favorite Junior Miner and an excellent way to learn this about making money in the gold sector from the bottom up (top of the pyramid is a gold ETF) is by owning shares in Lucky Minerals (LKY in Canada and LKMNF in the US).
Investors don't have to own a lot of Lucky, but just own some of it, and follow their progress closely. Learn how management communicates with investors. Learn how they raise money to fund exploration. Learn the steps of exploration – starting with site selection and aerial magnetic mapping. Watch how they narrow down their target to drill and learn about how deep they drill and why. We have been doing this for 3 years since we launched the Gold Street Journal since renamed to Institutional Gold Research.
Why did we pick Lucky Minerals?
We feel rather certain that Lucky Minerals has the potential to rise ten-fold in value if they have success in discovery. This is a very simple story of a tiny company that has had the luck (hence Lucky) to hook up with a billion-dollar mining concern who has agreed to explore on their property for a cut. That is the whole story. Looking forward, who gets to the gold or copper first!
This is all for real. Press release, hands shook (or elbow bump), terms set, contracts signed. Not rumored – but-for-real. And no one has been watching! Cept' us, of course.
We can go into a lot of details (and we will later), but for now – let's solely focus on the most important development in the company's history. We will keep talking about Lucky, keep talking about their progress until we drill it (no pun intended) into your head. If this does a Great Bear type run, you're going to be really sad you didn't listen to us.
This is our favorite. We follow over 100 miners. This isn't our 25th favorite or our 7th favorite. This is number #1. Here's why:
Let's introduce you to First Quantum Minerals (FM), their partner, their buddy, their rich uncle who can set this afire. How deep are their pockets? Like if Elon Musk was your rich uncle and he didn't want his nephew to fail on his first business venture rich!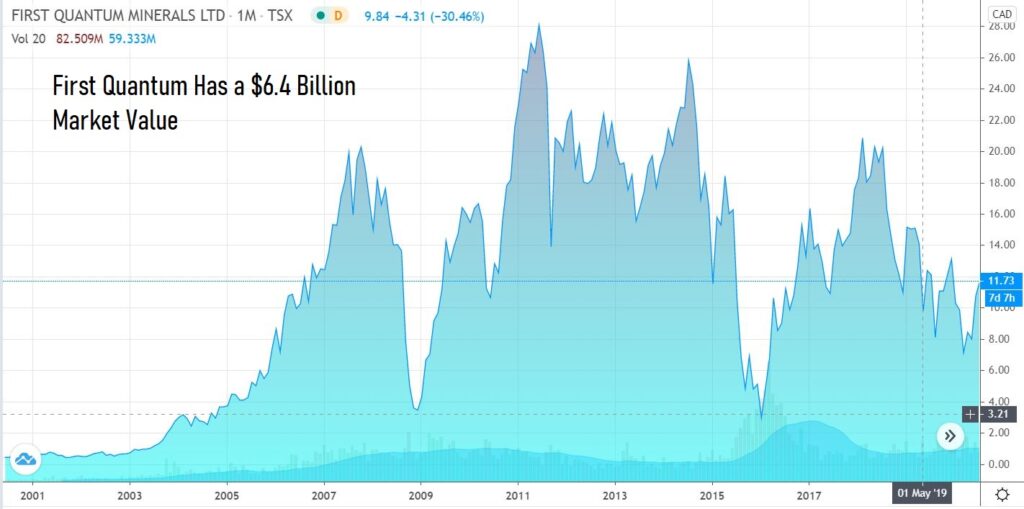 In early March, Lucky announced that First Quantum grabbed exclusive rights to explore for copper deposits on Lucky's Fortuna property. Lucky retained 100% of all gold deposits found by either First Quantum or on their own. At the end of the second quarter, First Quantum had cash and cash equivalents of $1.1 billion at quarter end available.
During the second quarter they guided to 210,000 tonnes of cooper and 90,000 ounces of gold. That's $171 million worth of gold at today's prices.
Reveneues have incread from $2.5 billion in 2015 to $4.3 billion for the trailing 12 months.
FIRST QUANTUM REVENUES

FIRST QUANTUM PROFITS

---
Cash & Short Term Investments

Now let's look at Lucky Minerals numbers. As a start-up, aside from knowing how much cash they have from a recently closed financing for $3 million, the most important number is how many shares are outstanding and thus the market valuation. Is it one billion? Is it 300 million?
No, Lucky Minerals has 25 million shares outstanding. Giving it a market valuation of under $4 million. When a $6 billion-dollar giant signs to do a deal with a $4 million exploration miner you must take notice.
Here is our intitial report from a few weeks ago, more coming.
Client, see report for disclosure and disclaimer details.