It Ain't Cheap at $3.5 Billion.
It's Near Doubled Since March 20th.
But Look at the Growth.
Look at the Cash.
Don't Look at the Bottom Line.
And it's TeleHealth.
One Medical aka 1Life Healthcare.
So it's a rare, rare occurrence we add a Company to the Watchlist that has doubled in two months in a highly risky market – but this is a 2-3 year play that has a Tsunami at it's back. The Tsunami is Telemedicine which has leaped three years into the future of consumer acceptance, powered by a deadly virus that has lead most previously skeptic patients about talking to a Doctor on their computer into "Hal no, I ain't going to no crowded Doctor's filled with people sneezing and coughing with runny noses. Hal no. I'd rather suffer."
Not going into depth today, just some bullet points.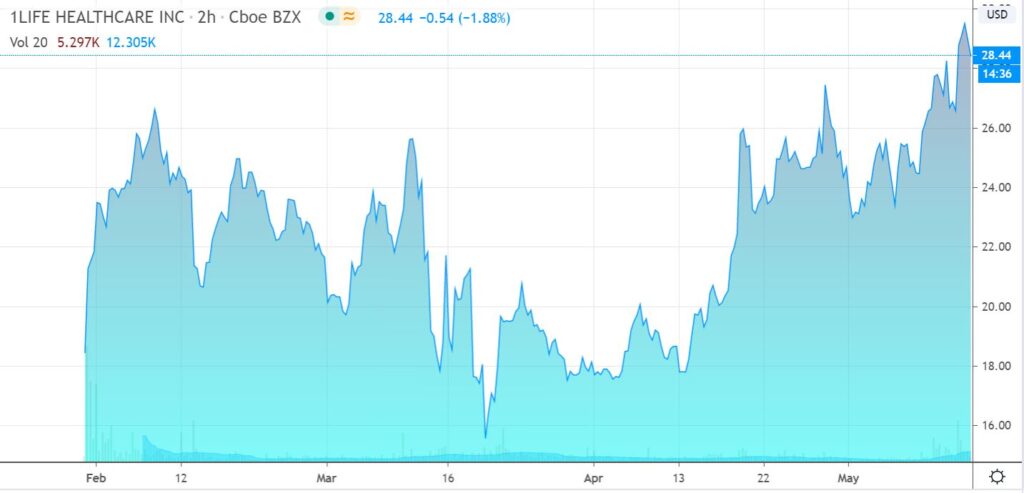 One Medical is a membership-based primary care platform with seamless digital health and inviting in-office care, convenient to where people work, shop, live and click. One Medical's mission is to transform health care for all through a human-centered, technology-powered model.
One Medical stock closed at $22.07 on its initial day of trading, up 58% from the 14 IPO price. The company raised $245 million in the offering. The stock hit an intraday peak of 28.58 on Feb. 10.
One Medical, founded in 2007, had 397,000 members and 77 medical offices in nine U.S. markets as of Sept. 30. New members pay a $199 annual fee, while enterprises typically pay a discounted annual fee for their employees. Those subscription revenues accounted for 48% of revenue in the first three quarters. The rest comes mainly from fee-for-service payments.
RELATED: Biotech Stock Review: Mitesco to Launch Telehealth Enabled Primary Care Clinic Business
AND NOW FOR THE BULLET POINTS.
First Quarter 2020 Net Revenue of $78.8 Million, a 25% Increase from $63 million, Year-Over-Year.
First Quarter 2020 Ending Membership Count of Approximately 455,000, a 25% Increase Year-Over-Year
Ending First Quarter 2020 Cash and Short-term Marketable Securities Balance of $375.4 million; $2.2 million in debt
Care Margin was $27.2 million, or 35% of total net revenue
Expects to sign 3,000 members per month for the upcoming quarter.
What's not to like? Other than a better symbol would have been OMEN instead of ONEM!
Google-Backed 1Life Healthcare Surges 58% in Trading Debut (Bloomberg)
One Medical is going public: 5 things to know about the primary-care startup. (MarketWatch)
1Life Healthcare (One Medical) Announces Closing of Initial Public Offering (Company).
1Life Healthcare (One Medical) Executives to Participate in Upcoming Investor Conference on May 18th (Company)
Available Information
One Medical intends to use its Company website (including its Investor Relations website) as well as its Facebook, Twitter and LinkedIn accounts as a means of disclosing material non-public information and for complying with its disclosure obligations under Regulation FD.
Forward-Looking Statements
This press release contains forward-looking statements about us and our industry that involve substantial risks and uncertainties and are based on our beliefs and assumptions and on information currently available to us. All statements other than statements of historical facts contained in this press release, including statements regarding our future results of operations, financial condition, business strategy and plans and objectives of management for future operations, are forward-looking statements. In some cases, you can identify forward-looking statements because they contain words such as "anticipate," "believe," "could," "estimate," "expect," "intend," "may," "plan," "potential," "predict," "project," "should," "will," or "would," or the negative of these words or other similar terms or expressions.