We Liked it at $3.50, we Love it at $2.25.
Down but not out. Now trading below the cash they have in the bank, this is elevated to our new 'favorite.' You can price and time stamp that call, and come back in a year to see where we are. We could be wrong but we're pretty sure it won't be anywhere under $5.00.
Just look at the chart and then look at the cash in the bank, and how could anyone (except for orphans and widows) NOT own this stock. Everything we've been taught since we were a runner on the exchange floor in 1974, tell us this is the type of thing you just have to own. Valuations like this don't come around too often!
If you have only the tiniest bone of 'bargain hunter' in your body, this situation simply cannot be ignored. Really. Do as you choose, we choose to dance. "Cause your friends don't dance – and if they don't dance – well, they're no friends of ours."
First look at the chart..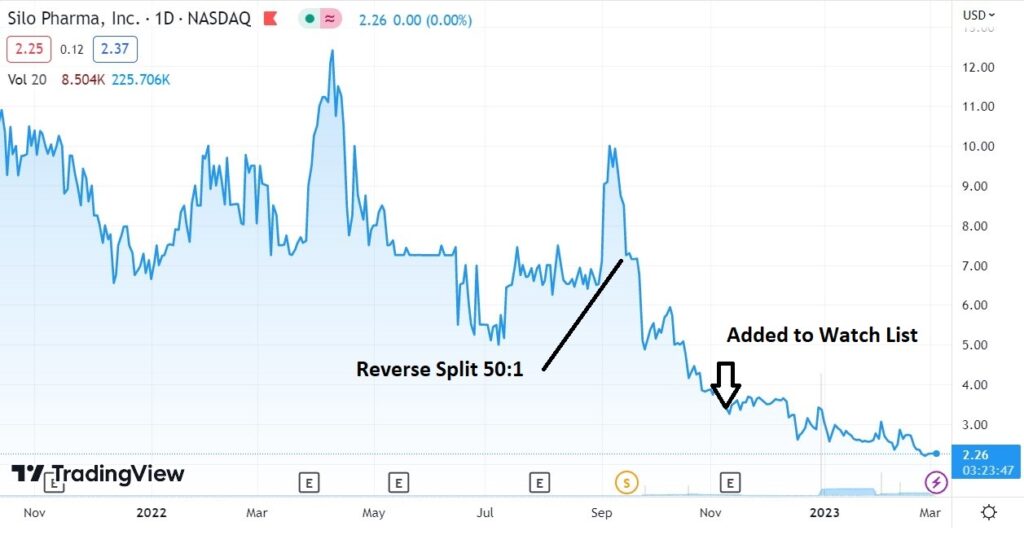 Then look at the cash..this isn't a mirage!

Here's the math for the mathematically challenged (including us): 3.1 million shares outstanding, times $2.25 = a market cap of $6.9 million. We repeat, this is not a mirage.
Any bit of positive news could send the share price spiraling higher, like it did on December 30th, when presumably no one was watching (including us) on the last day of the year! It traded as high as $6.56 (up 135%), with an eyebrow raising 23.4 million shares trading hands. Boo and Ya.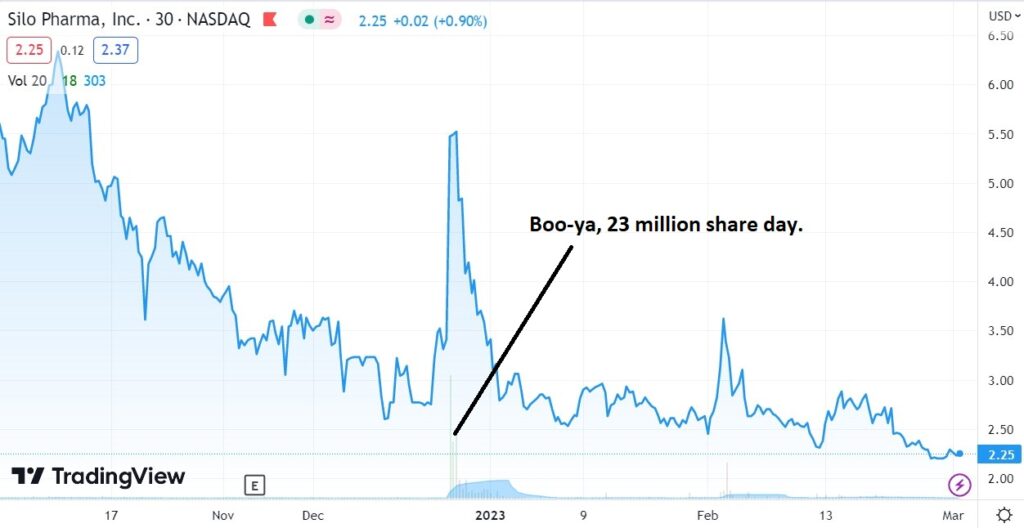 Our thesis (theory, guess) is one day this will pop on FDA related news and then stay there. In the meantime, sit back, have a beer and relax.
We'll work on a full report going over their portfolio and pipeline, to try to determine what in particular, has the best chance of doing the safety dance with the FDA.
Subscribe to receive report.

And By The Way…
Yes, we are well aware of the performance in the sector (beyond dismal) which is actually another reason for our optimism in Silo Pharma. Buying a cheap stock in a beaten up sector, is a time-proven technique, just saying. Been there, done that.
The AdvisorShares Psychedelic ETF is down 80% right out of the gate! And yes, we think that's funny (tragically funny). But at the same time THIS is when you go hunting.
ADVISORSHARES PSYCHEDELIC FUND (PSIL)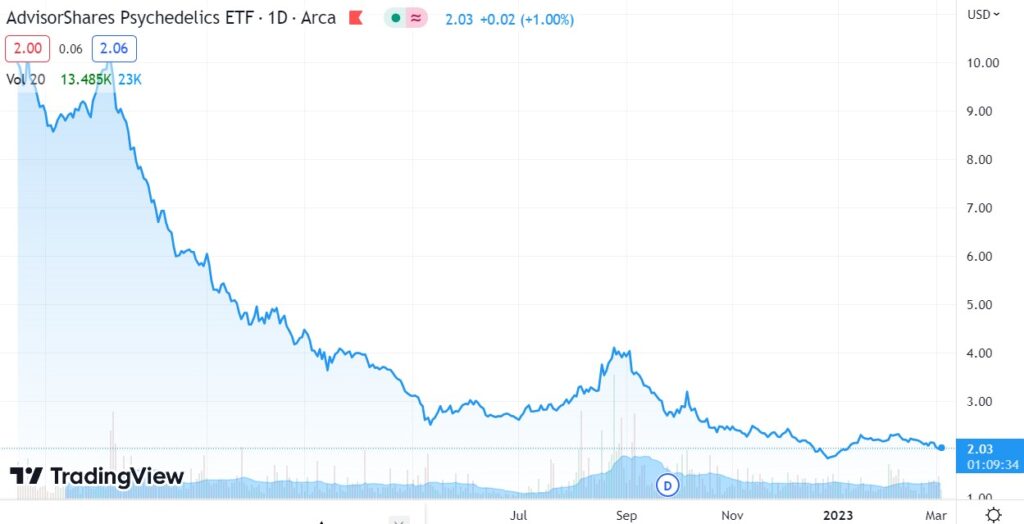 Forward-Looking Statements
All statements other than statements of historical fact in this post are forward-looking statements that involve known and unknown risks and uncertainties and are based on current expectations and projections about future events and financial trends that the Company believes may affect its financial condition, results of operations, business strategy, and financial needs. Investors can identify these forward-looking statements by words or phrases such as "may," "will," "expect," "anticipate," "aim," "estimate," "intend," "plan," "believe," "potential," "continue," "is/are likely to" or other similar expressions. We and the Company under takes no obligation to update forward-looking statements to reflect subsequent occurring events or circumstances, or changes in its expectations, except as may be required by law. Although the Company believes that the expectations expressed in these forward-looking statements in press releases are reasonable, it cannot assure you that such expectations will turn out to be correct, and the Company cautions investors that actual results may differ materially from the anticipated results and encourages investors to review other factors that may affect its future results in the Company's filings with the SEC. Client, five thousand this month and hopefully forever to disseminate news. See report for full disclosure and disclaimer details.
$SILO, #SILO