If you're familiar with the term, "..the stars are aligning" here is a real life example. If you're familiar with the term, "..wind at their back" the winds are building heavily right here, right now.
We are long-term in nature (looking out 2-3 years) but getting started on the right foot when available, is always a smart choice. In our opinion, that choice is now.
Society Pass (Nasdaq: SOPA) Engages ThinkEquity to Facilitate Stock Repurchase Program of Up to US$2 Million.
Price and Volume Gradually Picking up From Where we Added to Watch List on the 12th.
---
STOCK BUYBACK
Society Pass (Nasdaq: SOPA) Engages ThinkEquity to Facilitate Stock Repurchase Program of Up to US$2 Million Commencing on 01 February 2023
NEW YORK, NY, Feb. 01, 2023 (GLOBE NEWSWIRE) — via NewMediaWire – Society Pass Incorporated (" SoPa ") (Nasdaq: SOPA ), Southeast Asia's (SEA) next generation, data-driven, loyalty, fintech and e-commerce ecosystem, today announces that its Board of Directors has approved a stock repurchase program authorising the repurchase of up to US$2 million of its common stock, commencing on 01 February 2023.
Dennis Nguyen, Founder, Chairman and Chief Executive Officer, comments, "We are pleased to announce the approval of this share repurchase program, providing us with a significant tool to generate shareholder value. As of 31 December 2022, SoPa has approximately US$19 mn of cash and zero long-term debt.
Given our closing stock price of $1.11 on 31 January 2023, our current undervalued market capitalisation presents an extremely attractive opportunity to buy our common shares at a significant discount to their intrinsic value. Our well capitalised cash position, which translates into approximately $0.70 per share, and strong revenue generation allow SoPa to build out our next generation fintech and e-commerce ecosystem in SEA through paradigm shifting acquisitions and fund this stock repurchase program."
The Company engaged ThinkEquity LLC to purchase shares of the Company's common stock from time to time in the open market at prevailing market prices, in privately negotiated transactions or other means in compliance with applicable federal securities laws. The timing and amount of stock repurchases under the program, if any, will be at the discretion of management, and will depend on a variety of factors, including price, available cash, general business and market conditions and other investment opportunities. Any shares acquired will be available for general corporate purposes. Information regarding share repurchases will be available in the Company's periodic reports on Form 10-Q and 10-K filed with the Securities and Exchange Commission or as otherwise required by applicable federal securities laws. The Company had approximately 26.6 million shares outstanding as of 20 January 2023.
---
TECHNICAL STRENGTH BUILDING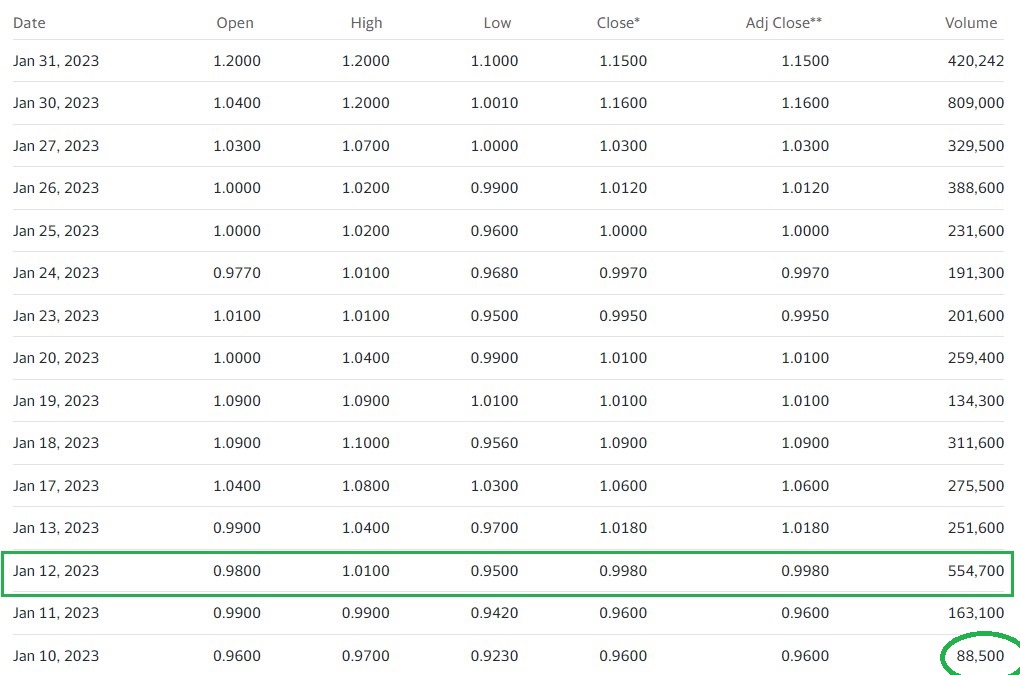 ---
We're not chartists, to be sure, but we are in touch with many of the best. With the recent move, they tell us the technical indicators should start turning positive today (20-day moving average). They tell us we are in a good trend. Tomorrow will be the 20th day of a gradually rising price trend, and the Algo's just love that.
20 Day Moving Average Turned Positive Today (BarCharts.com)

Next resistance is $1.23 then $1.31 the $1.43, then a potential blue sky. opening.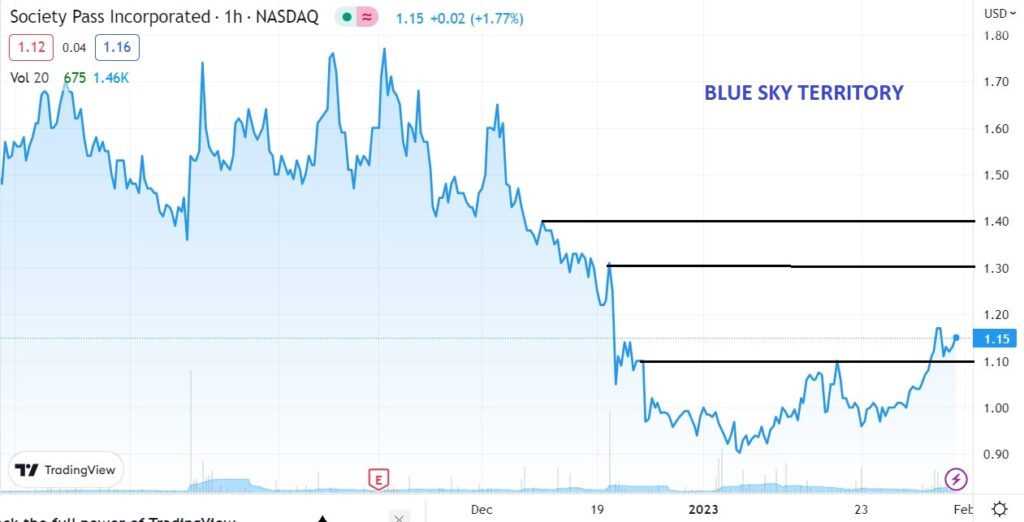 ---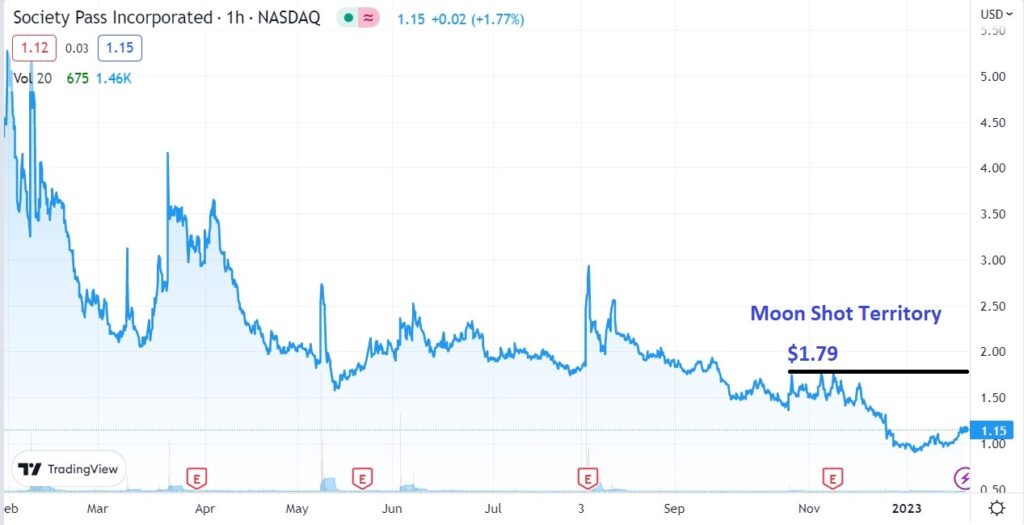 Remember, patience is key so resist the urge to flip! Well, do whatever you want, like take the 15% gain. But you wouldn't, if you were us..just saying.
---
Cautionary Note Concerning Forward-Looking Statements
This press release may include "forward-looking statements," within the meaning of Section 27A of the Securities Act of 1933, as amended, and Section 21E of the Securities Exchange Act of 1934, as amended. All statements other than statements of historical fact included in this press release are forward-looking statements. When used in this press release, words such as "anticipate", "believe", "estimate", "expect", "intend" and similar expressions, as they relate to us or our management team, identify forward-looking statements. Such forward-looking statements are based on the beliefs of management, as well as assumptions made by, and information currently available to, the Company's management. Actual results could differ materially from those contemplated by the forward-looking statements as a result of certain factors detailed in the Company's filings with the SEC. All subsequent written or oral forward-looking statements attributable to us or persons acting on our behalf are qualified in their entirety by this paragraph. Forward-looking statements are subject to numerous conditions, many of which are beyond the control of the Company, including those set forth in the Risk Factors section of the Company's registration statement and prospectus relating to the Company's initial public offering filed with the SEC. The Company undertakes no obligation to update these statements for revisions or changes after the date of this release, except as required by law. We are being compensated with from the company seven thousand and five hundred dollars monthly for a year of coverage in a combination equity and cash.
Media Contacts:
PRecious Communications
[email protected]