Two Binary Events Directly Ahead.
As in Months Away, not Years. Share Price up 76% During April.
As we stated earlier, Revive Therapeutics (RVVTF) is our favorite risk-reward adjusted idea for the year.
Not mentioned earlier, is that there is no predicting how companies like Revive can trade in the months, weeks or days ahead of an FDA verdict. Revive is near completing Phase III trials where final safety and efficacy data is collected by the Data Safety and Monitoring Board and then submitted to and reviewed by the FDA.
Yesterday Revive issued a press release: Revive Therapeutics Provides Update on Phase 3 Clinical Trial for Bucillamine in COVID-19
Revive Therapeutics (RVVTF) Full Regulatory Update Archive.
While all recent clinical trial enrollments have been affected (lack of patients) by first Omicron and then the BA.2 variant, the company is still targeting Q2-2022 to meet the enrollment completion goals.
Note, Revives trial completion per patient is short (under one month) and conducted at the patients home, with a drug taken orally. This is not a complicated process.
Generally speaking, investors (traders) bid the share price up, as the verdict date approaches. They anticipate approval (the first binary event), a soaring stock price and selling their shares to longer term investors.
The longer term investors as well as some past holders doubling up, purchase shares anticipating the second binary event – which would be commercialization (sales) and/or the partnering or takeover by a larger pharmaceutical – that knows 'how' to sell approved drugs.
As we've said many times before, approval does not mean sales for Biotech start-ups.
It's a pretty simple risk/reward scenario. Some investors are willing to risk that a Company will get approval, and some investors are not willing to take that risk. With 40 years investing in Biotech (and after owning a few no approvals) we respect "to each his own."
One example would be Immunomedics (IMMU)* which we added to the Watch List at $3.00 in 2016, which 'drifted' up to $20 per share in the year and a half prior to the verdict and then plunged to $9.00 in the weeks prior. When the FDA did approve their drug (in a rare 'early' approval), it surged to $20 in a matter of hours, a gain of $2 billion. That was there first binary event.
It then drifted up to $30 share and then drifted further to $40 a share, when the second binary event occurred, which was a takeover from Gilead for $87 a share or $20 billion. Game and worry over!
THE RISKY GAME OF BETTING ON APPROVAL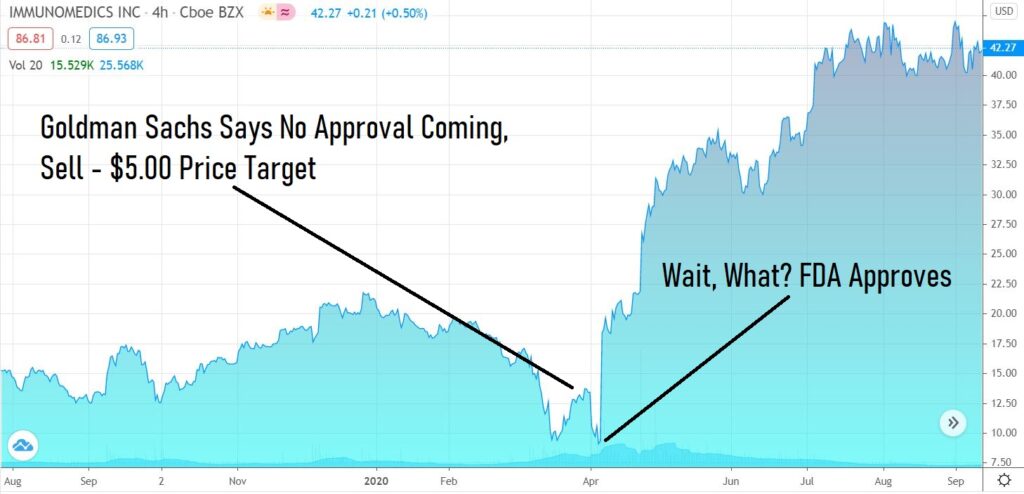 A binary event in the investor's world means a "dramatic" development that triggers big moves in the individual underlying security, or the broader financial market. Binary events don't care about inflation, rising interest rates, crime in Chicago or geopolitical events. None of that matters.
REVIVES FIRST BINARY EVENT
With a current market valuation of $75 million at $0.23, many back of the napkin valuations we've seen envision the valuation falling to $25 million (near $0.10) with an unfavorable verdict, or surging to $750 million or $2.30 a share with a favorable verdict. Risk to reward, 10:1.
That is with the first binary event. Or an EUA approval from the FDA.
At the moment, Revives share price appears to have the attention of traders anticipating a favorable ruling. The share price drifted from a high of $0.63 in late 2021, after news of the Phase III trial commencing first surfaced, to (incredibly) a low of $0.13 a few weeks ago.
Up 76% in the past few weeks, will the move higher continue? There is simply no telling and as we are more interested in the second binary event, we are less than concerned with the current rally reversing, stalling or continuing, to put it mildly.
If they don't get approval – well, so much for that. For us, the action, concern and strapping on of the seat belts, comes after approval is granted. Then what? This is what separates the men from the boys. Does an investor take a quick gain? To each his own, but we don't intend to walk out of the movie, just as the movie is starting.
As Revive is an incubator and it's Covid treatment is a 'platform' treatment for other illness – another approval analogy would be – EUA means they hit a bases loaded home run, in the first inning of a baseball game. Hal no, we're not leaving. More beer!
THE WIND BEHIND THEIR SAILS?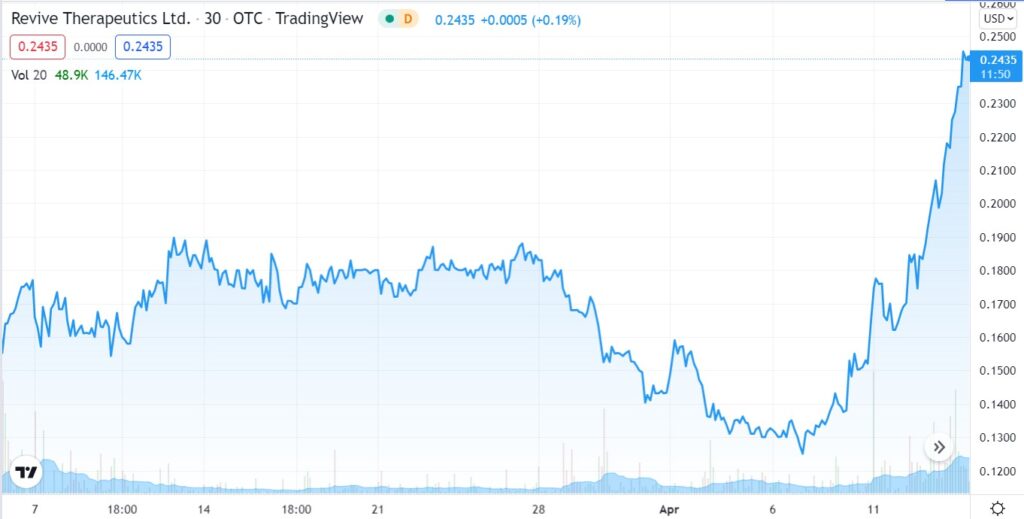 Just to be clear, investors aren't anticipating an FDA approval. They are anticipating a 'Emergency Use Authorization' or EUA. With an EUA the FDA SIMPLY determines if the known and potential benefits of a drug, outweigh the known and potential risks of the product.
REVIVES SECOND BINARY EVENT.
The back of the napkin, for the second binary event (sales, partnering or takeover**), while equally impossible to predict, has truly staggering potential.
The target audience of this letter is to investors who are patiently waiting for a day of approval 'flip.' If Revive does indeed trade up ten-fold, yes it will be hard to ignore. It will even be harder to add to the position, like some investors did in Immunomedics when it doubled to $20, eventually on it's way to near $90.
We are working on a second report with comparative valuations with other Covid treatment companies and their seemingly crazy premium valuations. In the meantime, look at our most recent report (a 25 pager) under section 8, "What Comes After Approval."
New Report: First Vaccines, then Antivirals. Will the Anti-Inflammatory Be the Next Success Story in the War Against Covid?
Here are some excerpts from section 8 about the second binary event:
(The short story, is anticipating a Government contract. It could be the from the US, Canada, Brazil, India, Pakistan or elsewhere in the world.)
Importantly sales from Covid related treatments are unlike any seen before in history.
While the odds of getting hospitalized or dying, even without the pill are minimal, patients simply don't know their level of mortality risk early on. And neither does the government. This dynamic is what encouraged the administration's "Covid-19 Response Team" to write mega-billion dollar checks to both Pfizer and Merck.

It's a powerful sales dynamic, that we've never witnessed before, enjoyed by all companies seeking to sell into the Covid-19 related treatment market, including Revive. This is one of the major reasons many start-ups can be 'reasonably' valued in the hundreds of millions.
As an example, in December of 2021, Pfizer received EUA for Paxlovid. In January of 2022, Pfizer received an order for 10 million treatments (one treatment per person) at $530 each or $5.3 billion. One drug, in one month. Pfizer has signed contracts for close to 30 million treatments already, almost entirely to high-income countries. Pfizer has said it expects at least $22 billion in sales of Paxlovid this year
Merck said it plans to make at least 20 million treatments of the drug this year and stated reflects only Merck's production and doesn't include manufacturing by partners, so global production will be significantly more. It said it expects at least $7 billion in sales of Molnupiravir this year. In the U.S., treatment costs are $712.
Revive Therapeutics Regulatory Update Archive.
Revive Therapeutics News Archive
Sign up for Revive Updates

*Immunomedics (IMMU) $3.00 to $88, Up 29-fold, Our Second Best Idea Ever.
**As Revive is an incubator, in our opinion a partnering or licensing of the drug is more likely than a takeover of the entire company.
Disclaimer. Client see above referenced report for full disclosure and disclaimer details