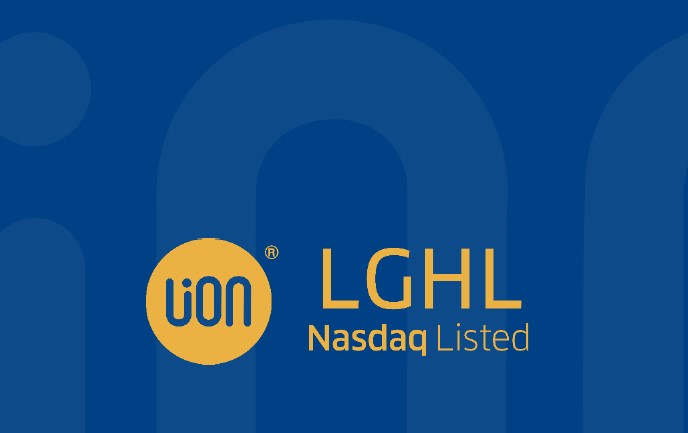 Our Favorite 'Geopolitical' Influenced Idea.
---
A heads up for bottom fishers on the Lion Group, down 30% at the moment.

A mini-Robinhood in the making? Time will tell.
---
Gold, Crypto (NFT's and Metaverse), Oil, Commodities and Short selling are all on the top every investor checklist, looking out over the next three years.
Founded in 2015, NASDAQ listed Lion Group (LGHL), offers a sophisticated all-in-one trading platform, permitting investors to participate in nearly all the alternative (and derivative) counter trend investment ideas above, in additional to traditional equity markets.
Lion additionally has interests in SPAC sponsorship (formation).
Lion also has fleet of 5,000 Bitmain's S9 Hydro Antminers capable of generating 0.5 Bitcoins every month. Widely seen as the most powerful bitcoin miner available on the market, it is also the most expensive and efficient, meaning that it wastes the least amount of energy over all other miners out there.


Lion Group excels at executing Total Return Swaps (TRS) and Contact for Difference (CFD) trading for its current base of 5,000 ultra-sophisticated investors and institutions. The market size of swaps in terms of accumulated addition of notional principal, reached approximately $81 billion in 2019.
The company generated revenues of $10.2 million in 2020 and $6.4 million for TTM.
What's not to like for enterprising speculators in a world of rapidly increasing uncertainty?
DEFINITIONS: Total Return Swaps and Contract for Difference Trading
---
LION GROUP PLATFORM OFFERINGS
---
SPACS: Lion employs a professional and experienced SPAC sponsorship team and is capable of becoming a leader in the SPAC arena, helping guide private companies through their listing journey while creating value for shareholders.
Lion is currently sponsoring the following SPACs, with more in pipeline.
Aquarius I Acquisition | Prospectus
Aquarius II Acquisition | Prospectus
We've never invested in a SPAC pre-IPO..but is investing in a SPAC sponsor a good idea? Check.
BITCOIN: Lion operates a fleet of 5,000 Bitmain's Model S9 Hydro Antminers, with a theoretical maximum total hash rate capacity of 90 PH/s petahash deployed in China. The Company voluntarily ceased its Bitcoin mining operations at the end of October 2021 Currently, Lion is actively seeking low-cost electricity and sustainable energy mining facilities in Tajikistan with a stable regulatory environment to resume bitcoin mining activities.
We've never invested directly in Bitcoin, but is investing in publicly traded companies which have tentacles into Bitcoin a good idea? Check.
(We added Galaxy Holdings GLXY – $5 to $42 – to the Watch List in November of 2020, a gain of 740%. During the same time period Bitcoin rose from – $15,000 to $65,000 – a gain of 333%.)
Adding Galaxy Digital (GLXY) $5.19 to Watch List.
NFT'S: On January 18, 2022, MetaWords announced the launch of its "Creation Tools" feature that allows users to easily create new characters. Adhering to the essence of the NFT community's bottom-up method, this new launch confirms that MetaWords, as a meta-language infrastructure, differs from other digital collections. Users can now log onto lionnft.io and start making their own metaverse creations.
---
Other News:
Lion Announces New Corporate Headquarters in Singapore
Lion Announces Launch of NFT Platform
Lion Announces Launch of Metaverse Project "Lion World"
Tajikistan's Digital Mining Project
(The first phase of construction for the Tajikistan digital mine infrastructure and power-on operation is expected to be completed in the first quarter of 2022, and the project's annual profit is expected to be no less than US$25 million. In addition, the two groups will gradually promote the construction of a 300,000-load mine field for the second phase of the Project)
---
FINTECH CHARTS
LION HOLDINGS (LGHL) $1.27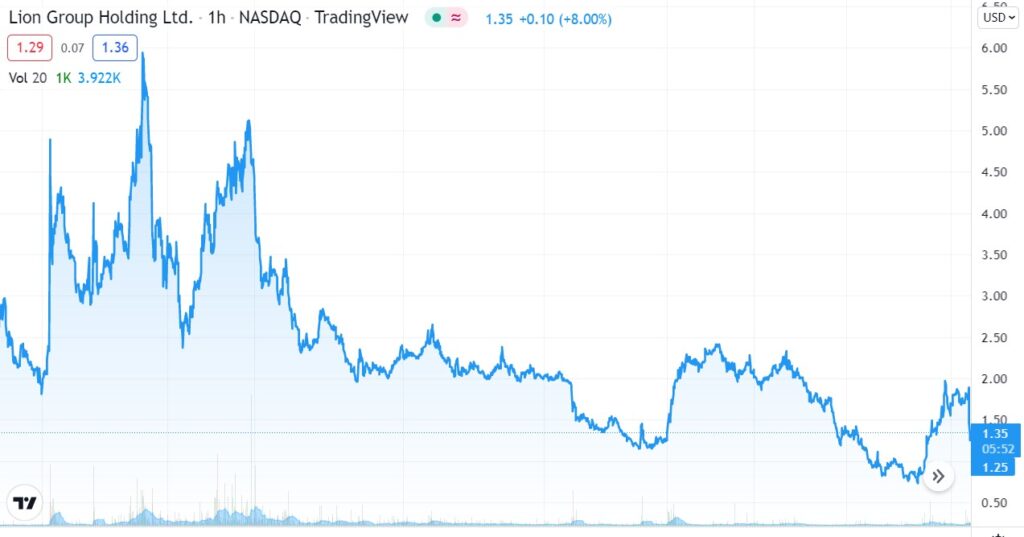 ---
UP FINTECH HOLDINGS (TIGR) $4.75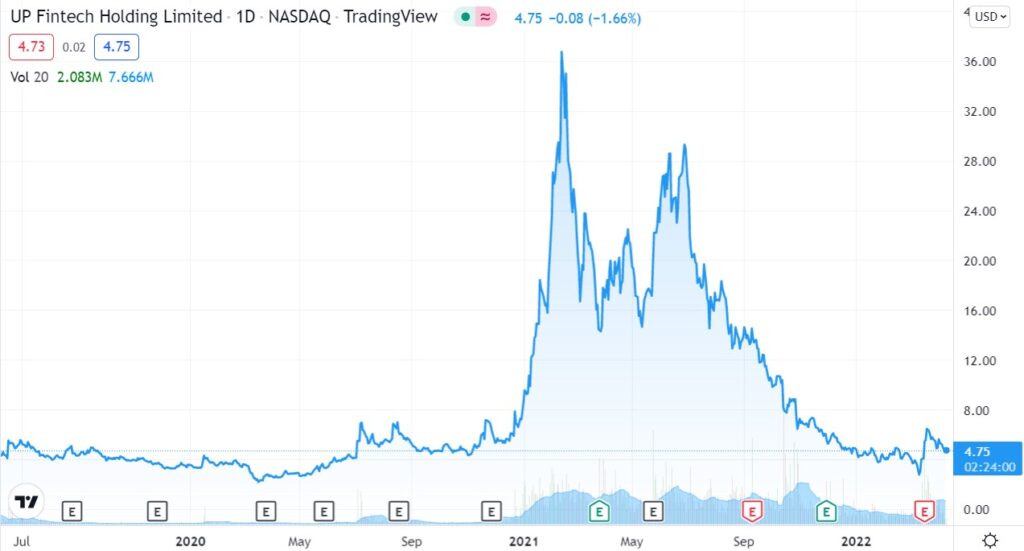 ---
FUTU HOLDINGS (FUTU) $34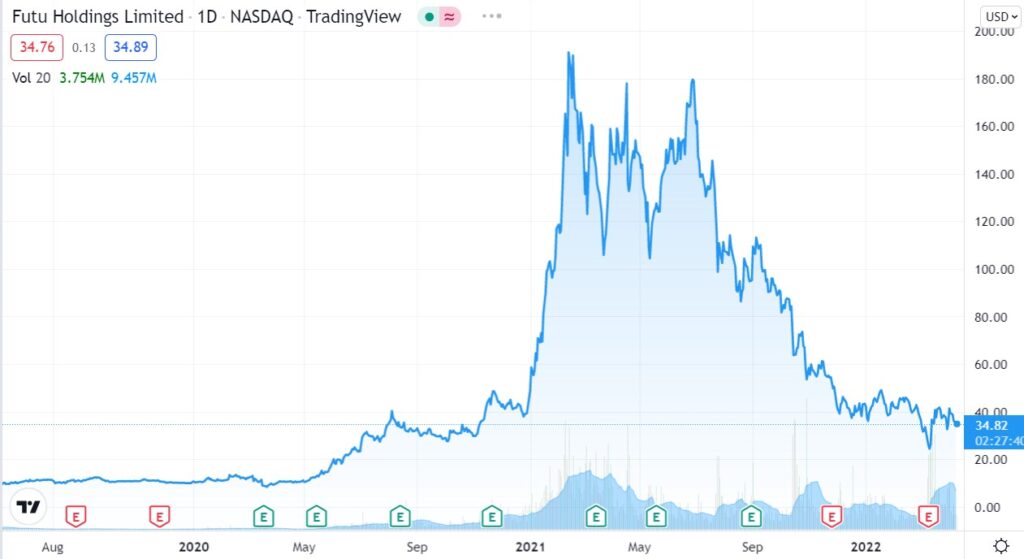 ---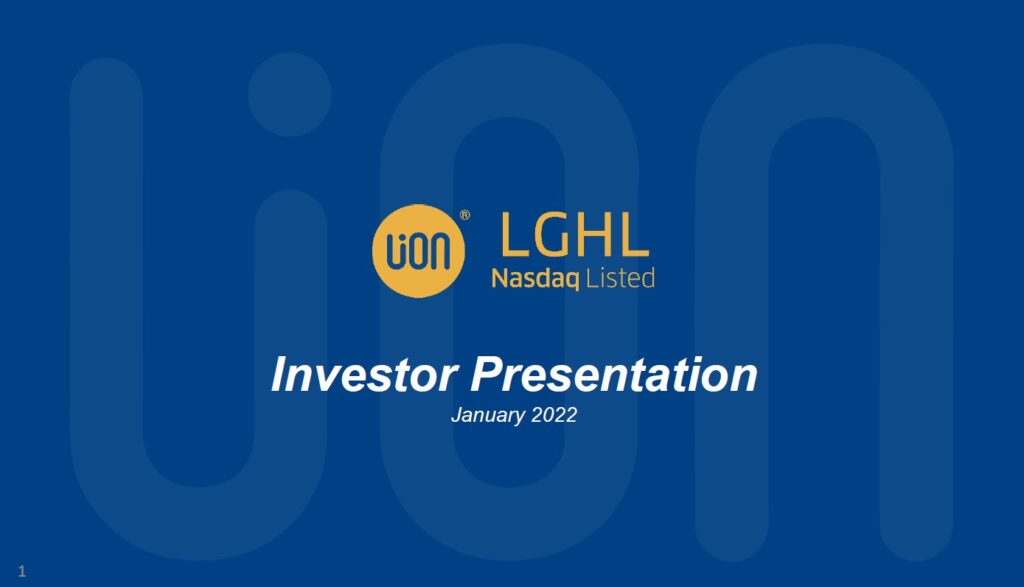 DISCLAIMER:
Safe Harbor Statement
This press release contains, "forward-looking statements" within the meaning of the "safe harbor" provisions of the Private Securities Litigation Reform Act of 1995. Lion's actual results may differ from their expectations, estimates and projections and consequently, you should not rely on these forward-looking statements as predictions of future events. Words such as "expect," "estimate," "project," "budget," "forecast," "anticipate," "intend," "plan," "may," "will," "could," "should," "believes," "predicts," "potential," "might" and "continues," and similar expressions are intended to identify such forward-looking statements. These forward-looking statements include, but are not limited to, statements about: Lion's goals and strategies; our ability to retain and increase the number of users, members and advertising customers, and expand its service offerings; Lion's future business development, financial condition and results of operations; expected changes in Lion's revenues, costs or expenditures; the impact of the COVID-19 pandemic; competition in the industry; relevant government policies and regulations relating to our industry; general economic and business conditions globally and in China; and assumptions underlying or related to any of the foregoing. Lion cautions that the foregoing list of factors is not exclusive. Lion cautions readers not to place undue reliance upon any forward-looking statements, which speak only as of the date made. Lion does not undertake or accept any obligation or undertaking to release publicly any updates or revisions to any forward-looking statements to reflect any change in its expectations or any change in events, conditions or circumstances on which any such statement is based, subject to applicable law. Not yet a client.
Additional information concerning these and other factors that may impact our expectations and projections can be found in Lion's periodic filings with the SEC, including Lion's Annual Report on Form 20-F for the fiscal year ended December 31, 2020. Lion's SEC filings are available publicly on the SEC's website at www.sec.gov.
CONTACTS
Lion Group Holding
Tel: +65 88773871
Email:[email protected]
ICR, LLC
William Zima
Tel: +1 203 682 8233
Email: [email protected]
#LGHL, #FUTU, #TIGR,