Recent Headlines
(See FDA Filing Submission at Bottom)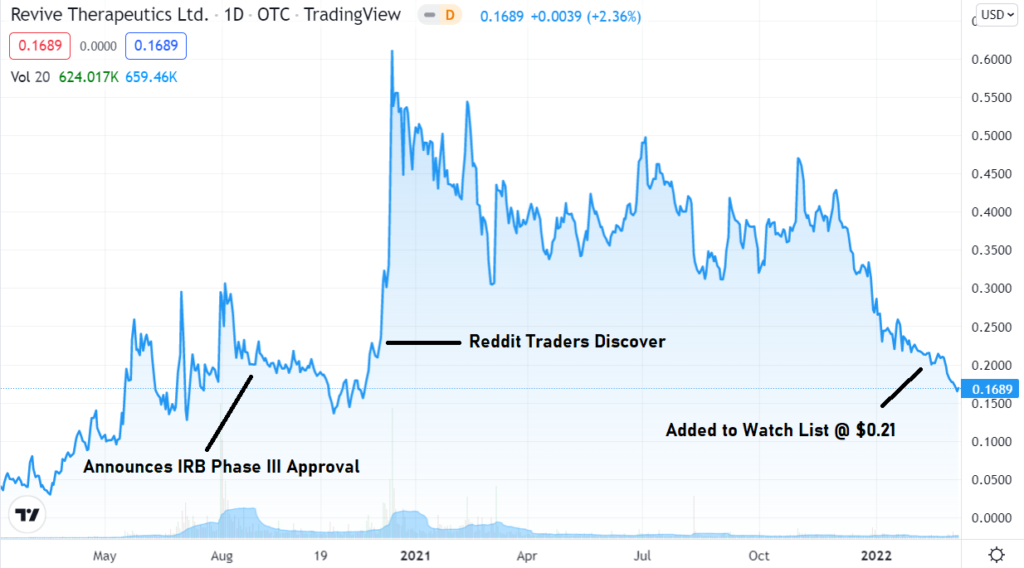 ---
NEWS ARCHIVE INTRO
"These medicines have a sweet spot. If the day you get diagnosed with COVID you say, 'forget it, I'll be fine,' and then several days later you start getting short of breath, that medicine is no longer going to work," said Dr. David Chansolme, Medical Director of infection prevention at Integris Health in Oklahoma.
The above quote is probably the most significant narrative, about the business model of most of the Covid treatment providers. You have to use the product (their drug) that they're selling, right away. Meaning there has to be a supply ordered right away, so the drug will be available right away.
Compare that business narrative with vaccines. Vaccine sales pitch: "If you take this, you might not get Covid." Treatment sales pitch: "If you get Covid, you better take this – like now."
If the supply is limited, the risk of the government getting caught flat footed in this instance, can result in unnecessary deaths. What administration can take that political risk?
We don't think the political environment is going to change anytime soon, but we do expect that variants will continue to change. And 100's of millions of people (aka customers) will be continue to be exposed to unknown degrees of risk, after testing positive.
Eli Lilly (LLY) = Etesevimab / bamlanivimab
Gilead (GILD) = Remdesivir – Veklury
Glaxo (GSK) and Vir Biotech (VIR) = Sotrovimab – Xevudy
Glenmark = Favipiravir – Fabiflu
Merck (MRK) = Molnupiravir –
Pfizer (PFE) = Nirmatrelvir – Paxlovid
Regeneron (REGN) = REGEN-COV
Redhill Bio (RDHL) = Opaganib
Revive (RVVTF) = Bucillamine
---
| NEWS ARCHIVE – UPDATED WEEKLY |
---
April 13th. Revive Therapeutics (RVVTF) Moves a Step Closer to FDA Verdict for Its Novel Covid Treatment.
---
April 11th. Revive Therapeutics Provides Update on Phase 3 Clinical Trial for Bucillamine in COVID-19
---
March 10th. New Report: First Vaccines, then Antivirals. Will the Anti-Inflammatory Be the Next Success Story in the War Against Covid?
---
February 18th. Glutathione: The "Mother" of all Antioxidants…
---
February 15th. Revive Therapeutics Receives FDA Orphan Drug Designation for Bucillamine in the Prevention Injury During Liver Transplantation.
"The Orphan Drug Status validates our strategy in pursuing novel uses of Bucillamine for rare disorders and life-threatening conditions, including infectious diseases and preventing injury during other organ transplantations. Revive believes the use of Bucillamine during liver transplantation has the potential to be a safe and effective approach to address the unmet medical need for a novel strategy to limit or prevent IRI. "
---
February 14th. Revive Therapeutics Provides Update on Phase 3 Clinical Trial for Bucillamine in COVID-19
The Company is working with MLP Care, the largest hospital group in Turkey, and Istinye University with access to 30 clinical research sites and over 6000 in-patient hospital beds.
---
Jan 27th. Sales of Paxlovid, the COVID-19 Pill.
Eyebrow raising reading that Joe Biden 'asked' the US Department of Health and Human Services to purchase a total of 3 million doses ($2,100 per dose) of Regeneron's REGEN-COV. Regeneron was awarded $2.94 billion for the additional doses. Later the government ordered from Pfizer, 20 million of its Paxlovid pills ($530 a dose) for a cool $10.6 billion.
Never, have we seen a new drug do $3 billion in its first few months, or even in first few years after approval. Welcome to the Administrations 'Covid-19 Response Team' with truckloads of cash, for something that hopefully will work.
It's almost funny, but it shows just how significant purchase can be, when the targeted patient-base can be in the 10's of millions. And during a pandemic, when urgency at the forefront.
This is why the smaller and more speculative treatment providers like Revive (RVVTF), offer such spectacular potential on the chance that their scientists, come up with the holy grail.
Success might not wildly move the revenue needle at a multinational giant, but for a successful start-up that succeeds, careers (and fortunes) can be made on Wall Street.
Here's everything you wanted to know about these money-making treatments.
READ MORE: Sales of Paxlovid, the COVID-19 Pill.
---
Jan. 25th. Adding Revive to The Watch List. Our Best Risk to Reward Idea Ever?
Adding Revive Therapeutics to the "2022, Biotech 12 Pack, 12 Biotech Stocks We Expect to Double" Watch List.
If not our best ever, certainly one of the best, and definitely the best for 2022, despite it only being January. It's rare we come across an idea with all the stars aligned like this. Start your due diligence now.
Revive Therapeutics Seeks to Reduce Lung Inflammation and Keep Patients out of the Hospital.
---
Jan. 18th. Revive Therapeutics Updates, on Phase III Clinical Trial!
Hello Mr. and Mrs. FDA. It's showtime folks!
701 subjects dosed to date
Initiating enrollment activities in Turkey as part of its clinical diversification plans to support global regulatory approvals
On-track to complete enrollment in Q1-2022 and FDA submission thereafter
Commencing regulatory package activities for submission to international regulatory authorities for drug approvals
READ MORE: Revive Therapeutics Provides Update on Phase 3 Clinical Trial for Bucillamine in COVID-19.
---
Jan. 17th 2022. Revive Provides Update of Psilocybin Pharmaceutical Programs
The Company announced it is evaluating psilocybin as a potential treatment for methamphetamine use disorder with the University of Wisconsin-Madison through a clinical trial agreement. And at the same time announced it is evaluating psilocybin as a potential treatment for stroke, again with the University of Wisconsin-Madison.
READ MORE: Revive Therapeutics (RVVTF) Provides Update of Psilocybin Pharmaceutical Programs
---
2021
---
Dec. 21st, 2021. Small Cap Covid Treatment Providers Featured in BioSpace.
Revive Therapeutics (RVTTF), RedHill BioPharma (RDHL), AI Pharma (Private), Apilli Thera (APLIF) and ExeVir Bio (Private) all featured in BioSPace.
The Race to Develop Therapeutics for COVID. The Small Caps Fight for a Treatment Rage On!
---
Nov. 16th, 2021. Revive Announces Research on Bucillamine as Potential Inhibitor of SARS-CoV-2 Infection Delta Variant.
In addition to its antioxidant and anti-inflammatory properties that could limit lung injury in COVID-19, thiol drugs have promising antiviral effects, according to a new paper from University of California, San Francisco, explaining that potent thiol drugs, like Bucillamine, inhibit SARS-CoV-2 infection in vitro.
Revive Therapeutics Announces Published Research Results on Bucillamine
---
Oct. 27th, 2021. Revive in Discussions to Secure Supply of 5 Billion Bucillamine Tablets.
Not wanting to be caught flat-footed upon a potential approval, Revive is "In discussions with its manufacturing partner to secure commercial supply of at least 5 billion Bucillamine tablets to potentially treat at least 50 million people globally for 2022.
Michael Frank, CEO of the Company commented, "As we move forward in our Phase 3 study in COVID-19 with the aim to seek EUA approval from the FDA for Bucillamine in the treatment of mild to moderate COVID-19, we are also cognizant of the rapidly changing landscape of COVID-19 specifically with the Delta variant becoming widespread."
Revive Therapeutics Provides Update on FDA Phase 3 Clinical Trial for Bucillamine in COVID-19
---
2020
---
May 2020: Deficiency of Glutathione as the Most Likely Cause of Serious Manifestations and Death in COVID-19 Patients
April 2020: Revive Therapeutics Announces Entry Into Phase III FDA Trial Using Glutathione Boosting Bucillamine.
---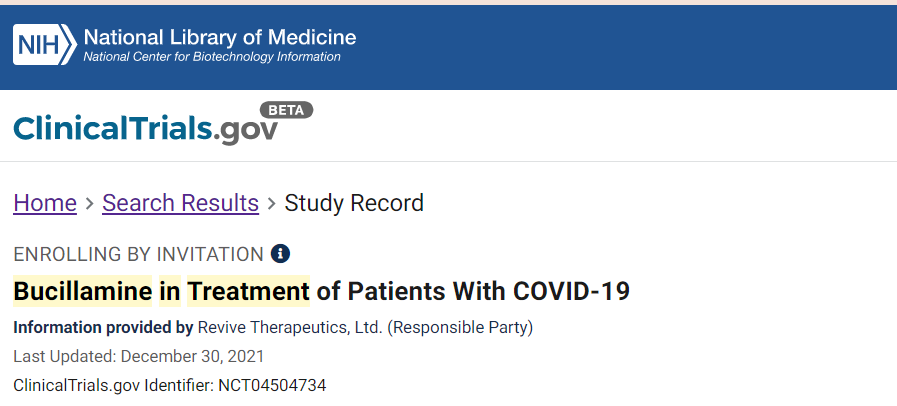 Brief Summary:

This is a Phase 3, multi-center, randomized, double blind, placebo controlled, clinical study of bucillamine (2 dosage levels) in patients with mild-moderate COVID-19. Patients will be randomized 1:1:1 to receive bucillamine 100 mg 3 times a day (TID), bucillamine 200 mg TID or placebo TID for up to 14 days.
After the first interim analysis when a single dose is selected, patients will then be randomized 2:1 to the selected bucillamine dose or placebo. This dose has now been chosen as 600 mg. The study will be overseen by an independent Data and Safety Monitoring Board (DSMB). Up to 10 centers in the United States will conduct this study. Up to 1000 patients will be enrolled in this study. Patients will participate in the study approximately 45 days.
---
The Company is not making any express or implied claims that its product has the ability to eliminate or cure COVID-19 (SARS-2 Coronavirus) at this time.
Neither the Canadian Securities Exchange nor its Regulation Services Provider has reviewed or accepts responsibility for the adequacy or accuracy of these releases.
Cautionary Statement
This press release contains 'forward-looking information' within the meaning of applicable Canadian securities legislation. These statements relate to future events or future performance. The use of any of the words "could", "intend", "expect", "believe", "will", "projected", "estimated" and similar expressions and statements relating to matters that are not historical facts are intended to identify forward-looking information and are based on Revive's current belief or assumptions as to the outcome and timing of such future events. Forward looking information in this press release includes information with respect to the the Company's cannabinoids, psychedelics and infectious diseases programs. Forward-looking information is based on reasonable assumptions that have been made by Revive at the date of the information and is subject to known and unknown risks, uncertainties, and other factors that may cause actual results or events to differ materially from those anticipated in the forward-looking information. Given these risks, uncertainties and assumptions, you should not unduly rely on these forward-looking statements. The forward-looking information contained in this press release is made as of the date hereof, and Revive is not obligated to update or revise any forward-looking information, whether as a result of new information, future events or otherwise, except as required by applicable securities laws. The foregoing statements expressly qualify any forward-looking information contained herein. Reference is made to the risk factors disclosed under the heading "Risk Factors" in the Company's annual MD&A for the fiscal year ended June 30, 2021, which has been filed on SEDAR and is available under the Company's profile at www.sedar.com .
Client, see report for disclosure and disclaimer details.