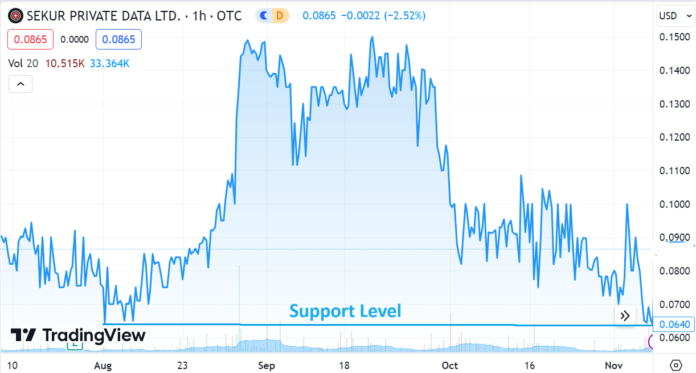 Swiss Privacy and Cyber-Security Company Takes Aim at WhatsApp's 2 Billion Users and Proton Mail's 70 Million Users
Adding to Watch List.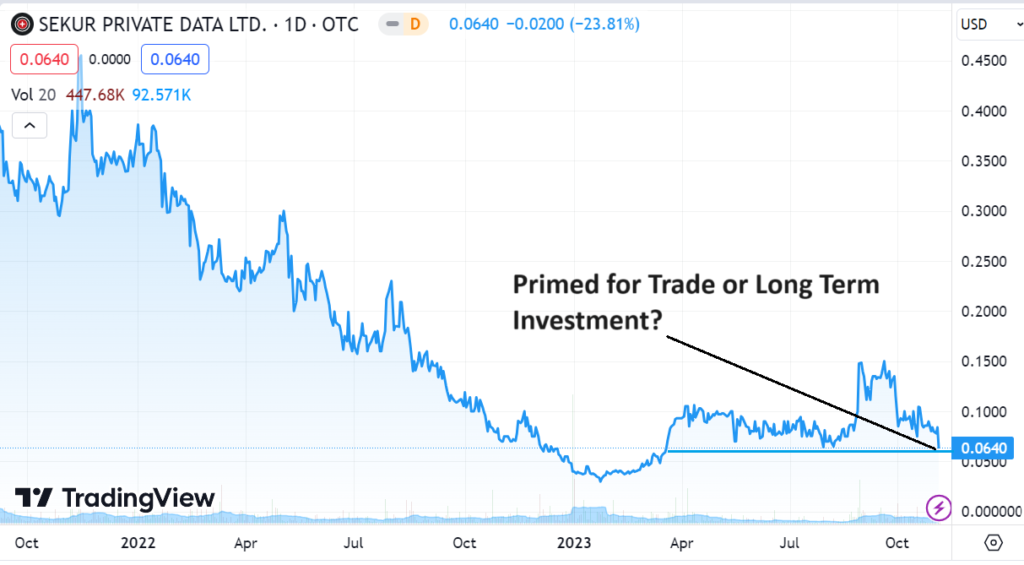 ---
Our Top Ranked Cybersecurity Speculation
A Growing Number of Users are Saying that Sekur's Privacy and Safety Benefits Far Exceed the Monthly Cost, and are Adding it to Their List of 'Must Have' Apps.
SUMMARY
Sekur's mission is to have the reputation and status, of being the best provider of private and secure communication apps available on the market today." To achieve their goal of having millions of users and operating with enormous profitably, they will only need to attract the attention, of a very small percentage of the 'free' service users. The users who are concerned enough about their safety and privacy, when messaging and emailing, to be willing to pay a small monthly fee.
In that light, the Skur story is a very simple story. One, is whether can they introduce free users to a safer solution than they currently have. And two, can they develop a reputation for providing the most secure messaging and emailing tools available on the market today?
If they can sign up 10 million individual users (excluding corporate) in the next 3-5 years, they would generate $120 million in monthly revenues.  
We estimate the potential number of users at stake, who are using the free services and who are currently looking for a secure solution at just 5% of the free market, or 241 million users. We estimate that the potential revenues at stake to the providers of secure solutions, to users willing to pay an estimated $10 per month, at $2.4 billion on a monthly basis.
The numbers sound crazy until one realizes that there are currently 4.8 billion people across the world, who are addicted to messaging, texting, and emailing. If the combined free service providers suddenly decided to charge just $1.00 per month for their service, they would collectively generate a staggering $4.8 billion per month in revenues, or $57.6 billion annually. At just $1.00.
And while $57 billion sounds like a lot of money, it pales in comparison to what they are actually making by providing their service for free and selling the user's data to data miners, who in turn sell it to advertisers. Budweiser for example would love to know you visited the 'Best Beers in the World' website, five times last month!
THE COMPETITION
When looking at the competitive landscape the first thing to consider is how many of the free users, are concerned enough about privacy and security that they are willing to pay a small amount of money for safety. Let's first look at the numbers of users at the leading free providers.
FREE MESSAGING

---
While there have been some very serious questions brought up in the press about the true privacy of both Telegram and Signal, there is no question that both of their user numbers exploded in January 2021. The jump in users was in direct response to an announcement from WhatsApp, which informed users that it would be sharing their data with its parent company Facebook.
It was a sonic boom heard across the internet!
The switch away from WhatsApp to Telegram and Signal goes a long way to answering the important question for us, which is whether are users concerned enough about safety, to switch to a paid service that promises safety and privacy.
In the month that WhatsApp announced the data-sharing news, Signal picked up 7.5 million new users and Telegram picked up 25 million new users.

---
Now let's look at the number of users at the top free email providers.
FREE EMAIL

---
There's a lot of complexity and expenses to providing the services to millions or even billions of users.
But to the end user, the leading apps are pretty much all the same. Consider, that if Gmail were to shut down tomorrow, its users could switch to Yahoo Mail in a matter of minutes, and hardly notice a difference. Address goes here, subject goes there, type what you want to say, and hit send.
But where PRIVACY is a concern, the differences and benefits become dramatic. And that's where Sekur sees its opening, into signing up millions of users, over the next few years. Sekur's mission is not to compete on usability. Their mission is to compete on security. Security means two things. Privacy and Impenetrability.
Privacy and Cyber Security expert Alain Ghai, the CEO of Sekur recently stated, "Our goal is not to someday overtake the leading free instant messaging or email providers, such as WhatsApp or Gmail. Our goal is to have the reputation and status, of being the best provider of private and secure communication apps available on the market today."
Sekur is laser-focused on gaining that status. Of course, this comes with some trade-offs for both Sekur and for the users.
TRADE-OFFS
The tradeoff and choice for users not concerned with privacy or safety is easy. Go with a free provider. The tradeoff is their privacy goes out the window. For users who are concerned, the choice is also easy, the tradeoff for privacy is paying a small monthly fee. Those are the only choices.
To pay for the cost of running communications apps, providers have two choices to generate revenues. They can sell their users' data (and privacy) to advertisers. Or like Sekur, they can charge users a monthly fee. Those are the tradeoffs and those are the only choices.
The tradeoff for Sekur means that it will be targeting (some say settling) for a smaller market, but a market that still reaches into the hundreds of millions. By our estimate, the total addressable market for safe and secure messaging and emailing is 240 million users, assuming that the texting and email users are one and the same.
SEKUR'S TARGET MARKET
While ambitious, as we mentioned earlier, Sekur is not looking to be one of the top ten providers of communication apps in the world. Nor do they need to be, to generate significant revenues.
It is however looking to be one of the top providers for users looking for safety. At $12.00 per month, the monthly payment choice isn't exactly a 'major' decision, for those who worry about how safe their messaging or email app is. For well-heeled users, the kind who pay $12 for a bottle of water at a restaurant when tap water is free, $5 or $10 a month is more of a 'why not' choice. As in why not settle for the best?
These are the types of users who would be embarrassed at being associated with anything free or less than the best, and Sekur could thus represent a status symbol for them. They would pay ten times as much for the latest iPhone, over being caught dead with a cheaper phone and a Cricket Mobile logo on it.
From an investor's point of view, it would be reasonable to assume a targeted market share of 5%, of the free users as a reasonable industry conversion goal. Though we suspect it's higher – that would equate to a total addressable market of 240 million customers who would be willing to pay, a large number indeed.
The story here isn't about an everyday widely used technology. The story is quite simple and is about how many people messaging and emailing are concerned enough about security. to be willing to pay a small monthly fee for peace of mind.
In addition, it is quite likely users could use both their free provider for everyday use and Sekur when doing online transactions, banking, or business use when security is paramount.  
Forward-Looking Information

This news release contains certain forward-looking information within the meaning of applicable Canadian securities laws ("forward-looking statements"). All statements other than statements of present or historical fact are forward-looking statements. Forward-Looking statements are often, but not always, identified by the use of words such as "anticipate", "achieve", "could", "believe", "plan", "intend", "objective", "continuous", "ongoing", "estimate", "outlook", "expect", "project" and similar words, including negatives thereof, suggesting future outcomes or that certain events or conditions "may" or "will" occur. These statements are only predictions. These statements reflect management's current estimates, beliefs, intentions and expectations; they are not guaranteeing future performance. Sekur cautions that all forward-looking statements are inherently uncertain and that actual performance may be affected by a number of material factors, many of which are beyond Sekur's control. Such factors include, among other things: risks and uncertainties relating to the future of the Company's business; the success of marketing and sales efforts of the Company; the projections prepared in house and projections delivered by channel partners; the Company's ability to complete the necessary software updates; increases in sales as a result of investments software development technology; consumer interest in the Products; future sales plans and strategies; reliance on large channel partners and expectations of renewals to ongoing agreements with these partners; anticipated events and trends; the economy and other future conditions; and other risks and uncertainties, including those described in Sekur's prospectus dated May 8, 2019, filed with the Canadian Securities Administrators and available on www.sedarplus.ca . Accordingly, actual and future events, conditions and results may differ materially from the estimates, beliefs, intentions and expectations expressed or implied in the forward-looking information. Except as required under applicable securities legislation, Sekur undertakes no obligation to publicly update or revise forward-looking information. Client, see report for full disclosure and disclaimer details. IA intends to provide ongoing news coverage for a monthly fee of seven-thousand five hundred dollars.