Our Top Ranked Cybersecurity Speculation
A Growing Number of Users are Saying that Sekur's Privacy and Safety Benefits Far Exceed the Monthly Cost, and are Adding it to Their List of 'Must Have' Apps.
SUMMARY
Sekur's mission is to have the reputation and status, of being the best provider of private and secure communication apps available on the market today." To achieve their goal of having millions of users and operating with enormous profitably, they will only need to attract the attention, of a very small percentage of the 'free' service users. The users who are concerned enough about their safety and privacy, when messaging and emailing, to be willing to pay a small monthly fee.
In that light, the Skur story is a very simple story. One, is whether can they introduce free users to a safer solution than they currently have. And two, can they develop a reputation for providing the most secure messaging and emailing tools available on the market today?
If Sekur can sign up 10 million individual users (excluding corporate) in the next 3-5 years, they could generate $120 million in gross revenues – on a monthly basis. Yup, how could we not be interested with a market valuation under $10 million.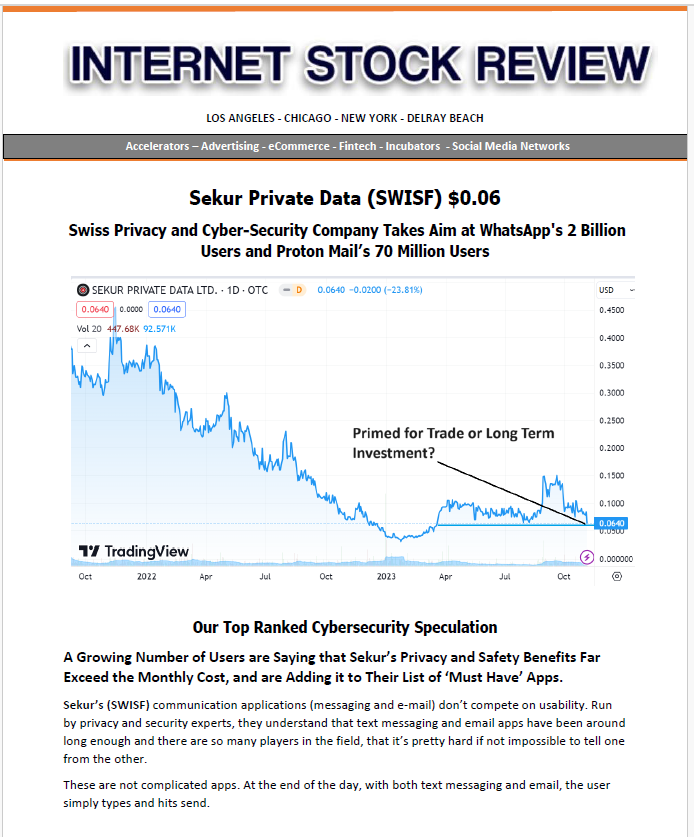 ---
Forward-Looking Information
This news report contains certain forward-looking information within the meaning of applicable Canadian securities laws ("forward-looking statements"). All statements other than statements of present or historical fact are forward-looking statements. Forward-Looking statements are often, but not always, identified by the use of words such as "anticipate", "achieve", "could", "believe", "plan", "intend", "objective", "continuous", "ongoing", "estimate", "outlook", "expect", "project" and similar words, including negatives thereof, suggesting future outcomes or that certain events or conditions "may" or "will" occur. These statements are only predictions. These statements reflect management's current estimates, beliefs, intentions and expectations; they are not guaranteeing future performance. Sekur cautions that all forward-looking statements are inherently uncertain and that actual performance may be affected by a number of material factors, many of which are beyond Sekur's control. Such factors include, among other things: risks and uncertainties relating to the future of the Company's business; the success of marketing and sales efforts of the Company; the projections prepared in house and projections delivered by channel partners; the Company's ability to complete the necessary software updates; increases in sales as a result of investments software development technology; consumer interest in the Products; future sales plans and strategies; reliance on large channel partners and expectations of renewals to ongoing agreements with these partners; anticipated events and trends; the economy and other future conditions; and other risks and uncertainties, including those described in Sekur's prospectus dated May 8, 2019, filed with the Canadian Securities Administrators and available on www.sedarplus.ca . Accordingly, actual and future events, conditions and results may differ materially from the estimates, beliefs, intentions and expectations expressed or implied in the forward-looking information. Except as required under applicable securities legislation, Sekur undertakes no obligation to publicly update or revise forward-looking information. See report for full disclosure and disclaimer details.
Corporate Communications:
InvestorBrandNetwork (IBN)
Los Angeles, California
www.InvestorBrandNetwork.com
310.299.1717 Office
[email protected]