Meet and Greet for Wonderland Miami Psychedelic Conference. November 10th.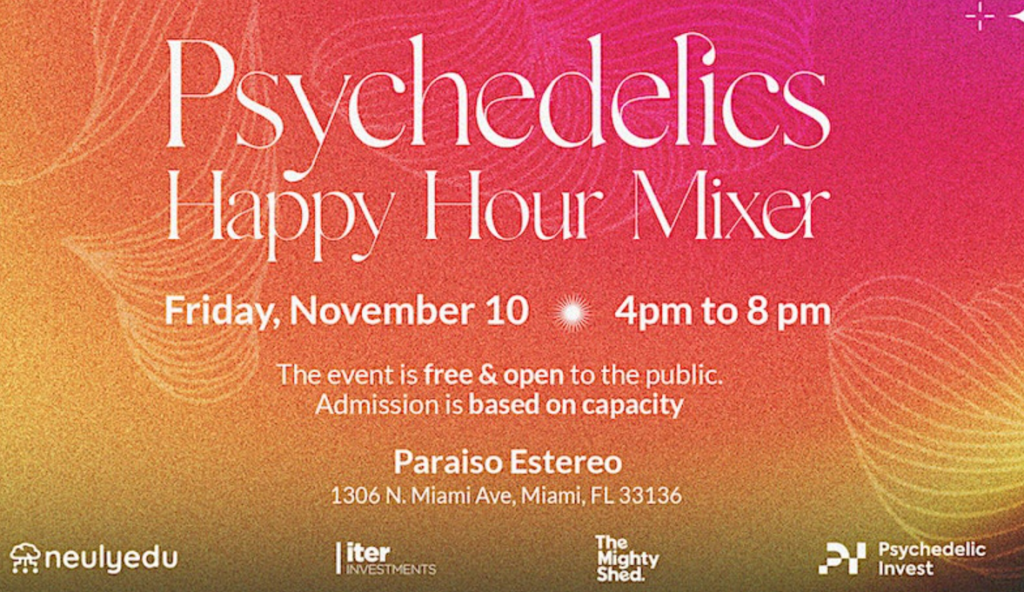 Guests will enjoy cocktails, music, and plenty of networking with industry leaders in the psychedelics space.
Nucleus – a venture studio creating brands in the growing psychedelics industry which is wholly owned by venture capital firm Iter Investments co-founded by Dustin Robinson and Robert Velarde – is pleased to host a psychedelics happy hour mixer.
At this mixer, guests will enjoy cocktails, music, and networking with industry leaders in the psychedelics space. Attendees will also have the opportunity to meet with psychedelic venture capital funds, investors, executives, and more. This free event is open to the public, but will require an RSVP with confirmation, and attendance will be limited by capacity.
Date: Friday, November 10, 2022, 4:00-8:00
Location: Paraiso Estereo
Sponsors: Neuly, Iter Investments, The Mighty Shed, and Psychedelic Invest
*NOTE: The event will follow the Wonderland: Miami by Microdose conference taking place in Miami from Nov. 9 to Nov.11.*
---
PSYCHEDELIC CROWDFUNDING LAUNCHED
Imagine Getting all of the Benefits of Psychedelics and not Hallucinating. Wait, What?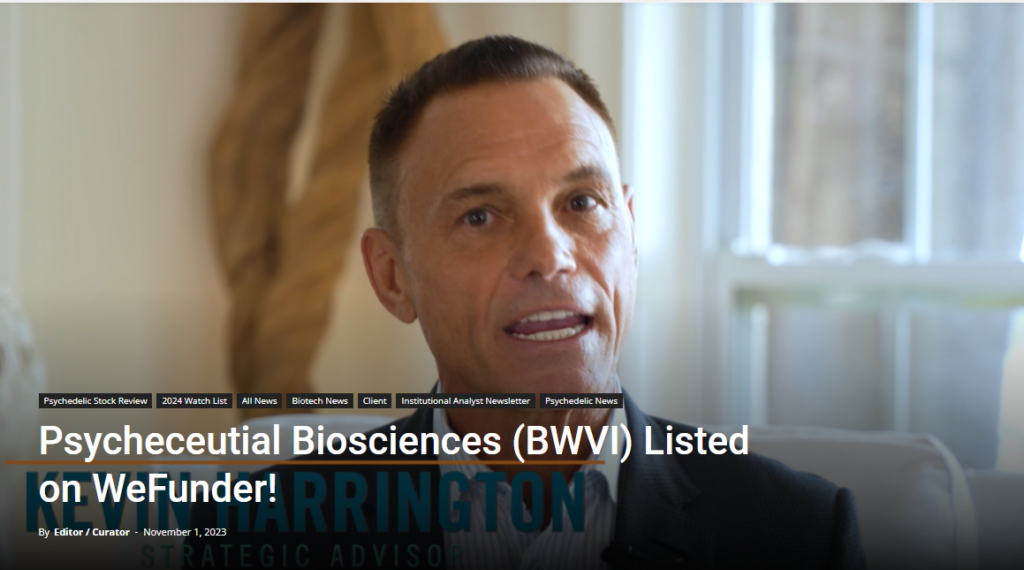 ---
When Approved, NeuroDirect™ Will be the Ultimate Psychedelic Experience.*
Imagine for just for a moment, you receive a prescription for Ketamine at a medical office. Then after your first visit, you're able to self-apply a Ketamine lotion to your skin – topically, using just a small dab. Next imagine that you do not hallucinate on the Ketamine, and that you can re-apply it as needed, at home, or even the office. This makes telehealth when needed, a truly viable option when both medicine and counselling is needed.
Self application means less trips to the Doctor's office, and no more intravenous (aka needle) treatment sessions, which can take hours. And the benefits are felt in minutes.
Can the experience get any better, we ask? We don't think so..
---
*If approved, of course. Even though Ketamine has been already been approved by the FDA, using Ketamine via the NeuroDirect™ delivery system, still requires testing for safety and efficacy (does it work). While Johnson & Johnson's nasally delivered version of Ketamine has proven to be popular, as have off-label intravenously delivered Ketamine treatments, this does not guarantee that topically delivered will be approved.
HOWEVER, if the clinical trials currently being conducted are anything near as good as the Observational Trials (OBS), it should (again no guarantees) be smooth sailing. More than 80% of patients in the OBS trial experienced relief within minutes of applying the NeuroDirect™ ketamine topical cream.
Patients noted discernible improvement in anxiety, depression, paranoia and unrealistic fear. Read more in the link below.
(Sales for Johnson & Johnson's Ketamine called Spravato, hit $156 million in the second quarter alone of 2023. So it is indeed very popular.)
---

---
Certain statements in this post related to the Company and CrowdFunding constitute "forward-looking information" within the meaning of applicable securities laws and are prospective in nature. Forward-looking information is not based on historical facts, but rather on current expectations and projections about future events and are therefore subject to risks and uncertainties which could cause actual results to differ materially from the future results expressed or implied by the forward-looking statements. These uncertainties include, but are not limited to, (i) general market growth for and acceptance of psychedelic-inspired medicines, (ii) capital and credit availability and market volatility, (iii) general economic conditions, (iv) governmental approvals and compliance with regulations, (v) product research and development and clinical trial risks, (vi) incorrect underlying assumptions, and (vii) our future business development, results of operations, and financial condition. These statements generally can be identified using forward-looking words such as "will," "may," "should," "could," "intend," "estimate," "plan," "anticipate," "expect," "believe," "potential" or "continue," or the negative thereof or similar variations. All information provided in this press release is as of the date of this press release, and we undertake no duty to update such information, except as required under applicable law. Client, see report for disclosure and disclaimer details.