Psycheceutical's Psychedelic Experience, a Safer More Viable Choice in Getting Treated.
Imagine the benefits of psychedelics, without hallucinating!
Our Favorite small Psychedelic company Psycheceutical Bioscience is using a Non-Hallucinogenic delivery mechanism called NeuroDirect. Conceivably and and all psychedelic companies could utilize it with compounds they are testing in their clinical trials, or in their FDA approved compounds.
..is now on WeFunder!
Investors are invited to participate in Psycheceutical's mission to revolutionize psychedelic treatments by taking part in the company's Wefunder community round.
We know, we know. The word 'revolutionize' is so overused, it goes in one eye and right out the other. But if what they have gets approved which is a) topical, b) non-hallucinogenic and c) can be applied at home, meaning no long 'patient assisted' visit to the Doctors office – this will indeed be revolutionary.
It can open the market to the millions of people who otherwise will never agree to an intravenous treatment, that has them hallucinating, and can require hours at a Doctor's office. You cannot argue with that logic.
So it's revolutionary, that's our story and we're sticking to it!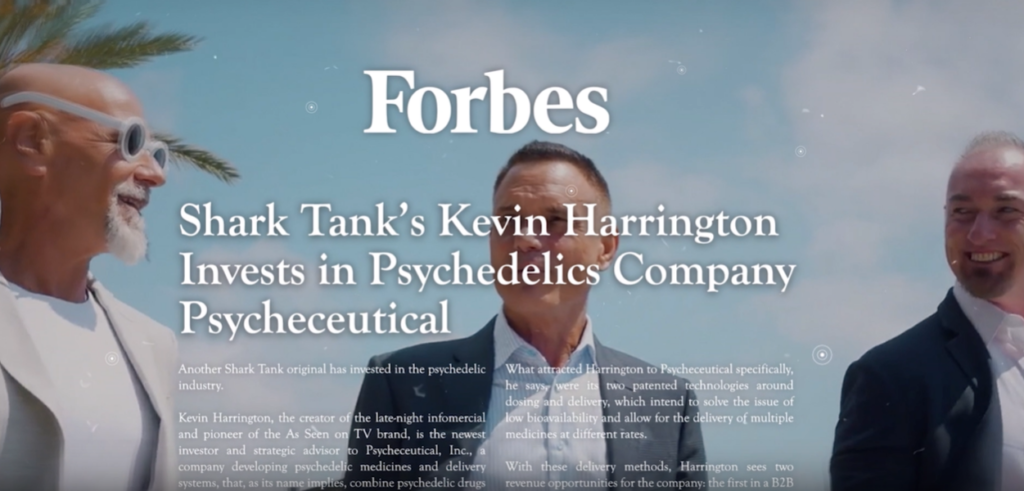 ---
Psycheceutical Bioscience Launches Wefunder Crowdfunding Campaign for Safer Psychedelic Dosing.
Community Crowdfunding Campaign now live for all levels of investors
"Original Shark" Kevin Harrington, from the hit TV show Shark Tank, joined as an investor and strategic advisor
Psycheceutical's NeuroDirect™ ketamine technology is the first ketamine topical being developed to treat PTSD
Clinical trial program now underway, with first cohort dosing showing the ketamine topical as safe and well-tolerated, as supported by observational results
Psycheceutical was named a 2023 Top 10 Biotech Startup by Life Sciences Review
MIAMI, FL / ACCESSWIRE / November 1, 2023 / Psycheceutical Bioscience, Inc ("Psycheceutical" or the "Company") (OTC PINK:BWVI), a bioscience company dedicated to developing cutting-edge technologies for the next generation of mental health treatments, today announced the launch of a community crowdfunding campaign on Wefunder. The campaign is currently open to all investors, and serves as the next step in Psycheceutical's mission to revolutionize mental health treatment by bringing safe, effective, and accessible psychedelic therapies to patients worldwide using precise drug delivery technologies.
The crowdfunding campaign comes as Psycheceutical continues its Phase I clinical trial for NeuroDirect ketamine topical in Australia, where first cohort patient dosing results showed the topical technology as safe and well-tolerated. The novel NeuroDirect technology has also shown promise in preclinical observational results published earlier this year in Drug Development & Delivery.
Kevin Harrington, an "Original Shark" from the hit TV show Shark Tank, has joined the company as an investor and also serves as Strategic Advisor to Psycheceutical. As the creator of the infomercial and pioneer of the As Seen on TV brand, Harrington's business ventures have launched more than 1,000 products and produced over $6 billion in global sales.
"When I see a new industry emerging, I try to pick the companies that I believe are highly scalable and could positively affect many people. Psycheceutical is developing patented delivery systems designed to remove the side effects of psychedelics and deliver them with targeted dosing, which if successful could make these potentially life-saving compounds more accessible to the mainstream," said Harrington. "Now, with Psycheceutical's crowdfunding offering, even the small investor can own a piece of this exciting bioscience company."
Psycheceutical is developing two next-generation patented delivery technologies designed to increase the safety and efficacy of psychedelic compounds: NeuroDirect™ non-systemic delivery technology and Janus particle systemic delivery nanotechnology. The company's patented precision-dosing technologies are intended to deliver psychedelic compounds directly to targeted receptor sites in the brain, while bypassing the stomach and liver – providing relief within minutes, eliminating hallucinogenic effects, and also vastly reducing exposure to drug toxicities and side effects.
The CDC and National Alliance on Mental Illness report that more than 52 million adults in the U.S., about 1 in 5, live with a form of mental illness each year. Unfortunately, those suffering from these debilitating diseases have substantially limited options for treatment. Psychedelic medicines have shown incredible promise in recent studies for treating mental health disorders, but Psycheceutical believes safe and precise dosing control, akin to pharmaceutical medicines, is needed before psychedelic compounds can be made available to the general public.
"For the past two years, the Psycheceutical team has been hard at work to develop novel and innovative technology that has the potential to revolutionize mental health care treatment," said Chad Harman, CEO of Psycheceutical. "With this community crowdfunding period, we're excited to give all levels of investors the chance to be a part of this opportunity," he added.
For more information about Psycheceutical Bioscience's crowdfunding campaign, visit the official campaign page at wefunder.com/psycheceutical.
Investors can get started for as little as $250 USD.
About Psycheceutical Bioscience, Inc.
Psycheceutical Bioscience, Inc. (OTC:BWVI) is developing cutting-edge technologies to advance the safe and effective delivery of psychedelic pharmaceutical medicines. Powered by a team of FDA drug development veterans, biotechnology experts, and top neuroscientists, Psycheceutical is on a mission to commercialize its precision dosing technologies to provide affordable, life-saving treatments to anyone suffering from mental health disorders or central nervous system diseases. Learn more at Psycheceutical.com
Forward-Looking Statements:
Certain statements in this news release related to the Company constitute "forward-looking information" within the meaning of applicable securities laws and are prospective in nature. Forward-looking information is not based on historical facts, but rather on current expectations and projections about future events and are therefore subject to risks and uncertainties which could cause actual results to differ materially from the future results expressed or implied by the forward-looking statements. These uncertainties include, but are not limited to, (i) general market growth for and acceptance of psychedelic-inspired medicines, (ii) capital and credit availability and market volatility, (iii) general economic conditions, (iv) governmental approvals and compliance with regulations, (v) product research and development and clinical trial risks, (vi) incorrect underlying assumptions, and (vii) our future business development, results of operations, and financial condition. These statements generally can be identified using forward-looking words such as "will," "may," "should," "could," "intend," "estimate," "plan," "anticipate," "expect," "believe," "potential" or "continue," or the negative thereof or similar variations. All information provided in this press release is as of the date of this press release, and we undertake no duty to update such information, except as required under applicable law. Client, see report for disclaimer and disclosure details.
Contact:
SOURCE: Psycheceutical Bioscience, Inc.