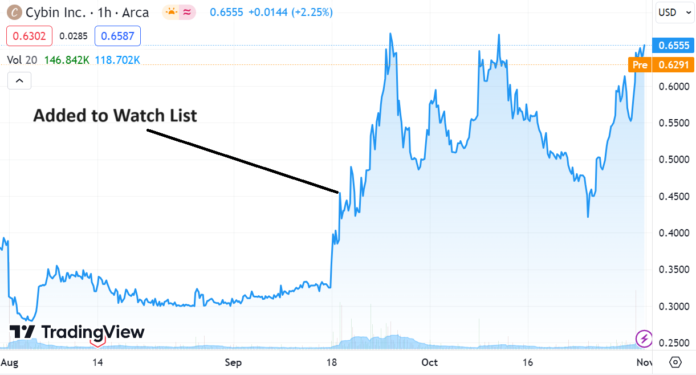 Conference call to discuss CYB003 interim results today, November 1, 2023 at 11:00 a.m. ET
---
Cybin Announces Unprecedented Positive Phase 2 Interim Data for CYB003 in Major Depressive Disorder Meeting Primary Efficacy Endpoint with Rapid and Significant Improvements in Depression Symptoms After Single Dose
– Interim readout shows rapid, robust, and clinically significant reduction of depression symptoms three weeks after a single 12mg dose, with an unprecedented mean -14 point Montgomery-Asberg Depression Rating Scale ("MADRS") score reduction from baseline between CYB003 (12mg) vs. placebo (p= 0.0005) –
– For reference, pooled data from 232 industry studies of current standard of care antidepressants, s elective serotonin reuptake inhibitors (SSRIs), submitted to U.S. Food and Drug Administration ("FDA") (Stone et al, 2022) show an average improvement of 1.82 points vs. placebo –
– Robust response and remission three weeks after single dose, with 53.3% of patients responding and 20% of patients in remission (no longer meeting the clinical definition of depression) vs. 0% for placebo –
– Favorable safety and tolerability profile with no treatment-related serious adverse events at 12 mg dose –
– Full topline data on track for Q4 2023 –
– Company to host conference call to discuss CYB003 interim results on Wednesday, November 1, 2023 at 11:00 a.m. ET –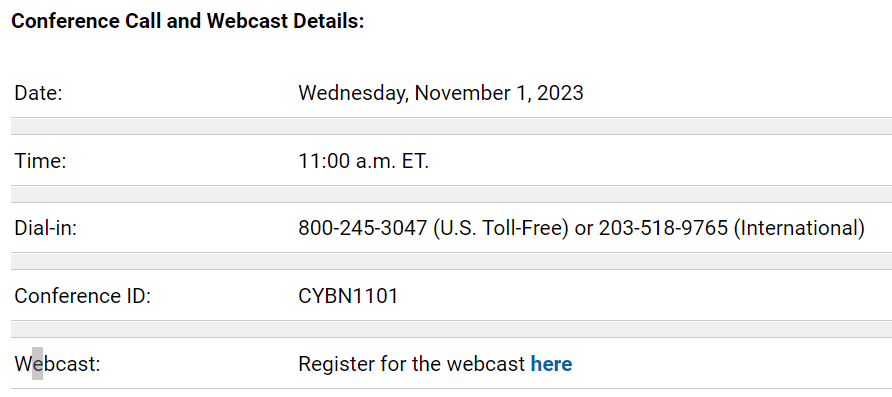 ---
The archived webcast will also be available on Cybin's investor relations website on the Events & Presentations page.
RELATED: Adding Cybin (CYBN) to 2024 Top Psychedelic Stocks Watch List.
---
For updates on Cybin and to receive our upcoming Watch List and 2024 Investor Guide, subscribe to our free newsletter.

---
Cautionary Notes and Forward-Looking Statements
Certain statements in this news release relating to the Company are forward-looking statements and are prospective in nature. Forward-looking statements are not based on historical facts, but rather on current expectations and projections about future events and are therefore subject to risks and uncertainties which could cause actual results to differ materially from the future results expressed or implied by the forward-looking statements. These statements generally can be identified by the use of forward-looking words such as "may", "should", "could", "intend", "estimate", "plan", "anticipate", "expect", "believe" or "continue", or the negative thereof or similar variations. Forward-looking statements in this news release include statements regarding Cybin's plans to report Phase 2 safety and efficacy data from its CYB003 deuterated psilocybin analog program in late 2023; release of CYB003 12-week durability data in Q1 2024; progression to Phase 3 development of CYB003 in early 2024; recruitment for a CYB003 Phase 3 study and commencement of the phase 3 study in late Q1 2024; the Company's plan to request an end of Phase 2 meeting with the FDA in early 2024; topline Phase 1 data for CYB004 and SPL028, the Company's proprietary novel deuterated DMT compounds, before the end of 2023; commencement of a phase 2 study of the Company's proprietary novel deuterated DMT compounds in patients with generalized anxiety disorder in Q1 2024; and the Company's proprietary drug discovery platforms, innovative drug delivery systems, novel formulation approaches and treatment regimens for mental health disorders.
These forward-looking statements are based on reasonable assumptions and estimates of management of the Company at the time such statements were made. Actual future results may differ materially as forward-looking statements involve known and unknown risks, uncertainties, and other factors which may cause the actual results, performance, or achievements of the Company to materially differ from any future results, performance, or achievements expressed or implied by such forward-looking statements. Such factors, among other things, include: implications of the spread of COVID-19 on the Company's operations; fluctuations in general macroeconomic conditions; fluctuations in securities markets; expectations regarding the size of the psychedelics market; the ability of the Company to successfully achieve its business objectives; plans for growth; political, social and environmental uncertainties; employee relations; the presence of laws and regulations that may impose restrictions in the markets where the Company operates; and the risk factors set out in each of the Company's management's discussion and analysis for the three months ended June 30, 2023, and the Company's annual information form for the year ended March 31, 2023, which are available under the Company's profile on SEDAR+ at www.sedarplus.ca and with the U.S. Securities and Exchange Commission on EDGAR at www.sec.gov . Although the forward-looking statements contained in this news release are based upon what management of the Company believes, or believed at the time, to be reasonable assumptions, the Company cannot assure shareholders that actual results will be consistent with such forward-looking statements, as there may be other factors that cause results not to be as anticipated, estimated or intended. Readers should not place undue reliance on the forward-looking statements and information contained in this news release. The Company assumes no obligation to update the forward-looking statements of beliefs, opinions, projections, or other factors, should they change, except as required by law.
Cybin makes no medical, treatment or health benefit claims about Cybin's proposed products. The U.S. Food and Drug Administration, Health Canada or other similar regulatory authorities have not evaluated claims regarding psilocybin, psychedelic tryptamine, tryptamine derivatives or other psychedelic compounds. The efficacy of such products has not been confirmed by approved research. There is no assurance that the use of psilocybin, psychedelic tryptamine, tryptamine derivatives or other psychedelic compounds can diagnose, treat, cure or prevent any disease or condition. Rigorous scientific research and clinical trials are needed. Cybin has not conducted clinical trials for the use of its proposed products. Any references to quality, consistency, efficacy and safety of potential products do not imply that Cybin verified such in clinical trials or that Cybin will complete such trials. If Cybin cannot obtain the approvals or research necessary to commercialize its business, it may have a material adverse effect on Cybin's performance and operations.
Neither the Neo Exchange Inc. nor the NYSE American LLC stock exchange have approved or disapproved the contents of this news release and are not responsible for the adequacy and accuracy of the contents herein. Not a client, yet.