Of course, approval news is the ultimate "as huge as it gets" news.
But at this stage in the development of any biotechnology start-up, these early-indications of 'is it safe' and does it 'appear to work' from Hepion, should have the mouths of any self-respecting early-stage biotechnology investor watering. Or send a chill up their spine. It sent a chill up our spine..
This indeed is what speculating in biotech stocks is all about. First, follow news about safety. Then follow news about safety in comparison to benefits derived. Then follow early news of potential benefits. How good are the benefits and how many people (percentage-wise) have benefitted?
Depending on an investor's risk profile, one can invest any time as the onion is peeled. An investor can invest at the first peel (pre-clinical trials), or wait anywhere up until the final peel (Phase III trials), or even wait until after the final peel (actual FDA approval).
The danger of investing during the peeling process is if they discover the onion is rotten, then it will probably be too late to get out. The danger of waiting for final approval – is when any one of a dozen multi-billion Pharma's, who are also watching the onion being peeled – decide enough evidence is enough and they acquire the start-up before final FDA approval. And potentially save $100's of millions in an acquisition cost. Then it of course it will be too late to get in. As in "damn, I just knew I shouldn't have waited after reading about the good early indications."
Yesterday Hepion Pharma announced early results of safety and efficacy (does it work) of their lead treatment, CRV431.
As a reminder, CRV431 is a treatment for fatty-liver. Get a quick education here in a news archive we are building: Hepion Pharma (HEPA): News Archive
First their independent Data Safety Monitoring Board (DSMB) after evaluating the safety and tolerability data of a low dose (75mg) of CRV431 said "keep going" on their Phase 2a 'AMBITION' clinical trial.
Read More: Hepion Pharmaceuticals Data Safety Monitoring Board Recommends Continuation.
Second and more important was they announced significant early results in the liver chemistry they were hoping for – occurred rapidly and were sustained throughout the 28 days of dosing.
Dr. Stephen Harrison, Hepion's Consultant Medical Director, commented, "The reductions in the liver chemistry tests, ALT and AST, occurred rapidly and were sustained throughout the 28 days of dosing. These reductions began to return to baseline once the patients stopped taking CRV431 at the end of the study, indicative of a drug effect. As such, these early signals are supportive of positive actions on liver health in a short period of time with the low dose of CRV431, and we eagerly look forward to evaluating the fibrosis biomarkers, as well as the higher dose of CRV431, in the second cohort."
Biomarkers of efficacy, including declines in alanine aminotransferase ("ALT") and aspartate aminotransferase ("AST") from baseline to day 28 were observed, with mean declines of 18.4% and 12.1%, respectively.
If that doesn't send a chill – not much else will. Investors took note and the shares went on a tear trading from a low of $1.91 the day before, to a high of $2.74 with 13 million shares trading hands. Boo-ya!
READ MORE: Hepion Pharmaceuticals Announces Positive Top Line Data
---

---
What's next?
The next peel to be unveiled will be the results from larger dosing of CRV431 or at 225mg. Patient dosing is expected to be completed in Q1-2021.
Should you make Hepion Pharma your last wise decision for 2020? Only time will tell.
Stare at this chart for a moment. We're guessing it won't look anything like this at this time next year.
Adding Hepion Pharma (HEPA) $1.73 to Watch List.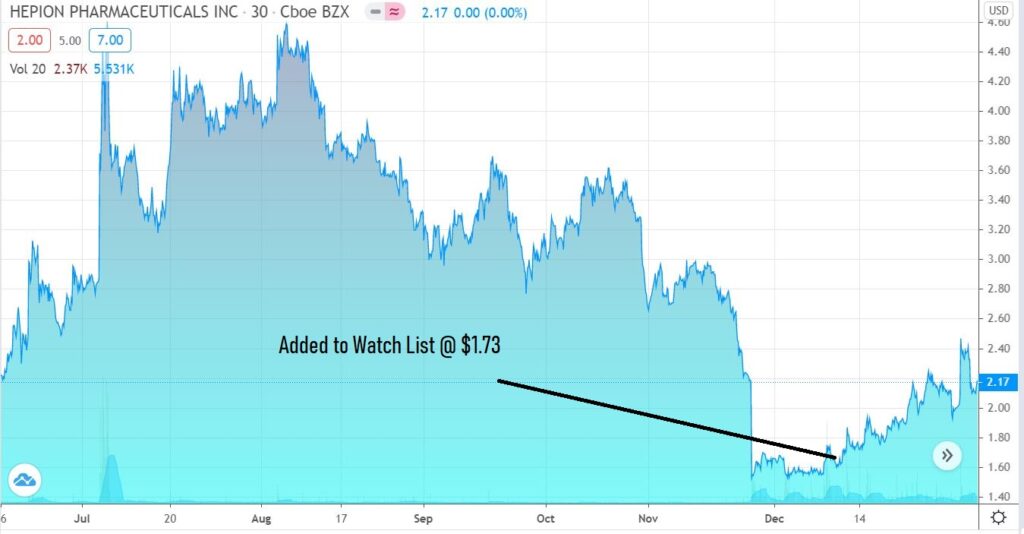 Certain statements in this press release are forward-looking within the meaning of the Private Securities Litigation Reform Act of 1995. These statements may be identified by the use of forward-looking words such as "anticipate," "believe," "forecast," "estimated," and "intend," among others. These forward-looking statements are based on Hepion Pharmaceuticals' current expectations and actual results could differ materially. There are a number of factors that could cause actual events to differ materially from those indicated by such forward-looking statements. These factors include, but are not limited to, substantial competition; our ability to continue as a going concern; our need for additional financing; uncertainties of patent protection and litigation; risks associated with delays, increased costs and funding shortages caused by the COVID-19 pandemic; uncertainties with respect to lengthy and expensive clinical trials, that results of earlier studies and trials may not be predictive of future trial results; uncertainties of government or third party payer reimbursement; limited sales and marketing efforts and dependence upon third parties; and risks related to failure to obtain FDA clearances or approvals and noncompliance with FDA regulations. As with any drug candidates under development, there are significant risks in the development, regulatory approval, and commercialization of new products. There are no guarantees that future clinical trials discussed in this press release will be completed or successful, or that any product will receive regulatory approval for any indication or prove to be commercially successful. Hepion Pharmaceuticals does not undertake an obligation to update or revise any forward-looking statement. Investors should read the risk factors set forth in Hepion Pharmaceuticals' Form 10-K for the year ended December 31, 2019 and other periodic reports filed with the Securities and Exchange Commission. Client, we were compensated ten thousand dollars for initiating coverage and may receive additional compensation for ongoing progress coverage and reporting.