You Must Read This...
New Report on the People Behind EMulate Therapeutics.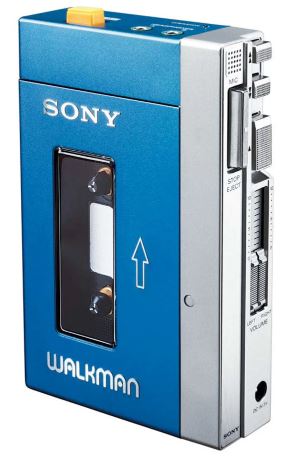 We have a client called Hapbee Technologies (Symbol: HAPB, HAPBF) which makes a consumer device unlike any we've ever encountered. Really cool stuff. Like when the first Sony Walkman* came out – type cool. Assuming you're old enough to remember when it first hit the shelves, back in 1979. People were like "What in the hell is that? And tiny headphones too?"
Some people are slow to adopt new technology. But within five years, pretty much everyone wanted one. Over the next 20 years, they sold 200 million Walkman's. And they weren't cheap either. $150 back then was a lot of money. Equal to $530 today.
A Medical Technology That Has The Highest Potential Over Any We Follow.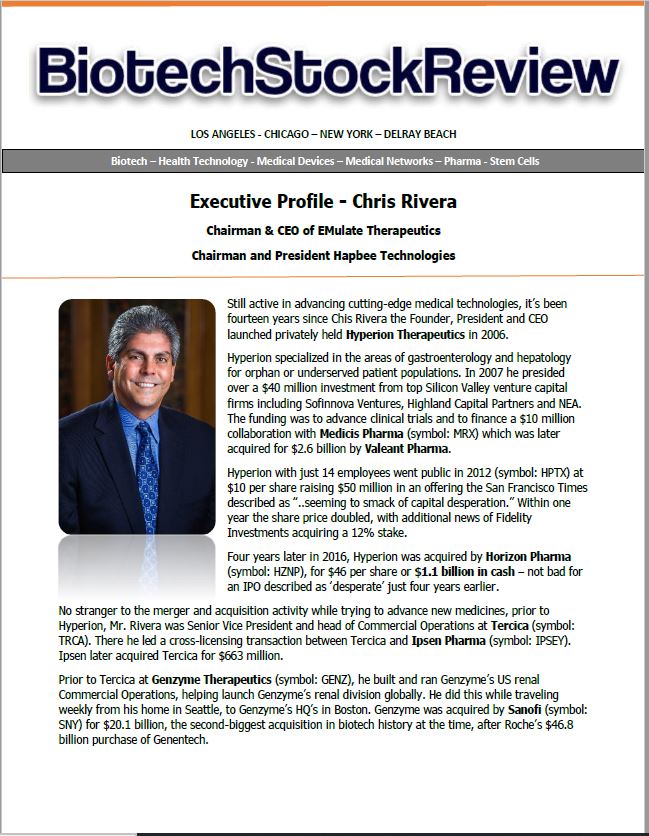 To be honest, we fell in love with Hapbee Tech without knowing much about the actual technology powering it from EMulate Therapeutics. But now we do.
The following is what we knew about Hapbee (which we felt was all we needed to know) when we first came across it:
First, the description of the product made us think this could be a hugely popular product within five years. Leading it to become a huge Company, leading it to become a huge stock – assuming they ever went public.
Second, Hapbee was private when we first met with Mark Timm, a Director, and partner of Kevin Harrington (Shark Tank) who just last week joined Hapbee's Advisory Board.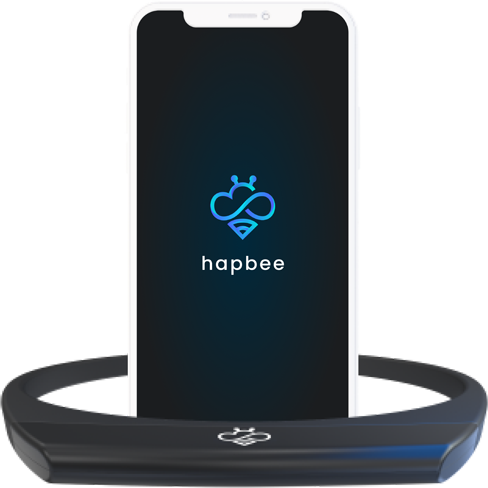 Mark, who along with Kevin Harrington are certifiable 'new-product' marketing geniuses. They are not 'inventors' but rather identify new products they think can become blockbusters and then market them into the stratosphere. Fully twenty of the hundreds of products that Kevin and his marketing experts helped grow – individually crossed the $100 million in sales mark. Impressive to say the least. They may not all work out, but 20 crossing $100 million? Safe to say, they know a good idea when they see one and right now they have their eyes on Hapbee.
Finally, what Mark Tim told us was, "Roland, I'm working with a Company which has a device which can make you feel like you had a cigarette, a cup of coffee or a drink, interested?"
WHAT WE KNEW SHORTLY THEREAFTER:
The quality is 'Apple' grade. So too was the packaging.
It worked. We didn't know how it worked, but it worked. We use it extensively as a substitute (super-charger actually lol) for caffeine and nicotine. We prefer our booze on the rocks.
It is reasonably priced at $379 and has a $19 monthly subscription for ongoing revenues. This would be like Sony selling the Walkman and bundling the music for an additional $19 monthly fee.
Consumers have recently embarked on a love affair with digital wellness products. As in the meditation apps like Calm. Calm which is private was valued at $250 million in 2018, $1 billion in 2019, and $2.2 billion this December, charges $15 a month.
So what's not to like? Had the Walkman been launched by a publicly-traded start-up, would we have needed to 'understand' how the technology worked? Or if it was too expensive for mass consumer acceptance? Hal no. Put the headphones on, pop in a cassette, and hit play. If it worked, load up on the stock. A mini-stereo?
We Never Say Revolutionary!
Check our newsletter archives dating back to 1998 and you'll see we never use the word 'revolutionary' or use the term 'paradigm shift' (maybe once). Or 'thought leader' for that matter. But this technology is truly revolutionary. It has the potential to change the way medical treatments are given globally and for a myriad of ailments.
Imagine the introduction of a treatment that essentially imitates (emulates) the effect of the chemotherapy (and/or other drugs) using energy. Do you believe that having a cell-phone glued to your ear, or living too close to a high-voltage power plant emitting magnetic fields can cause problems? Then it shouldn't be too much of a stretch to understand magnetic fields can be used for good as well as evil.
Electromagnetic Fields and Cancer (National Institute of Health)
If proven to work, the technology could be worth not $10 billion, but rather $100's of billions (in our opinion). It's that significant. While trials (in humans, not mice) have been undertaken for use in treating Glioblastoma (brain cancer) using ultra-low frequency energy – we don't know if it will ultimately pass FDA muster. Numerous trials have been conducted and to date, the FDA essentially has said, "Wow, keep going." (our words of course)
Understand we're not talking about Hapbee for the moment. But the technology (the same ultra-low frequency) that powers it. The technology is owned by a company called EMulate Therapeutics out of Seattle. A 15-year-old, privately held, venture capital-backed company.
We spent an entire week looking into their trials, studying management, and studying their advisory team – and this is the real deal folks. We won't bore you with the details, that's what the report below is for. The report covers both EMulate and Hapbee and the stellar dream team assembled to move this mission forward. We're excited to play any role in its development.
WHAT WE KNOW NOW:
The technology was developed to treat serious life-threatening medical ailments (BRAIN CANCER) and has undergone human clinical trials for presenting data to the FDA.
Chris Rivera oversees the EMulate team of experts. He launched Hyperion Therapeutics in 2006 with $40 million. Publicly traded it was acquired for $1 billion in 2016.
On the team is Richard Henriques, former CFO of the Bill and Melinda Gates Foundation. Former Microsoft Chief Information Security (CISO) Officer Charles McNerney who is the current CISO for Expedia (EXPE). And Victor Levin, MD a world-renowned expert in brain tumor research known as the 'Father of Neuro-Oncology' and a dozen more high profile individuals.
They have made numerous well-received presentations at prominent Medical Conferences including the Society for Neuro-Oncology.
They have demonstrated differential behavioral responses (alertness, calm) elicited in live animals.
The FDA granted it Humanitarian Use Designation designed to treat medulloblastoma, a rare, high-grade glioma in children.
---
WHITE PAPER | EFFECTS OF MAGNETIC FIELDS ON BIOLOGICAL SYSTEMS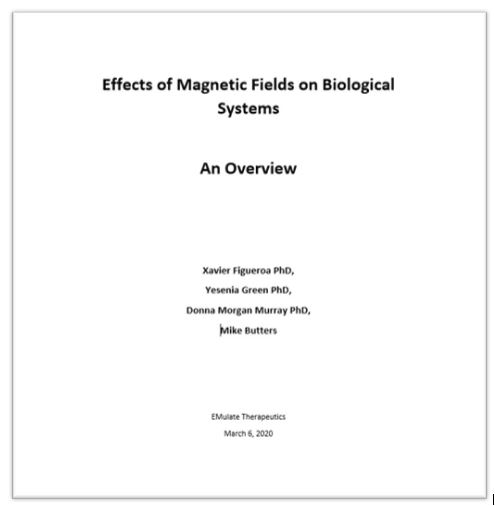 ---
---
MESSAGE FROM CHRIS RIVERA
"I realized that if this technology proved feasible– and we are testing that feasibility through clinical trials and research we are conducting on many levels today — EMulate/Nativis could well be capable of developing a platform of ulRFE products aimed at transforming disease treatment on a global scale. These products providing drug-like effects would have additional benefits, as well; for instance, they would not be subject to spoilage or loss of effectiveness due to delivery time frames, or limited shelf life or exposure to temperature variations. Moreover, the technology could potentially be used in a wide range of applications other than human health, including agriculture, bio-fuel production, and veterinary medicine, to name a few." Chris Rivera
READ MORE: EMulate/Natavis platform aims to transform disease treatment on a global scale – "a symphony of cures"

---
TID BITS ON THE SONY WALKMAN
*The original Walkman, released in 1979 by SONY, was a portable cassette player that allowed people to listen to music of their choice on the move. Though Sony predicted it would sell about 5,000 units a month, it sold more than 30,000 in the first two months. By 2010, when production stopped, Sony had built about 200 million cassette-based Walkmans.
A major component of the Walkman advertising campaign was the personalization of the device. Prior to the Walkman, the common device for portable music was the portable radio, which could only offer listeners standard music broadcasts. Having the ability to customize a playlist was a new and exciting revolution in music consumption. Potential buyers had the opportunity to choose their perfect match in terms of mobile listening technology. The ability to play one's personal choice of music and listen privately was a huge selling point of the Walkman, especially amongst teens, who greatly contributed to its success
Culturally the Walkman had a great effect and it became ubiquitous. According to Time, the Walkman's "unprecedented combination of portability (it ran on two AA batteries) and privacy (it featured a headphone jack but no external speaker) made it the ideal product for thousands of consumers looking for a compact portable stereo that they could take with them anywhere". According to The Verge, "the world changed" on the day the Walkman was released.
#HAPB
READ MORE: A potted history of the Sony Walkman (1979-2010).