UPDATED CONTINUOUSLY..
12/31/2020: News, As Huge As It Gets, From Hepion Pharma (HEPA) $2.10.
12/23/2020: Remember President Trump Taking Dexamethasone? Hepion's (HEPA) CRV431 demonstrated reduced lung inflammation and damage similar to or better.
12/11/2020: Adding Hepion Pharma (HEPA) $1.73 to Watch List.
12/11/2020: Fatty Liver? 15-25% of the US Population Has It. (Video)
12/11/2020: Hepion Pharma Doses First Patient in the 'AMBITION' Clinical Trial.
12/10/2010: Newsletter: Institutional Analyst. And Yes, We Have Another Double.
11/30/2020: Hepion Pharma Raises $34 Million.
10/11/2020: Great Extensive Interview with Robert Foster, CEO (must watch).
11/7/2019: Roth Capital Starts Hepion Pharma at Buy; Price Target $9.00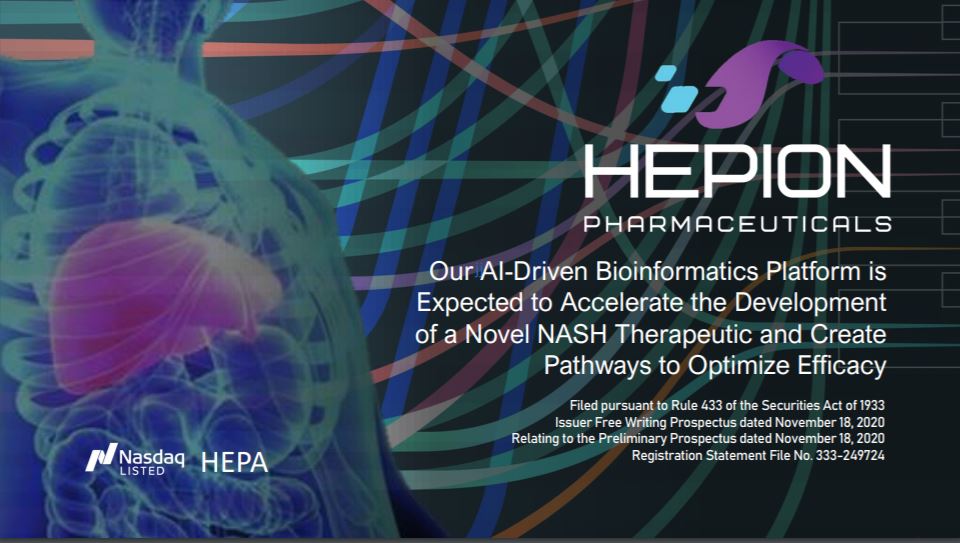 Forward-Looking Statements

Certain statements in this press release are forward-looking within the meaning of the Private Securities Litigation Reform Act of 1995. These statements may be identified by the use of forward-looking words such as "anticipate," "believe," "forecast," "estimated," and "intend," among others. These forward-looking statements are based on Hepion Pharmaceuticals' current expectations and actual results could differ materially. There are a number of factors that could cause actual events to differ materially from those indicated by such forward-looking statements. These factors include, but are not limited to, substantial competition; our ability to continue as a going concern; our need for additional financing; uncertainties of patent protection and litigation; risks associated with delays, increased costs and funding shortages caused by the COVID-19 pandemic; uncertainties with respect to lengthy and expensive clinical trials, that results of earlier studies and trials may not be predictive of future trial results; uncertainties of government or third-party payer reimbursement; limited sales and marketing efforts and dependence upon third parties; and risks related to failure to obtain FDA clearances or approvals and noncompliance with FDA regulations. As with any drug candidates under development, there are significant risks in the development, regulatory approval, and commercialization of new products. There are no guarantees that future clinical trials discussed in this press release will be completed or successful, or that any product will receive regulatory approval for any indication or prove to be commercially successful. Hepion Pharmaceuticals does not undertake an obligation to update or revise any forward-looking statement. Investors should read the risk factors set forth in Hepion Pharmaceuticals' Form 10-K for the year ended December 31, 2019 and other periodic reports filed with the Securities and Exchange Commission. Client, see reports for disclosure and disclaimer details.
For further information, please contact:
Stephen Kilmer
Hepion Pharmaceuticals Investor Relations
Direct: (646) 274-3580
[email protected]