New and Updated Report on CB Scientific (CBSC) $1.05.
Revolutionary Any-Doctor-Any Where, at Home Heart Rate Monitor, can be Used to Enhance any and all Telehealth Companies.
CB Scientific (CBSC): News Archive
---

CB Scientific (CBSC) has perfected the most effective telehealth tool available on the market today, to remotely monitor the heart rate of patients – with a goal to potentially monitor millions of patients worldwide.

Its My-Cam™ at-home heart monitoring device and proprietary phone app – works with any standard Android and/or iOS (Apple) cell phone and syncs with ease and near-perfect harmony.

Powered by CB Scientific's certified cardiac care technicians via its 24/7 cloud-based MY-Cardia™ portal, any-Doctor-anywhere, can be notified immediately of significant findings and/or risky readings.
CB Scientific Inc., a venture capital-backed medical technology company prior to 2021, has successfully graduated from the research and development stage – to operating company stage status.
It also became publicly traded in 2020 and shortly thereafter landed three of the largest and most prestigious hospitals in Thailand. After successfully completing trials at these hospitals, other hospitals across in Thailand (1,300) and internationally – can now see how the My-Cam™ and MY-Cardia™ telehealth portal effectively operate in the real world.

While CB Scientific can be considered a medical device manufacturer, the business model is similar to a SAAS subscription model, where the majority of revenues are generated by ongoing monitoring fees versus device sales. In the US, the monthly fee is anticipated to be $225/month/patient.

CB Scientific is moving with unprecedented speed and determination and is planning similar launches in Malaysia and Singapore this summer. China, with one of the most sophisticated health care systems in the world and 247 million residents over the age of 60 – is targeted and the company is working diligently towards certification with the NMPA, China's version of the FDA.

We added CB Scientific to the Watch List and believe interested investors should consider establishing positions now, while both the share price and market capitalization are the lower end of all the Telehealth companies in our covered Universe.

At $1.00 per share and 81 million shares outstanding, CB Scientific has a market valuation of only $80 million. On a gross valuation basis, this compares favorably to Teledoc at $27 billion!

It is VERY important to understand that CB Scientific is not offering a competing product or service. My-Cam™ and MY-Cardia™ are complementary to any medical practice, medical network, or telehealth medical network. It quite simply makes those services better and more effective.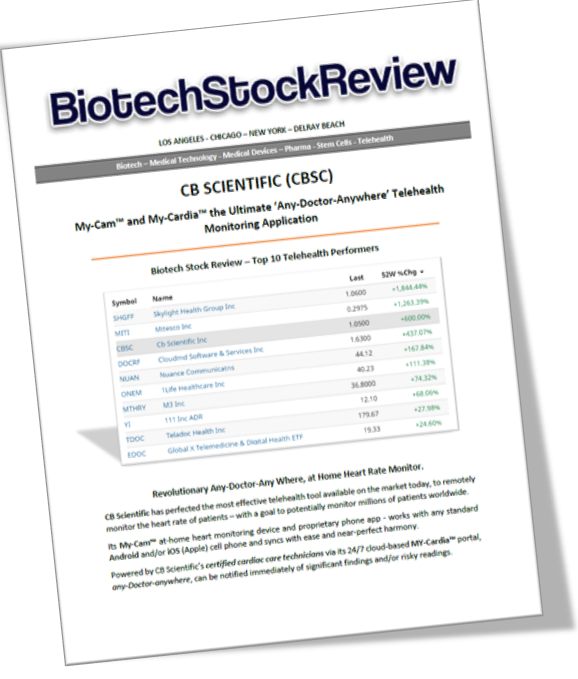 In our opinion, any established telehealth network incorporating and utilizing the My-Cam™ device and My-Cardia™ portal in the future can greatly increase its effectiveness and value to its members – in addition to adding a profitable new revenue source for them. The CB Scientific monthly service is so effective, we believe My-Cardia™ can further help to attract new members to a telehealth network – including patients who might not normally see the need in joining a telehealth group.

By partnering with CB Scientific, Telehealth networks will be able to provide its current and future members with the best possible ongoing care – by identifying potential heart-related problems early, which are often undetectable, thus potentially saving member lives in the process.
---
TELEHEALTH STOCKS RANKED BY SHARE PRICE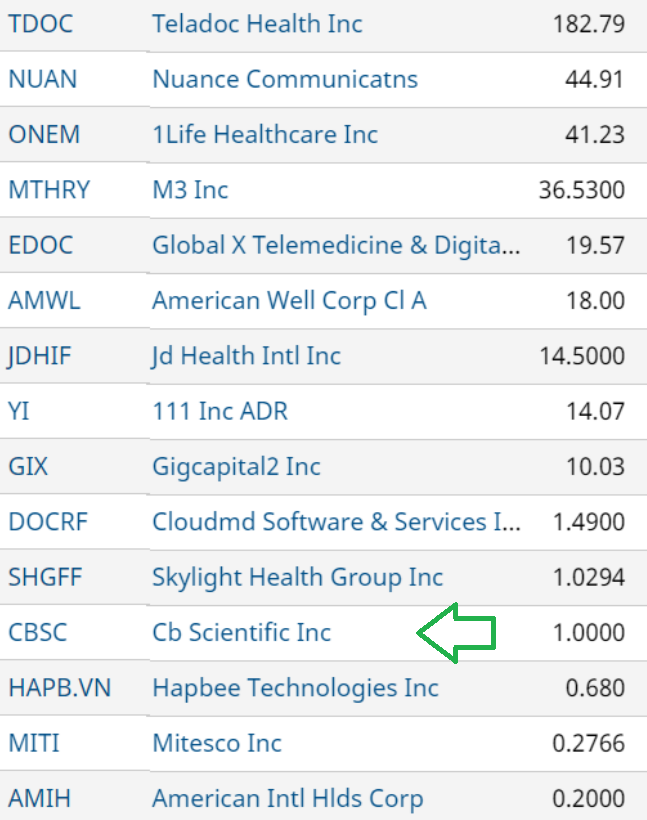 ---
TELEHEALTH STOCKS RANKED BY PERFORMANCE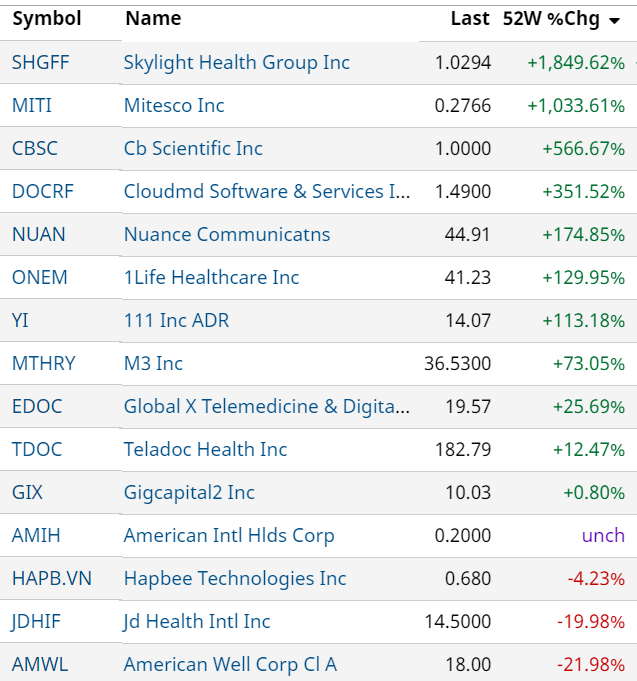 ---
*CB Scientific, Mitesco and Hapbee are clients of Institutional Analyst Inc, please see reports for disclosure and disclaimer details.