Added to the Watch List in November, OMNIQ (OMQS) and Galaxy Digital (GLXY) Shine like a Pretty Penny, with OMNIQ Doubling and Galaxy Gaining 5-Fold.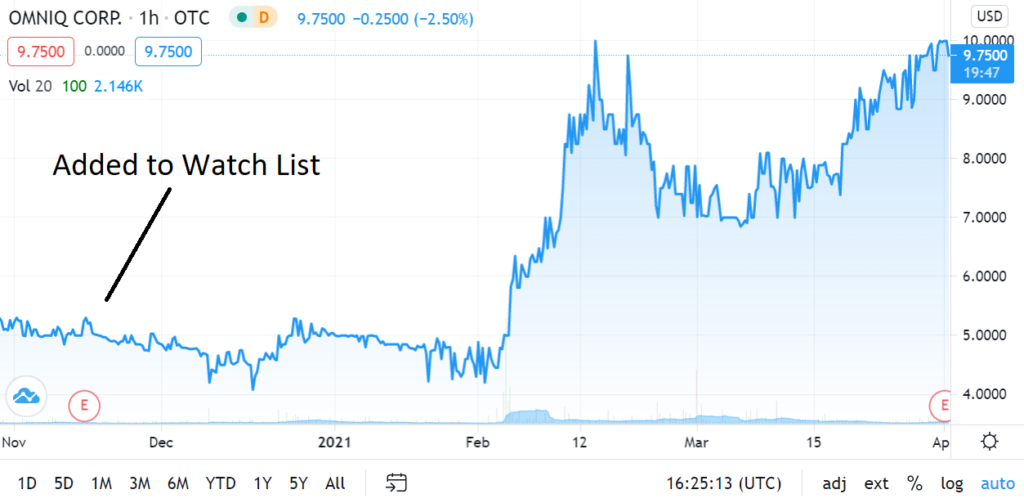 ---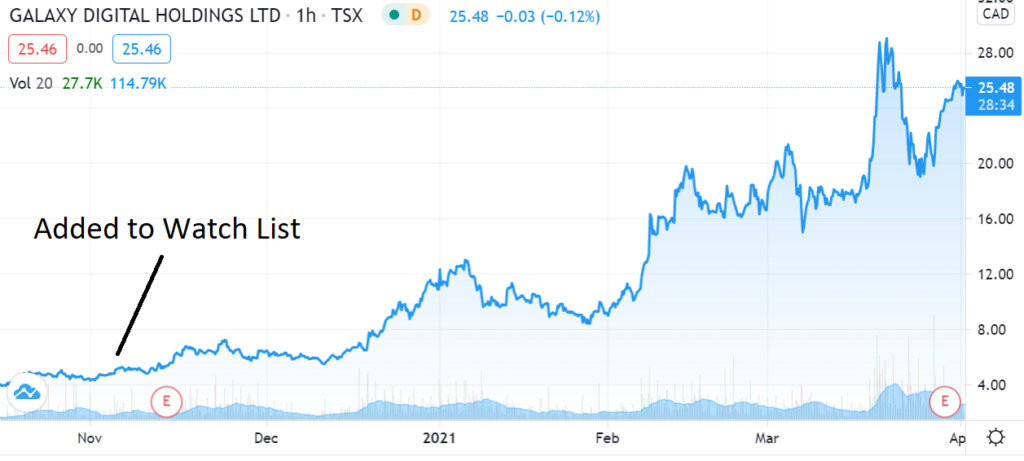 So what happened here?
Here's the November letter – things transpired pretty much as we had envisioned..
November Letter: Adding OmniQ (OMQS) $5.00 to the Watch List and Galaxy, a Bitcoin Play!
Galaxy Digital (GLXY)
Galaxy took off because it trades in sympathy (mostly) with Bitcoin. At the time Bitcoin was trading at $15,000. Galaxy traded up 5X, while Bitcoin gained 3X. As in boo-ya.
Full Report: Adding Galaxy Digital (GLXY) $5.19 to Watch List.
OMNIQ (OMQS)
While it doesn't always work out, it's always fun to find something that can be defined as 'undervalued' on fundamentals and then see it go up on improving fundamentals — almost like 'as it should be.'
Owning any stock which is going up is of course fun. But when a stock goes up for no apparent reason other than because 'it's going up' always leaves us with a feeling that 'something is wrong here.' With a dash of impending doom heavy in the air. There are no such feelings with OMNIQ.
So look at these basic numbers on OMNIQ! Amazing.
When we initiated coverage in November (see post above) we stated:
"We like it so much we signed them as a client. Sales near $50 – $60 million a year (for the last five), so definitely a small company, but one which we think had a rebirth just last year. The market cap is only $23 million. It sells for just 40% of sales, which is uncommon for any technology company. The average company on the NASDAQ 100 (NDX) sells for 500% or 5 times sales. Microsoft sells for 11 times sales, yet to be profitable high flyers like Zoom (ZM) or Teledoc (TDOC) can sell from 25 to 85 times sales."
"No retail following, no institutional following, which we have shown time and time again in the past – is a good thing. The problem of course is getting a big stake, with trading so light. The biggest day in the past month was just 15,000 shares. So put your bids up and put them up large (assuming you see what we see)."
Yesterday the numbers for 2020 came out — along with a very healthy backlog (select excerpts):
OMNIQ won an AI based homeland security project for terror prevention in a sensitive area in the middle east.
OMNIQ's AI-Based VRS (Vehicle Recognition Systems) selected for Los Angeles International Airport Modernization Project by HUB Parking Technology
Achieved record $25 Million in new orders in Q1 2021
Sales Orders from Artificial Intelligence (AI) Based Technology grew 100% in Q1 2021
Q4 Sales of $13 million represents an increase of 12% YoY
Cash balance on December 31, 2020 grew to over $4.5 million from $1.6 million on December 31, 2019
Read the full release and financial tables here. We'll have a new and updated report out early next week – Happy Passover and Easter to all. Happy Thursday hour starts in couple of hours.
Client see report for disclosure and disclaimer details.