MIAMI BEACH, FL / ACCESSWIRE / November 10, 2023 / LQR House Inc. (the "Company" or "LQR House") (NASDAQ:LQR), today announced the pricing of a public offering of 157,142,857 shares of common stock, par value $ 0.0001 per share at a public offering price of $0.07 per share, for aggregate gross proceeds of $11,000,000, prior to deducting underwriting discounts and other offering expenses. In addition, the Company has granted the underwriters a 45-day option to purchase up to an additional 23,571,429 shares of common stock at the public offering price per share, less the underwriting discounts to cover over-allotments, if any. The offering is expected to close on November 13, 2023, subject to satisfaction of customary closing conditions.
EF Hutton, division of Benchmark Investments, LLC ("EF Hutton") is acting as the sole book running manager for the offering. Sichenzia Ross Ference Carmel LLP is acting as legal counsel to the Company, Lucosky Brookman LLP is acting as legal counsel to EF Hutton.
The offering is being conducted pursuant to the Company's registration statement on Form S-1, as amended (File No. 333-275363), previously filed with the Securities and Exchange Commission ("SEC") that was declared effective by the SEC on November 9, 2023. A final prospectus relating to the offering will be filed with the SEC and will be available on the SEC's website at www.sec.gov. Electronic copies of the final prospectus relating to this offering, when available, may be obtained from EF Hutton, division of Benchmark Investments, LLC, 590 Madison Avenue, 39th Floor, New York, NY 10022, Attention: Syndicate Department, or via email at [email protected] or telephone at (212) 404-7002.
This press release shall not constitute an offer to sell or the solicitation of an offer to buy these securities, nor shall there be any sale of these securities in any state or other jurisdiction in which such offer, solicitation or sale would be unlawful prior to the registration or qualification under the securities laws of any such state or other jurisdiction.
About LQR House Inc.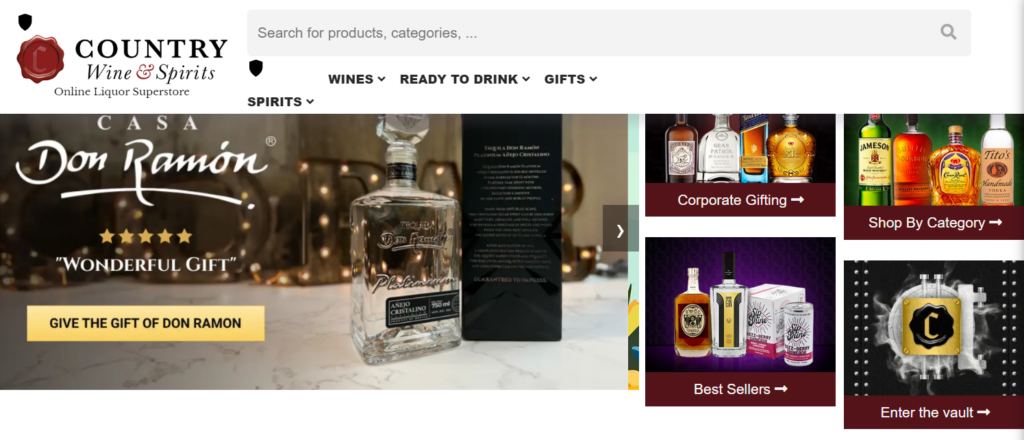 LQR House is a dynamic and forward-thinking e-commerce marketing company that intends to become the full-service digital marketing and brand development face of the alcoholic beverage space. Currently, LQR House has a key partnership with Country Wine & Spirits Inc. ("CWS") for the sale and distribution by CWS of all alcoholic beverages purchased on LQR House's ecommerce platform, CWSpirits.com. With a deep passion for the world of beverages, LQR House takes pride in curating marketing strategies aimed to elevate brands to new heights. Composed of a team of seasoned professionals, LQR House focuses on crafting marketing solutions tailored to each client's unique needs. Through strategic partnerships, creative branding, and digital prowess, LQR House intends to be at the forefront of the wine and spirits marketing landscape, making it the go-to choice for brands seeking to thrive in a competitive industry.
Safe Harbor Statement
Certain statements in this announcement are forward-looking statements, including, but not limited to, the Company's offering. These forward-looking statements involve known and unknown risks and uncertainties and are based on the Company's current expectations and projections about future events that the Company believes may affect its financial condition, results of operations, business strategy and financial needs, including the expectation that the offering will be successfully completed. Investors can identify these forward-looking statements by words or phrases such as "may," "will," "expect," "anticipate," "aim," "estimate," "intend," "plan," "believe," "is/are likely to," "potential," "continue" or other similar expressions. The Company undertakes no obligation to update or revise publicly any forward-looking statements to reflect subsequent occurring events or circumstances, or changes in its expectations that arise after the date hereof, except as may be required by law. These statements are subject to uncertainties and risks including, but not limited to, the uncertainties related to market conditions and the completion of the initial public offering on the anticipated terms or at all, and other factors discussed in the "Risk Factors" section of the registration statement filed with the SEC. Although the Company believes that the expectations expressed in these forward-looking statements are reasonable, it cannot assure you that such expectations will turn out to be correct, and the Company cautions investors that actual results may differ materially from the anticipated results and encourages investors to review other factors that may affect its future results in the Company's registration statement and other filings with the SEC. Additional factors are discussed in the Company's filings with the SEC, which are available for review at www.sec.gov.
Investor and Media Contact:
SOURCE: LQR House Inc.