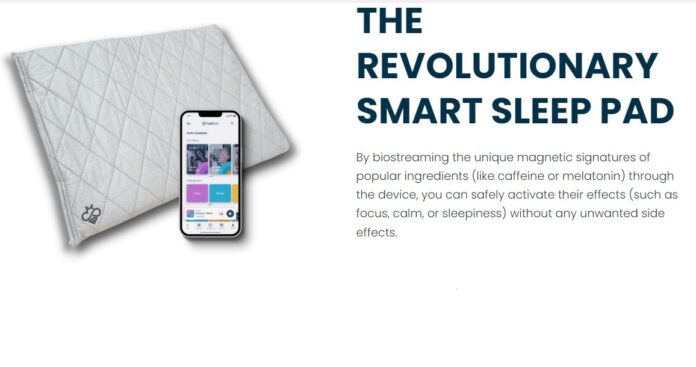 When we first came across Hapbee (HAPB) we described it as having a medical technology (a device) that had the "highest potential over any we follow." Big claim of course, and we believe that to this day.
While the inventor of the technology (Emulate Therapeutics) has to undergo the rigorous and costly FDA approval process, Hapbee does not. The reason is instead of positioning the technology as a medical device, they smartly positioned it as a consumer health and wellness market device.
The market seemed to agree with our initial assessment of its potential and it zoomed up 136% on the first day of trading. But like many 'hot' IPO's it drifted lower and lower and now finds itself just shy of $0.10 a share.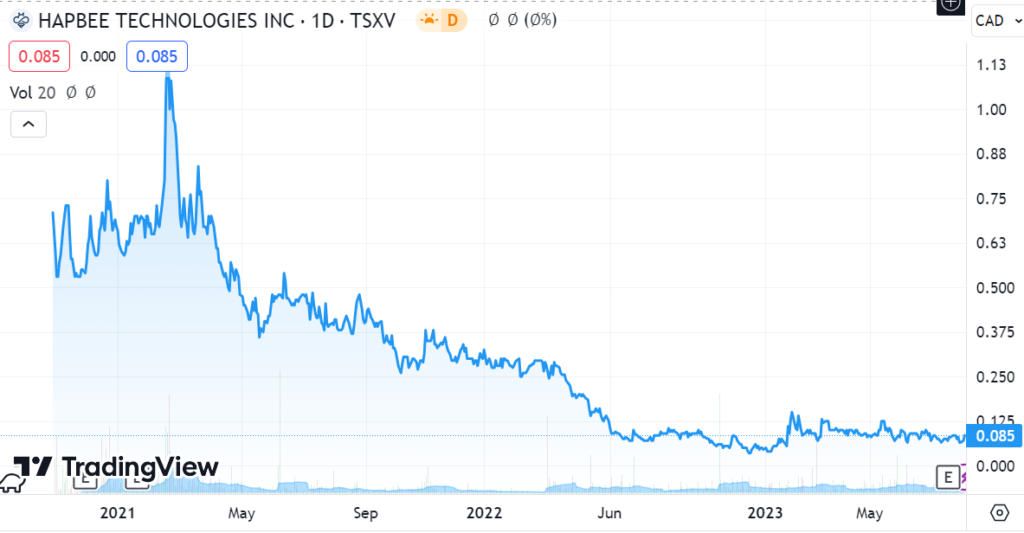 We use the product everyday and have been, for close to two years. It's a wearable device that emits ultra-low radio frequency (backed by $70 million in research) that makes us jump higher, run faster and feeling just plain smarter and more way more focused. Happy "on a stack of bibles" is how we'd define our enthusiasm for how well the neck-band works.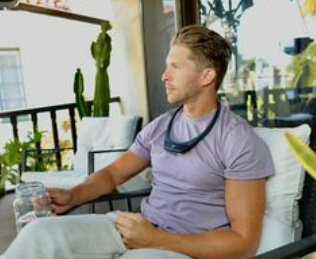 Anyway, while the device can produce (or emulate) many physiological responses similar to those created by drugs or everyday stimulants, like caffeine and nicotine (which is what we use it for). But along the way they discovered everyone loves the device, because it can help them sleep better.
In fact usage logs showed 70% of the time, users are using the device to sleep better. So a lightbulb at management went off. Maybe we should focus our marketing efforts on sleep betterment. And why not…
The Sleep Foundation (yes there's a foundation for that) estimates that between 50 million to 70 million people in the U.S. alone have ongoing sleep disorders! And that's a lot of potential (we might add desperate) customers.
We don't use the device to sleep (we have no trouble sleeping after happy hour), so we can't make a personal testimonial. But pretty much everyone we know complains that Fed Chairman Powell or 'too many thoughts' makes it hard for them to sleep. Or awakens them at 2am and then they can't get back to sleep.
So management has its developers go back to the workbench and they come out with a 'sleep pad' that users can put under their pillow. Same technology, but ergonomically a better solution. And no drugs to cause morning grogginess.
That's when a lightbulb went off in our head. Better sleep is just one of the many psycho or physiological benefits the device can provide. We've switched to decaf coffee and reduced nicotine consumption in half, but what if this also really helps people sleep better. Wait, what?
That's huge.
An then the Target press release. So to make a long story short, we think we're onto something. Or back onto something, we should say. We're studying now. This has the potential for being a major turnround situation.
Our recommendation is if you're a speculative investor and have trouble sleeping, is to order the product and if it works, load up on the stock. If it doesn't work, send it back and don't buy the stock. They have a 100-night guarantee.
At Walmart (not available in stores).
REVIEWS (mostly sleep).
---
Kind of like buying NIKE in 1980. If the shoe fits, buy it. If the shoe fits really well, buy the stock. A $1,000 in Nike in in 1980 is worth $580,000 today. I didn't buy the shoes, because as a track-runner at UCLA they gave them to me for free. I didn't buy the stock, because it was a gym shoe company and really…gym shoes?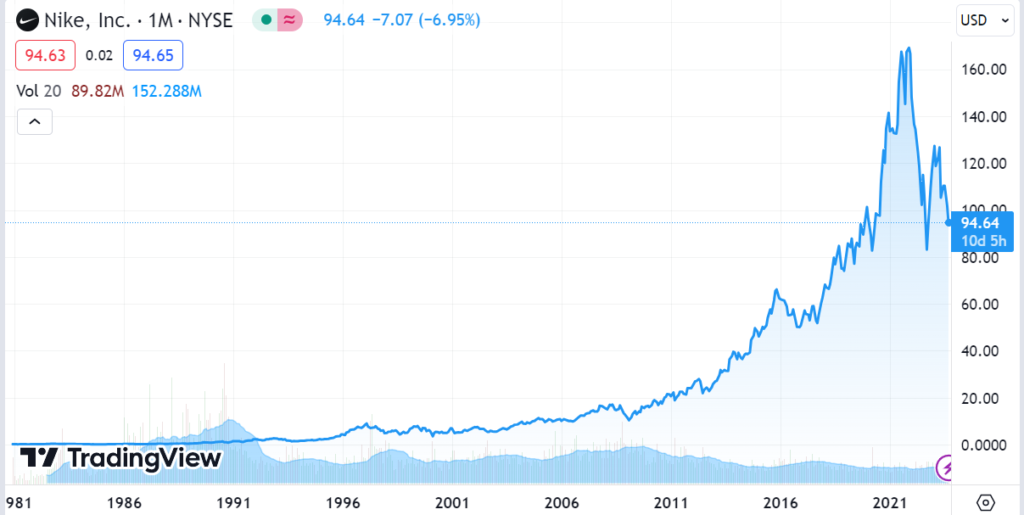 ---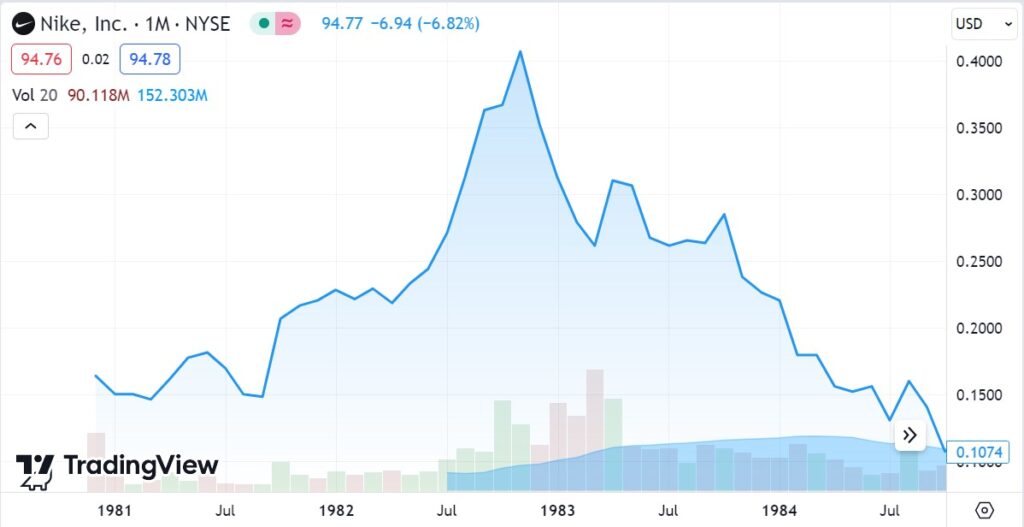 PS NIKE wasn't a cake walk investment.
Like the Hapbee IPO, it collapsed after the IPO dropping 75% from its post-IPO peak before taking off in the late 80's.
Imagine if you had sold. You'd probably be wearing Adidas for the rest of your life..just saying.
---
Hapbee Receives Its Largest Retail Distribution Commitment to Date From Target.
Hapbee Smart Sleep Pad Will Be Available for Purchase in Over 100 Select Target Locations Across the United States and on Target.com Starting in Oct 2023
VANCOUVER, BC, Aug. 22, 2023 /CNW/ – Hapbee Technologies, Inc. (TSXV: HAPB) (OTCQB: HAPBF) (FSE: HA1) ("Hapbee" or the "Company") is pleased to announce that its Smart Sleep Pad will soon be available for retail purchase in the Digital Health department of 104 Target retail stores and on Target.com. Target (NYSE: TGT) is ranked as the 6th largest retailer in the United States by the National Retail Federation with 2022 sales of more than $106 Billion1.
The Company received a purchase order commitment from Target to add its Smart Sleep Pad to Target's in-store and on-line assortment of Digital Health & Wellness products. Target customers will be able to scan a QR code on a custom-designed shelf display for more details.
Minneapolis-based Target is considered a leader in emerging consumer trends like digital wellness and on improving the lives of its customers. Hapbee's Smart Sleep Pad will be available for purchase at Target locations starting in Oct 2023.
Today's announcement builds on Hapbee's growth strategy through retail distribution expansion and its overarching goal of helping to improve people's wellness through innovative solutions like its Smart Sleep Pad. Since launch in late 2022, it has become Hapbee's top-selling product.
"Partnering with Target, an industry innovator, to launch our Smart Sleep Pad in their retail stores and on their website represents an important milestone for our company," said Yona Shtern, CEO of Hapbee. "Target will broadly expand our reach and enable us to meet the sleep needs of a larger audience of wellness-focused customers. Sleep represents an obvious entry point for Hapbee, and this purchase order is an important next step in our long-term distribution and product strategy."
According to the CDC2, a third of U.S. adults report that they usually get less than the recommended amount of sleep. Not getting enough sleep is linked with many chronic diseases and conditions.
Hapbee's Smart Sleep Pad offers a transformative alternative. Leveraging ultra-low radio frequencies, it delivers a non-chemical, all-natural solution to optimize sleep powered by Hapbee's innovative digital wellness app. In Q1 2023 alone, the Company announced that its users surpassed 1 million unique playback sessions for sleep and focus, a resounding testament to the efficacy and adoption of its products.
RELATED: Hapbee (HAPB) Soars 136% the First Day of Trading!
RELATED: A Medical Technology That Has The Highest Potential Over Any We Follow.
About Hapbee
Hapbee is a digital wellness technology company that aims to help people take control of how they sleep, perform and feel. Hapbee's digital wellness library of Wellness Routines utilizes patented ultra-low radio frequency energy (ulRFE®), designed to help optimize users' sleep, productivity and focus, recovery, and downtime. Hapbee devices and subscriptions are available for purchase at Hapbee.com and through a growing network of select distributors.
You can learn more about how Hapbee works at www.hapbee.com/science
Forward-Looking Information Disclaimer
Certain statements included in this news release constitute forward-looking information or statements (collectively, "forward-looking statements"), including those identified by the expressions "anticipate", "believe", "plan", "estimate", "expect", "intend", "may", "should" and similar expressions to the extent they relate to the Company or its management. The forward-looking statements are not historical facts but reflect current expectations regarding future results or events. This news release contains forward-looking statements. These forward-looking statements are based on current expectations and various estimates, factors and assumptions and involve known and unknown risks, uncertainties, and other factors. Forward- looking statements are not guarantees of future performance and involve risks, uncertainties and assumptions which are difficult to predict. Such statements and information are based on numerous assumptions regarding the Company's ability to meet its planned product marketing and development initiatives and the Company's ability to achieve its e-commerce rollout and full-scale commercial launch as anticipated.
Factors that could cause the actual results to differ materially from those in the forward-looking statements include, delays in design, production, manufacturing, development or releases of signal blends, collection of data from customer use, or the Company may not be able to achieve its targets as anticipated or at all; changes in legislation and regulations; increase in operating costs; equipment failures; failure of counterparties to perform their contractual obligations; litigation; the loss of key directors, employees, advisors or consultants and fees charged by service providers. Forward-looking statements contained in this news release are expressly qualified by this cautionary statement. These risks, uncertainties and assumptions include, but are not limited to, those described in Hapbee's annual information form dated May 2, 2022, a copy of which is available on SEDAR at www.sedar.com, and could cause actual events or results to differ materially from those projected in any forward-looking statements. These statements should not be read as guarantees of future performance or results. Such statements involve known and unknown risks, uncertainties and other factors that may cause actual results, performance or achievements to be materially different from those implied by such statements. The Company assumes no responsibility to update or revise forward-looking information to reflect new events or circumstances unless required by law. Readers should not place undue reliance on the Company's forward-looking statements. Past client, see report for full disclaimer and disclosure details.
Neither TSXV nor its Regulation Services Provider (as that term is defined in the policies of the TSXV) accepts responsibility for the adequacy or accuracy of this release.
$HAPB, #HAPB, HAPBF