Steve Cohen from Point 72, Acquires 18,950,000 Shares of Cybin.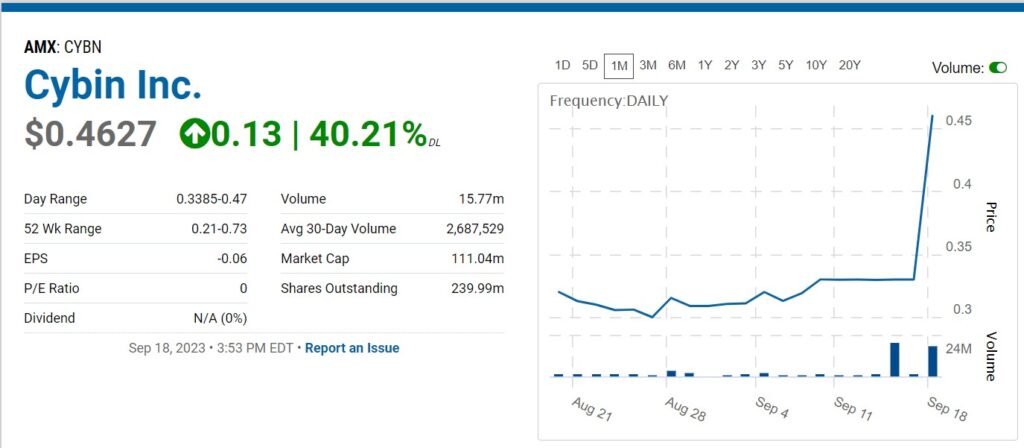 ---
Here's the filing, end of transmission. As we have nothing else to add. AKA "..enough said."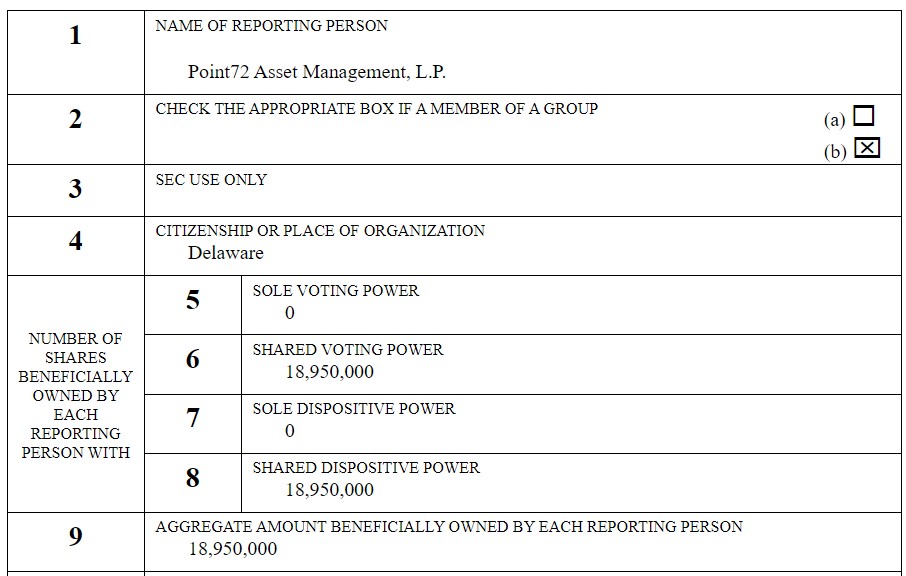 ---
Billionaire, Point 72's Steve Cohen, Continues to Support Psychedelic Research.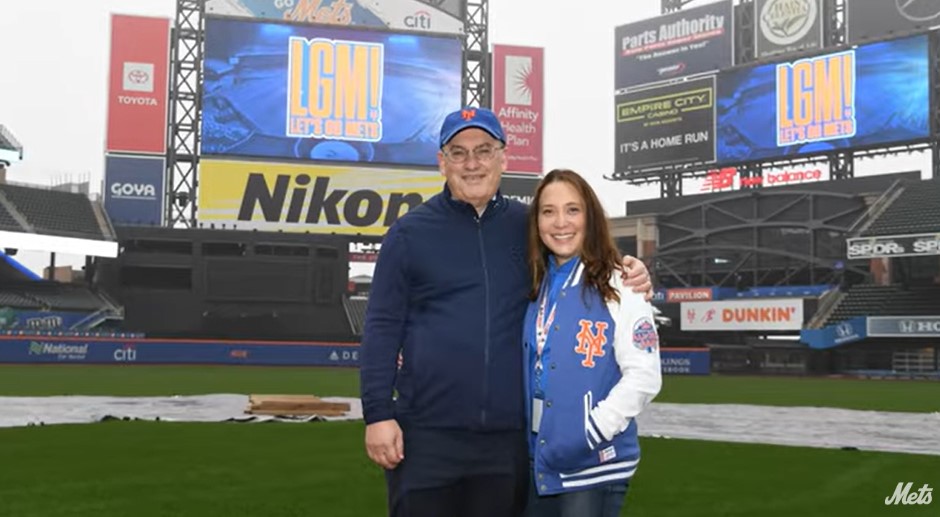 In our opinion, this investment elevates Cybin's 'status' up there with John Hopkins Center For Psychedelic Research who the Cohen's gave $5.2 million to, the USONA Institute ($4.2 million) and the Multidisciplinary Association for Psychedelic Studies (MAPS) $8.4 million.
Good company to keep, we think you'll agree. The Cohen's don't throw darts, they conduct considerable research before taking out the checkbook.
---
Adding Cybin (CYBN) to 2024 Top Psychedelic Stocks Watch List.
We're adding Cybin to the Watch List at $0.46, or the closing price – so as not to be 'cute' and say we added it at opening price of $0.34.
---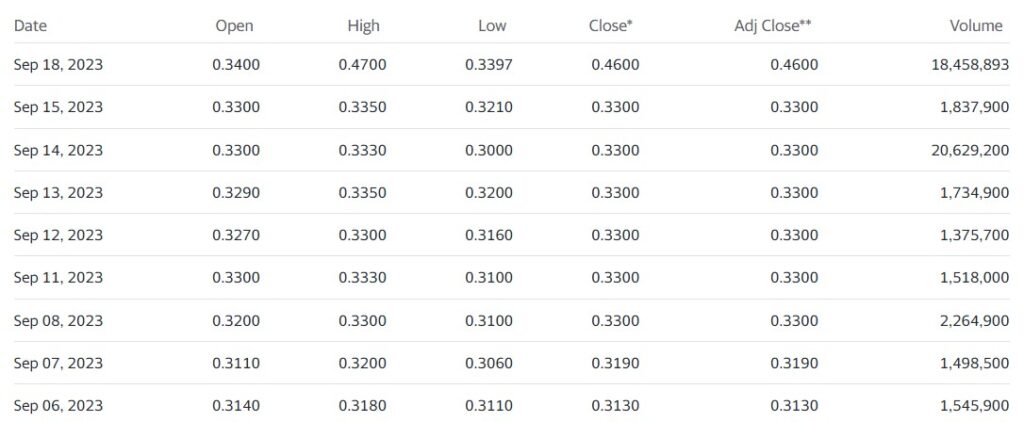 ---
Now you might be thinking to yourself, looking at a one-day gain of 40%, "Am I too late, did I miss the move?"
We are not traders, or flippers and as a matter of fact – don't even use real-time quotes. We are long-term folks typically looking out 2-3 years. So if the stock is $0.35 or $0.55 tomorrow, it really doesn't matter much to us.
We know quite a bit about Point 72, and we will say, like we used to at Drexel Burnham in the 80's, "we are highly confident" they didn't buy 18 million shares for a flip. Like really? This purchase is probably the biggest vote of confidence that any public company in the Psychedelic sector has received to date. By far.
So back to Steve Cohen and our previous experience with Point 72.
The second best idea we have ever had (since 1995) was Immunomedics (IMMU) back in 2016, which we added to the Watch List at $3.00. It was acquired three years later for $87, for a 2,800% gain. Boo and ya.
We beat Point 72 to the punch, as they came in with a 10 million share purchase at $18 or 500% higher, than where we found it. We thought it was a ballsy move. More like a brilliant move, buying when everyone else was selling right after the FDA approval.
Neither we, nor are they flippers. Well actually they're constantly flipping. But not in something like this.
Here's the tale of our tape.
Adding Immunomedics (IMMU) $3.00 to Watch List.
Steven Cohen Beefs Up Immune System With Immunomedics
Immunomedics (IMMU) $3.00 to $88, Up 29-fold, Our Second Best Idea Ever.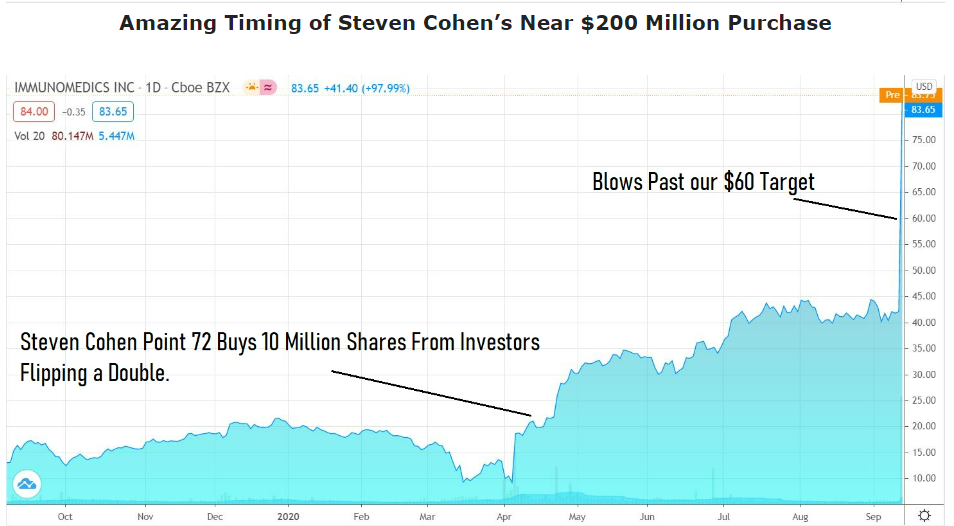 ---
We've been promising the 2024 Top Psychedelic Stock Watch List since last March, where we feel the sector bottomed, and this cost us, because we were going to add Cybin to the Watch List at much lower prices. Oh well, better late than never.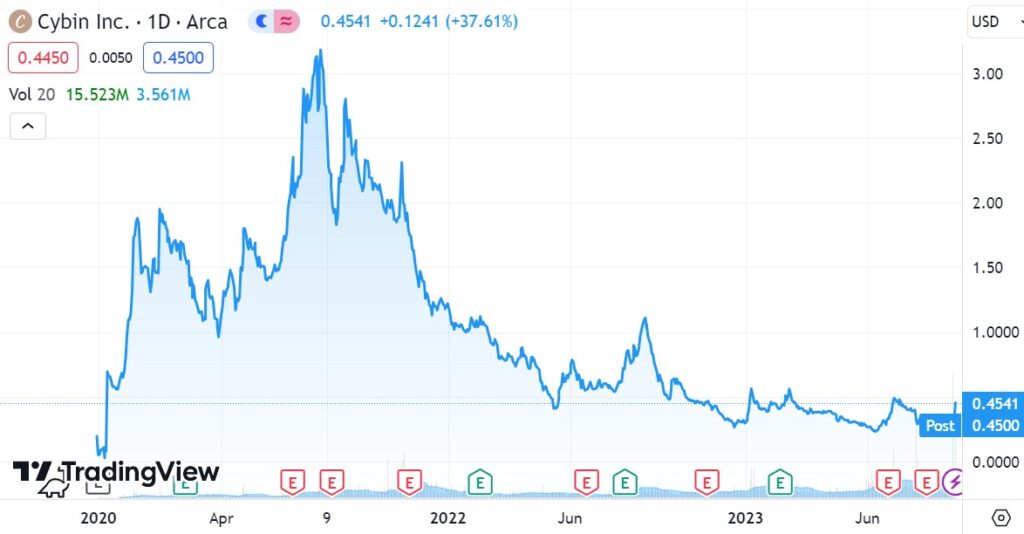 Rather than coming out in one shot (we also missed Small Pharma which Cybin acquired) we have been adding names piecemeal. We'll endeavor to have a Top 10 or Top 15 List out before the weekend. Game on.
We'll also (finally) be releasing the 2024 Psychedelic Investor Guide.
The 2021 Investor Guide was released in October of 2021, shortly before we cut bait and ran from the sector a few months later in December of 2021. Thanks to the stock market Gods and little help from our technical analyst.
Current List
Psycheceutical Bioscience (BWVI)
Revive Therapeutics (RVVTF)


Silo Pharma (SILO)
For updates on Cybin and to receive our upcoming Watch List and 2024 Investor Guide, subscribe to our free newsletter.

---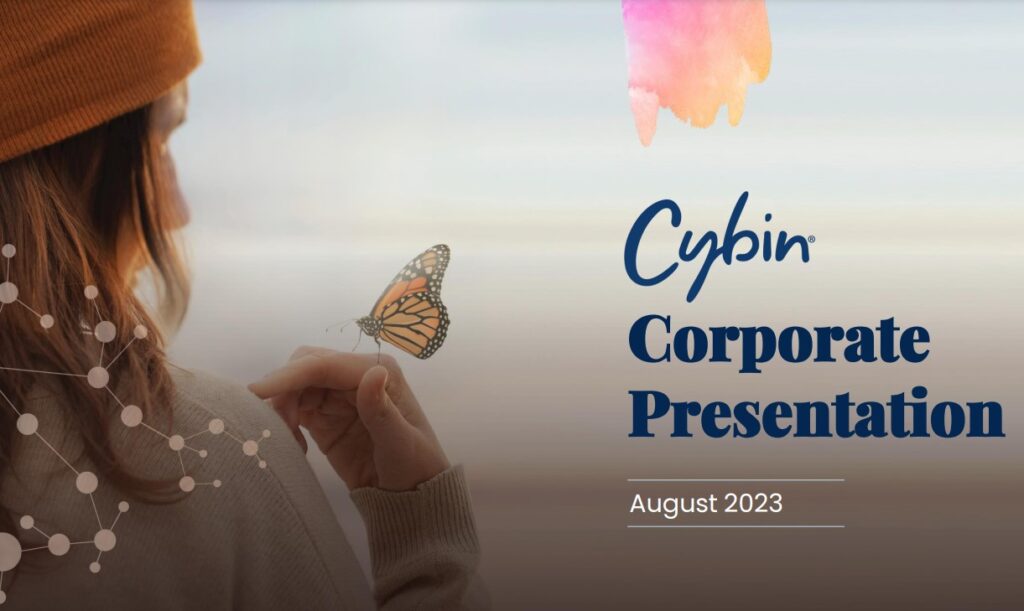 About Cybin
Cybin is a clinical-stage biopharmaceutical company on a mission to create safe and effective psychedelic-based therapeutics to address the large unmet need for new and innovative treatment options for people who suffer from mental health conditions.
Cybin's goal of revolutionizing mental healthcare is supported by a network of world-class partners and internationally recognized scientists aimed at progressing proprietary drug discovery platforms, innovative drug delivery systems, and novel formulation approaches and treatment regimens. The Company is currently developing CYB003, a proprietary deuterated psilocybin analog for the treatment of major depressive disorder and CYB004, a proprietary deuterated DMT molecule for generalized anxiety disorder and has a research pipeline of investigational psychedelic-based compounds.
Headquartered in Canada and founded in 2019, Cybin is operational in Canada, the United States, the United Kingdom, the Netherlands and Ireland. For company updates and to learn more about Cybin, visit www.cybin.com or follow the team on X, LinkedIn, YouTube and Instagram.
Cautionary Notes and Forward-Looking Statements
Certain statements in this news release relating to the Company are forward-looking statements and are prospective in nature. Forward-looking statements are not based on historical facts, but rather on current expectations and projections about future events and are therefore subject to risks and uncertainties which could cause actual results to differ materially from the future results expressed or implied by the forward-looking statements. These statements generally can be identified by the use of forward-looking words such as "may", "should", "could", "intend", "estimate", "plan", "anticipate", "expect", "believe" or "continue", or the negative thereof or similar variations. Forward-looking statements in this news release include statements regarding the Company's plans to provide Phase 1 dDMT data in Q3/Q4 and resulting Phase 2 efficacy study in early 2024; Phase 2 topline data for CYB003 and Phase 1 data from CYB004-E in Q3/Q4 2023; submission of CYB003 Phase 1/2 data to the FDA and timing of pivotal studies; progression to Phase 3 development of CYB003 in early 2024; the anticipated closing of the acquisition of Small Pharma Inc., including the satisfaction of closing conditions to the transaction which include, without limitation (i) Cybin shareholder approval; (ii) Small Pharma Inc. shareholder approval; (iii) necessary court approvals in connection with the plan of arrangement; (iv) Cybin obtaining the necessary approvals from the Cboe Canada and NYSE American; and (v) other closing conditions, including, without limitation, obtaining certain consents and other regulatory approvals, as applicable; the anticipated benefits of the transaction to shareholders and the combined company, including corporate operational, and other synergies; and the Company's plans to engineer proprietary drug discovery platforms, innovative drug delivery systems, novel formulation approaches and treatment regimens for mental health conditions.
These forward-looking statements are based on reasonable assumptions and estimates of management of the Company at the time such statements were made. Actual future results may differ materially as forward-looking statements involve known and unknown risks, uncertainties, and other factors which may cause the actual results, performance, or achievements of the Company to materially differ from any future results, performance, or achievements expressed or implied by such forward-looking statements. Such factors, among other things, include: implications of the spread of COVID-19 on the Company's operations; fluctuations in general macroeconomic conditions; fluctuations in securities markets; expectations regarding the size of the psychedelics market; the ability of the Company to successfully achieve its business objectives; plans for growth; political, social and environmental uncertainties; employee relations; the presence of laws and regulations that may impose restrictions in the markets where the Company operates; and the risk factors set out in each of the Company's management's discussion and analysis for the three months ended June 30, 2023, and the Company's annual information form for the year ended March 31, 2023, which are available under the Company's profile on www.sedarplus.ca and with the U.S. Securities and Exchange Commission on EDGAR at www.sec.gov. Although the forward-looking statements contained in this news release are based upon what management of the Company believes, or believed at the time, to be reasonable assumptions, the Company cannot assure shareholders that actual results will be consistent with such forward-looking statements, as there may be other factors that cause results not to be as anticipated, estimated or intended. Readers should not place undue reliance on the forward-looking statements and information contained in this news release. The Company assumes no obligation to update the forward-looking statements of beliefs, opinions, projections, or other factors, should they change, except as required by law.
Cybin makes no medical, treatment or health benefit claims about Cybin's proposed products. The U.S. Food and Drug Administration, Health Canada or other similar regulatory authorities have not evaluated claims regarding psilocybin, psychedelic tryptamine, tryptamine derivatives or other psychedelic compounds. The efficacy of such products has not been confirmed by approved research. There is no assurance that the use of psilocybin, psychedelic tryptamine, tryptamine derivatives or other psychedelic compounds can diagnose, treat, cure or prevent any disease or condition. Rigorous scientific research and clinical trials are needed. Cybin has not conducted clinical trials for the use of its proposed products. Any references to quality, consistency, efficacy and safety of potential products do not imply that Cybin verified such in clinical trials or that Cybin will complete such trials. If Cybin cannot obtain the approvals or research necessary to commercialize its business, it may have a material adverse effect on Cybin's performance and operations.
Neither the Neo Exchange Inc. nor the NYSE American LLC stock exchange have approved or disapproved the contents of this news release and are not responsible for the adequacy and accuracy of the contents herein.
Not a client, yet.