UPDATE ON BIOTECH SIX PACK, SIX STOCKS WE EXPECT TO DOUBLE.
While the Biotech Stock Review was launched in 2002, the "Biotech 6-Pack, 6 Stocks We Expect to Double" first debuted in January of 2020 as the Biotech 5 Pack – until we later found the sixth candidate – American BriVision (ABVC) in July – which yes, doubled (up 81% actually – so close)!
"By 'expect' as used in the headline, we really mean have 'potential' if everything goes right, which they rarely do – along with a continued robust stock market. Expect just sounds better! But in the legal world, 'hope' is more applicable and accurate than the word expect."
So here's the tale of the tape:
Biotech 6 Pack Portfolio 2020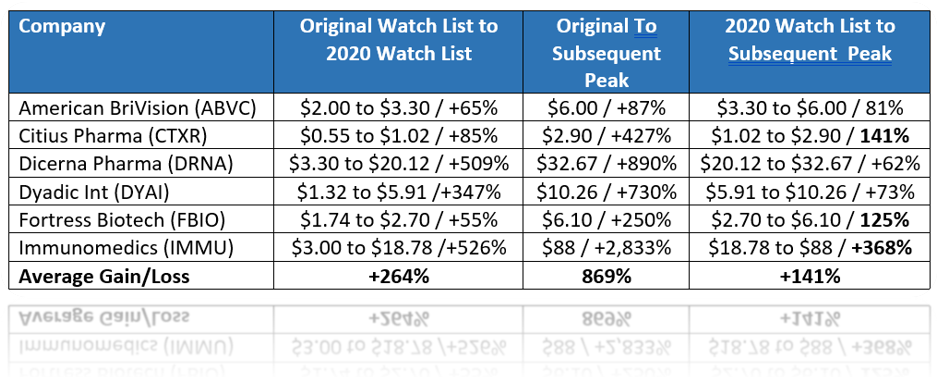 Not bad eh? Three out of six doubled! Citius Pharma doubled, Fortress doubled and Immunomedics knocked it out of the park gaining 368% and 2,833% from when we originally added it to the Watch List in the fall of 2016.
When we put the list together, we stated, "If we're wrong or even way wrong..well, there's always next time. We'll add if it takes two years for the group to double, would that be so bad?" We also noted we felt their potential was to 'at least' double.
This means if one of the names double, we're not done – goal achieved. These are not goals or price targets. The average stock added to the 2020 Watch List was already up 264% from where we originated initiated coverage.
The gains were later extended to an average of 869%. Dicerna for example doubled from $3 to $6, then doubled again to $12, then doubled again to $24, and today it trades over $30. We know trading is all the rage these days, but it takes an awful lot of small trades to make a cumulative gain of 890%. Just saying.
This morning Dicerna announced a $10 million payment from Eli Lilly (LLY) after receiving an NDA approval from the FDA for the potential treatment of cardiometabolic diseases. Looks like it's opening 5% higher this morning and is on target to be the fourth stock in our 6 Pack to double.
We originally added it to the Watch List at $3.00 in 2017 when it had a $68 million market cap, which today is near $2.4 billion.
While the average stock on the 6 Pack Portfolio had already gained 264% from where we originally initiated coverage, we are very price-conscious when adding these names to the list – with a variety of factors (too many to list) boosting our expectation for year-ahead performance. With all the stocks on the list doing better than 50% and the average chiming with a 141% gain, we think we did rather well.
ADDING HAPBEE TECHNOLOGIES
Being price-conscious is what leads us to our latest addition to the "2021 6 Pack, Stocks We Expect to Double" Watch List: Hapbee Technologies (HAPBF).
This is our premiere Watch List. While we are a 'research-for-hire' firm and Hapbee Technologies is a client, no company can buy its way onto the list. It's reserved for companies which we have the highest confidence from where they're currently trading – given time. When we say double we mean 'at least' double – and given time doesn't mean next day, next week, or next month. We are looking a few years out.
While we stated there are too many factors to list which boost our year ahead performance feeling – one undeniable and over-weighting factor with Hapbee, is the share price. It's the lowest-priced stock ever added to the list at $0.34.
This brings us to the chart. Hapbee is traded in both United States (HAPBF) and Canada (HAPB). This is the Canadian chart: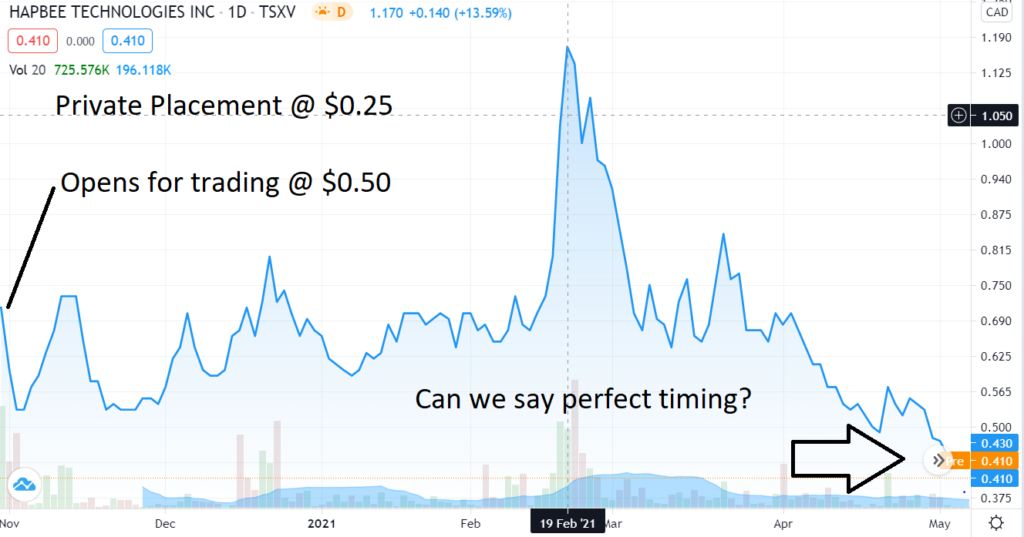 They raised $6.5 million privately at $0.25 last fall, opened for trading at $0.50, and traded as high at $1.03 earlier in the year. And now it's at $0.34 (US). A return to its previous high on February 22nd, would imply a three-fold gain.
BRIEF DESCRIPTION
We'll start with stating the wearable device maker has the best and most interesting wearable device we have come across in our life. The Global Wearable Devices Market is expected to exceed more than $51.50 billion at a CAGR of 15 percent in the given forecast period.
We use their device for about 12 hours. Dan Sullivan, President of Strategic Coach says he wears it 15 hours a day. He's known to have coached many celebrities, including Anthony Robbins, and sports athletes. He was so impressed with the technology, he bought hundreds of them for his staff and friends, because it makes them so much more productive.
We firmly believe the device can fine tune any investors focus. Particularly day-traders. You can order one here: Hapbee, 20% off.
The wearable market include things like smartwatches; from Apple and Fitbit, sleep trackers like the Oura Ring, and cardiac monitors from Kardia, Alivecor, and even Garmin. In addition, Hapbee's wearable device fits nicely into the consumer demand for 'mental wellness' being met from companies like Calm, Headspace, and MyLife who have gone from zero to hundreds of millions in revenues.
While you might not be familiar with those names Headspace is estimated to be valued at $1 billion and Calm was recently valued at $2.2 billion in October when it raised $150 million. It took time for both of these companies – which came from nowhere to better than modest popularity. Headspace was valued at $50 million a few years back after a $3 million round of funding.
Which begs the question, what could Hapbee Technologies be worth in three or four years? At yesterday's closing price of $0.34, it was valued at only $16 million.
Full report coming. In the meantime, sift through our news archive.
More importantly, closely read our technology review: A Medical Technology That Has The Highest Potential Over Any We Follow.
---
Dave Asprey if you don't know, is a bio-hacker (aka health and wellness nerd) and founder of BulletProof Coffee which has revenues of near $100 million last year. BullettProof raised $40 million in Series C funding in a round led by CAVU Venture Partners and Trinity Ventures. It hired Morgan Stanley last year and is estimated to be worth near $500 million in a sale.
We think Dave knows a good idea when he sees one..
Wall Street Reporter Interview: Interview: Scott Donell from Hapbee (HAPB, HAPBF) on Wall Street Reporter.
Client see report for disclaimer and disclosure details.