The 2021 Biotech Six Pack, Six Stocks We Expect to Double.
We're still putting the 2021 list together now, but rather than waiting to announce all six at once, we are adding Citius Pharma (CTXR) to the list today, to catch this current price. What's the rush, you ask?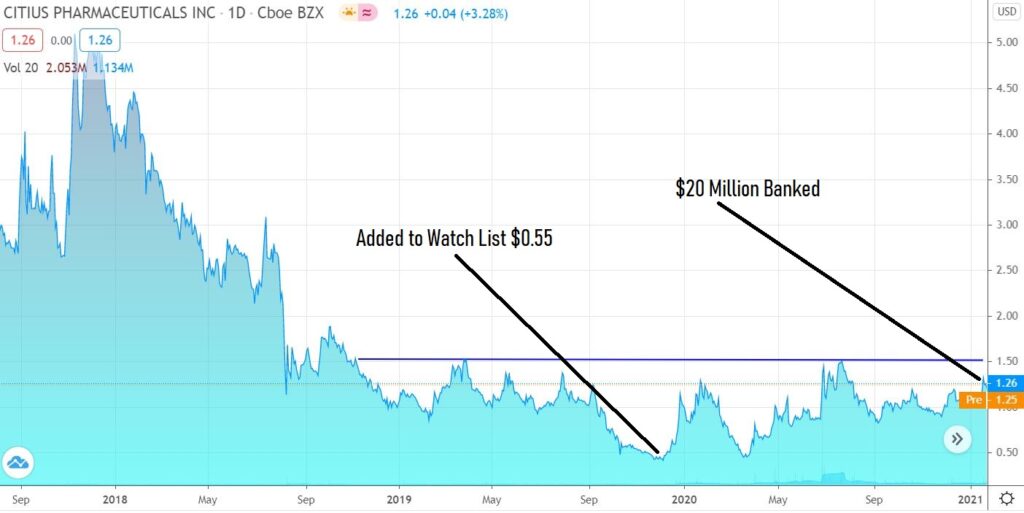 Truly Locked and Loaded. Latest $20 Million Round is Biggest News We've Seen From Citius Pharma (CTXR) Since We've Been Following it.
In our opinion, the train has just left the station, those who are fast enough can still catch a ride. If or once the share price passes resistance at $1.50, again in our opinion – it will start moving so fast, that no mere mortal will be able to jump aboard.
Despite our being up 134% since we added it to the Watch List, Citius has never looked better from our vantage point. Stars are aligned.
Investor's who have grown accustomed to Citius Pharma raising tens of millions at a slight 'discount' to market, to fund its research in its march to FDA approval (now in Phase III) just woke up to welcome surprise.
On Monday, the Company announced it had raised $20 million at $1.29. Most of these shares were added to the portfolio of institutional investors.
This Audi A8 now has a tank-full of gas, has 'qualified' and now in que to enter the fast-track.
Gentleman Start Your Engines
These offering investors (in most instances) are sophisticated investors who with big checkbooks, can say "Sure, we'll give you $20 million, but we'll buy the stock at $1.00 – take it or leave it."
Not so this time! The offering was handled by HC Wainwright. Dawson James Securities, an Investment Banking firm that specializes in Biotech just set a $6.00 price target (see below).
Of course, that price target doesn't account for what the Robinhood traders could do to the share price, upon FDA approval (neither which, are of course assured).
As a reminder, the three ingredients that Mino-Lok is made up of have been around and used safely for eons. They are minocycline, ethanol, and EDTA, which are combined into two vials, MLT01 (minocycline) and MLT02 (ethanol and EDTA). Are they safe and effective when combined? We'll have to hear back from the scientist – and the FDA of course.
---
Citius Pharmaceuticals Announces $20.0 Million Private Placement Priced At-the-Market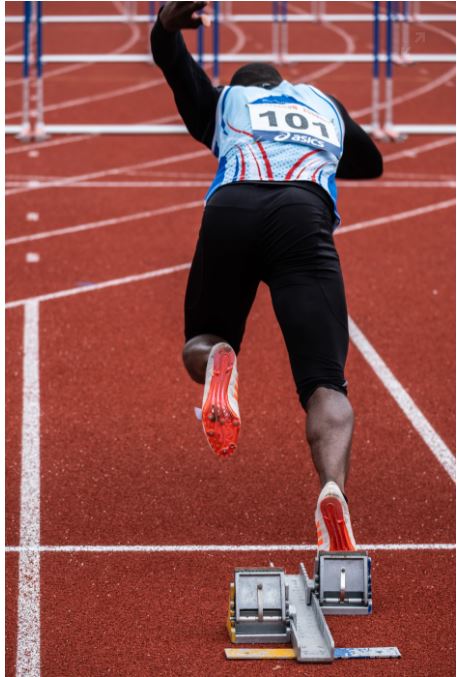 CRANFORD, N.J. , Jan. 25, 2021 /PRNewswire/ — Citius Pharmaceuticals, Inc. ("Citius" or the "Company") (Nasdaq: CTXR), a specialty pharmaceutical company focused on developing and commercializing critical care drug products, today announced that it has entered into securities purchase agreements with certain institutional and accredited investors to raise approximately $20.0 million through the issuance of an aggregate 15,455,960 shares of its common stock and warrants to purchase up to an aggregate of 7,727,980 shares of common stock, at a purchase price of $1.294 per share of common stock and associated warrant in a private placement priced at-the-market under Nasdaq rules.
The closing of the private placement is expected to occur on or about January 27, 2021, subject to the satisfaction of customary closing conditions. H.C. Wainwright & Co. is acting as the exclusive placement agent for the offering. Full Release.
---
DAWSON JAMES SETS $6.00 PRICE TARGET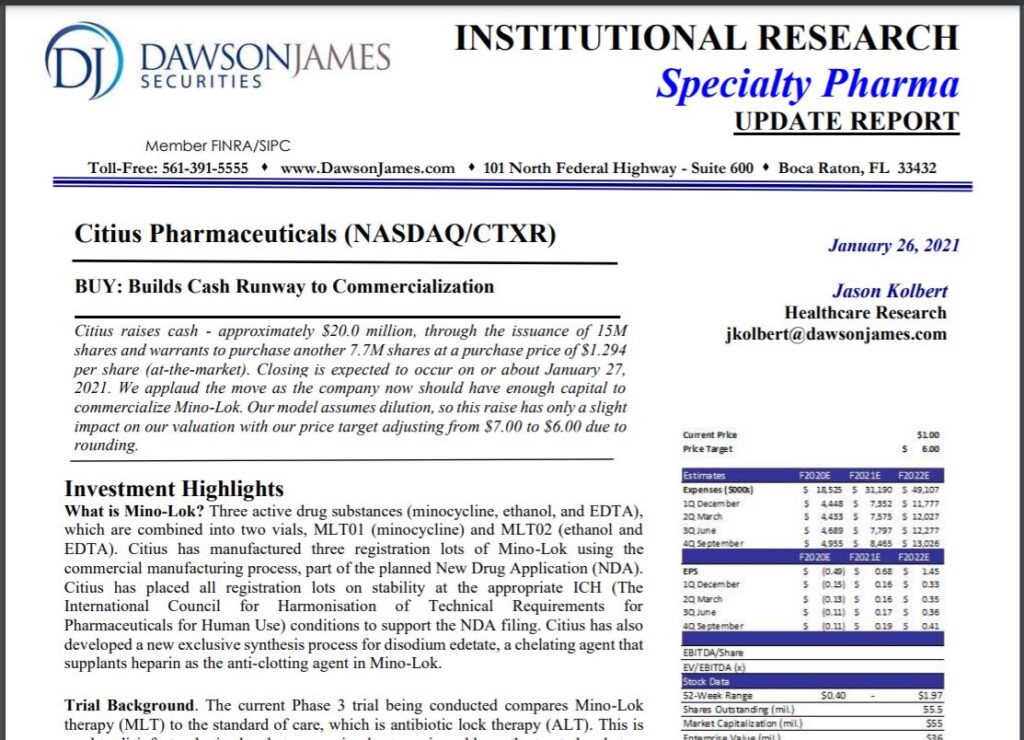 ---
MOST RECENT CORPORATE PRESENTATION
(INCLUDES INFO ON STEM CELL CORONAVIRUS EFFORT)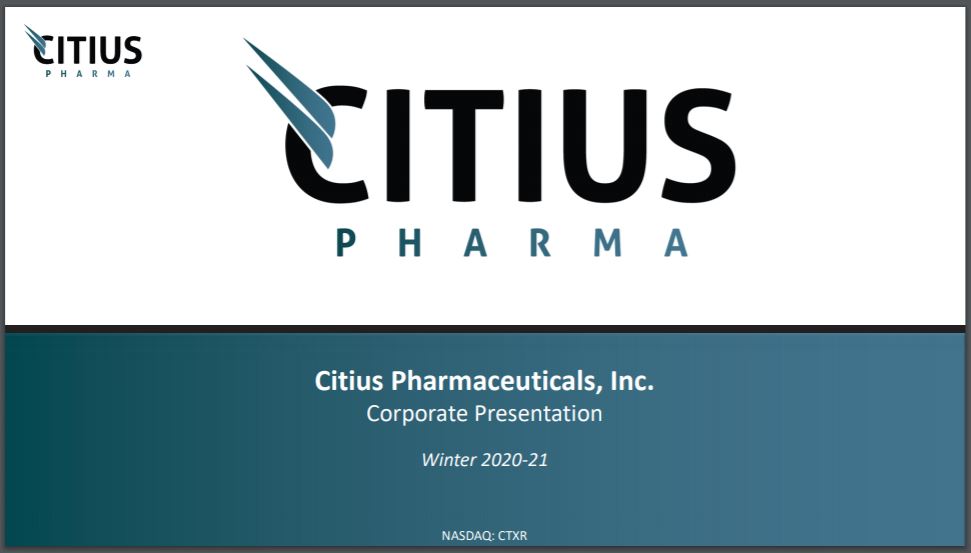 ---
CAP TABLE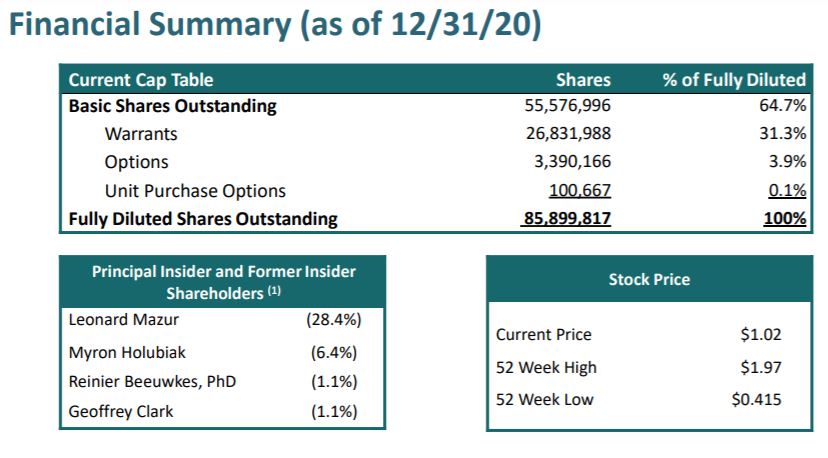 ---
Subscribe here to receive our upcoming report on Citius Pharm.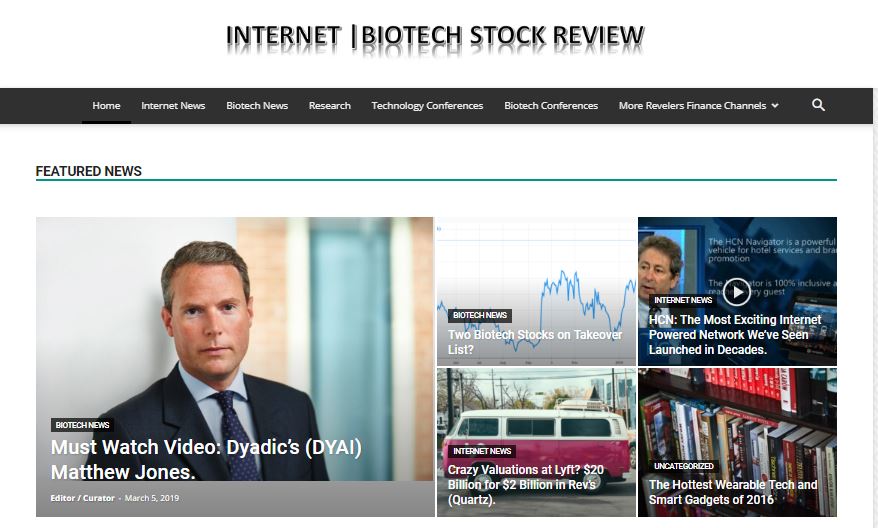 ---
Disclaimer: This press release may contain "forward-looking statements" within the meaning of Section 27A of the Securities Act of 1933 and Section 21E of the Securities Exchange Act of 1934. Such statements are made based on our expectations and beliefs concerning future events impacting Citius. You can identify these statements by the fact that they use words such as "will," "anticipate," "estimate," "expect," "should," and "may" and other words and terms of similar meaning or use of future dates. Forward-looking statements are based on management's current expectations and are subject to risks and uncertainties that could negatively affect our business, operating results, financial condition and stock price, and includes all statements related to the completion of the private placement, the satisfaction of customary closing conditions related to the private placement and the intended use of net proceeds from the private placement. Factors that could cause actual results to differ materially from those currently anticipated are: market and other conditions; our ability to successfully undertake and complete clinical trials and the results from those trials for our product candidates; our need for substantial additional funds; risks relating to the results of research and development activities; uncertainties relating to preclinical and clinical testing; the early stage of products under development; the estimated markets for our product candidates and the acceptance thereof by any market; risks related to our growth strategy; patent and intellectual property matters, market and other conditions; our ability to attract, integrate, and retain key personnel; our ability to obtain, perform under and maintain financing and strategic agreements and relationships; our ability to identify, acquire, close and integrate product candidates and companies successfully and on a timely basis; our dependence on third-party suppliers; government regulation; competition; as well as other risks described in our SEC filings. We expressly disclaim any obligation or undertaking to release publicly any updates or revisions to any forward-looking statements contained herein to reflect any change in our expectations or any changes in events, conditions or circumstances on which any such statement is based, except as required by law.
IA Disclaimer: Every Company mentioned in our newsletter. blog or website is a client, has been a client or may become a client. Institutional Analyst Inc., has opted to exclude specific disclaimers at the bottom of every newsletter we publish as it often exceeded the length of our letters by 20-fold. Our company client disclaimers can now be found on every report or progress update report we author – at the bottom of the report in a readable sized font. Required reading, we play nice with nearly every company we report on because they are either client or we would like them to be a client, so impartial we are not. All of the above companies are clients. Please see published reports for disclosure and disclaimer details.