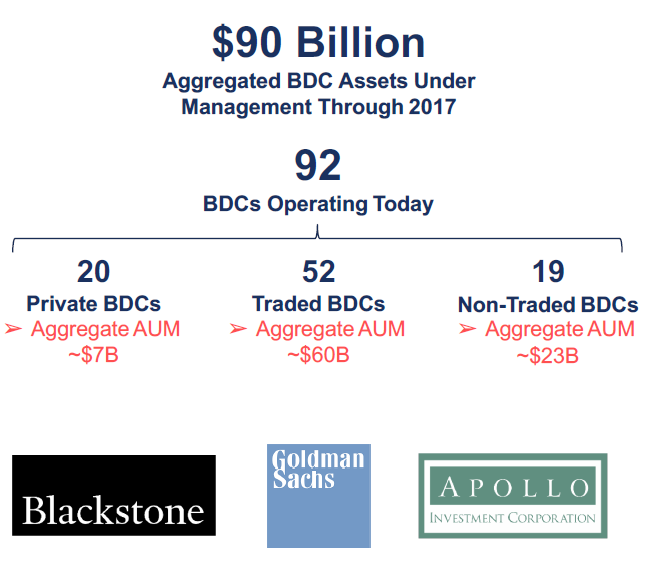 Newly Launched Medtech & Biotech BDC Seeking Pre-IPO Stage Investments.
This is easily one of the most exciting fund managers we've come across in a long time. 2009, in fact, after we launched the Private Equity Stock Review in the midst of the last bear market. It was a short-lived newsletter because, despite our amazing performance, there just wasn't enough publicly traded Private Equity firms to keep us interested.
Gross performance numbers (2009) period when Dow rose 7% from 9310 to 10,000.
Rodman & Renshaw (RODM) $0.99 to $5.31 up 435%
Fortress Group (FIG) $2.25 to $5.14 up 128%
Och-Ziff Capital (OZM) $6.24 to $12.66 up 102%
Blackstone Group (BX) $7.75 to $15.55 up 100%
GLG Partners (GLG) $2.48 to 3.26 up 31%
MVC Capital (MVC) $7.98 to 9.30 up 16.5%
But now we're back, and combing through BDC's (Business Development Company stocks), which are a much tamer vehicle and managed to put out yield. And while we were searching we found a BDC that made us feel as if we came across Axe Capital featured on NetFlix "Billions" when it was first launched and run by fictitious Bobby Axelrod.
StHealth Capital is a fund organized and filing financial reports with the SEC.
We met the CEO Derek Taller who was in West Palm Beach a couple of weeks ago, on a money-raising roadshow with wealthy family offices. He has assembled quite an impressive team including David Lesson who led the origination of more than $12 billion notional amount of convertible bond financings and equity derivative transactions in the Healthcare sector for UBS. And including Dr GW Brown, who was the Vice Chairman of the Tesla Foundation.
Quite the team and quite the story, with the best part being unlike many Private Equity funds with $25 million investment minimums, StHealth Capital is starting with a $50,000 minimum. An offering can only be made by prospectus and a private placement memorandum can be studied by calling StHealth Capital analyst Jesse Cole in his NY office at 212-601-2769.
StHealth's largest portfolio holding, Orchestra Biomed recently raised $41 million which was only open to institutional investors. So another way to look at an investment in StHealth Capital is as a 'side-door' into promising Pre-IPO Medtech and Biotech companies.
Broker Dealers interested in participating can also contact Jesse Cole.
Here is our initial report, we expect to be reporting on their progress for years to come.
Related: Hercules BDC (HTGC) $13, to Present at FB Riley.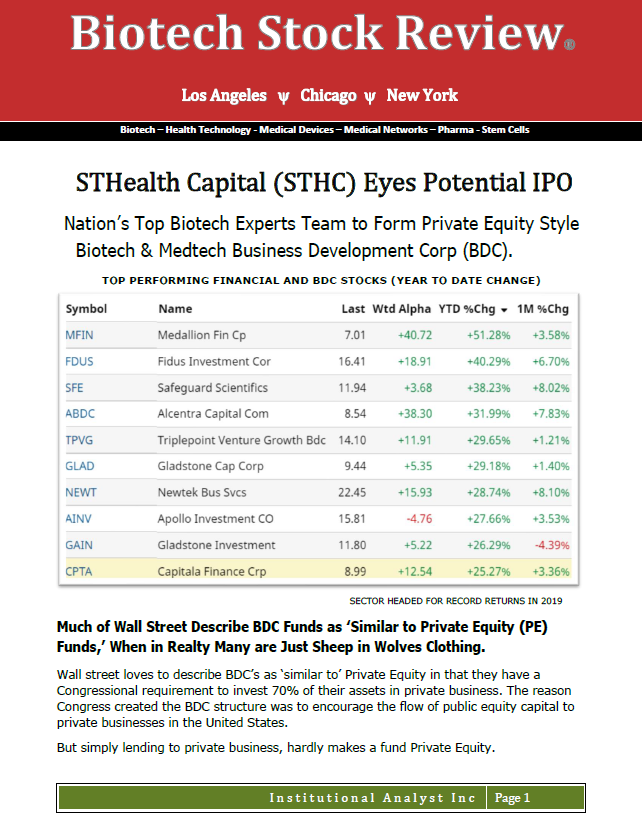 The contents of this website are for informational purposes only, and should not be viewed as a solicitation on behalf of the Company. As past performance does not guarantee future results, these results may have no bearing on, and may not be indicative of, any individual returns realized through participation in this or any other investment. No part of this website should be considered apart from StHealth's "Disclosure Documents" and disclaimers contained therein.
This profile does not provide an analysis of the Company's financial position and is not a solicitation to purchase or sell securities of the Company, which may be done only through a Private Placement Memorandum (PPM). Readers should consult their own financial advisors with respect to investment in this or any company covered by the Reviews. An independent financial analyst should verify all of the information contained in this profile with the profiled company. Institutional Analyst, Inc. the parent company of the Internet and Biotech Stock Review is an investment research and public relations firm. Revelers.IO Media Group Inc. is an affiliated web design firm which manages IA's websites and digital initiatives and is being compensated by StHealth Capital with a retainer of $2500/month or less for web design consulting. Institutional Analyst Inc. has not entered into, nor does it intend to enter into, any agreement with StHealth.
StHealth Capital website disclaimer.
STHC